The pop and fizz of a freshly cracked bottle of bubbly marks the start of a celebration! Finding a good bottle of sparkling wine used to mean a trip to your nearest PA Fine Wine and Good Spirits shop (and, if you are headed there, be sure to check out our guide to navigating the shelves).
But over the past few years, Pennsylvania wineries have been releasing their own vintages of sparkling wines that we believe should be invited to all your parties.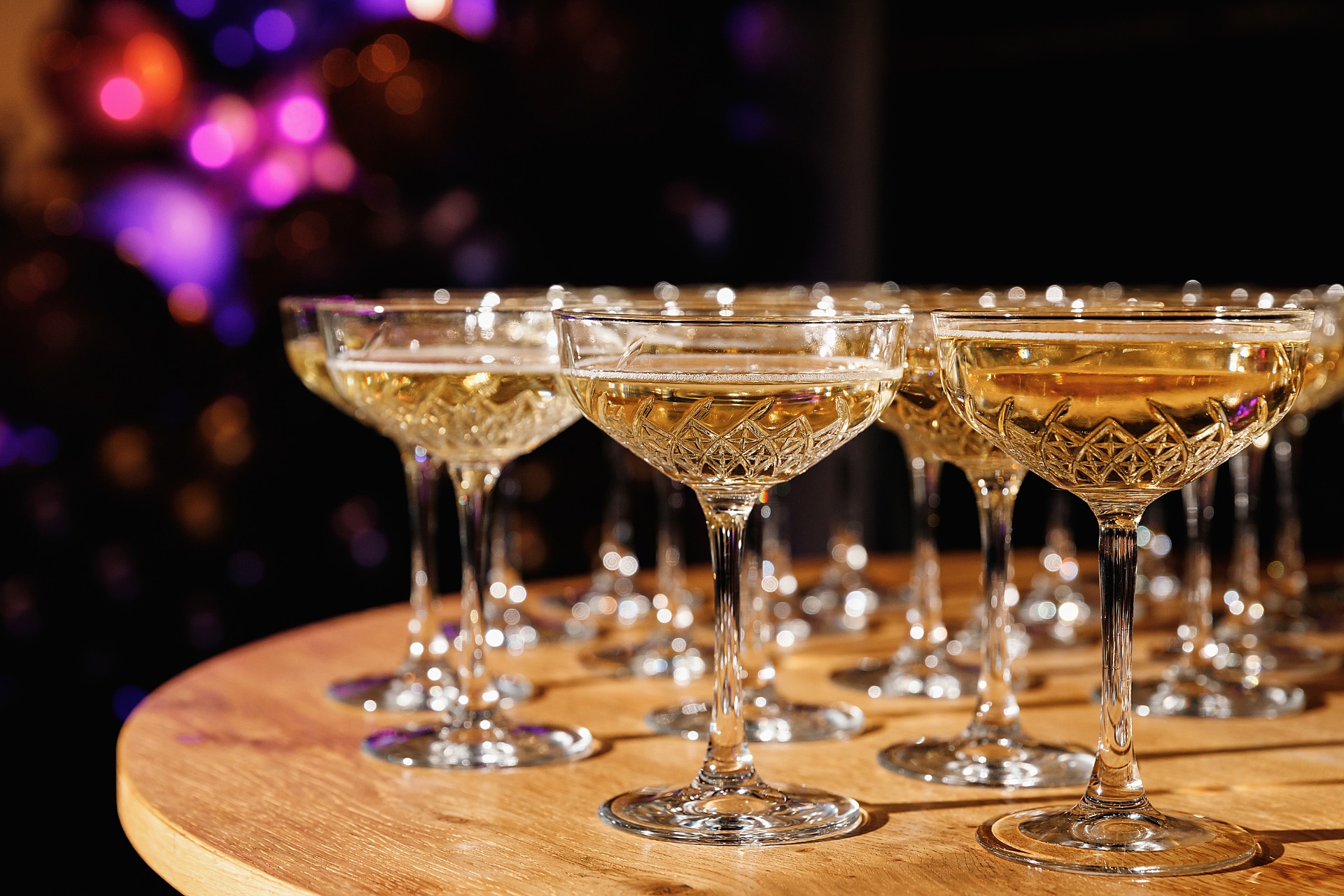 From clean and fresh blanc de blancs, to naturally fermented pét-nats, there is a locally made sparkling wine out there with your name on it. Here are seven to try:
Camuna Cellars Mixed Dancing: This tiny winery began operations in North Philadelphia in 2020, with a handful of offbeat, creative releases every season since. All of Camuna's wines are made with East Coast fruit, with a number of grapes sourced from Pennsylvania. Mixed Dancing is an experimental sparkling wine, a hybrid between grapes and apples: fizzy Seyval Blanc and cider are hit with a touch of mead to make them sparkle even brigher. Lightly effervescence, this wine has notes of straw, meyer lemon and white pepper. At just 10.2% ABV, this is an easy sipper for a festive brunch or afternoon hang. [no address, no phone number]
Chaddsford Winery '21 Sparkling White: At just $24, this sparkler from Chaddsford is perfect for casual celebrations! Sparkling White is a blend of Vidal Blanc and Seyval Blanc grown in Northern PA and the Finger Lakes region of New York. Look for tasting notes of lemon, stone fruit and baked bread, with refreshing acidity and a nice minerality. Shop online or at Chaddsford's tasting rooms at its main location, or its Peddler's Village Tasting Room. 632 Baltimore Pike, Chadds Ford; (610) 388-6221; 45 Peddlers Village, New Hope; (215) 794-9655.
Galen Glen Bubbly Blanc: Riesling is known for its clean, mouthwatering acidity and its aromas of flowers, limes and green apples. It's a versatile grape that can make a wide range of wines, from sweet to bone dry. Galen Glen uses Riesling in its Bubbly Blanc, a refreshing, spritzy wine with notes of yellow pear and apple. It makes an amazing pairing with seafood or salty snacks. Shop online for shipping in PA, or pick up at Galen Glen's tasting room. 255 Winter Mountain Dr., Andreas PA; (570) 386-3682.
Mazza South Shore Pét-Nat Riesling: For a different take on sparkling Riesling, check out Mazza's pétillant naturel (pét-nat for short). This type of wine is naturally fermented in the bottle — also called méthode ancestrale — with no added yeasts or sugars. The result is a rustic, gently bubbling and sometimes-funky sparkling wine, a style that has gained traction as the natural wine movement has grown. This lower-alcohol pét-nat from Mazza's South Shore label has a hazy appearance with just a hint of residual sugar. Shop online, order for curbside pick-up at one of Mazza's locations, or use this map tool to find Mazza's products at retailers in your area. 1120 Freeport Rd. (Rt. 89), North East, PA; (800) 796-9463.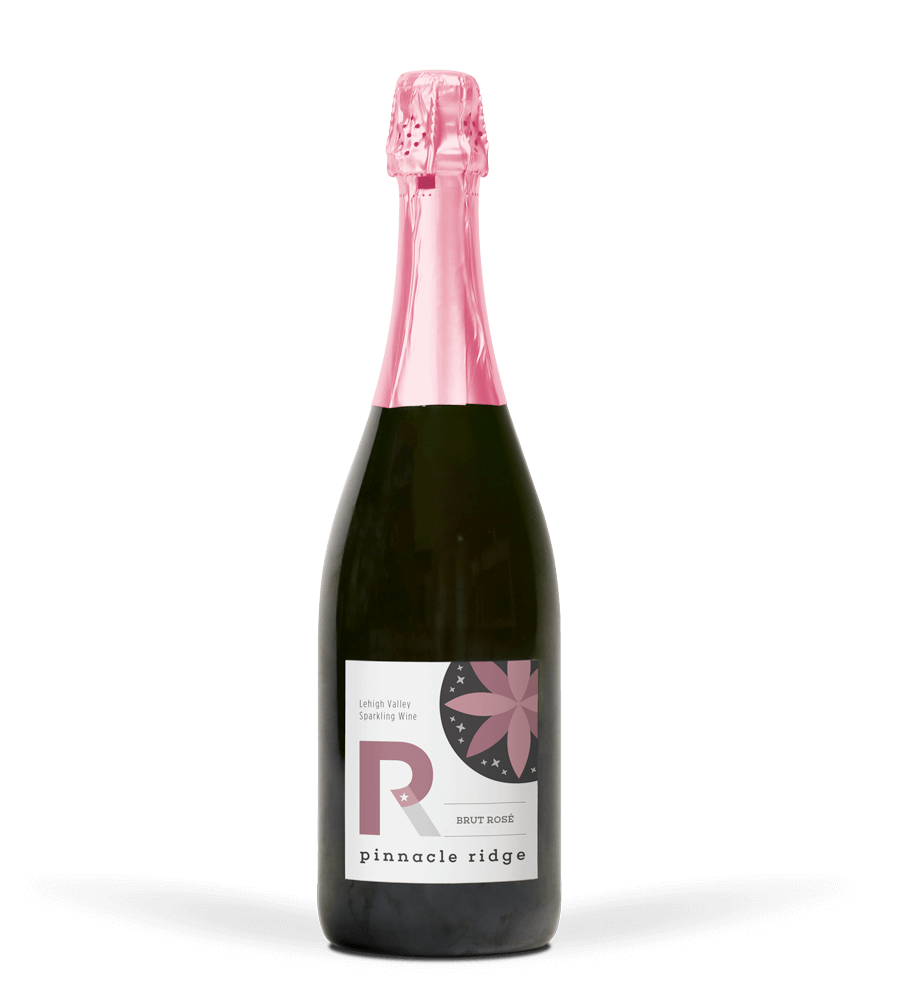 Pinnacle Ridge Brut Rosé: A sparkling dry rosé is one of our favorite things to cocktail with. It makes a wildly good pairing with cheese boards, raw seafood like oysters, and all kinds of snacks. Pinnacle Ridge's sparkling 100% Pinot Noir Brut Rosé is dry indeed, with aromas of strawberry and yeast, with a lovely, crisp finish. Shop online for shipping or curbside pick-up. 34 Susquehanna Ave., Lansdale; (610) 756-4481.
Stony Run Winery Chardonnay Sparkling Brut: This sparkler from Stony Run is made from Chardonnay and a touch of Gruner Veltliner. Dry and complex, this versatile wine can be popped for literally any occasion. To order online for shipping in PA, head here. You can also call or email in orders for curbside pick-up. 150 Independent Rd., Breinigsville, PA; (610) 398-7231.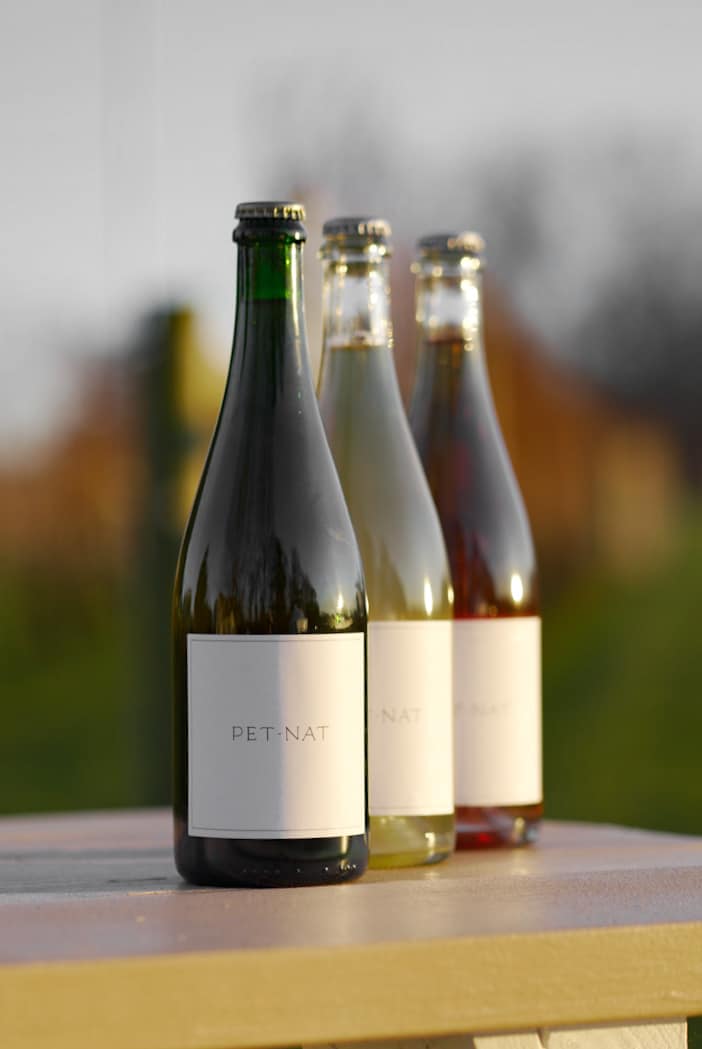 Wayvine Winery & Vineyard Pét-Nat Carmine Rosé: A few times a year, Wayvine releases a run of pét-nats, including a Riesling and a rosé using Carmine, a red grape that's a cross between Cabernet Sauvignon, Carignan and Merlot. When fully extracted, it yields a full-bodied, tannin-forward red. But when it's made as a rosé, Carmine results in a fresh, complex, quaffable wine! Wayvine's unfiltered pét-nat version is a fun, fizzy bottle that will win over the craft beer and cider lovers at your table. Shop online for curbside pick-up and free delivery. 4374 Forge Rd., Nottingham, PA; (610) 220-0128.
What are your favorite PA sparkling wines? Let us know in the comments, or join in the conversation on the PA Eats Facebook page!
Feature photo:

Wayvine Winery

Sparkling White gif:

Chaddsford Winery

Brut rosé photo:

Pinnacle Ridge Winery