Here in Pennsylvania, we love a good pickle. Our pickle pride goes way back, too: At traditional Amish and Pennsylvania Dutch meals, you're liable to find all manner of sweet and sour pickles and relishes — including the iconic pickled eggs — used to liven up the table. PA is home not only to Heinz, which sponsors the annual Picklesburgh festival, but also to so many pickle makers, pickle-loving markets, bars and restaurants, that Visit PA has even created the PA Pickle Trail, so you can plan road trips through parts of the Commonwealth to try the highlights!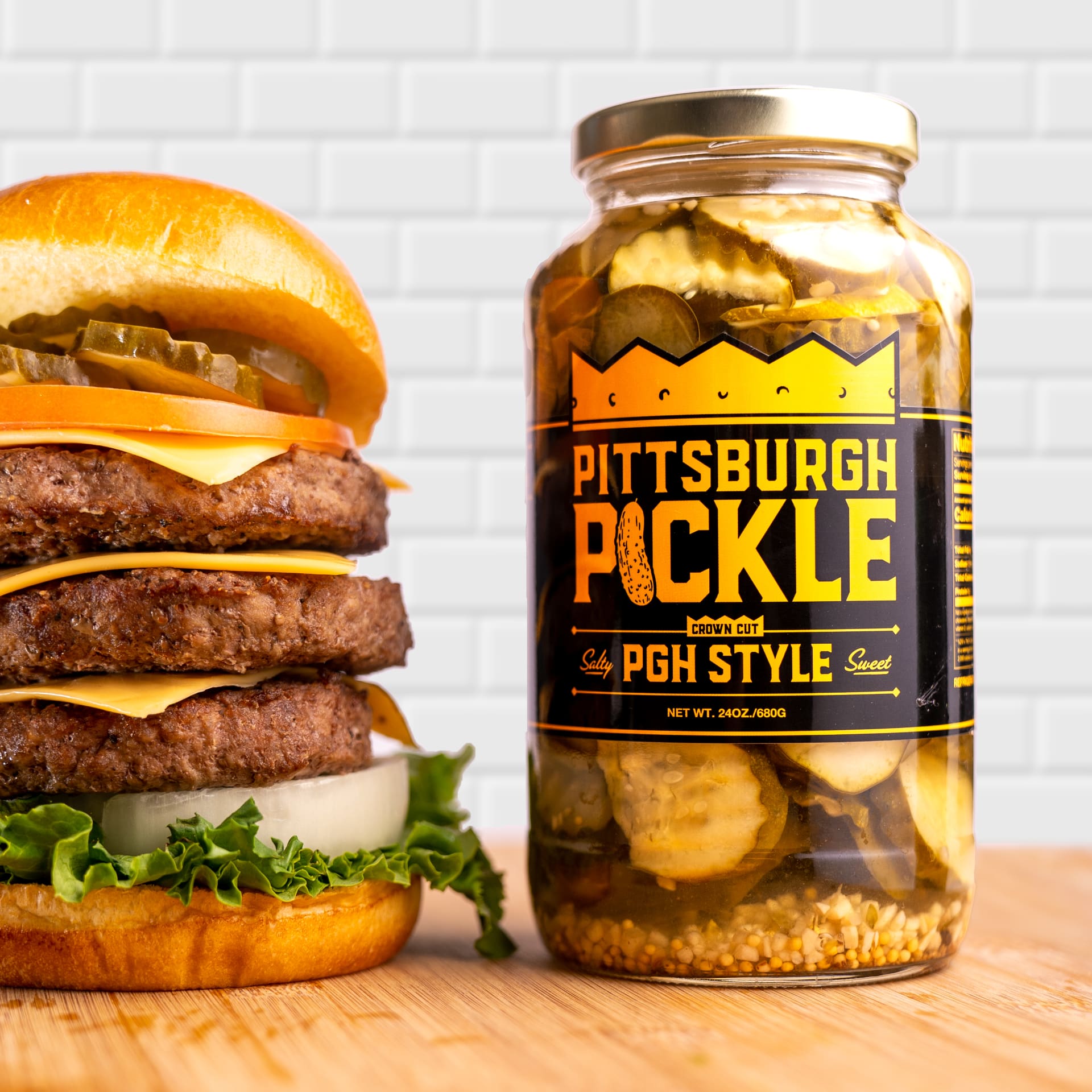 But did you know that the best-selling pickle in all of Pennsylvania is made by an independent, artisan brand, Pittsburgh Pickle? Yes, this homegrown company, which was founded in 2011, makes a unique salty/sweet product called the Pittsburgh-Style Pickles that is #1 in the state! Started by three brothers John Patterson, Will Patterson and Joe Robl (all Pittsburgh natives), Pittsburgh Pickle has steadily grown since it started in the back of a craft beer bar.
The key to their success isn't a secret at all: It's all about top-quality produce, careful processing techniques, and creative flavors. We spent some time chatting with Pittsburgh Pickle's Sales & Marketing Manager, Evan Pohl, who was also the company's first full-time employee, about how this pickle brand has won the hearts of Pennsylvanians, far and wide.
PA Eats: Can you take us back to the origin story of Pittsburgh Pickle?
Evan Pohl: Sure! Brothers John Patterson, Will Patterson and Joe Robl always wanted to work together. In 2011, they all realized they weren't happy with their jobs and decided to open a bar. They found a space in the Strip District, and it became The Beerhive, a neighborhood kind of bar that became very successful. In the beginning when they were coming up with the menu, they wanted to have fried pickles as a menu item, but looking at pickle options, everything had chemicals in it, or the more natural pickles disintegrated in their fryer. Like any good Pittsburgher, they decided they could do it better themselves, and they started making pickles in the back of the bar.
A year later, they realized that their bar regulars were also becoming pickle regulars. To keep up with demand, they moved to their church's basement, and did pickle production there for two more years. Then in 2014, the supermarket chain Giant Eagle called and said they wanted to put our pickles in every store in PA. That's when we ended up purchasing a building in Verona, PA to act as the manufacturing facility. We scaled drastically, and went from being able to manufacture maybe 100 units at the bar every week to a couple hundred a week. This space let us lift our manufacturing capabilities. Even though we've invested in and expanded our manufacturing equipment, the brothers are still very involved. They're on the line right now actually! It's definitely still a small business, and we all wear multiple hats. 
Can you describe what the Verona facility is like?
Our space looks very different from most pickle facilities. Our cucumbers come off the farm on a Friday, we receive them Monday morning. We get at least 2,000 pounds every week and we take those and put them into a huge wash tub. We have a conveyor belt that pulls them out of the water and into our hopper that cuts them into chips. We have a filling machine that packs the jars with cucumbers, but we still have people at the end of the line inspecting everything and finishing the packing by hand.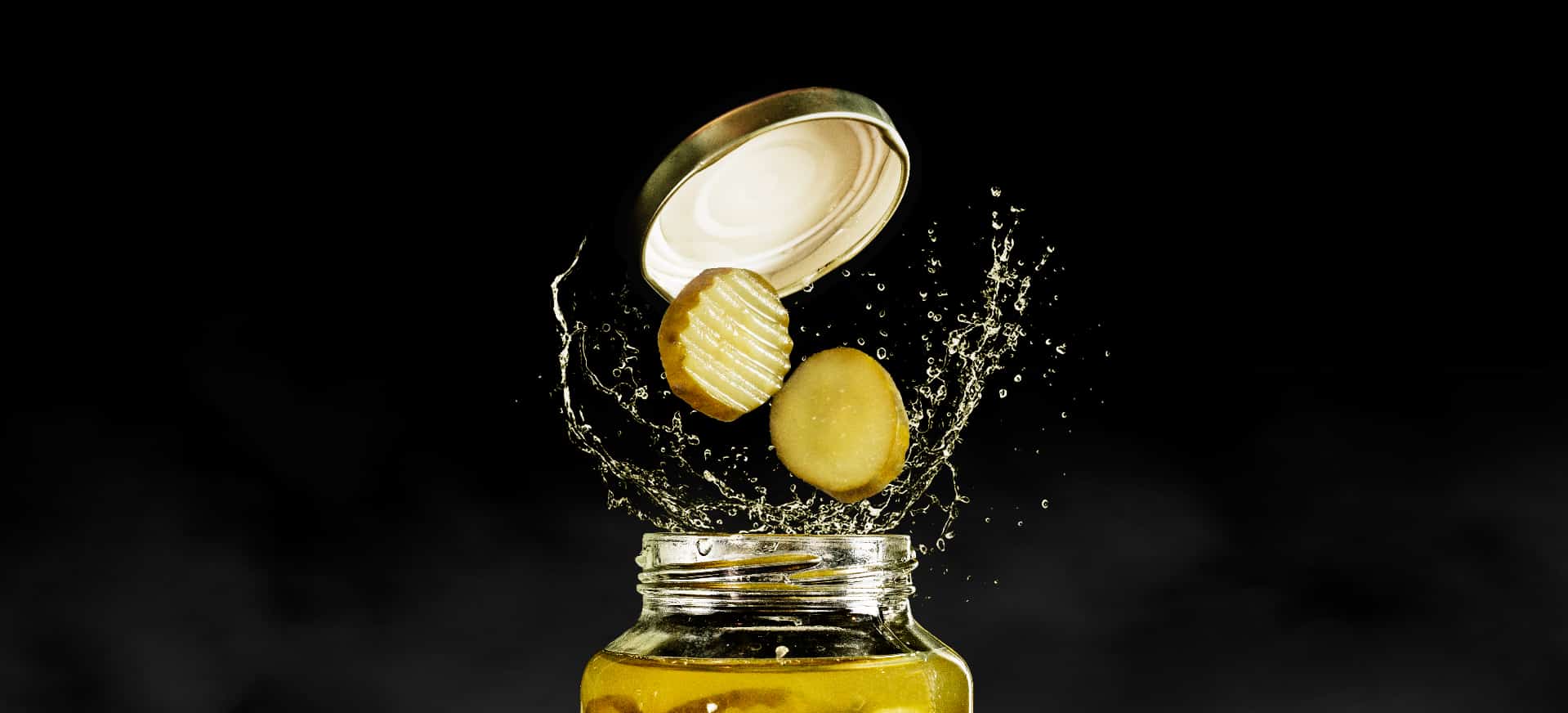 From there, they go onto a big production line where hot brine is poured on them, and a capping machine seals them right away with steam. The jars go into a cook tunnel that mimics what would happen if you boiled the jars. Then they go into a cooling tunnel and you have a finished jar of pickles! An air hose dries them off and sends them right into labeling. 
So how is that different from what you'd see in other pickle manufacturing facilities?
We turn a cucumber into a pickle in about five days. Most large manufacturers get cukes off a farm and let them sit for 6 to 12 months. They often keep them in a wash tub that's full of 80% salt and 20% water, and that solution that dehydrates the produce. So then, they have to rehydrate them with chemicals, like potassium sorbate and sodium benzoate, and hit them with Yellow #5 dye to bring the color back. It's obviously cheaper to do it that way, but we feel our process is cleaner and more gourmet. 

Tell us more about the cucumbers that you use!
We're real sticklers about our cucumbers. We work with a number of farms to source them: in the winter we have to get them from Florida; in the summer months, cucumber growing is big in Michigan so we get them from there during the growing season. To make a better all-natural pickle, it starts with a better cucumber. What we get are the highest quality; a lot of pickle companies are going to want the cucumbers that are left over at farms after all the best crops are gone. We've always stressed to our farmers that we really want the best of the best. We're not going to sacrifice, and have even turned trucks away. Like, we've received some cucumbers that were shipped on freezer trucks and showed up frozen. We're not going to use that. Our shelf price is a little higher but we're consistently delivering a high-quality product every time. If you're going to spend $7 on a jar of pickles, we want you to rest easy that it's going to be worth it.
Let's talk about your product line. What did you start with, and how has it grown?
Pittsburgh Style was first, that's the one we made in the back of the bar. The "Pittsburgh style" is something we made up. I usually say it's like Pittsburghers themselves: It's salty and sweet. It's the best-selling pickle made in Pennsylvania, something about it is just right! We feel it represents the uniqueness of Pittsburgh, there's really nowhere else like it.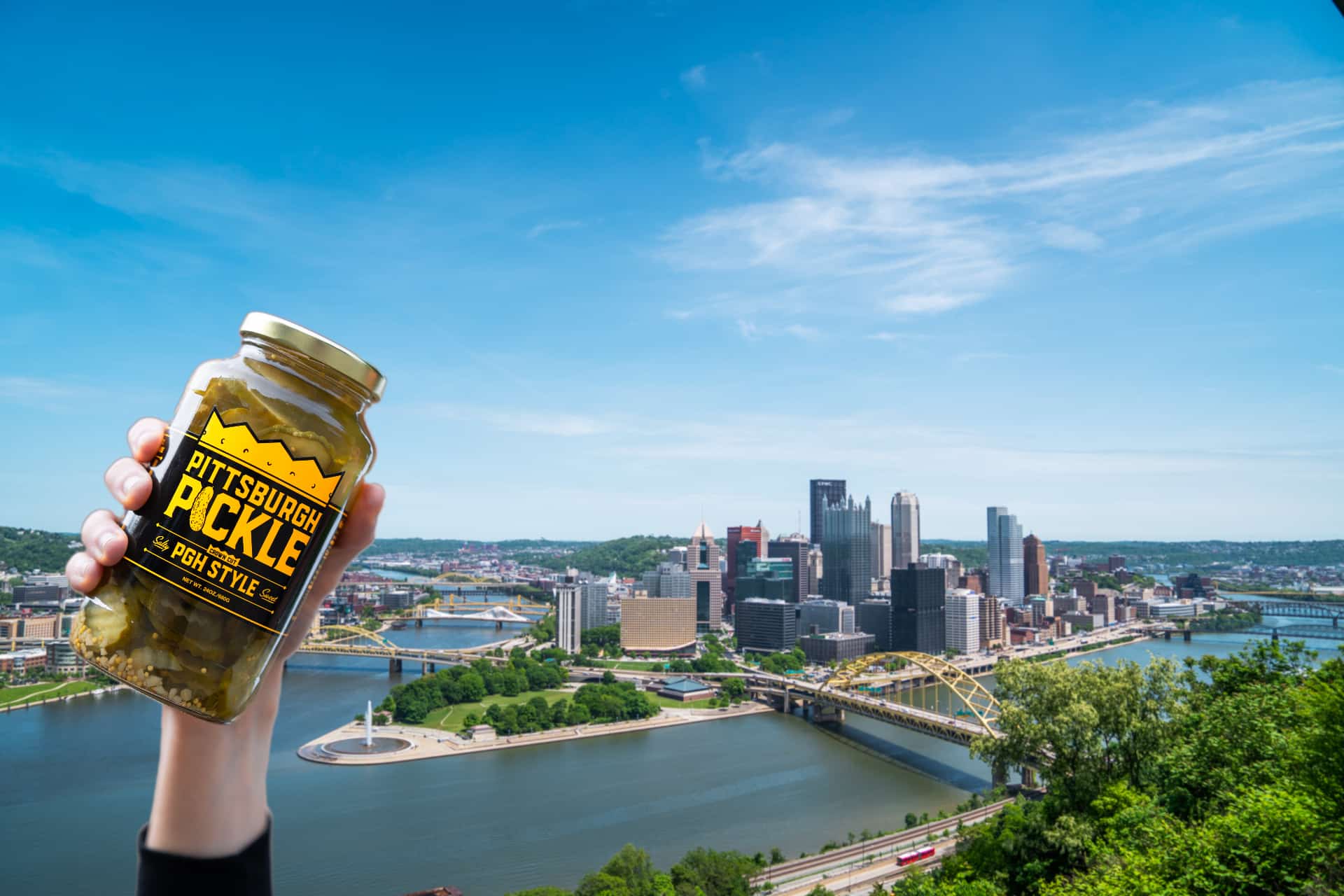 After some time, we expanded the line to include Original Dill, the spicy and smoky Brimstone, and Dagwood, a bread and butter-style pickle made with apple cider vinegar, so it's not so sweet. During our first two years we got calls constantly asking us to bottle our pickle juice, and when we finally did it, it surprisingly became one of our best-selling products. One of my favorite products is our Briny Mary Bloody Mary mix. It's a mix of fresh tomato, a blend of spices and pickle brine. At the 2020 Drunken Tomato Awards, an international Bloody Mary mix competition, we walked away with two platinum medals and the overall highest scores. They basically said we had the best Bloody Mary in the country! We entered again in 2022 and again earned 2 platinum medals.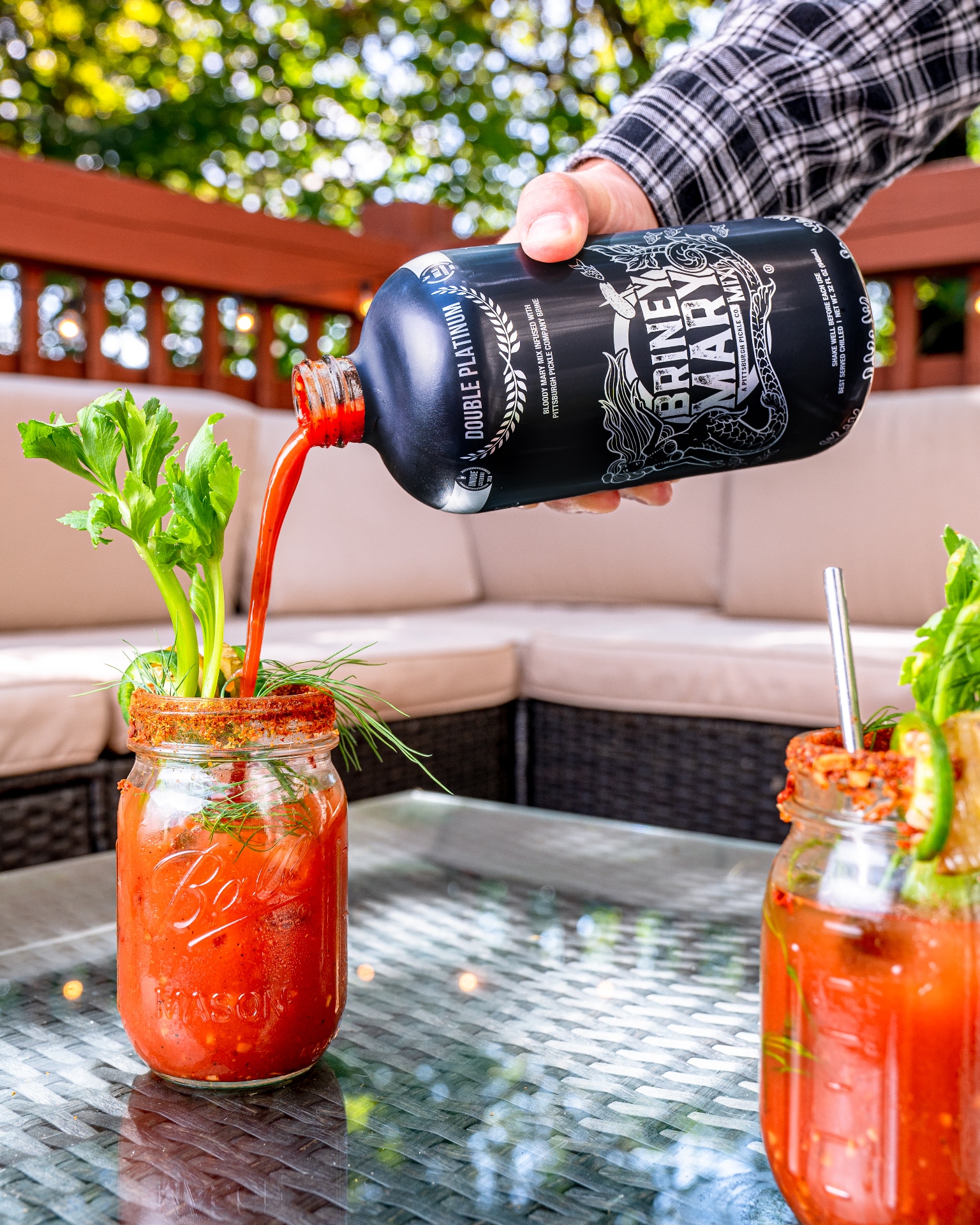 What are some creative ways you've heard of people using Pittsburgh Pickles?
People use the pickle brine as a brine for fried chicken, or in Bloody Marys. Personally, I like to make a taco salad with our Brimstone pickles. Also, people in Pittsburgh love Islay's Chipped Chopped Ham, and I once saw a recipe for "Yinzer Sushi" that was a roll with cream cheese, Islay's ham and our pickles!
Where can people find Pittsburgh Pickle products?
Walmart has it in about 200 stores currently and we're on track to expand to 500 or potentially 1,000 stores by this fall. Our pickles are also on Amazon. You can find us in a bunch of small, local shops, and at your local Giant Eagle. The entire line of products is still for sale at the bar, too. Every time I'm there I love looking at them lined up next to the liquor on the back bar.
To learn more about Pittsburgh Pickle, visit its website, or follow along on Facebook and Instagram!
Photos:

Pittsburgh Pickle