As part of our Greens + Grains theme, we're interviewing a series of local bakers, pastry chefs, bread masters and dough whisperers. If you know a baker who should be featured, let us know at [email protected] 
If you've strolled the streets of Lancaster from King St. to Prince St. and up to Franklin & Marshall's campus, you've definitely dipped into a coffee shop or two. To be specific, we're talking Passenger Coffee, Prince Street Cafe and Blue Line Lancaster, right on Franklin & Marshall's campus. And while we know they all share the same killer coffee selection, they're also all sister companies, huddled under the umbrella of Commons Company, owned by Crystal Weaver and Kyle Sollenberger.
And, we hope, if you're anything like us, you work hard and deserve to treat yourself to any one of the number of those handmade treats staring you down at the registers. Trust us, we don't blame you! How can you resist made-from-scratch pies, biscuits, jams, cookies, brownies and tarts?
The ladies behind the baked goods, Leila, Melissa and Adriane, have their hands in many a cookie jar as they're busily baking sweet and savory treats for all of Commons Co.'s local spots, in addition to its catering division, Merrymaker Catering. Phew! These girls are busy. See what they had to say about baking for the hungry masses in Lancaster.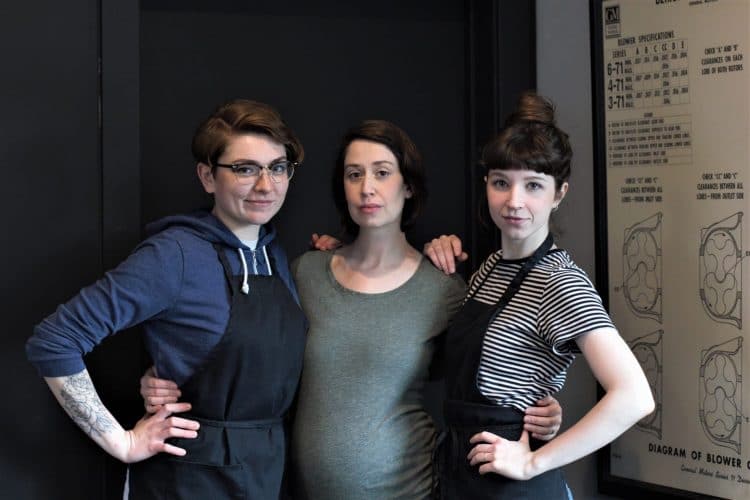 PA Eats: Names, ages, hometowns/where you live now, please!
Leila: 23, Rugby, England
Melissa: 22, Queens, N.Y.
Adriane: 32, Harrisburg, Pa. And all three of us live in Lancaster City now.
First thing you ever baked that made you be like "YES, I can do this"? And, how old were you?
Leila: Probably the first time I nailed down a pie dough recipe last year.
Melissa: Mini Oreo Cheesecakes; technically, it was a no-bake recipe, but I'm including it because my friend was blown away.
Adriane: Cream puffs; I had to make hundreds of them one weekend at my first bakery job as a teenager.
How do you all work together as a bakery team? And how do you come up with new ideas?
Adriane: As a team, we have a good balance of professionalism and weirdness. Sarcasm and TV show quotes get us through the day. Casey Campbell, the culinary director for Commons Co., develops the recipes and menus for all of the cafes, catering and wholesale products within Commons Co.
Best bit of advice you got along the way?
Leila: Work smarter, not harder.
Melissa: We're not saving lives, we're just making food.
Adriane: Always start your day off by making a recipe you've made tons of times to get you into the groove of the day.
What's the most popular item on the menu(s)?
Adriane: Probably the Nutella Cookie Sandwich. We make about 500+ chocolate cookies every week.
What's your favorite thing to bake? And what will you never get sick of eating?
Leila: Seasonal crostadas for Passenger. I always can (and do) eat our chocolate chip cookies.
Melissa: Coffeecake; People beg for it when it's not on the menu. I always love to eat our buttermilk biscuits.
Adriane: Chocolate chip cookies, and same for eating.
What's your favorite part about working together?
Adriane: The constant laughter. But also knowing that everyone is holding it down. There's so many different things being made throughout the day, so everyone is constantly multitasking. It's nice to know that underneath the jokes, we all know what's going on and have each others' backs.
Secret weapon that every baker should add to his/her arsenal?
Leila: Portion scoop (for cookie dough and muffins); I'm super OCD about everything being the same size.
Melissa: Mini torch.
Adriane: Cleaver; great for cutting cakes, bars, chocolate and for intimidating people.
Best music for baking to?
Adriane: Justin Timberlake (duh). It changes a bunch throughout the day, depending on the mood. Some favorites are Metronomy, Lucius, Leon Bridges, Frank Sinatra, Santigold and Miles Davis.
You can find these aforementioned goodies and more at Passenger Coffee at 315 E. Marion St., (717) 455-3633; Prince Street Cafe at 15 N. Prince St., (717) 397-1505; and Blue Line Lancaster on Franklin & Marshall's campus, (717) 455-3636.