It's road-trip season! No matter where you live in Pennsylvania, there's somewhere awesome to explore just around the bend. If you need a break from the day-to-day, there are so many getaways awaiting you. All across the state there are charming towns, breathtaking nature, thought-provoking culture, and of course, amazing food and drink to explore.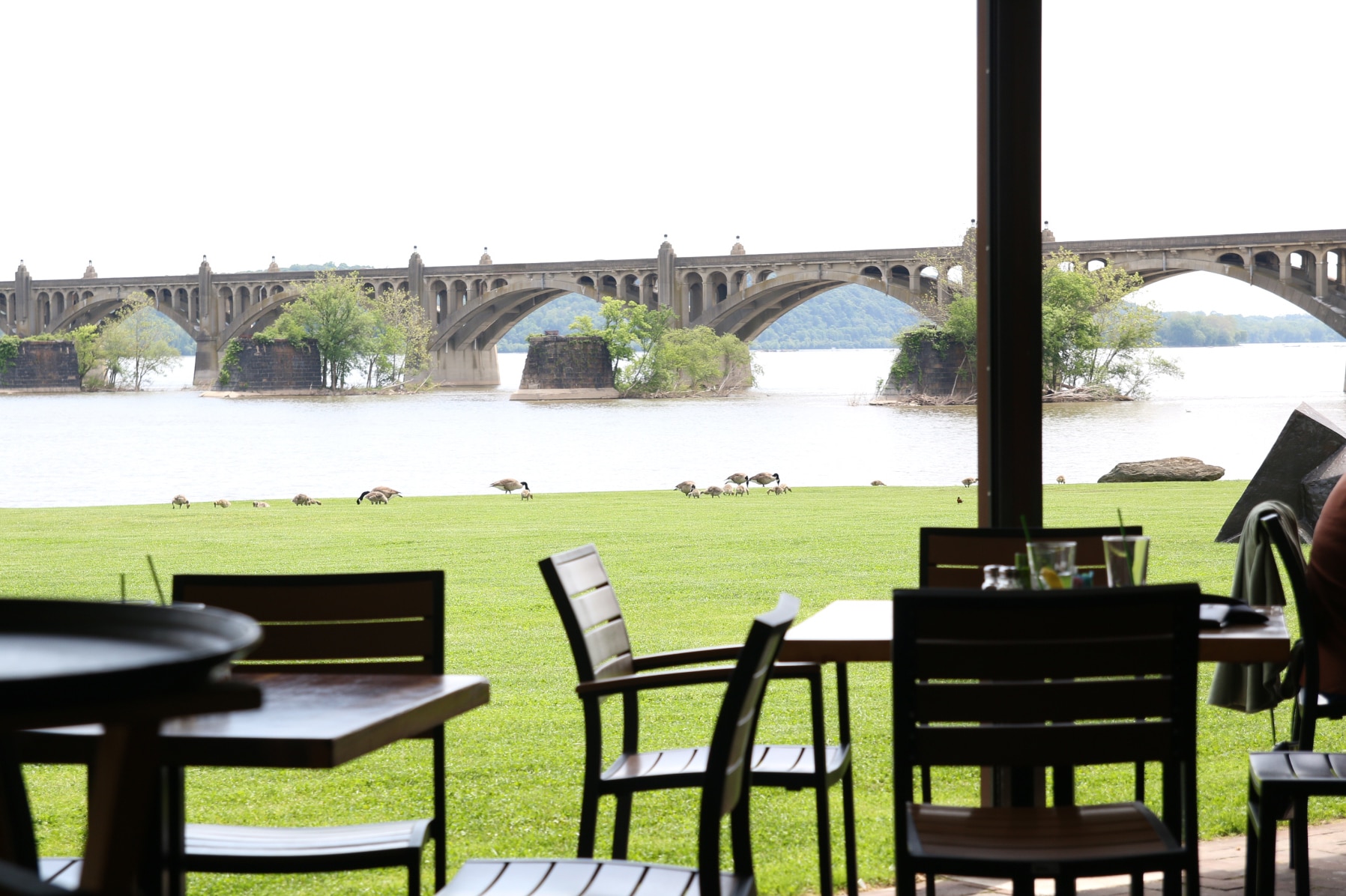 One such destination is Wrightsville, PA in York County, situated on the western banks of the scenic Susquehanna River. This quaint borough, which was incorporated in 1834, is steeped in history, as it is the well-known location of the burning of the bridge during the Civil War in 1863. George Washington even considered Wrightsville as a possible location for the capital of the U.S.!
Just 2 hours from Philadelphia, and less than an hour from Harrisburg, Wrightsville is a great candidate for your next day-trip or weekend jaunt. Here's what to eat, drink and do when you visit:
What to Eat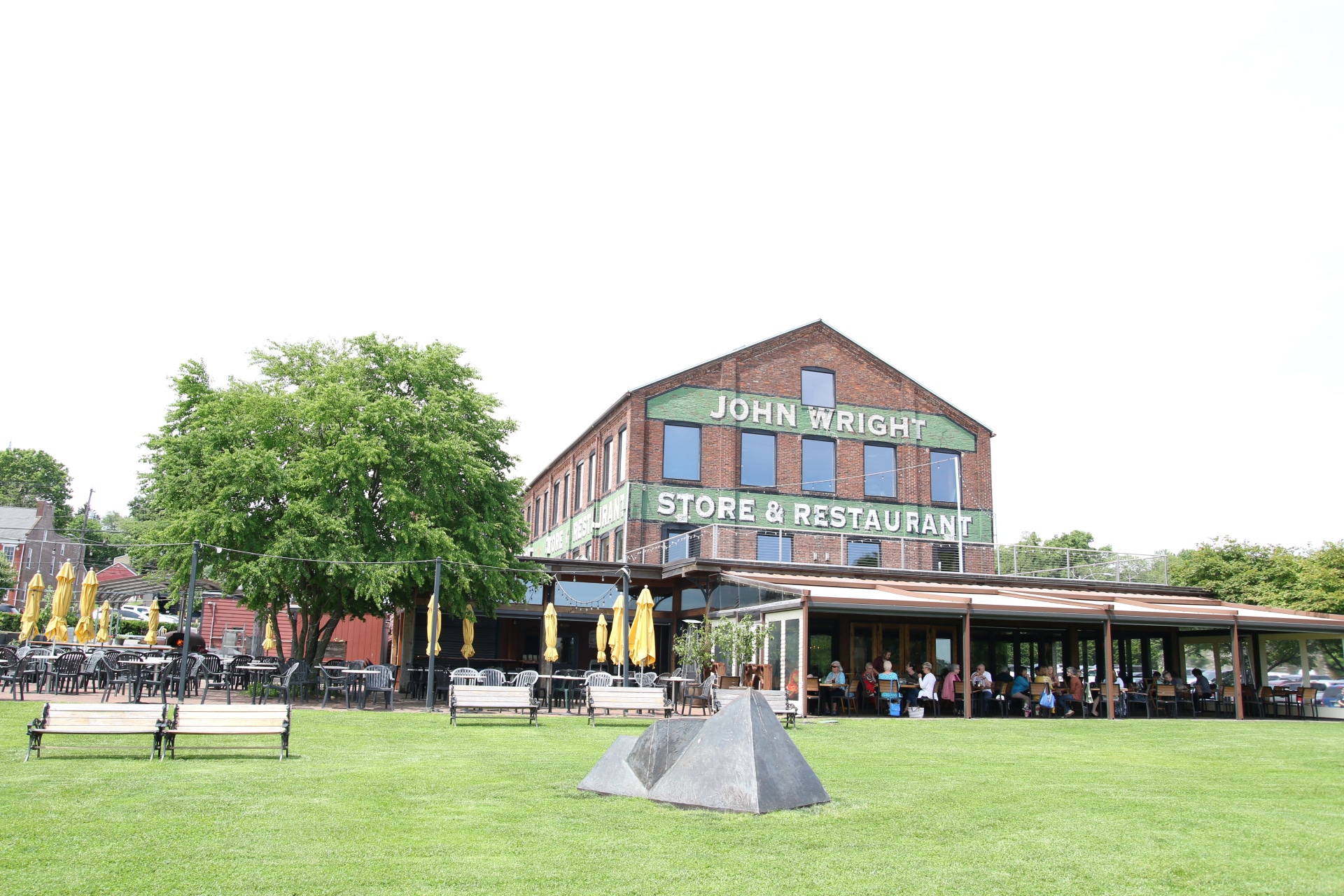 Known as one of the best places in the area for upscale dining and comfort food, John Wright Restaurant is a New American restaurant offering gorgeous views of the river and equally lovely dishes to enjoy. With a focus on sourcing ingredients from nearby farms and producers, the items on the menu are bursting with freshness and flavor. During the warmer months, enjoy wood-fired pizzas on its outdoor patio! 
Currently, the restaurant is open indoors at 25% capacity (reservations strongly suggested), serving a variety of creative plates, like truffled Brussels sprouts, Jamaican jerk pork chops and duck confit with rigatoni. Kids meals are available if you have little ones in tow! John Wright is open for lunch and dinner every day except Monday and Tuesday. 234 N. Front St., Wrightsville, PA; (717) 252-0416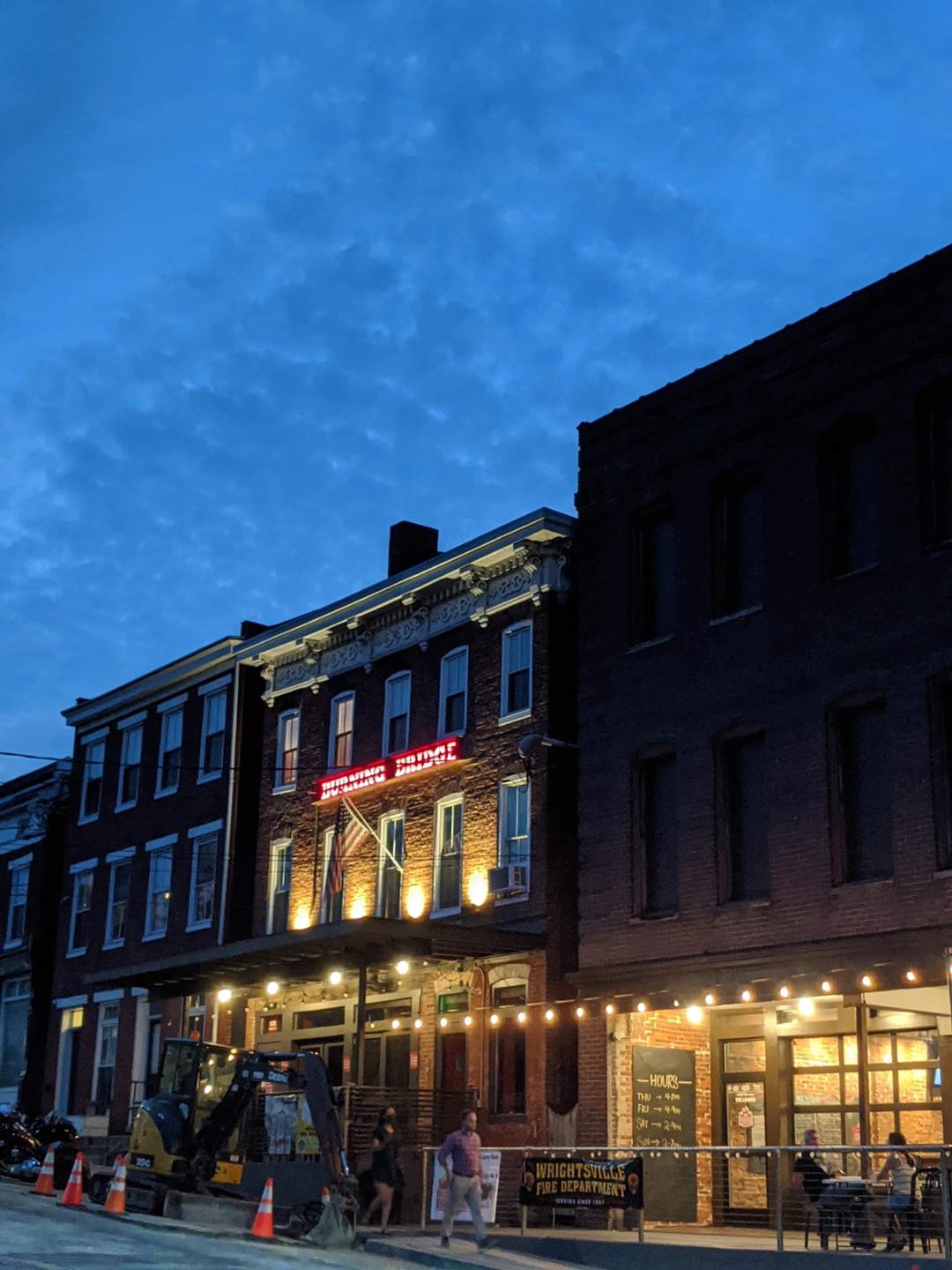 For a more casual vibe, check out Burning Bridge Tavern, a family-friendly neighborhood pub where barbecue is the name of the game. Start with a Squeaky Cheese (fried cheese curds) appetizer before tucking into a piled-high pulled chicken or brisket sandwich. The rest of the menu is also worth digging into, with favorites like jalapeno poppers, Caesar salad and the Black & Blue burger. Don't forget a local craft brew or cocktail to accompany your grub! 
Currently, Burning Bridge Tavern is available for dine-in, walk-up orders, and to-go orders. Hours are: Thursday from 4 to 8 p.m., Friday from 4 to 9 p.m., Saturday from 3 to 9 p.m., and Sunday from 2 to 7 p.m. 108 Hellam St., Wrightsville, PA; (717) 252-2468
What to Drink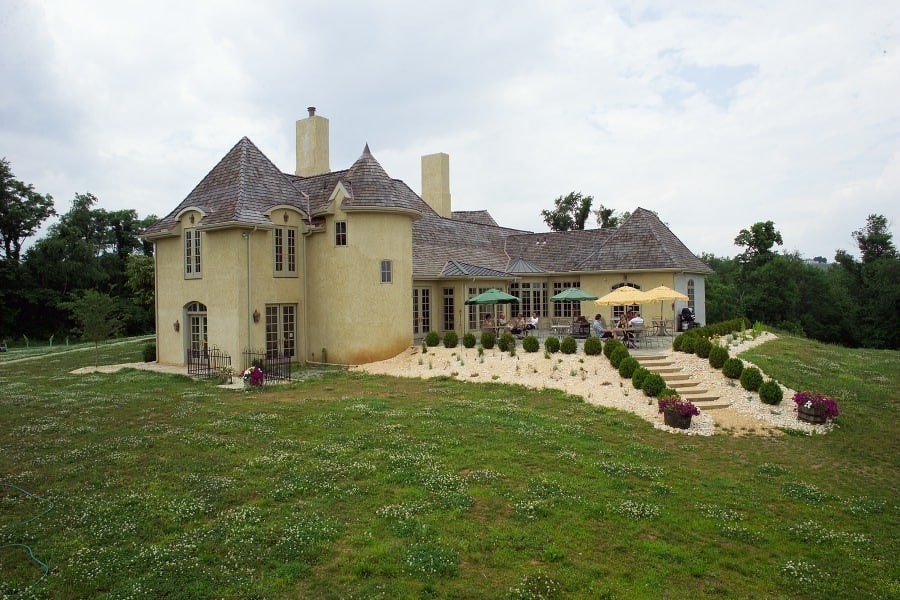 Whether you're a wine drinker or not, you simply must visit the well-known Wrightsville location, Moon Dancer Winery and Cider House. Set atop a beautiful hilltop in a stunning French chateau-inspired building, the river views from the winery are not to be missed. Once seated at a comfortable outdoor table, sample your way through Moon Dancer's selection of wines and ciders. There are locally made craft beers and spirits also on offer! Order up a wood-fired artisan pizza, featuring fresh ingredients from the winery's property, or a wine-friendly snack, like fire-roasted olives or naan bread with hummus.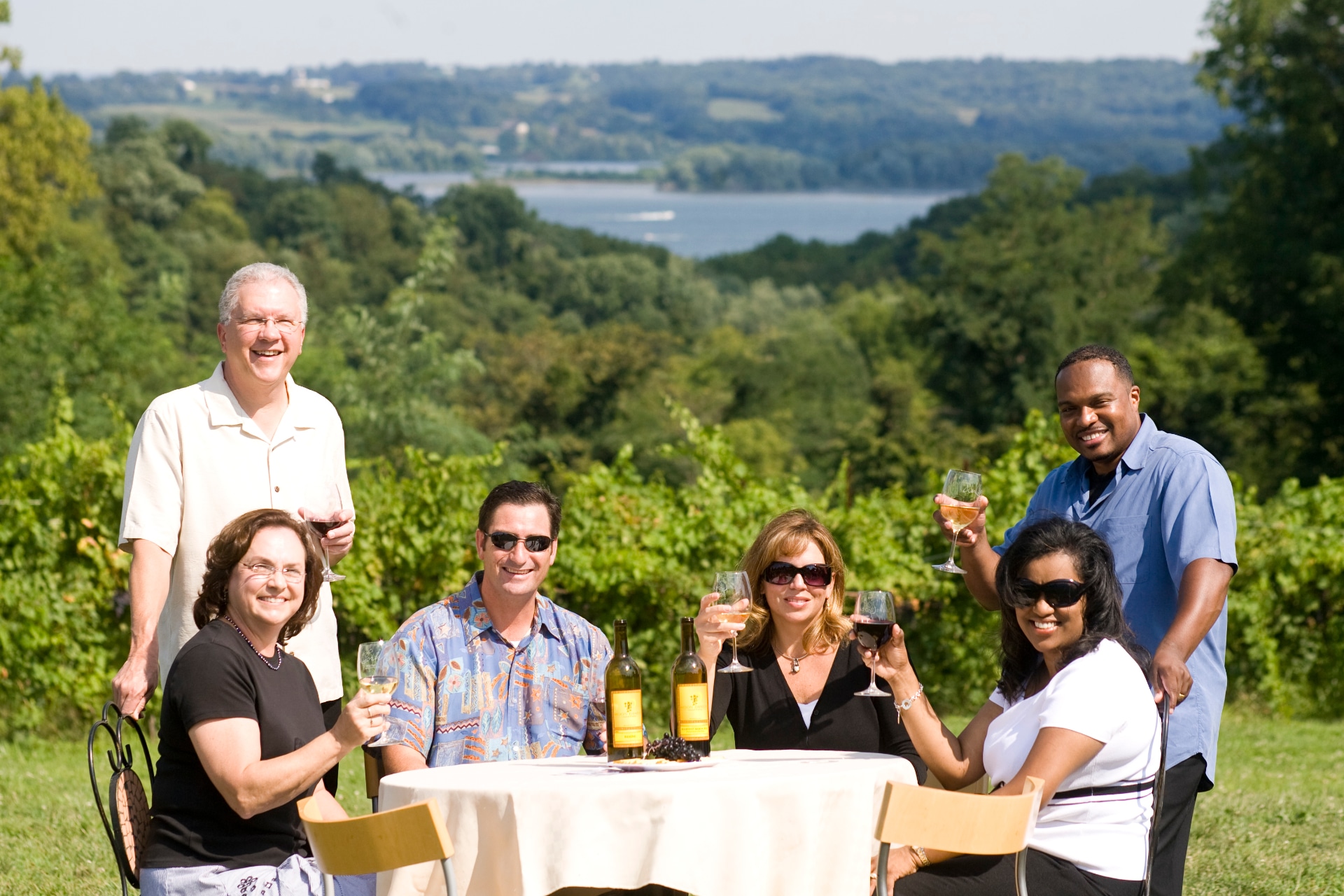 Hours at the winery are: Wednesday and Thursday from noon to 5 p.m., Friday from noon to 10 p.m., and Saturday and Sunday from 11 a.m. to 6 p.m. Live music is offered each weekend; bring your own lawn chair and blanket to enjoy the outdoor entertainment! 1330 Klines Run Rd., Wrightsville, PA; (717) 252-9463
What to Do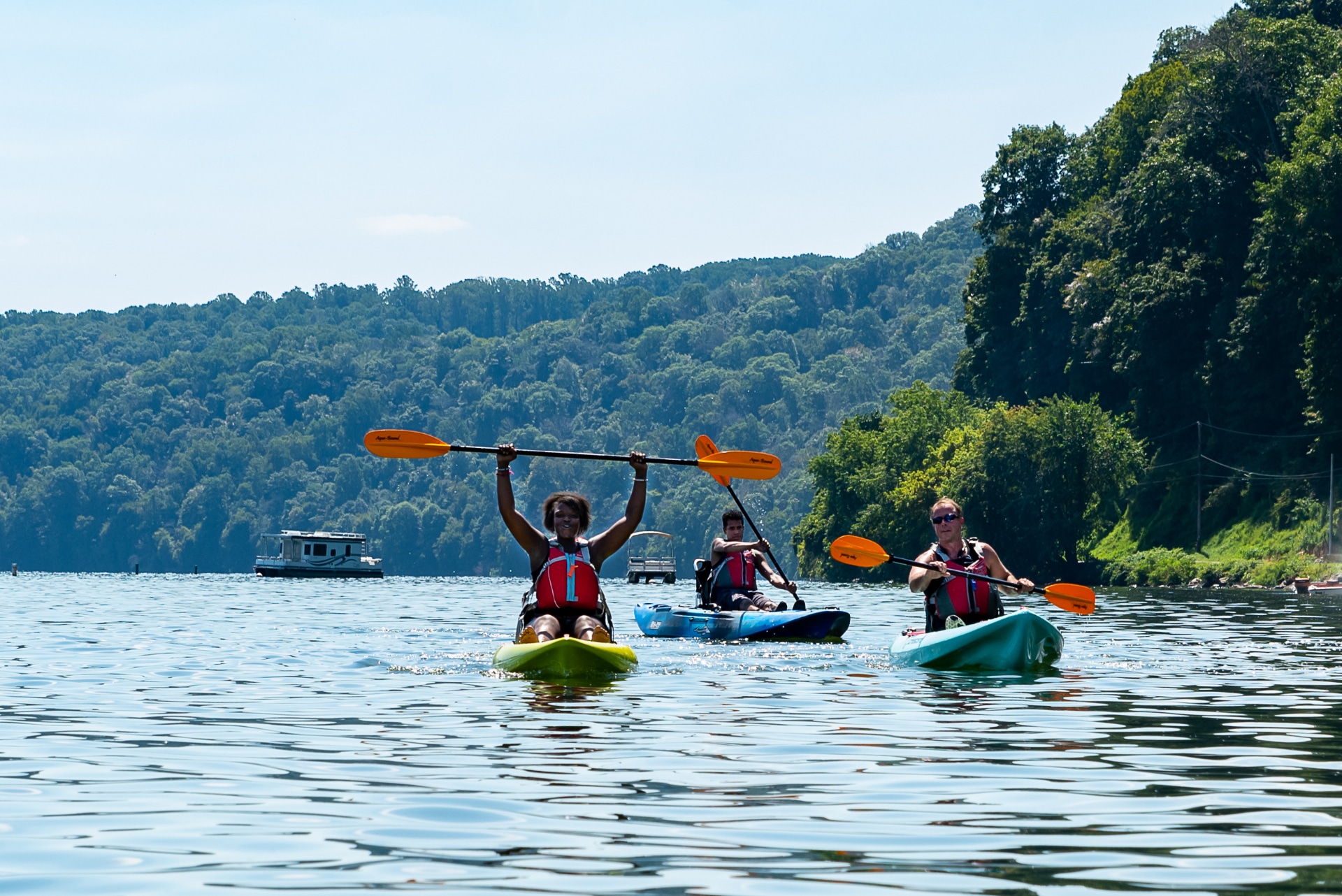 If you love outdoor adventures, you know how important having the right gear is! In Wrightsville, look no further than Shank's Mare Outfitters for everything you need to enjoy time in nature: recreational, touring, fishing, kayaking, stand-up paddleboarding, hiking and cross-country skiing gear is all for sale. Paddleboard and kayak lessons, paddling trips and other experiences are available for purchase! Bonus: Shank's Mare is located inside an 1880s-era general store building on the Susquehanna River for excellent old-school shopping feels. 2092 Long Level Rd., Wrightsville, PA; (717) 252-1616.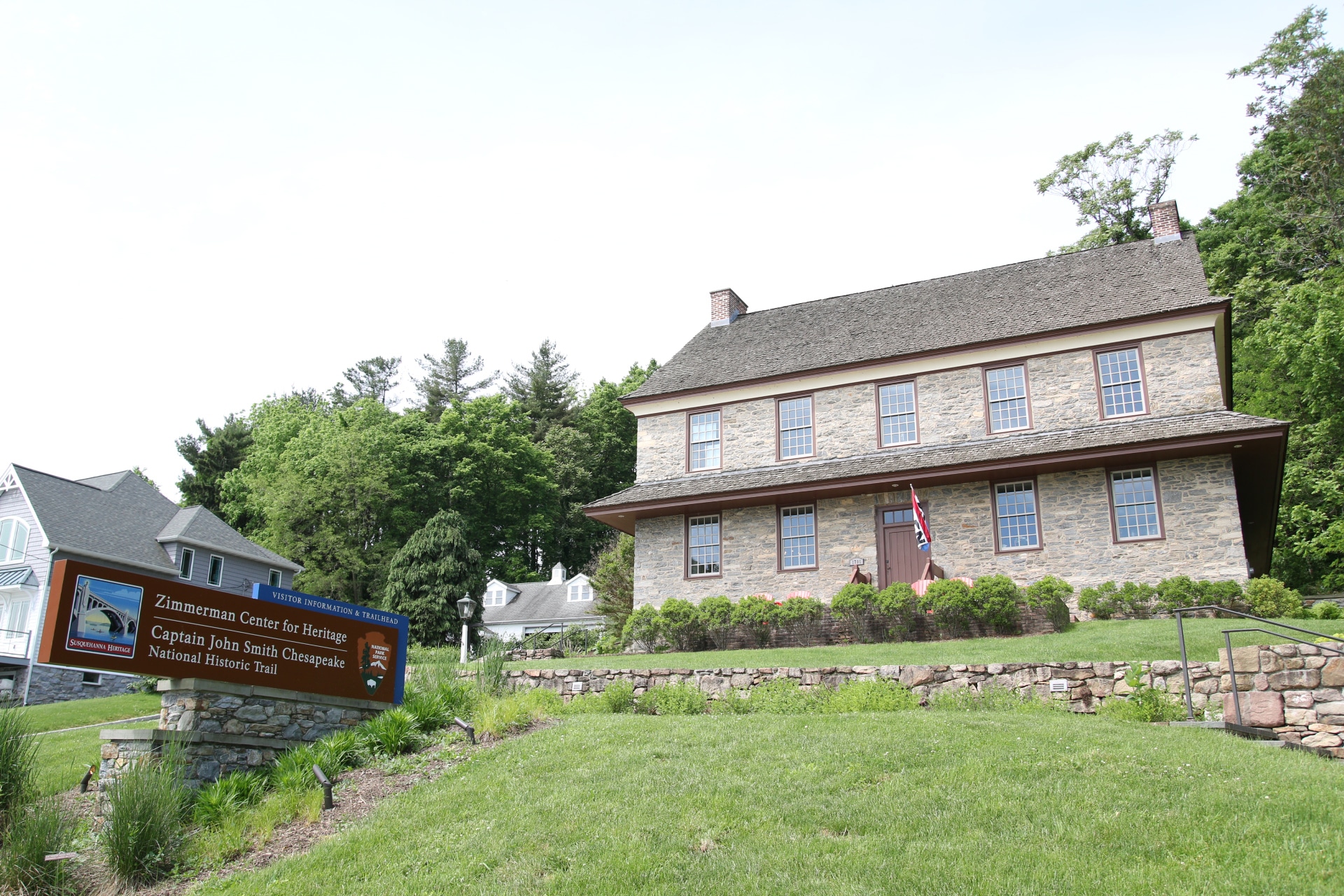 If you want to explore the Susquehanna River, stop by the Zimmerman Center for Heritage, the official Visitor Contact Station for the Captain John Smith Chesapeake National Historic Trail. This trail, named for Englishman John Smith, follows his historic voyages on the Chesapeake Bay and its tributaries from 1607 to 1609. The U.S. Congress designated the routes of Smith's explorations as a National Historic Trail in 2006, and the trail runs through Virginia, Maryland, Delaware, Pennsylvania, New York and the District of Columbia.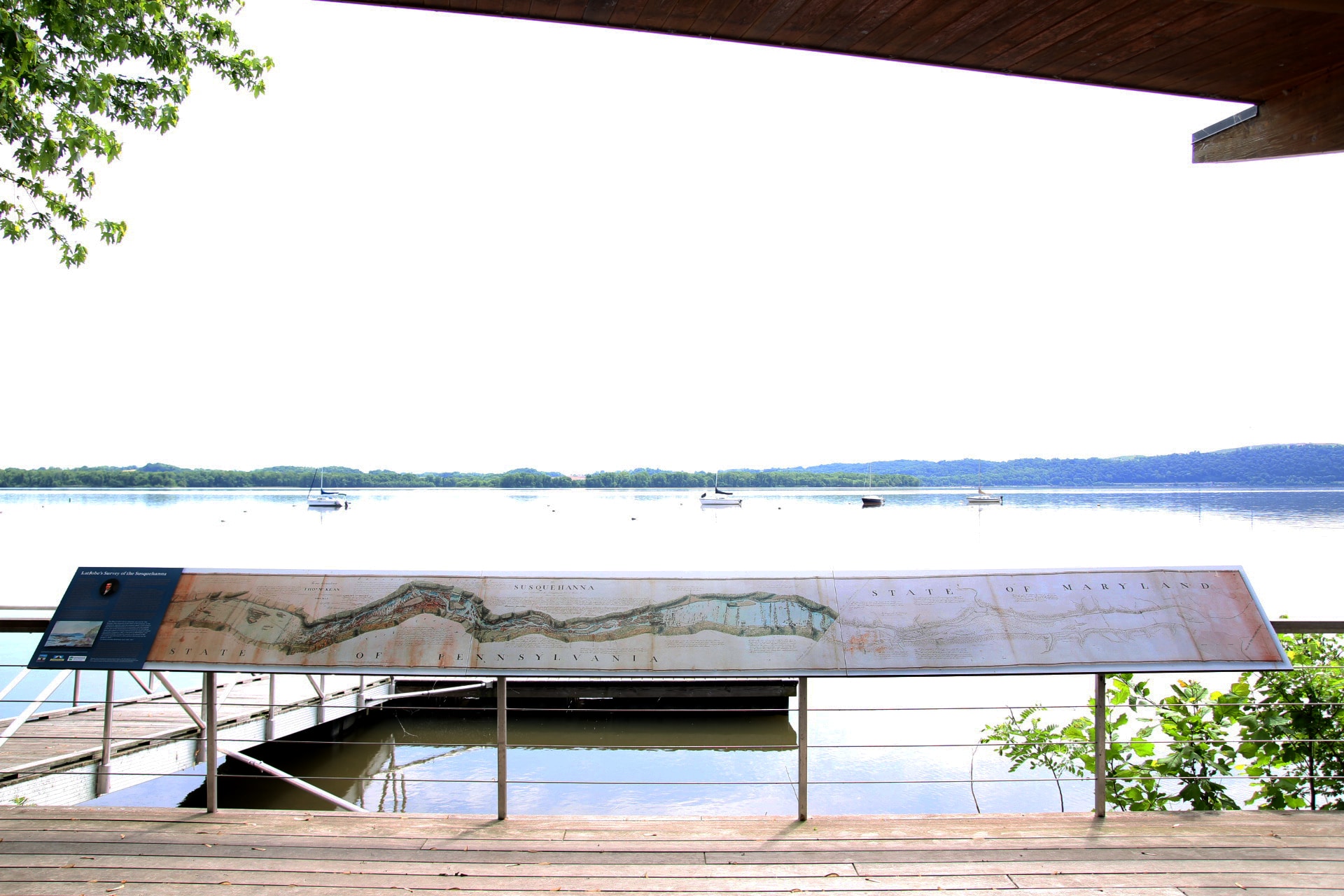 Inside this riverside mid-18th century home called Dritt Mansion, you can get your National Park Passport stamped, and learn more about the Susquehannock Indians and river history. Kids can become Junior Rangers, and the whole family will love exploring the River Art Collection. To take the fun outdoors, hike to Native Lands County Park and the Mason-Dixon Trail, or launch your kayak or canoe into the river from the Center's floating paddlecraft landing. It's open year-round, Tuesday through Sunday from 10 a.m. to 4 p.m., with free programming available on the weekends. 1706 Long Level Rd., Wrightsville, PA; (717) 252-0229
For more local history, don't miss the Wrightsville Historical Museum, inside a house built in 1871 by Calvin S. Budding during the Civil War, which was eventually donated to Historic Wrightsville, Inc. The museum works to preserve and share the rich heritage of the borough, with permanent exhibits on the history of Wrightsville. With the guidance of volunteer docents, learn about the various bridges at Wrightsville and special exhibits on particular aspects of local history. 309 Locust St., Wrightsville, PA; (717) 252-1169
​Burning of the Bridge Diorama is housed inside a diminutive building that has at times been a post office, a barbershop and a stove store. Thanks to donors, the diorama opened In 1996, and uses sight and sound to depict the story of Confederate General John B. Gordon and his soldiers, who reached Wrightsville in June 1863. Hoping to cross the Susquehanna River and enter Pennsylvania, they were stymied by a partially trained local militia who used makeshift fortifications to stop the Confederates. The diorama also tells the tale of the burning of the Wrightsville-Columbia Bridge (at the time, one of the longest covered bridges in the world), in an effort to stop the eastern advance of Lee's army. The diorama is staffed with history-buff volunteers who, along with the 3-D diorama, help these stories come to life. 124 Hellam St., Wrightsville, PA; (717) 252-1169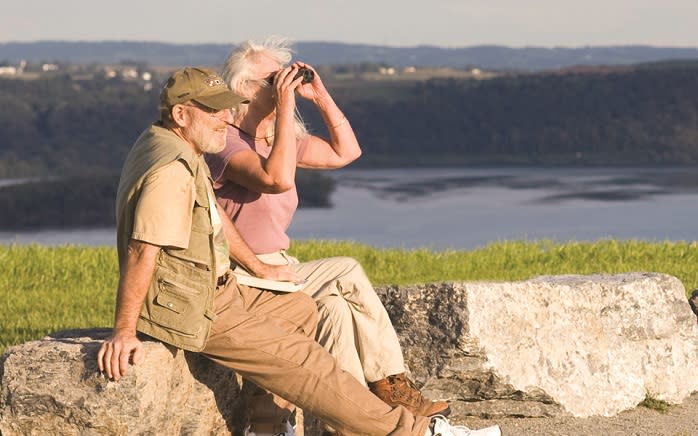 York County is home to many places to hike and picnic, and one of the best among them is Highpoint Scenic Vista. This 79-acre meadowland is at the apex of a hill that overlooks the Susquehanna River, and the 360-degree views are incredible. Have a seat on one of the carved stone benches and take it all in (the park is great for birdwatching, too). Various trails run through the park, from the stroller and wheelchair-accessible half-mile Heritage Trail, to a portion of the Mason-Dixon Trail. There are picnic tables, if you'd like to bring a snack or lunch with you. 1199 Hilts Road, Wrightsville, PA.
Ready to pack up the car and trek out to Wrightsville? Find all the info you need to make the most of your York County adventure by following Explore York on Facebook and Twitter or download the helpful and convenient Travel Guide here. Also, be sure to sign up for the Explore York Getaway Guide e-newsletter to find out about local happenings all year long.
Burning Bridge Tavern photo:

Burning Bridge Tavern

All other photos:

Explore York