If you've ever dream of opening a restaurant, perhaps you envision what kinds of professional equipment you'd stock the kitchen with, or what specials would go on the menu. But for chefs and restaurateurs looking to embark on the epic undertaking of opening a new concept or an expansion of an existing restaurant, the journey starts well before menu planning.
The action really begins with finding the exact right location. Identifying the right town, the best street and a specific building to house a restaurant is a specialized skill — and in our region, there's no one rocking the restaurant real estate game quite like Tess Scott and Jim Pinckney of Zommick McMahon Commercial Real Estate (ZMCRE).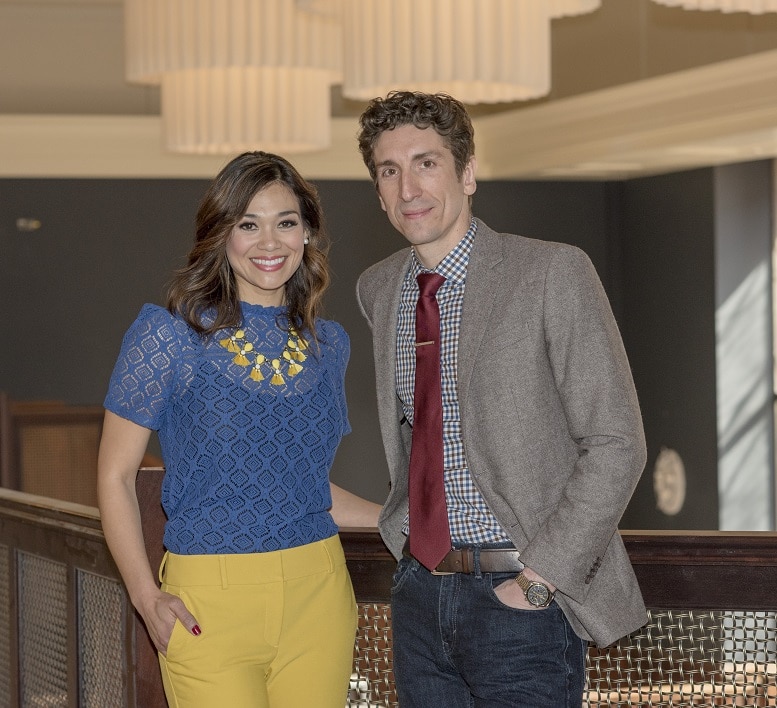 This duo, who are based in West Chester, didn't begin their careers helping chefs find the perfect locations for new restaurants. Tess actually started her career as a dental hygienist, and moved to the area in 2011 from South Carolina. After her children began elementary school, she began to look for a new job, and joined the ZMCRE team in 2015.
Jim, a Penn State alum, started out working in supply chain and logistics. A decade ago, Jim's job contract was expiring and he decided to make the leap into the real estate world, joining his childhood best friend and his best friend's uncle who had recently taken over ZMCRE. Tired of working in warehouses, he says, "I just liked the idea of the freedom that [real estate] provides with no set hours, and so much autonomy … you get to choose what you want to do, what you want to work on."
Soon after Tess joined the ZMCRE team, Jim invited her to collaborate on a restaurant project: the original location of Molly Maguire's in Downingtown (just re-leased by Estrella Tacos Y Mas).
"Working in the restaurant industry is fun and interesting, much more exciting than leasing office spaces or warehouses. I love getting to know the chefs! They are passionate about their food and the concepts they want to achieve," she says. As self-described "food and cocktail enthusiasts," both Jim and Tess loved the process of working on restaurant real estate and started making concerted efforts to work in the restaurant industry as a team.  
"Chefs are very hardworking, creative people, and it's exciting to be a part of what their vision is," Jim says.
It makes sense that people who love food and love to go out would bring an expert eye to restaurant real estate. When asked about their favorite spots to eat and drink in and around West Chester, the two name-drop Brick & Brew for its simple menu and well-executed beverage program; La Cabra Brewing in Berwyn for beers; brunch at Roots Cafe; old fashioneds at Hearth Kitchen; happy hour at Blue Pear Bistro; and Stove & Tap for vibe.
"We're seeing city-style restaurants infiltrating the suburbs and we love it," Jim says. He notes that other trends include a shift away from traditional chain restaurants and the decline of "stuffy fine dining," and a move toward healthier and locally-sourced concepts aided by the area's proximity to so many great family farms.
One of their biggest projects to date has been working with the owners of The Bercy, the hotly anticipated French brasserie coming to Ardmore this April. Finding the stately building on Lancaster Ave. was only part of the process; helping the restaurateurs to see the potential in the space was another.
"Some of these spaces need to be completely gutted and it can be overwhelming," Tess says. "Showing our clients a plan of what walls can be removed, giving them ideas about outdoor seating and opening up the space can help them envision the possibilities and potential, without scaring them off."
Tess brings a strong eye for design with her to each project. Though she notes that many restaurant folks are already creative thinkers who "already have a clear vision," she is able to help clients who are less sure about aesthetics.
"I like the rustic industrial type of design that has some modern edge to it and also incorporates a little femininity … a chandelier and natural reclaimed wood can really warm the space," she says. "I love how Avenue Kitchen in Glen Mills combines those elements."
"Tess is a DIY home project expert — she even built her own bar in her basement!" Jim says. "She's got a design eye and can pick out more modern styles and things that are on-trend today."
Jim's deep understanding of restaurant economics helps him to guide clients toward the spaces that fit their budget and set them up for future success. "We're very conscious about keeping occupancy costs down to under 10%. Also the size is important — you don't want to go too large," he says. "Because the cost of food varies so much, you have to have some sort of cushion … if you're overspending on your rent or mortgage just to get something you have your heart set on, you're destined to fail." He sees part of their job as trying to educate clients, especially startups, to pare down expectations and start with something smaller that they can "get their arms around."
Working together, Jim and Tess are becoming known as the go-to team in the region for restaurant real estate. They have some exciting projects in the works (more on that soon) that are helping to keep the Philly 'burbs restaurant scene boom going. Jim attributes their success to the strength of their partnership. "We're able to divide and conquer, she has strengths that I don't and vice versa, and we complement each other well," he says.
Tess agrees, saying, "We can just accomplish so much more when we work together."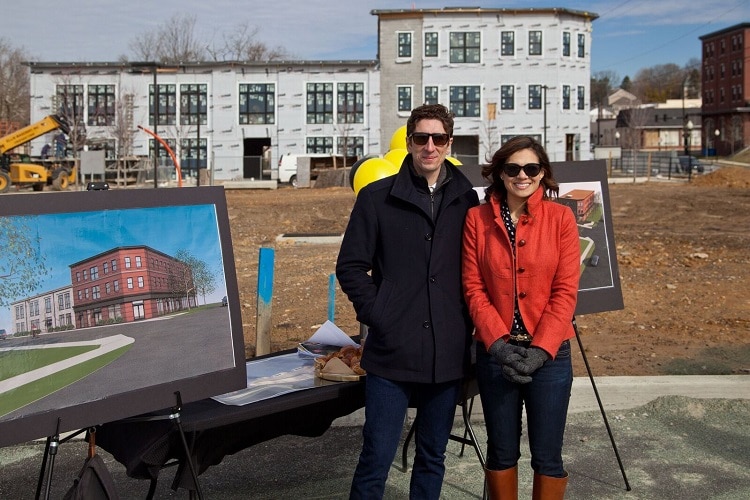 For more info, visit ZMCRE's website and Facebook page, or call either of them directly: Tess at (610) 401-3453 or Jim at (610) 453-2569.
ZMCRE is located at 1306 Wilmington Pike, Suite A-2 in West Chester; phone: (610) 359-1100.
Tess & James photo:

Ed Williams

Brick & Brew interior photo:

Weld Photography​

The Bercy photo:

The Bercy

Outdoor photo of Tess and Jim:

Courtesy of Jim Pinckney