As part of our Kitchens + Gardens theme, we are taking a peek into the kitchens behind some of our favorite restaurants and asking the chefs, "What's in your walk-in?" These culinary pros will show us the specialty and seasonal ingredients they currently have on hand to make their dishes shine.
For many of us, a walk-in closet (with plenty of room for shoes) is a dream come true. Now, imagine the concept of a walk-in fridge/freezer where a chef has all the makings to create, or enhance, just about anything on the restaurant's menu. Welcome to our behind-the-scenes exploration of a walk-in, with a restaurant chef to guide us through her or his favorite ingredients and how these ingredients are used.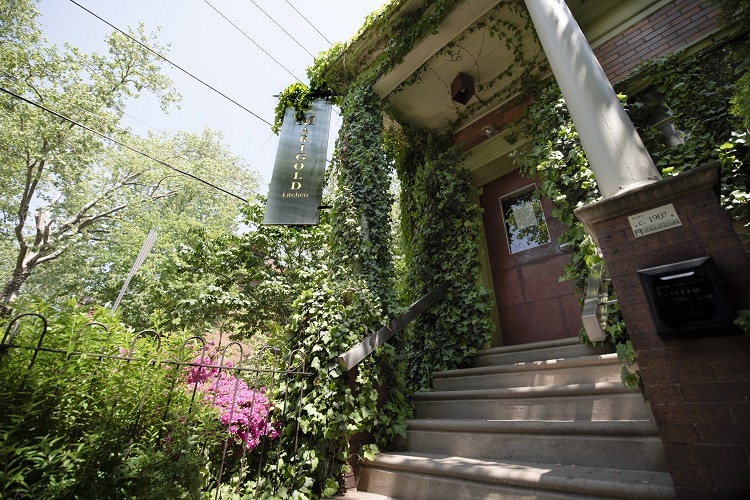 We begin our adventure at Marigold Kitchen, an upscale BYOB ensconced in climbing ivies and hugged with flowering shrubs, located on a leafy corner in the Spruce Hill neighborhood of West Philadelphia.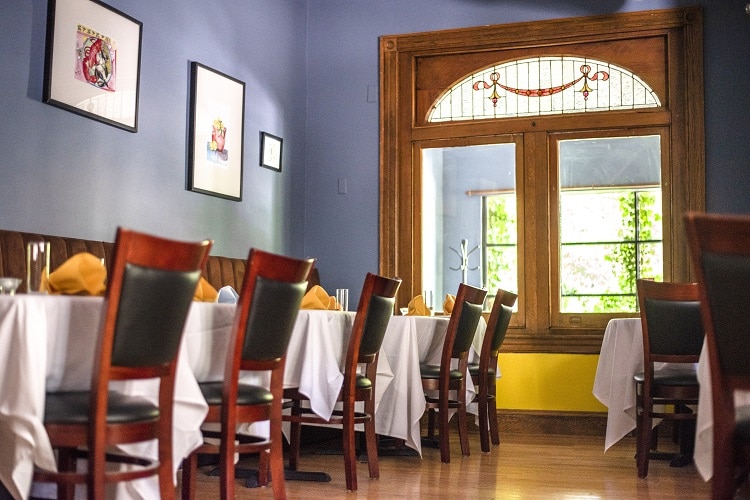 With an avant-garde new American tasting menu being featured in a traditional Victorian-home setting, Chef/Owners Andrew Kochan and Tim Lanza, along with new Executive Chef Eric Leveillee, offer a unique dining experience.
The walk-in here requires a dexterous trip into the basement along stone walls and narrow wooden stairs. Chef Leveillee explains that he is in the process of stocking up the walk-in since his recent takeover, but he quickly points out some of his favorite ingredients that set the menu apart at Marigold Kitchen.
Spruce Tips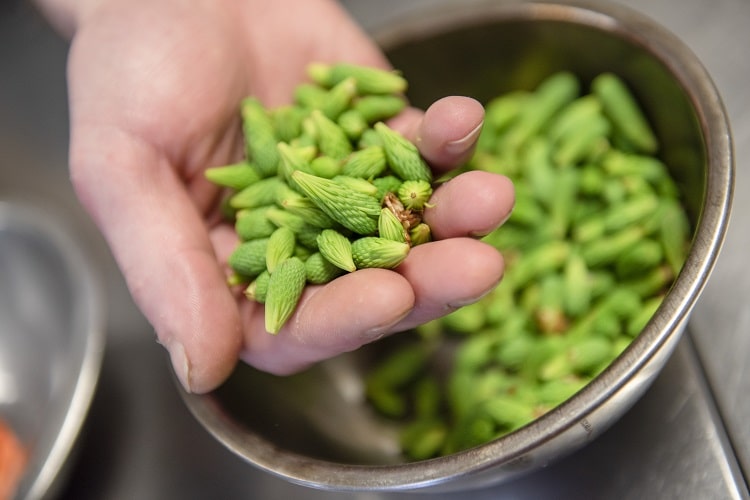 Foraged by Chef Leveillee and his girlfriend during a recent excursion to the Pocono Mountains, this brilliant-green new growth from spruce evergreens is tender, lemony and woodsy. The key to cooking with the tips of evergreen trees is to harvest them when they first begin to emerge from their brown papery casings. These mini-pine cone shaped buds are used to make vinegars and oils with distinct flavors, which can be used on salads, or as a vivid green swipe or drop garnish.
Carrot Mustard Puree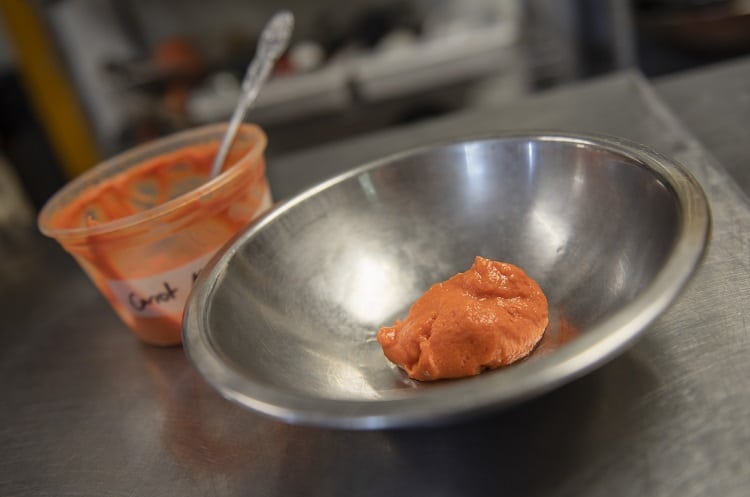 Chef Leveillee cures carrots by burying them overnight in salt and sugar, then roasting them until soft and tender. To be used for garnishes and swipes, the carrots are pureed with dijon mustard, yellow mustard seed and dry mustard, creating a sweet, pudding-like consistency.
Benne Miso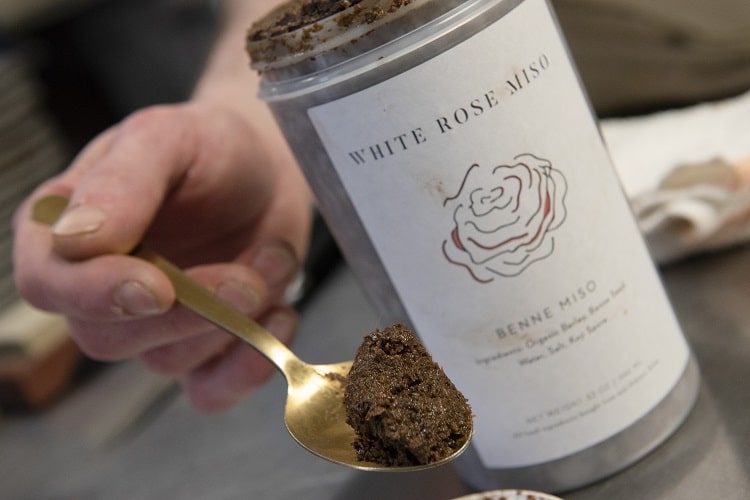 An artisan fermented product from White Rose Miso (a subset of Keepwell Vinegar, whom we got to know earlier this year), this miso is made from organic barley, benne seed, water, salt and koji spore. Benne seeds are a type of heirloom sesame seed. Chef Leveillee mixes the paste-like ingredient with a sunchoke puree to stuff a morel mushroom dumpling that is on the menu.
Wood Sorrel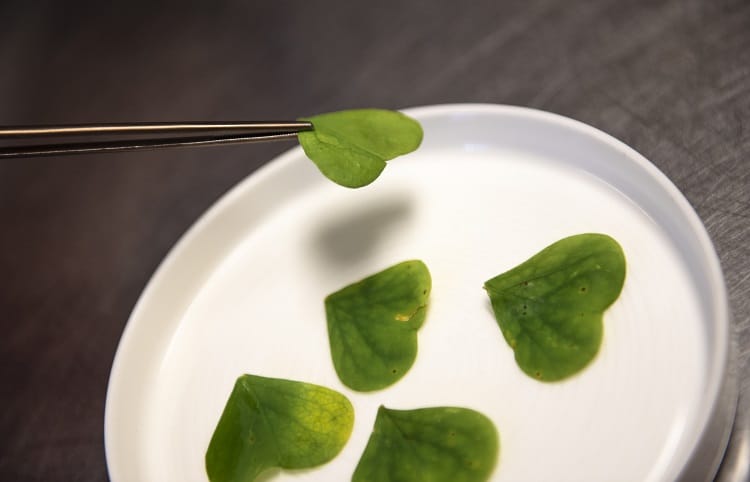 This variation of French sorrel is found in meadows and lawns throughout North America. Currently Chef Leveillee procures it from Food Hedge, a specialty farm and foraging company based in Schwenksville, PA. It is a heart-shaped leaf that can be used green or yellow, it has a lemony, citrusy flavor and is used in salads and as a garnish.
Thanks for the walk-in tour, Chef Leveillee! And, to our readers, we hope you enjoyed getting a look at some of the amazing creations at Marigold Kitchen.
Marigold Kitchen serves dinner Tuesday through Saturday beginning at 6 p.m. Reservations are strongly suggested. Guests are asked about any food allergies or aversions prior to their visit.
Find Marigold Kitchen at 501 S. 45th St. in Philadelphia; phone (215) 222-3699.