Looking for a side of scary with your steak? We love a good ghost story, and in a place with as much history as Pennsylvania, there are supposedly haunted buildings everywhere. A good number of them are restaurants, many of which have been open in one form or another for centuries. Here are seven reportedly haunted restaurants across the state:
This Berks County landmark is over 300 years old, and it is not shy about the fact that its building is haunted. In fact, Brinton Lodge claims to be "one of the top 10 most haunted houses in Pennsylvania," with ghost sightings taking place there since at least the 1980s! Supposedly, in 1978, a British psychic medium named Don Galloway was visiting the United States for a World War II commemoration in Reading. While traveling on the plane, Galloway experienced visions of Brinton Lodge and made contact with some of the spirits inside it. During his visit to the States, he stayed at the Lodge for two weeks and was able to identify five of the spirits living there: Caleb Brinton, Caleb's mother, Katharine Wittman (both of whom died in the Lodge), a male spirit he called "Dapper Dan" and the troubled spirit of a little girl.
Brinton Lodge currently offers 90-minute candlelit ghost tours during the weekends surrounding Halloween. Whether you're skeptical of ghosts or not, the tour is sure to be a thrill, and while you're there, you can stop in for a pint and a light bite to eat at the excellent Hidden River Brewing Co., which has its taproom inside the Lodge. 1808 W. Schuylkill Rd. (Rt. 724), Douglassville; (610) 572-7121.
In the spring of 2021, Letty's Tavern opened in the space formerly known as the Kennett Square Inn, which has been in existence for over 180 years, welcoming guests to the heart of historic Kennett Square. Throughout the decades, the space has undergone some changes, like operating as a tea room during Prohibition, and then turning into a tavern after Prohibition's repeal. Throughout the decades some visitors claim to have encountered the ghost of a 12-year-old girl, who has been dubbed "Letitia," after William Penn's daughter. It is after this roaming resident ghost that Letty's is named! In its current incarnation, Letty's is a cocktail-focused bar with a bottle shop on site. 201 E. State St., Kennett Square; (610) 444-5687.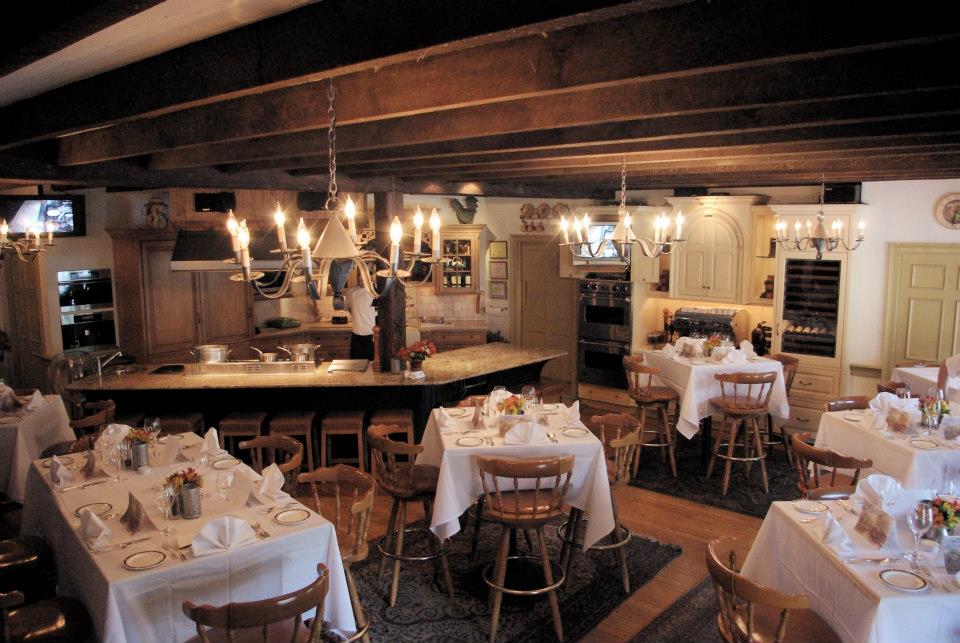 This building has been standing since 1754, when James Dilworth built it behind his original house to accommodate his family of 11 children. After his death in 1780, James' son Charles applied for a tavern license, and over the next 50 years, the space was a number of businesses, like the Sign of the Pennsylvania Farmer, The Black Horse Tavern, Sign of The Rising Sun. and Cross Keys. It became the Dilworthtown Inn in 1821. The building has seen its fair share of history in the 250+ years it's been around, including the Battle of the Brandywine in the 1777 during the Revolutionary War. Throughout the 20th century, guests have enjoyed Dilworthtown Inn's charming, Colonial decor and ambiance with a well-regarded menu.
Though it shares lots of historical info on its website, the Dilworthtown Inn doesn't fess up to its haunted reputation. But, it has been reported that in the Blue Pear Bistro, next door to the Inn,  servers have heard voices in the wine cellar, seen doors open and close and found chairs facing each other as if someone was engaged in conversation. Now, after the death of owner Jim Barnes in April of 2019, new ownership has taken over the building. The first of the historic spaces to be reimagined is Ground Provisions, part of the Vedge Restaurant Group, and is now open in the former Inn Keeper's Kitchen in the McCarthy House, across the road from the Dilworthtown Inn. Keep an eye out for more developments on the campus in the years to come. 275 Brintons Bridge Rd., West Chester; (610) 399-9812.
VK Brewing Co. at the Historic Ship Inn Building (Exton)
This is another local landmark steeped in history. When the Lancaster Turnpike was built in 1794, it drew many travelers heading between Philadelphia and the western part of the state and beyond. To help serve these travelers, Ship Inn was built in 1796 to provide food, drink, lodging and accommodations for horses and stagecoaches. The website hauntedplaces.org claims, "The Ship Inn is housed in a 1796 building, and also housed within is a mysterious ghost. Those who have seen him believe him to be from the 1700s as well, but his identity and story are unknown." The reader who suggested the Ship Inn in our Facebook thread said that one if her high school teachers told her there is a ghost who paces on the second floor!
In 2022, the Ship Inn closed, and the building now houses VK Brewing Co. & Eatery, a brewery, taproom and restaurant. We shall see if the new ownership chases the ghosts away!
693 Lincoln Hwy. E., Exton.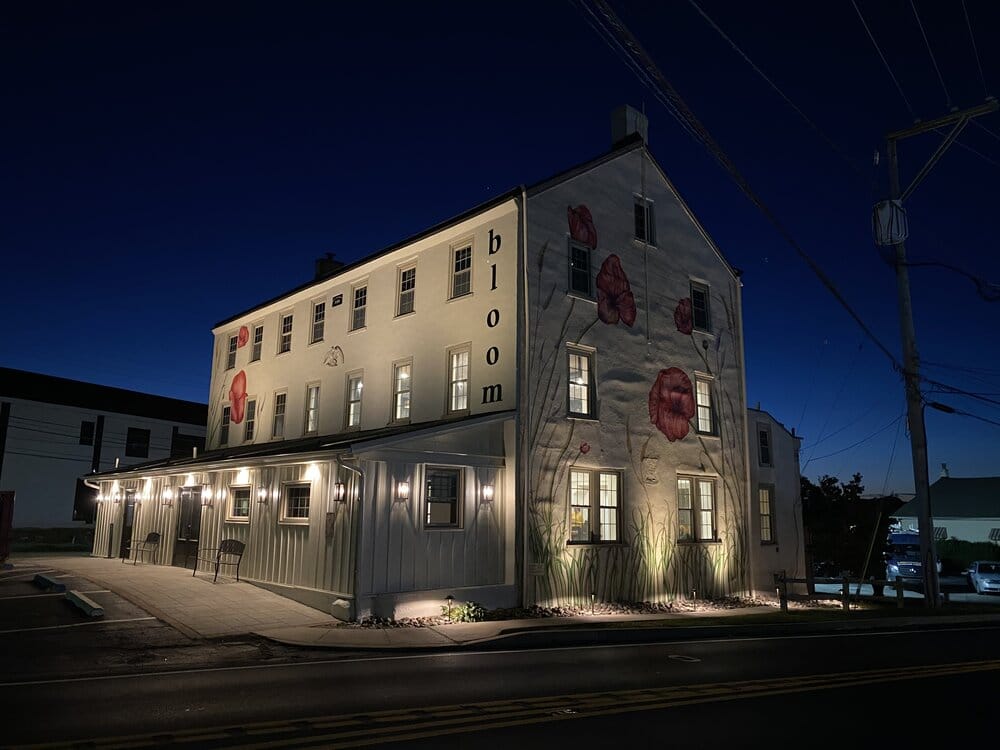 The building at the intersection of Pottstown Pike and Little Conestoga Road is deeply rooted in history. Built in 1799, it's undergone a number of changes, perhaps best known as the Eagle Tavern and Taproom, which turned from watering hole to craft beer bar in 2018. The space is currently a farm-to-table Southern restaurant, Bloom. No matter the bar program or what's being served on the menu, one thing has remained constant: there have always been plenty of reported incidents of unexplained sounds and actions in the building, particularly in the basement. 123 Pottstown Pike, Chester Springs; (610) 458-5331.
This beautiful building was constructed in 1746 by Alexander Schaeffer. During colonial times the hotel was, predictably, called "The King George," but after the Revolutionary War, it was renamed to "The George Washington." In 1884, it was remodeled and again renamed to Franklin House. All the while, it hosted and served fine meals to the residents and visitors to Shaefferstown in Lebanon County. According to a story published in 2016 in the Reading Eagle, co-owners Matt and Mindy Peiffer have reported hearing strange sounds, like bar stools moving around on the first floor when no one is there, and a man with a black beard wandering through the basement. The Washington Room especially has numerous reported instances of ghosts spotted, including a man and woman dressed in black sitting at a table, and sometimes, a group of four people seated in a corner. Creeped out yet? 101 N. Market St., Schaefferstown; (717) 949-2122.
This historic hotel-turned-restaurant in Chester County is known for numerous ghostly goings on. Built in 1858, it seems there have been plenty of guests who have never wanted to leave! In 2008, Southern Chester County Weeklies reported that the ghosts are present at the Inn. Evidence included warm and cold spots in the same room, wind and voices are often heard, doors, windows and blinds that are left open but then are found closed, and reports from guests feeling "goose-bump feelings." At the time, the Inn's owner Jack Salek and manager Janice DiGennaro hired Paranormal Ghost Investigators to survey the scene and attempt to communicate with any resident spirits. The investigators ended up coming to the Inn twice — once in 2007 and again in 2008 — and both times reported finding strong evidence and personal feelings that there is indeed paranormal activity going on in the Stottsville Inn. 3512 Strasburg Rd., Coatesville; (484) 718-5121.
Are there haunted restaurants in your PA town? Let us know!
Bloom photo:

Bloom Southern Kitchen

Dilworthtown Inn photo:

Dilworthtown Inn