Call it a tea cake, a snack cake, or simply an "anytime I need a treat" cake, this autumnal delight puts juicy local pears on their rightful pedestal. A touch of Pennsylvania saison in the batter adds a nice yeasty flavor and extra leavening power (along with yogurt, your secret weapon for a tender crumb), and the addition of locally milled spelt flour lends a hearty, nutty flavor. Making the batter is a breeze — combine the wet ingredients, then sift in the dry — and the attractively arranged pear slices and almonds give it a charming, rustic look. Serve with locally roasted coffee or a scoop of ice cream for an effortless dessert. To update this cake for other seasons, substitute apples, peaches or plums for the pears.
If you're looking for a Pennsylvania saison to use in this cake, may we suggest:
Bonn Place Yuzo Shio: This bottle-conditioned, foudre fermented saison is brewed with all local ingredients, including PA malt and grain from Deer Creek Malthouse, PA Cascade Hops from Murphy's Hop Yard, and yuzu lemons from Bhumi Growers in New Jersey. Its tart, dry character works well in both the cake, and to drink alongside it! Bonn Place is a comfortable bar in Bethlehem, PA, offering a range of English-style beers with a focus on Pennsylvania ingredients.
SUCCESSION Fermentory Saison Millefleur: This creative beer varies from season to season; it always starts with a blend of koelschip and barrel-aged saisons, which are then conditioned with seasonal foraged and cultivated herbs, like blue basil and sage, lemon verbena, lemon balm and wild chamomile. SUCCESSION is a newer brewery in the Chester County countryside; learn more about their story here.
PA Saison, Pear and Almond Cake
| Prep Time | Cook Time | Total Time |
| --- | --- | --- |
| 15 min | 45 min | 60 min |
Ingredients
4 pears, peeled, seeded and cut into 1/2-inch slices
1/2 lemon, juiced
3/4 cup sugar
2 large eggs
1/4 cup, plus 1 tablespoon Pennsylvania sunflower seed oil
1/4 cup plain yogurt
1/4 cup Pennsylvania saison
1 teaspoon almond extract
1 cup plus 2 tablespoons (6 ounces) all-purpose flour
3 tablespoons (1.5 ounces) Pennsylvania malted or unmalted spelt flour
1 tablespoon plus 1/4 teaspoon baking powder
2 teaspoons ground cinnamon
1/4 cup sliced almonds Powdered sugar, for garnish
Method
Preheat oven to 350°F. Grease a 8-inch springform pan with nonstick cooking spray and line with parchment paper. In a large bowl, toss pears and lemon juice together until coated. Set aside.
In a large bowl whisk sugar, eggs and oil together until frothy. Add yogurt, beer and almond extract, and whisk until combined. Sift both flours, baking powder and cinnamon into wet ingredients and fold together until just combined.
Spread batter evenly into prepared pan. Top batter decoratively with pear slices. Top evenly with almonds.
Bake until a toothpick inserted into the center comes out clean, about 40-45 minutes. Allow to cool in pan for 30 minutes. Dust with powdered sugar. Slice and serve.
This series is made possible by support from Deer Creek Malthouse through the Pennsylvania Malt and Brewed Beverage Industry Promotion Board and grant funding from the Pennsylvania Liquor Control Board.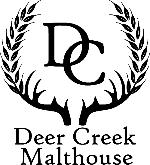 Deer Creek Malthouse (Glen Mills, PA) produces high-quality, flavorful malt ingredients made from local grain. Founded in 2012, Deer Creek is the first commercial malting operation in Pennsylvania since prohibition. The Company is dedicated to improving the regional grain supply chain for all stakeholders and leads many advocacy and value chain building initiatives, including Malt-A-Palooza, and the Mid-Atlantic Grain Fair & Conference. Deer Creek also produces a variety of consumer food and beverages using their grain and malt ingredients such as zero proof Barley Tea.