Around here, we take brunch seriously. And our #1 brunch mandate is that there must be a ridiculous amount of bevs: there must be mimosas, there must be coffee, and there absolutely must be bloody marys. When we make bloodies at PA Eats, you'd better believe they're loaded from top to bottom with all local everything. And so, without further ado, we present: The Ultimate Pennsylvania Bloody Mary.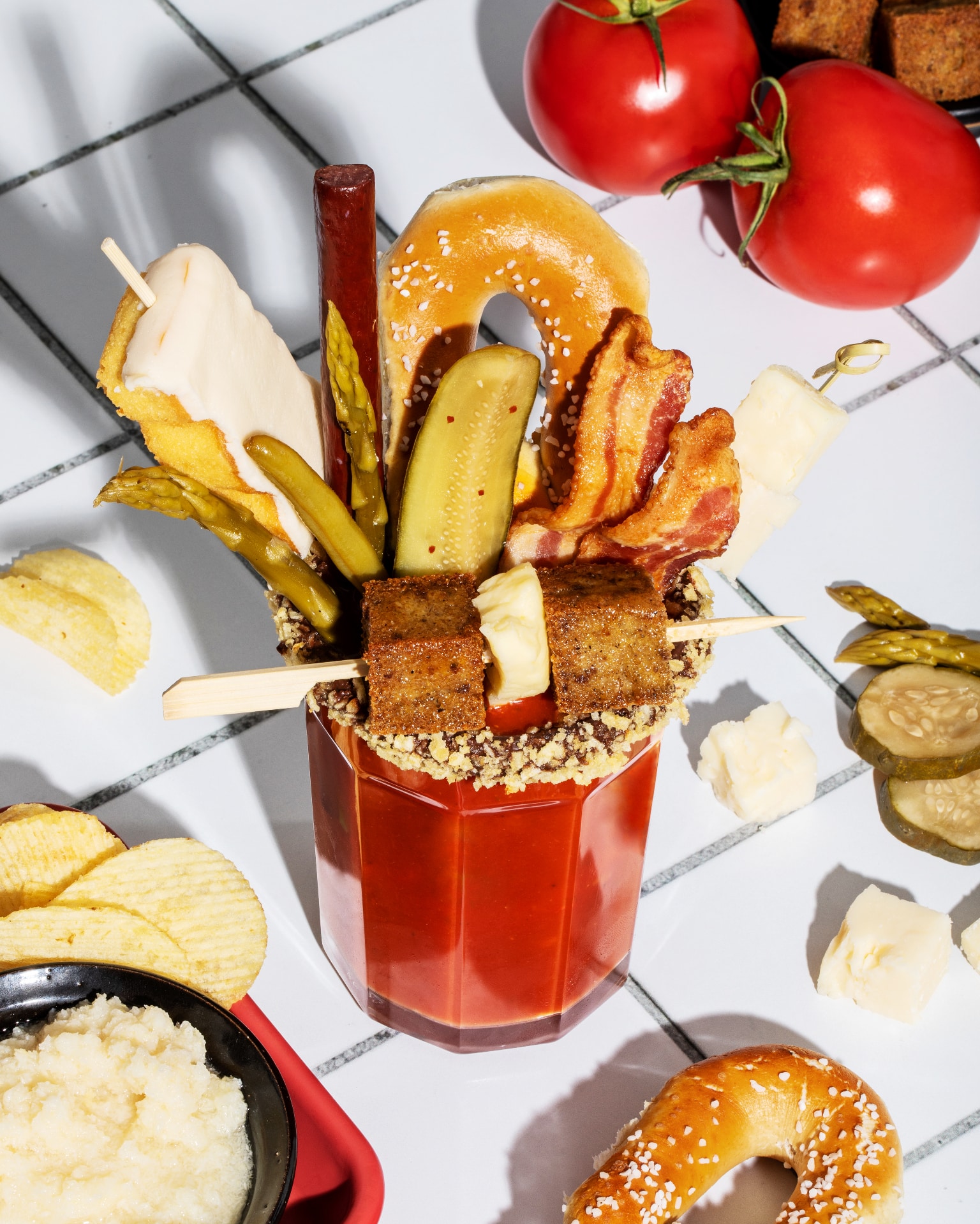 Someone had to do it, right? The PA Eats Bloody Mary starts with a spicy, zesty mix spiked with local vodka and punched up with Long's Horseradish.
From there, the real fun starts.
We went HAM on the garnishes, leaning way in to the over-the-top garnish trend, with a wild assortment of PA-made snacks and treats. Have you ever seen anything so gorgeous? The glass is rimmed with melted Hershey chocolate and crushed Utz ripple potato chips. We're not afraid to get a little weird! And don't you dare knock it til you try it.
From there, we packed a damn meal into this epic bloody: why yes, that is a soft pretzel from Philly Pretzel Factory, smothered in mustard. Tucked in beside it are various pickled veggies from Epic Pickles, Byler's Relish House and Brine Street Picklery. Resting across the glass is a PA native's dream bite: cubes of perfectly seared scrapple from Stoltzfus Meats cozied up with sharp cheddar from Abundantly Good Cheddar. You like the meats, you say? Great, because there's a beef jerky stick from Righteous Felon and crispy strips of bacon from Leidy's. The crown jewel in this tiara of brunch fabulousity is a Tastykake Butterscotch Krimpet because life is short and snack cakes are delicious.
And there it is: as much Pennsylvania as we could squeeze into a bloody mary. You're welcome, PA!
The Ultimate PA Bloody Mary
| Prep Time | Cook Time | Total Time |
| --- | --- | --- |
| 10 min | 120 min | 125 min |
Bloody Mary Mix
One of the best parts of making bloody marys at home is how infinitely customizable they are, so if you want the mix more or less spicy, or if you want to go tamer with the garnishes (why though?), be our guest!
When it comes to Pennsylvania vodka, there are so many local craft distilleries to try! A few to check out include: Holla Spirits, Boardroom Spirits, Theobald & Oppenheimer, Wigle, Revivalist Spirits, Thistle Finch, Philadelphia Distilling. For a longer list, check out our guide to buying PA spirits from home here.
Ingredients
5 cups tomato juice
1/2 cup PA prepared horseradish
1/2 cup Worcestershire sauce
3 lemons, juiced
2 teaspoons freshly ground black pepper
2 teaspoons kosher salt
2 teaspoons PA-made red pepper hot sauce
Method
In a large pitcher, combine tomato juice, horseradish, Worcestershire sauce, lemon juice, pepper, salt and hot sauce. Cover and refrigerate for at least 2 hours.
Assembly & Garnishing
Ingredients
1 bottle Pennsylvania vodka
Your choice of garnishes, such as: soft pretzels, cheddar cheese cubes, pickled cucumbers, carrots and asparagus, cooked strips of bacon, seared scrapple skewers, beef jerky sticks, snack cakes, etc.
PA chocolate and crushed potato chips for rim (optional)
Method
If making the rim, chop local chocolate and melt in the microwave, stopping every 20 seconds to stir. Once melted and smooth, carefully dip the rim of each glass into the chocolate. While the chocolate is still warm, roll it in the crushed chips.
Once the bloody mary mix has chilled for 2 hours, stir 1/4 cup vodka and 1/2 cup bloody mary mix together in a chilled pint glass filled halfway with ice. Garnish with your favorite PA products and serve immediately.