Do you miss going places as much as we do? Whether you're regularly a frequent traveler, or more of a homebody, we believe that the COVID-19 social distancing measure has gotten everyone feeling an extra dose of wanderlust. Though we're unable to explore the natural beauty and cultural treasures of Pennsylvania in person, there are some really cool virtual ways we can experience landmarks and institutions without having to leave the house.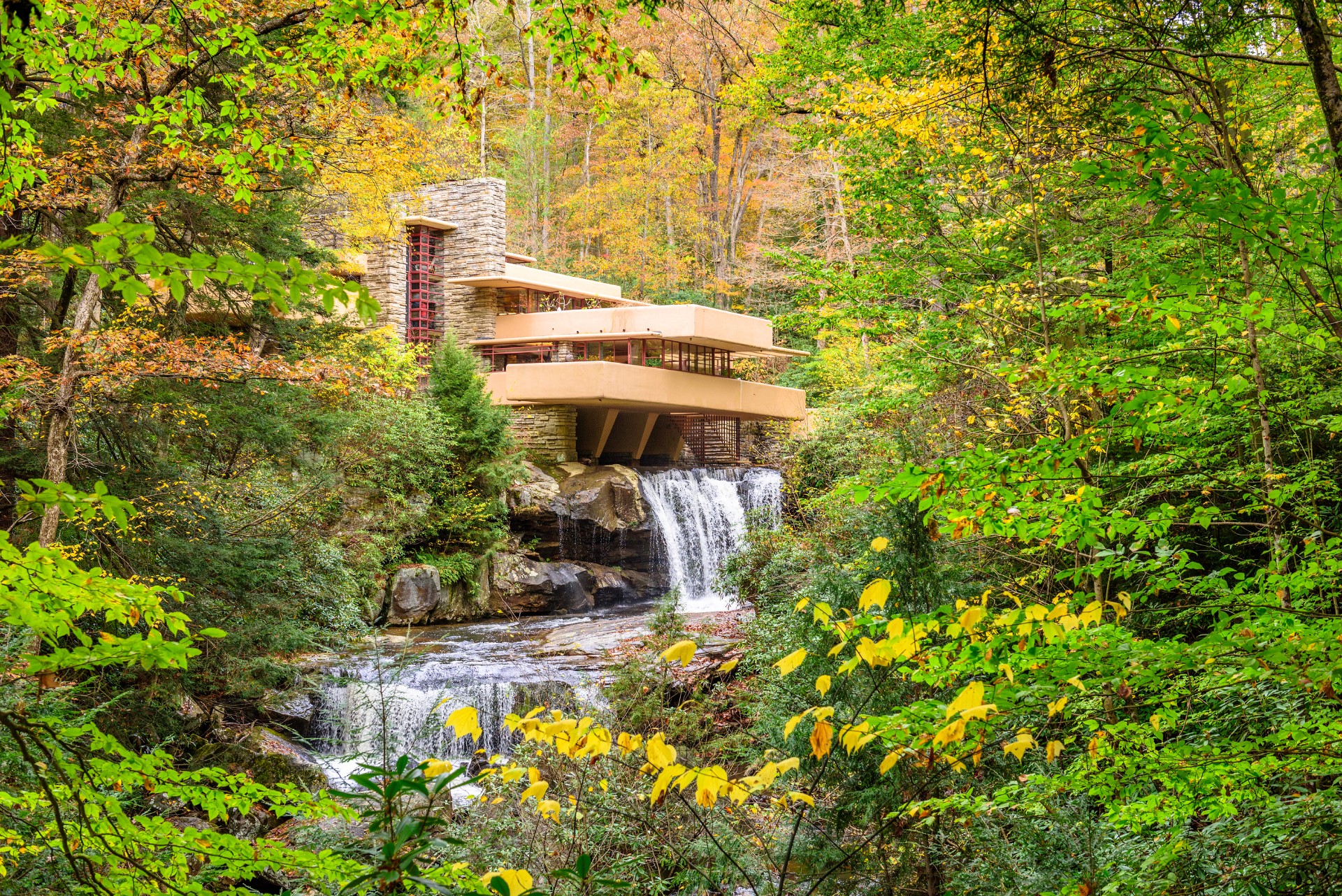 One from-home adventure that awaits is a trip to the breathtaking Fallingwater house in Mill Run, Pennsylvania, just a little over 60 miles southeast of Pittsburgh. This super-famous architectural landmark was designed in 1935 by renowned American architect Frank Lloyd Wright. Its beautiful, geometric form, suspended in harmonious balance with the woods and waterfalls around it, is instantly recognizable. Nestled in a mountainous part of Appalachia known as the Laurel Highlands, Fallingwater has been open to the public as a museum since 1963, and it has hosted over 5 million visitors since then. You, too, can visit even while you're stuck at home!
Here's how to take a virtual day-trip to Fallingwater:
To begin your virtual tour, first watch the gorgeous aerial video (above), produced in 2018 by Bauhaus Movement. There are many restrictions around professional photography at Fallingwater, and usually drone photography is not allowed. However, an exception was made for these filmmakers, and the results are truly stunning. There are angles of the home and vantage points that wouldn't be possible without the use of drone technology, which are especially beautiful through the high-definition lens the filmmakers use.
Next, brush up on a bit of Fallingwater's history. Wright was commissioned by a Pittsburgh department store owner, Edgar J. Kaufmann, to build a private weekend home in the woods, over the now-famous waterfall. This short CBS segment delves a bit deeper into the background of this fascinating project, including the fact that Wright was widely considered past his career prime when this masterpiece was built.

Architectural historians posit that Fallingwater was the epitome of Wright's philosophy of organic architecture. While this harmonious union of manmade structures with nature is abundantly apparent from the exterior, the interior provides this as well, with a minimalist, open layout, specific placement of windows and natural materials throughout the space. Perhaps most interestingly, Wright designed the house so that you can't actually see the waterfall from anywhere inside it, although the rushing sound of the water is omnipresent.
Photography and video are not usually allowed inside Fallingwater, but this peek from Condé Nast Traveler gives somewhat of a sense of what the interior is like. Fallingwater is Wright's only major work that's open to the public that contains its original furnishings, many of which Wright also designed, and its original artwork.
After the Kauffman family owned and lived in the house for a few decades, in 1963, Edgar Kaufmann Jr. donated and entrusted Fallingwater and the surrounding 469 acres of natural land to the Western Pennsylvania Conservancy. The home is now recognized as a UNESCO World Heritage Site, and a National Historic Landmark and Commonwealth of Pennsylvania Treasure, and the area around the house is known as Bear Run Nature Reserve. The land around Fallingwater, the Laurel Highlands, share Bear Run's wild beauty, with expansive mountains, forests and farmland. In lieu of a country drive, finish your tour with a look at this region of Pennsylvania Appalachia.
To incorporate a dining element into your virtual getaway, take a look at this blog post and recipe from the chef at Fallingwater Cafe, Tom Shuttlesworth. In the blog post, Shuttlesworth shares his experiences with grocery shopping during COVID-19, he gives some helpful advice on cooking from the pantry, and lends a recipe for H.J. Heinz corn chowder with biscuits. The chowder recipe comes from The Fallingwater Cookbook written by Elsie Henderson, who was the cook at Fallingwater for the Kaufmann family. Or, check out this post from a bit earlier in April, where Shuttlesworth walks readers through the basics of foraging for ingredients, and shares a recipe for Pasta Carbonara con Ramps.
Hopefully, this has given you some ideas about new ways to stay engaged with the beauty and bounty of Pennsylvania. What other places in Pennsylvania do you want to "go to" virtually? Let us know in the comments here or on the PA Eats Facebook page!
Fallingwater Aerial video:

Bauhaus Movement

Fallingwater news segment video:

CBS News

Fallingwater interior tour video:

Condé Nast Traveler

Laurel Highlands highlights video:

Laurel Highlands Visitors Bureau

Feature photo:

Big Stock