It's not too late to plan an end-of-summer road trip! Pack your bags, an actual road map (believe us, you'll need it as you drive in and out of cell service) and get ready to get a little wild. We found culinary magic, wine adventures and invigorating, soul-soothing outdoor experiences in the two-million-acre landscape that is the Pennsylvania Wilds! Twelve distinct and beautiful counties make up this untouched, unique and charming section of our great state. Here are the things you cannot miss:
1. Visit the Grand Canyon Of Pennsylvania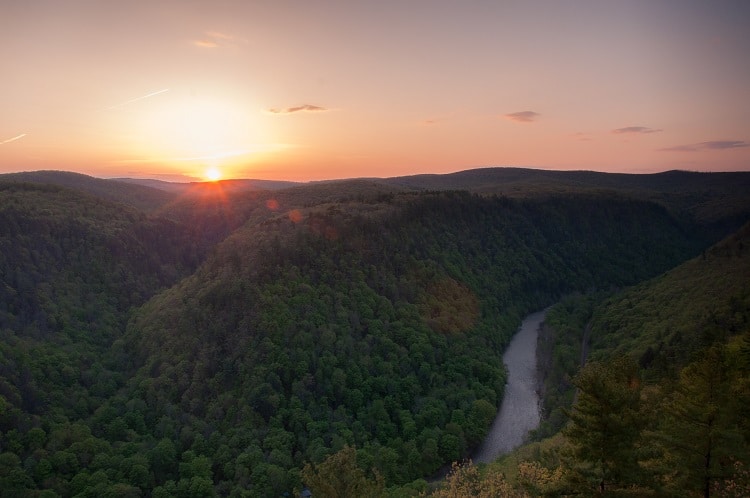 Showcasing the spectacular Pine Creek Gorge, the Grand Canyon of Pennsylvania stretches 50 miles and reaches depths of 1,000 feet. Take in the view at either Leonard Harrison State Park or Colton Point State Park, both of which offer hiking trails and camping facilities. We explored the Leonard Harrison side, which has a mile or so length trail to the bottom of the gorge that feels like 10 on the way back up. Steps and waterfalls make the journey memorable, and the views are endless. Keep your eyes open for sightings of birds, river otters, white tail deer, black bear and wild turkey.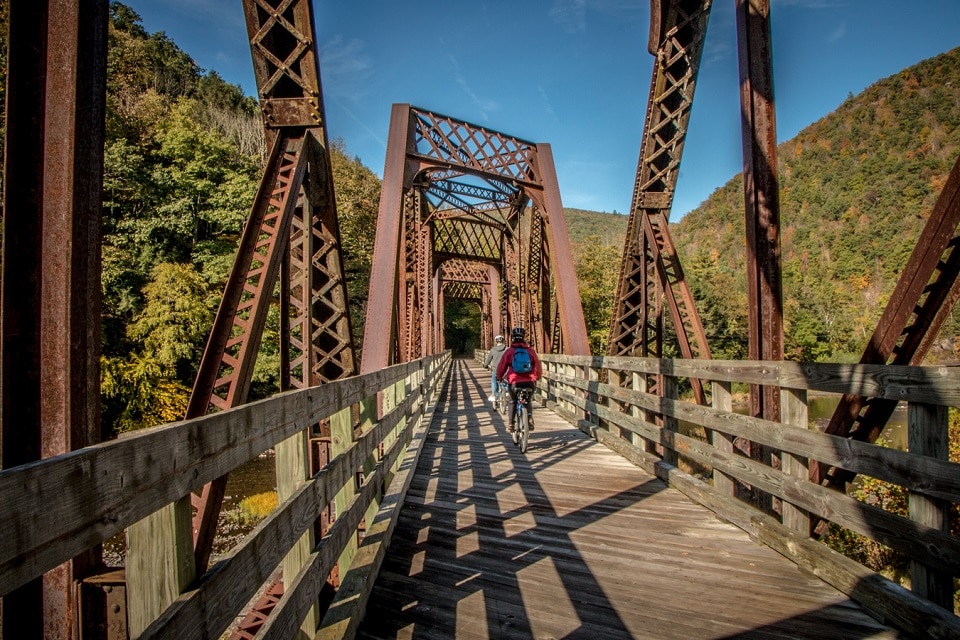 The trail leads to the bottom of the canyon and intersects the Pine Creek Rail Trail. Old-school mounted tourist binoculars provide a rush of nostalgia as you catch glimpses of bald eagles soaring over the canyon.
2. Discover Maple Everything


After you hike to the base and resurface, you'll want (and deserve) a snack. We won't judge you if you skip the hike and go straight to indulging in an impressive assortment of PA Maple products from a resident vending truck. Maple-infused everything can be found here! Coffee, hot dogs, candy, popcorn and peanuts just some of these sweetly laced offerings. Take a few snacks home and pair with Flickerwood Wine Cellars' MapleVine, a very unique local wine crafted with PA Chardonnay and sweetened with PA maple syrup.
3. Star Gaze Beneath the Darkest Skies in the Northern Hemisphere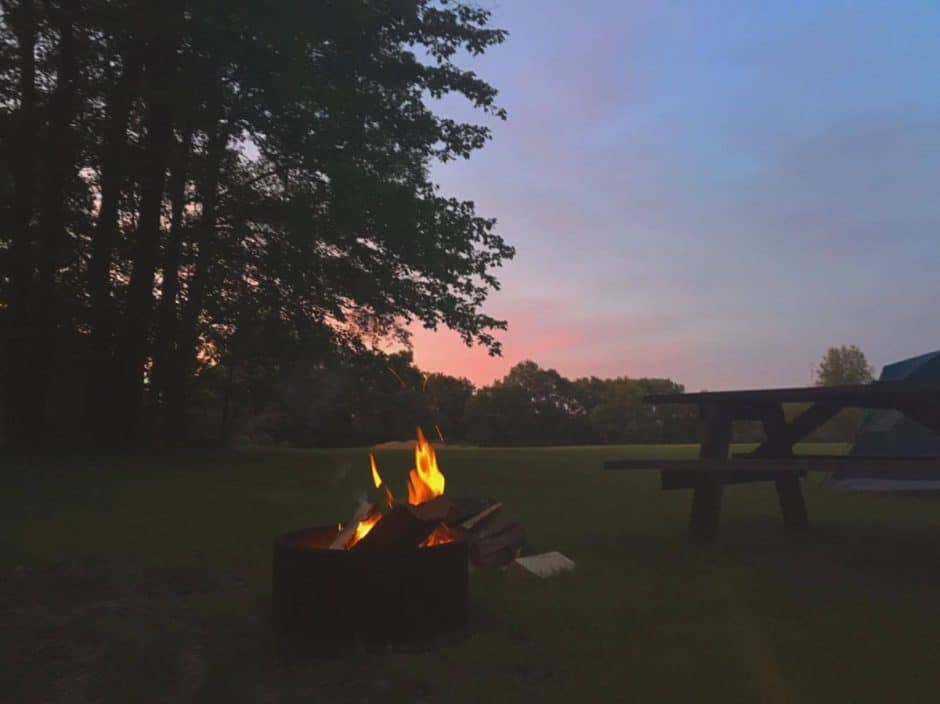 Cherry Springs State Park, an 82-acre Pennsylvania state park in Potter County, is an astronomer's dream, named for the park's black cherry trees and awarded the distinction of Gold Level International Dark Sky Park (yes, this is a real thing). The park is surrounded by the 262,000-acre Susquehannock State Forest, which boasts 85 miles of backpacking and hiking. Partake in the free astronomy programming in the Night Sky Viewing area, and be sure to follow the rules (using red lights instead of white). BYO blanket, binoculars and telescope, but keep in mind that no alcohol is allowed! We know: wine and stargazing seem to go hand in hand, but for now, you'll have to gaze sober. Feast your eyes on the impressive astronomical light show and embrace the paradox of feeling so uniquely special to observe such a sky while also being reminded how trivial that thought is in the scheme of the time and space. Take your starry-eyed relationship to the next level in the gated Astronomy Observation Field, where you can camp overnight.
4. Sleep Outside (in a Tent, of Course)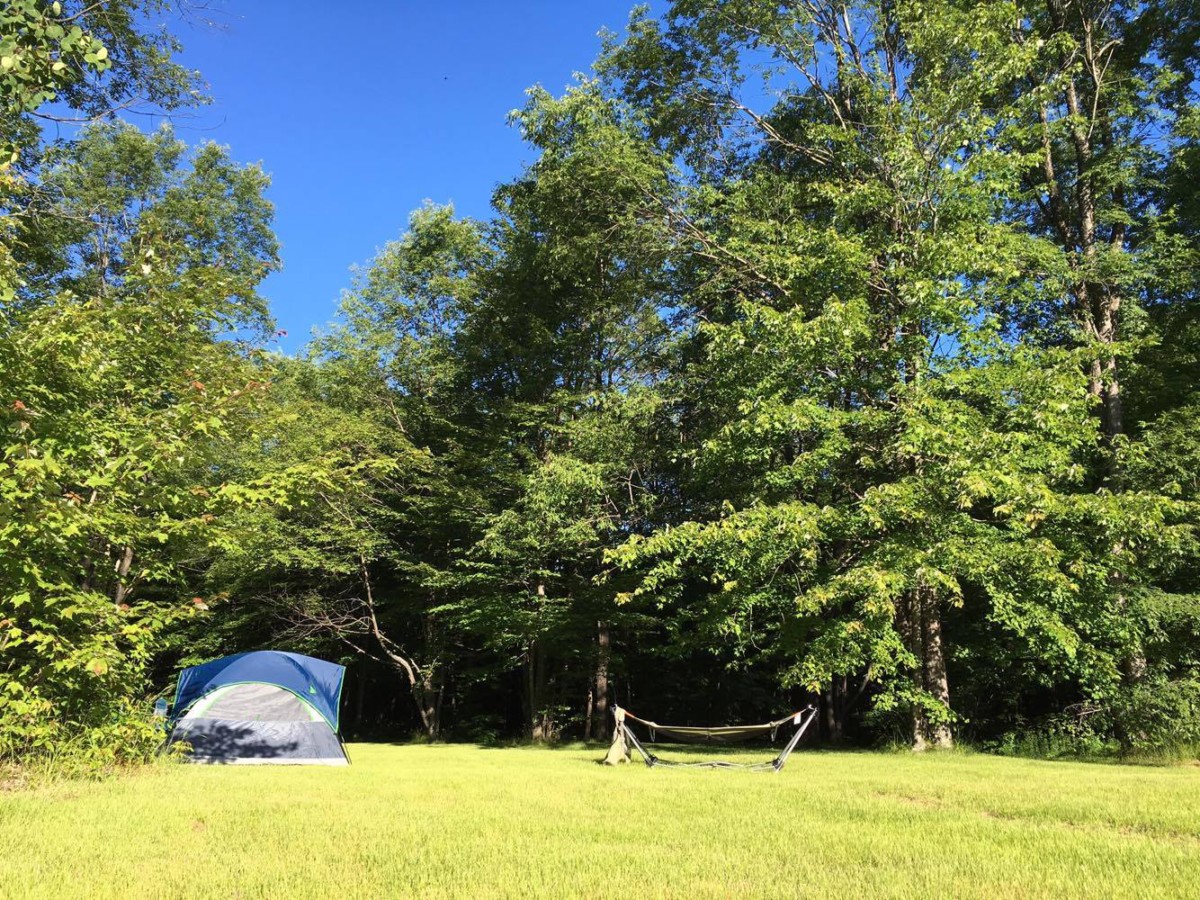 Camp at a nearby spot (pick from many local family campgrounds) and take in the magic of the darkest skies all night long. Keep a bottle of Flickerwood Wine Cellars' Moonglow (a peach and Chardonnay blend) on ice in your cooler to enhance your astronomical experience.
5. Drink Local Leek Vodka at CJ's Spirits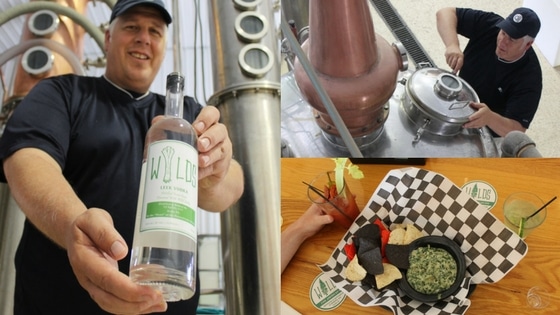 Leek vodka? Yes, this product exists at a small operation located at CJ's Spirits along historic Route 6 in the heart of the Allegheny National Forest. In an area known for leek festivals, owners Sam Cummings Jr. and Tom Jones thought it'd be best to capture the essence of this savory, seasonal vegetable without overpowering the spirit. As far as they (and we) know, this is the only leek vodka on the market. It's wonderful on its own or in CJ's "almost-famous Rocksov" Bloody Mary. Soak it up with tried-and-true brunch, snack and sandwich options.
Samples are free here and CJ's seems to be on track with its goal to be a premier destination and a world-class producer of fine spirits. Try the small-batch, 90-point rated rye Rocksov Ultra-Premium Vodka, Wilds Corn Vodka and white rum (distilled from molasses and aged with black cherry hardwood). Certainly don't skip the Wilds Fine American Gin, which has been macerated with an impeccable blend of seasonings to create a complex, herbaceous and startlingly smooth finish with juniper, cucumber and nine other botanicals. Whiskey lovers will dig CJ's Graveyard Sam's Baby Bourbon Whiskey and Graveyard Sam's Young Rye Whiskey. 120 Willow Run Dr., Kane; (814) 837-1500.
6. Drink Wine While Coloring at the Winery at Wilcox
Be sure to plug this gem of a tasting room into your GPS. Once the smallest of Pennsylvania's wineries (when there were only 40), the Winery at Wilcox is now one of the state's largest and a leader in the Pennsylvania wine industry. Mike and Carol Williams are at the helm of this rustic, warm and inviting tucked-away stop that offers a wide variety of wines and tasting options with friendly and smiling staff. Also available? Coloring books. If you haven't colored while drinking wine in a remote (and beautiful) part of PA, you're not living. 1867 Mefferts Run Rd., Wilcox; (814) 929-5598.
7. Taste Lemon Wine (Strawberries Included) at the Winery at Wilcox
There's an abundance of suitable options to quench your summer thirst at the Winery at Wilcox. Grab a bottle of Rasselas Rosé, a semi-sweet Catawba and Concord blend that is refreshing and goes down easily while offering just enough depth. End a meal with the Schwartzbeeren, a pure blackberry cordial style wine that pairs well over cheesecake, ice cream or on its own for a sweet taste of summer. Let your glass ding with Freedom, the winery's sweet late harvest Riesling blend finishing with tropical fruit and honey notes ($2 is donated to the very worthy LEEK foundation, a nonprofit organization for veterans). Or swirl a glass of Summer Days (our favorite), a tart, crisp lemon wine blended with ripe strawberries. Bring home a bottle to sip on any front porch for immediate heat relief.
8. Conquer (and Realize) Your Fear of Heights at the Kinzua Sky Walk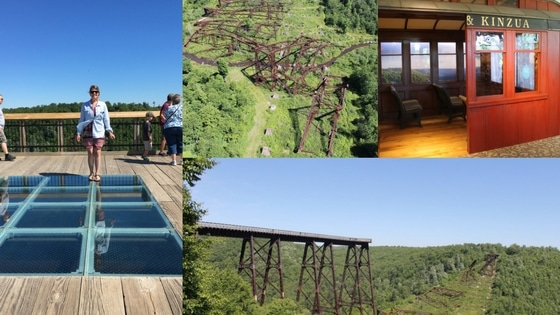 You think you're tough until you try to stand on a glass panel 300 feet above the earth. Once the Kinzua Bridge, this former railroad trestle was a world wonder (for scale, it's only a few inches shy of clearing the height of the Statue of Liberty). After suffering tornado trauma it was reimagined into a sky walk. Dare yourself to stand on the 4″-thick glass-bottomed observation deck that enables visitors to look down at the remaining towers supporting the historic structure. Calm your nerves by walking the trails at Kinzua Bridge State Park and take advantage of the educational offerings at the new Kinzua Visitors Center with an incredible locally sourced gift shop, interactive displays and educational programming on engineering, energy and the environment.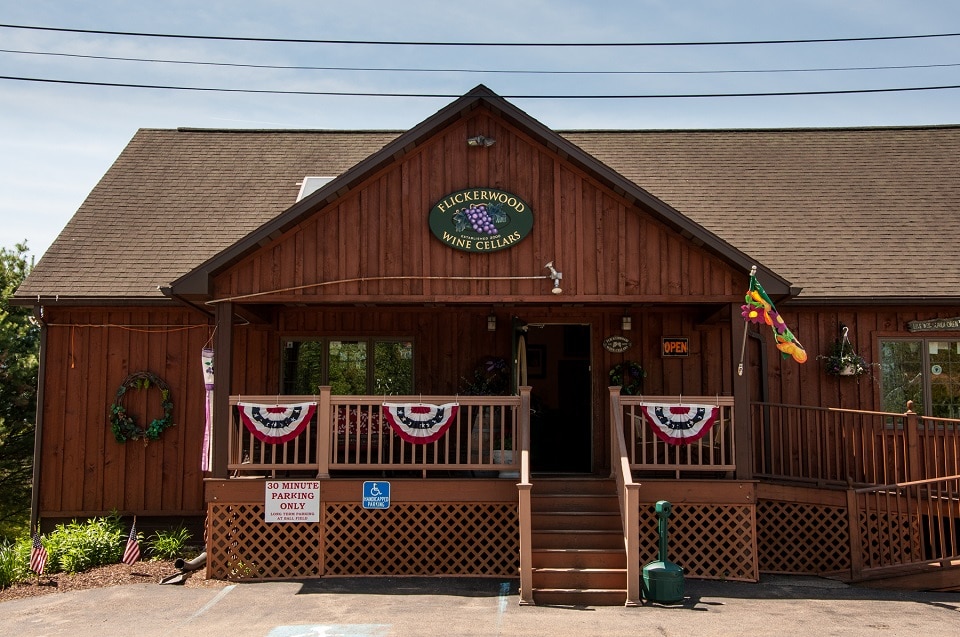 Need an adult beverage after your Kinzua adventure? Flickerwood Wine Cellars has a wine for that! Kinzua Journey, a semi-sweet blend of three white grapes, finishes with tropical fruit and citrus notes. A portion of bottle sales go toward tourism for the area.
As if Flickerwood's full array of Pennsylvania fruit wines aren't enough, this winery boasts a full bar (liquor and beer) and cocktail lounge, and the kitchen dishes up small plates like brie in phyllo, deep-fried pickles, paninis, cheese plates and subs with sweeping vineyard views. Proceed with caution or quickly belly up to the bar because this is a place you'll want to get comfortable.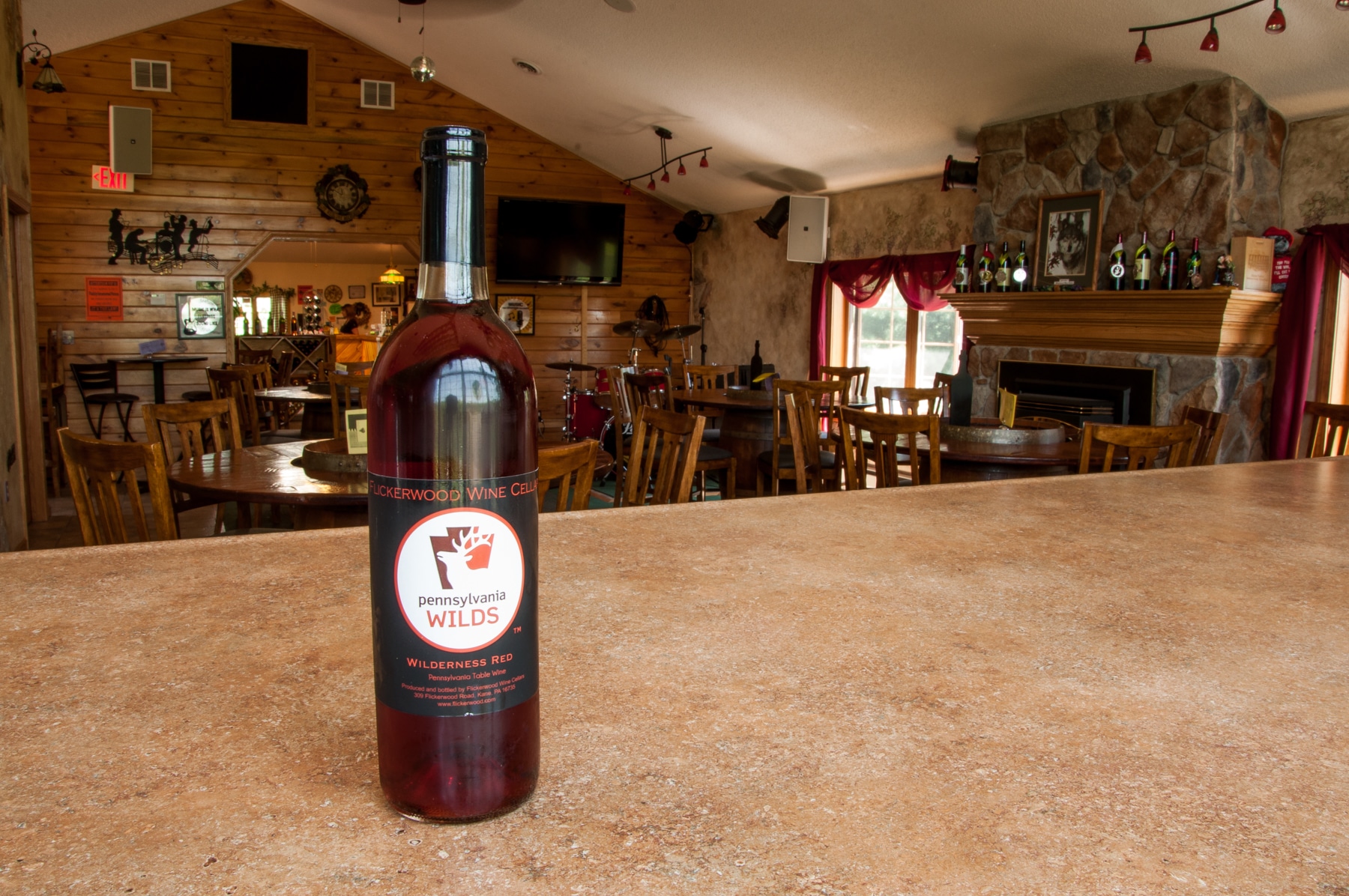 Of course, you must drink the Wilderness Red. The refreshing, chilled, semi-sweet blend has a mesmerizing wildfire color and celebrates the 12 distinct counties in this incredible region known as The Pennsylvania Wilds! 309 Flickerwood Rd., Kane; (814) 837-7566.

Minutes from the Kinzua Skywalk is a quaint cafe brimming with Swedish pride — exemplified in its hosting of the annual Swedish Festival — in the heart of Mount Jewitt.
This gem of a spot serves great coffees, chai, baked goods, soup and sandwiches. Get the cinnamon rolls, scones or Swedish rye bread. 1 W. Main St., Mount Jewett; (814) 778-5757.

There's not much more to say. Order it. Be impressed. Eat it. Love it. 38 E. Main St., Mount Jewett, (814) 778-6090
12. Sip Rhubarb Wine at an Olive Grove at Deer Creek Winery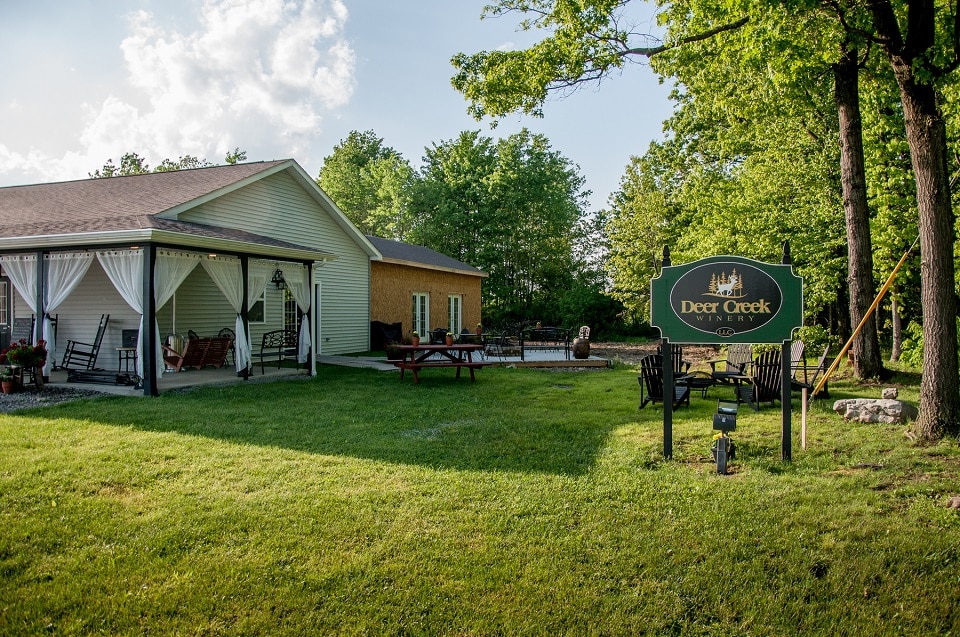 Don't skip a visit to this Pennsylvania winery that is blossoming in the industry. The property has been loved by five generations and began with growing raspberries, which lead to the first bottling of Deer Creek's Raspberry Wine.
Today the winery offers more than two dozen unique varieties of wine (and beer by the glass with three types of beer from North Country Brewing Co.) to enjoy in the stellar tasting room featuring a 60-foot covered porch and outdoor patio with a firepit. White curtains and twinkling lights provide an unmatched ambiance, and the food is impressive. A full-service espresso bar serves everything from lattes to cappuccinos sourced from a local bean roaster.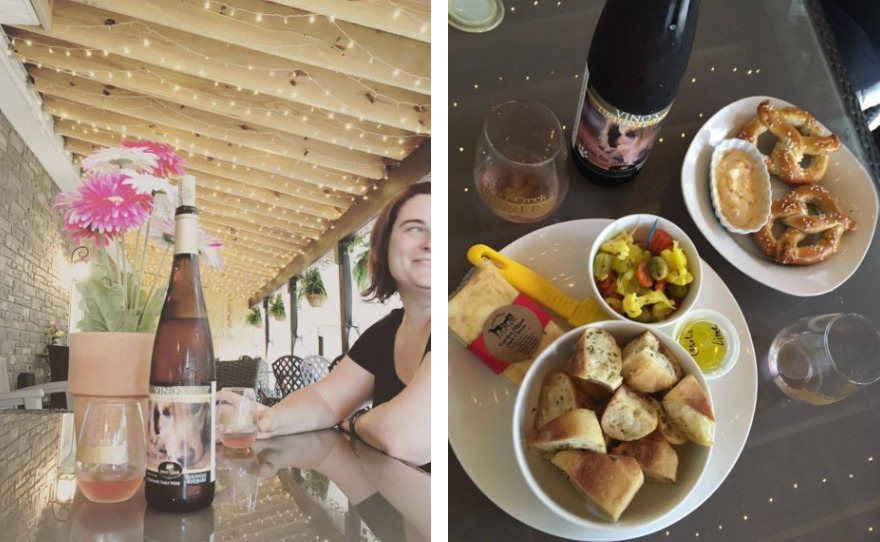 Bites include flatbreads, gourmet pretzels (with Riesling cheese dip, pimento cheese or mustard), toasted baguette with locally-made Goot Essa garlic cheddar, garden pepper or wood-smoked cheddar cheese served with pickled veggies and dipping oils. Oh, and Deer Creek Olive Grove bottles more than 50 flavors of gourmet olive oils and aged balsamic vinegars on-site.
Order the Vino's Rhonda's Rhubarb wine for a tart and refreshing taste. Buy a bottle to take home and make Summer Rhubarb Spritzers with ice, wine, seltzer, fresh lime juice and fresh basil.
An inn at the winery opened in late 2016. Book a room in this little slice of paradise and indulge in a soak in a whirlpool tub next to a flickering fireplace with a bottle (or two) of wine. 3333 Soap Fat Rd., Shippenville; (814) 354-7392.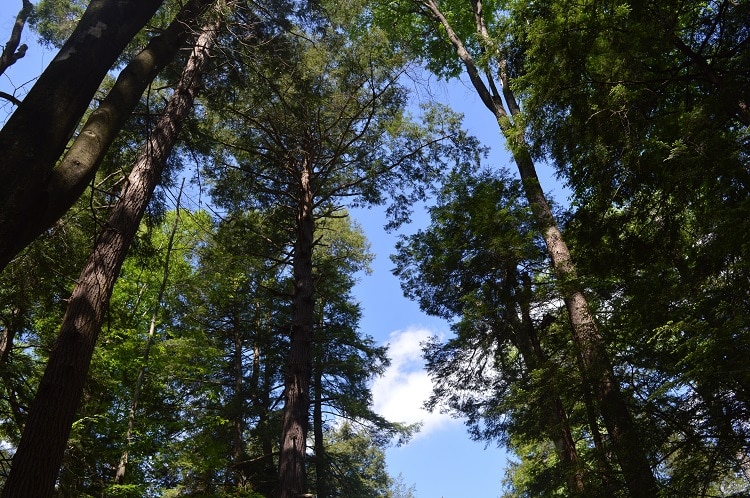 We all know we need to find time to disconnect from technology. This is an optimal place to do just that. First of all, there is very little cell service, which quickly remedies the temptation to check your phone, but something else happens inside the woods at Cook Forest State Park, home to 29 miles of hiking trails among the ancient trees of the Forest Cathedral.
At first this park tempts you with calming views of the Clarion River, intriguing trail heads that start out over babbling streams with rope bridges, metal bridges and moss-covered stone steps leading up into the trees. Once you're deep into the forest, these trees have the power to halt words mid-conversation (trust us) and hush your ever-swirling mind. You will feel the air change as you weave in and out of warm and cool pockets of air on the trail.
Eventually you'll just put your trail map away and let your surroundings silently guide you into the forest of towering, century-old trees (many 280+ years old). Lose track of time and get lost in this serene and welcoming time warp. Emerge hours later, replenished so fully that strangers will ask if you've just had a massage.
14. Behold the Eternal Tap at Straub Brewery
Free beer is a thing here. One of the many incredible things about Straub Brewery is its ice-cold Straub beer on the Eternal Tap, providing complimentary tastes right from the source. It can't get better than that. A two-glass limit gives you enough of a schedule to draw a beer, take a tour and enjoy a second beer after you learn (and fall in love with) the story of this famous brewery. Explore the gift shop and stock up on a few cases; the drive-through beer lane is usually the longest line in town. Go here and you'll be a raving fan forevermore. 303 Sorg St., St. Marys; (814) 834-2875.
Go off the grid in what feels like the middle of nowhere to find a quaint winery producing fine bottles since 1995. Laurel Mountain has been hosting "Sunset at the Winery" parties for well over a decade for good reason.
Embrace the optimal sky views and pair wines with each and every hue of the setting sun. Start with the Cayuga White and slowly work your way through the hues of the sky by tasting Laurel Blush with an intense grape flavor that's crisp and refreshing. Bella Rosa is a chianti-style red with a soft finish and medium tannin. Then try Rattlesnake Red, which offers a friendly "biting" fresh grape taste, or Ruby Red, a sweet, zingy blend of Concord and Niagara grapes. 1754 Old Grade Rd., Falls Creek; (814) 371-7022.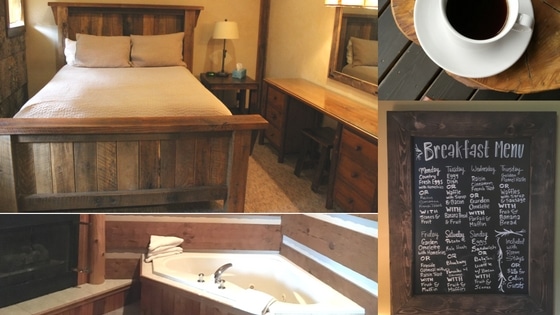 At The Gateway Lodge, chipmunks greet you, no cell service frees you, cozy porches filled with wooden rockers and swinging chairs comfort you. A smiling face at the check-in desk welcomes you.
Gallery rooms have pickled wood hallways, stylish natural features like bark-lined walls, copper sinks, stone tiling and rainfall showers. Suites offer a more rustic country vibe but boast gas fireplaces with fireside jacuzzis, private decks and mini fridges. Either way you win!
Afternoon tea is served in the Great Room with log beams, a wood-burning hearth and an attached deck. Friday evenings offer a wine and appetizer reception and give a taste of the inn's outstanding wine list. Country breakfasts are served in the lodge's hewn-log dining room each morning. Book a massage or professional spa service in the Woods Spa for a truly relaxing time.
When you wake up here you'll realize that you haven't slept that well in (ever?) months. 14870 Rte. 36, Cooksburg; (814) 744-8017.
At The Restaurant at The Gateway Lodge, massive, locally made living edge table shines below a custom lighting fixture and begs to entertain you. The size of the table immediately gives away that things here are communal (from the dining room to the kitchen). You won't find any tweezers applying garnishes in this unpretentious kitchen. Out of necessity, owner Deb Adams-Fallon unexpectedly took the lead in the kitchen after realizing that anyone who needed to be called "chef" wasn't a good fit.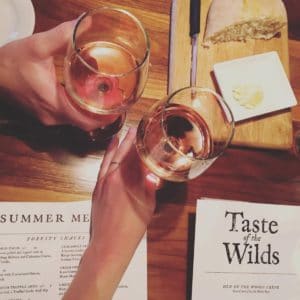 Recognizable, simple, locally sourced and health conscious dishes are thoughtfully prepared in a way that she describes like this: "If my favorite people in the world were coming over for dinner, this is how I'd serve them." In some worlds, Deb's duties would earn the executive chef title — a label she doesn't want. This is a culinary team, a collective of skilled cooks and bakers who have a passion for good food and a craving for quality living. Sustainability matters here, not to be trendy but to live wholly. Expect constantly executed recipes on the daily menu and dishes with freed expression for special-event menus.
Plan to do the Taste of the Wilds menu, a farm-to-forest experience. Opt for the custom wine pairing by the in-house bar manager and wine expert, Rob Fallon. He selects perfect pairings from more than 130 wines out of the Gateway Collection (the repeat recipient of "Wine Spectator Awards of Excellence") featuring local or international wines.
This wild, local culinary adventure starts with elk sliders and ends with maple pecan pie tested 16 times until it was "just right." The five-course tasting menu features locally sourced dishes like crepes filled with Hen of the Woods mushroomsand Chihuahua cheese and a grilled romaine salad with shaved ricotta, avocado, scallion and a champagne vinaigrette that is so insanely simple yet delicious you'll discuss it for days. Elk sliders are topped with caramelized onions, brie and truffle aioli that will insist that you get them again the next day and the "filet mignon of deer," venison backstrap, will thrill you with juniper berries, a gin glaze and leeks and shiitake garnish. 14870 Rte. 36, Cooksburg; (814) 744-8017.

After recently finalizing this new bar program, the owners are unapologetically only serving local spirits. Sustainability is at the heart of this organization, and they mean business with this impressive, possibly only, local-only cocktail and beer list in the area. "You have to define yourself and attract people that like what you do." Saddle up to the bar for a nightcap or take a local cocktail back to your private deck and breathe in the fresh forest air. 14870 Rte. 36, Cooksburg; (814) 744-8017.
While you were reading this, we have already plotted our return trip. What are you waiting for? Plan your own culinary adventure and go wild in PA.
PA Grand Canyon & Flickerwood photo:

Tim Walck

Cook Forest State Park:

LaKeshia Knarr

Pine Creek Rail Trail Bridge photo:

Lucky Shot Photography

All other photos:

Mary Bigham