Whether you think it's weird and gross, or you've developed a bit of an obsession, one thing about kombucha is certain: this wellness trend is here to stay!
Kombucha is a beverage produced by fermenting tea with a culture of yeast and bacteria, known as probiotics. These bacteria line your digestive tract and support your immune system and gut health, as they absorb nutrients and fight infection and illness. As a probiotic, high-enzyme beverage, kombucha has been credited with everything from improving liver health and metabolism to preventing hangovers, slowing hair loss and helping to manage diabetes.
Whatever the health benefits may actually, at the least, we know kombucha is significantly lower in sugar than juices and sodas and that it's chock-full of probiotics and B vitamins. Get to know five of our favorite local kombucha makers who are evolving the beverage beyond its vinegar-y roots by fine-tuning brewing techniques, sourcing the best ingredients and adding incredible flavors: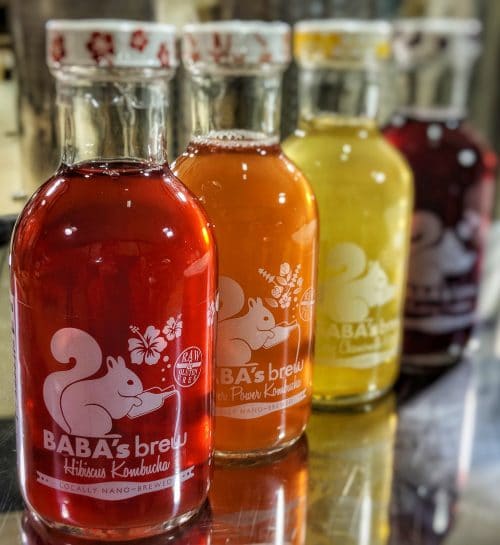 Olga Sorzano, owner of BABA's Brew, recalls "Kombucha" being one of the first words she learned from her great-grandmother, Baba. When Olga was a child growing up in Siberia, Baba poured her her very first glass of delicious, slightly fizzy homemade kombucha. She fell in love with the drink and decided to make a career out of making it. BABA's Brew is chef-inspired kombucha, infused with wholesome real fruits, herbs and spices from local sources. You can taste all BABA's has to offer at its tasting room, called A Culture Factory, on Saturdays from 10 a.m.–3 p.m. You can also locate the brew by you by searching here. As BABA's says, "Be healthy. Be happy. Drink kombucha. Na zdorovie!" 333 Morgan St., Phoenixville; (267) 738-1973
Funky Fresh is a Philadelphia-based fermentation company specializing in raw beverages, sauces and vegetable ferments made with high-quality, local and organic ingredients. Its kombucha is created by using a blend of superior-quality organic teas to produce a complex and bold flavor. This lively and powerful 'buch is sure to make your gut feel great! Funky Fresh has a rotating cast of exciting flavors such as apple lemon ginger, pineapple coconut, red jasmine, lavender lemongrass and many more. Find the Funk at local retails such as Fair Food Farmstand, Bottle Bar East, Riverwards Produce and many more.
The main goal at Inspired Brews is to work within its community to develop more thoughtful, engaged approaches to growing, buying, cooking and ultimately enjoying food. The women behind Inspired Brews both prepared kombucha in their homes for some time before becoming enamored with its refreshing taste. At first, they were satisfied with small batches and simple flavoring, and then over time, began brewing and drinking it more and developing unique flavors to share with friends and families. Eventually, they began sharing it with the Philadelphia community and beyond. In its production space in Old City, Inspired Brews creates its kombucha in glass barrels, using organic green and black teas and organic cane sugar. Once it is lightly carbonated and pleasantly tart, the kombucha is bottled along with selected juices, herbs and spices, for a second fermentation. Then, it's hand-filtered into kegs or individual bottles. Among the creative flavors are these fan-favorites: Rooted, with beets, carrots, ginger and mint; and Immunity with elderberries, hibiscus and echinacea. Find Inspired Brews kombucha at these retailers. 263 N 3rd St., Philadelphia; (215) 821-9207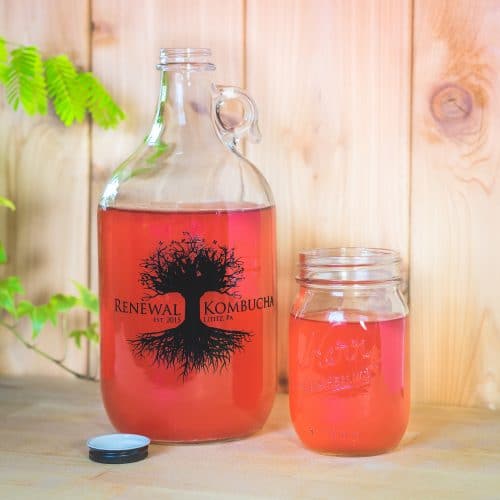 Renewal Kombucha has called Lititz, Pa. home since opening its doors in November of 2015.  It has now opened a satellite taproom and brewery in West Reading, which will be celebrating its grand opening on Saturday, March 17! Whether you shop in Lititz or Reading, or any of the retailers that carry Renewal, you'll taste the difference in its kombucha with just one sip! Renewal uses organic ingredients and adds flavoring at the steep, so that the finished kombucha has no added flavorings, extracts, or unnecessary sweeteners — just raw kombucha. Our go-to flavor? Purple Butterfly. No, it's not magically turned purple by fairies – the color comes from the butterfly pea flower that Renewal uses in the brew. These antioxidant-rich Asian buds blend with lavender to make a naturally decaf kombucha that's whimsical and playful, with a fragrant, floral essence. 51 N. Broad St., Lititz; (717) 892-2918; 701 Court St., West Reading; (610) 898-4598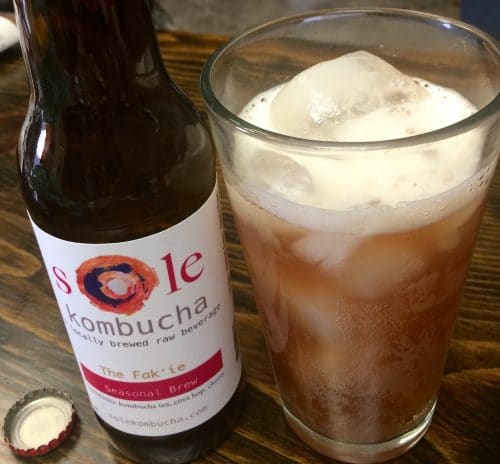 Simple and traditional, Sole Kombucha is made with clean, sustainable, non-GMO, local and organic ingredients. It sources fruits, herbs and spices from local farms to make each recipe just right. The result is a crisp, refreshing, not-too-sweet probiotic drink. Its bottles are not forced-carbonated, but instead are bottle-conditioned. Bottle conditioning allows the pleasant fizz to form naturally on its own. The result: Smoother, smaller bubbles with less burp and no bloat! Find a retailer near you and try Sole Kombucha! 123 N. Main St., Dublin
Are you making kombucha a part of your gut health regime? If so, which local brand is your go-to?
Curious about how local kombucha companies get started? Check out our Q&A with Natalie Lynn of Counterpart Kombucha!
Baba's Brew Photo:

Baba's Brew

Renewal Kombucha Photo:

Renewal Kombucha

Sole Kombucha Photo:

Sole Kombucha

Feature photo:

Inspired Brews