Since you've probably had your fair share of modest single scoops and cups of soft serve so far this summer, let's kick it up a notch. We want to introduce you to some insane, over-the-top ice cream creations from across Pennsylvania — you know, the type of thing that, once in your hands, makes you momentarily falter. "Can I really eat all this?" you may wonder. Of course you can! Go forth with courage and enjoy the wonderful — and somewhat crazy — sundaes, novelties and treats that our local ice cream artisans have dreamed up:
Vampire Sundae at Somerset Splits (Philadelphia)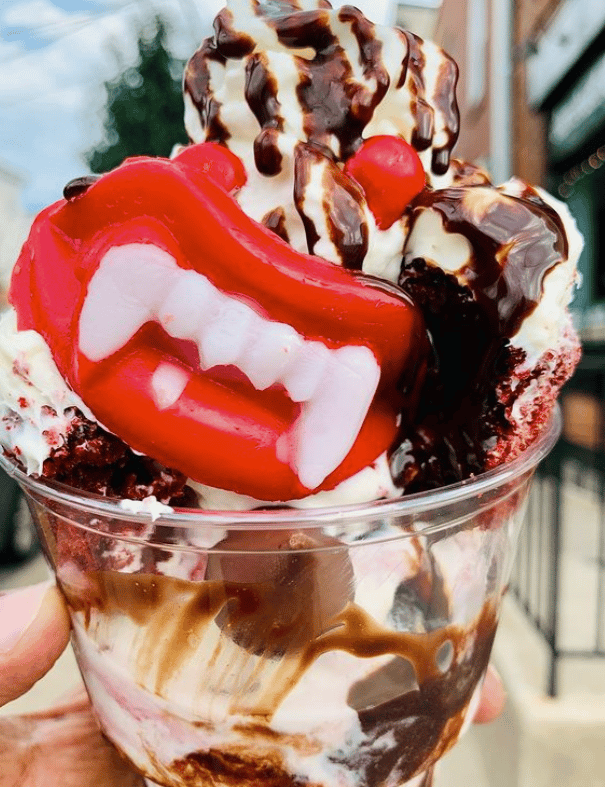 There's always something wacky on offer at Somerset Splits, a neighborhood ice cream parlor in the Port Richmond neighborhood of North Philly. The sundae specials that these folks come up with never cease to amaze; for instance, the recent What We Do in the Shadows-themed Throat Juice sundae features raspberry truffle ice cream, red velvet cake with cream cheese ice cream, Hershey's Kisses, hot fudge, whipped cream and yes, those weird wax fangs that you loved as a kid. If and when this bizarre sundae comes off the menu, don't worry: there will be something equally offbeat in its place. 2600 E. Somerset St., Philadelphia; no phone.
Local Bridgeport favorite, Frosty Falls, clearly understands that the finest ice cream flavor combo is chocolate and peanut butter, and then goes the extra mile with its signature PB in BP Sundae. Three scoops of ice cream, vanilla, chocolate and peanut butter, cozy up in a cup and then are showered with a heavenly mix of peanut butter cups and peanut butter pieces, hot fudge, peanut butter drizzle, then topped with whipped cream and a cherry. 96 Dekalb St., Bridgeport; (484) 681-5486​.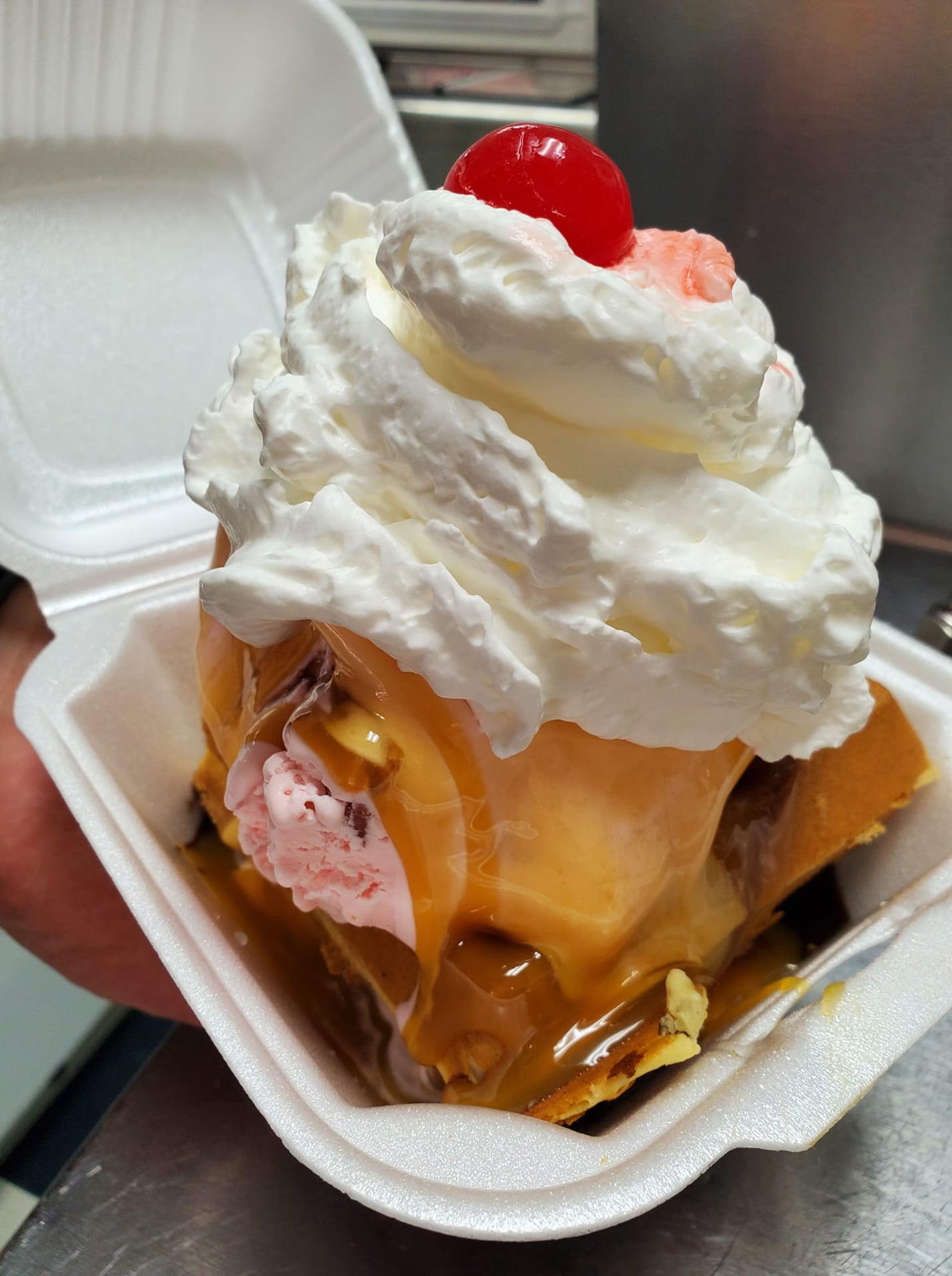 Every Wednesday is "Waffle Wednesday" at this Lehigh Valley favorite! Thick, golden Belgian waffles are topped with your choice of rich soft serve, scoops of hand dipped ice cream (you've got over 40 flavors to choose from) and tons of toppings. From traditional combos like strawberries and hot fudge to creative concoctions (we'd go for lemon cookie crunch with marshmallow sauce, sprinkles and extra whipped cream), the waffle sundaes are epic at the Bethlehem Dairy Store. 1430 Linden St., Bethlehem; (610) 691-8422; 2 Farrington Square, Bethlehem; (610) 865-4360.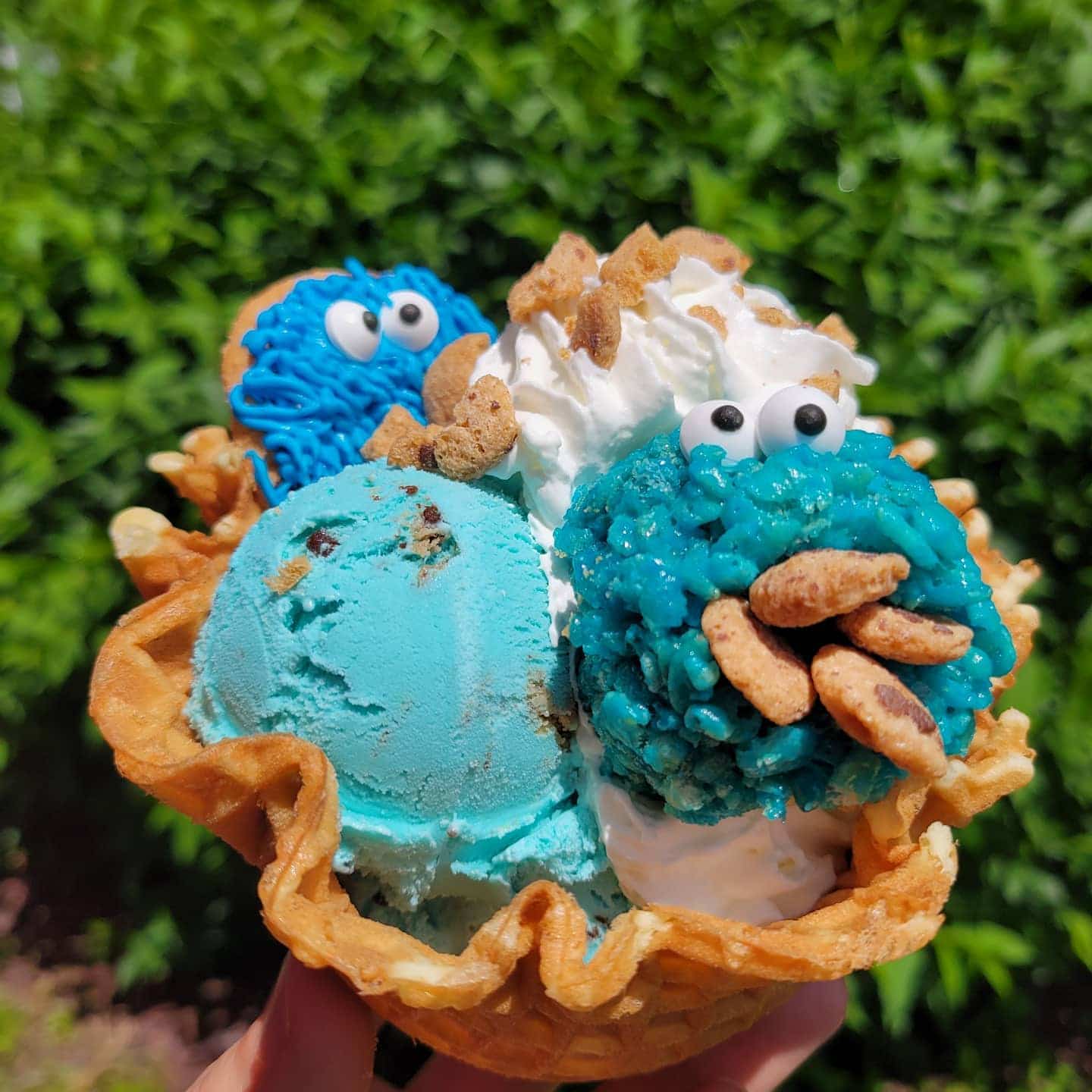 The Main Street Creamery is a charming shop in downtown Wellsboro that makes its own ice cream. Of course, you can just grab a scoop or two but why not spring for one of the shop's rotating custom sundaes? Take, for instance, the Cookie Monster Sundae, a shockingly colorful creation that fills a waffle bowl with bright blue cookie monster ice cream, spun through with Oreos and chocolate chip cookies, then decorated with a cookie monster cookie, rice cereal treat and cookie cereal to boot! It's sure to be a great treat for kids, or anyone who enjoys a playful ice cream experience. 17 Main St., Wellsboro; (570) 948-9558.
Mile-high milkshakes debuted a few years ago, thanks to NYC's Black Tap Craft Burgers & Beer, and the trend has been alive and well ever since. In Pittsburgh, no one's doing it quite as well as Fudge Farm by the Goodyhouse Chocolate Company. With two locations (one on the Waterfront, and one on the South Side), this sweet tooth's paradise offers inventive and heavily accessorized shakes in signature flavors, or choose your own adventure with flavors and toppings customized to your exact cravings. Popcorn, marshmallows, cookies, pretzels, fruit, sprinkles, waffles and so much more are on offer to make the shake of your dreams! 142 W. Bridge St., Pittsburgh; and 1503 E. Carson St., Pittsburgh; (412) 689-2500.
There is so much excellent ice cream action happening at Bonbon Cafe, a Chinese restaurant on Carlisle Pike in Mechanicsburg. It's hard to know where to start. First, there's the fluffy snow ice, shaved to order off a giant block, then sweetened with flavors and your choice of toppings, like fruit, Pocky, graham crackers and marshmallows. Then, there are the fluffy bubble waffles stuffed into a cup and then crammed with ice cream and all kinds of sundae toppings. But, the one that takes the cake, if you will, is the Taiyaki Sundae, a fish-shaped waffle, wrapped around ice cream and sundae-ified with chocolate sauce and toppings. Craft your own confection by starting with your choice of filling (think Nutella or red bean), ice cream (vanilla, chocolate or strawberry), toppings (candy, fruit, mochi, sprinkles, etc.) and drizzle (condensed milk, salted caramel, chocolate honey). No matter what you choose, you can't go wrong. 6499 Carlisle Pike, Suite 300, Mechanicsburg; (717) 795-4379.
If insane ice cream is what you seek, put The Jigger Shop, on your must-go list, as there is an entire section of this 100 year-old ice cream parlor's menu devoted to "Outrageous Sundaes", plus special ones offered each month. Going retro? Try the Baked Alaska Sundae with three different flavors of ice cream topped with chocolate sauce and whipped toasted meringue that's still flaming (yes, as in on fire) when it arrives at the table. Try a reimagined Pennsylvania classic dessert with the Shoo-fly Pie Sundae: a fresh-baked slice of Pennsylvania Dutch shoofly pie with French vanilla ice cream, a drizzle of black strap molasses, whipped cream, shoofly crumbles and a cherry. Or, go for the house special, The Jigger Sundae: two and a half scoops of French vanilla ice cream with either chocolate or butterscotch topping, whipped marshmallow and something called Jigger Nuts. FYI: The Jigger Shop is only open from Memorial Day to Labor Day each year. 202 Gettysburg Ave., Mount Gretna, (717) 964-9686.
What wild and over-the-top ice cream creations in Pennsylvania does everyone need to know about? Let us know in the comments here or on the PA Eats Facebook page!
Feature photo:

Tubby Robot Ice Cream Factory