Does it get any more tempting than a local chocolate shop with sweets as far as the eye can see, plus the aroma of cocoa in the air and personalized service to boot? Pennsylvania's many chocolate makers offer all this and more! Here's our list of seven sweet Keystone State vendors you need to meet:
Bridge Street Chocolates, located in the heart of Phoenixville, PA is a local chocolate shop that maintains a small-town feel and personalized service, while producing top-quality sweets. Pop in and choose from its wide selection for a quick pick-me-up on your lunch break, or order corporate gifts that will impress any client. Among chocolatier Gail Warner's must-try items are her incomparable chocolate-covered marshmallows. 158 Bridge St., Phoenixville; (610) 935-8100.
Frederic Loraschi brings his culinary talents as a past executive pastry chef at Hotel Hershey to the forefront with his artisan chocolates business based in Harrisburg. If you're craving gourmet chocolates and other sweet items, you can find them online via the Frederic Loraschi Chocolate website. Indulgent items include whiskey chocolate truffles and dark chocolate covered almonds. Online only.
Media, PA chocolatier Bevan's Own Make Candy has a rich history in the candy-making business. Since 1959, this family-owned chocolate shop is well-known throughout Delaware County and beyond. Popular treats on offer at Bevan's include specialty-made chocolate shapes for the holidays and assorted chocolates. Our favorite? Chocolate-covered sea salt caramels, available in both dark or milk varieties. 143 E. Baltimore Pike, Media; (610) 566-0581.
Another family-owned and operated chocolate shop with a wonderful history and traditional recipes is Raymer's Homemade Candies in Doylestown, PA. Candy recipes dating back to the 1880s are used, which shows that there's no reason to mess with perfection when it comes to the art of candy-making! In addition to an array of assorted melt-in-your-mouth chocolates, Belgian chocolate-covered pretzels and chocolate-covered fruit are popular options. 21 E. Oakland Ave., Doylestown; (215) 348-3788.
Chefs Chip Roman and Fred Ortega offer their artisan chocolates and confections both at their storefront in Conshohocken, PA and online. Chocolate truffles, barks and turtles are some tempting items. Looking for a gift for a loved one who is a gourmet chocolate aficionado? Tradestone Confections offers plenty of gift options and a gorgeous presentation as well. 117 Fayette St., Conshohocken; (484) 574-1786.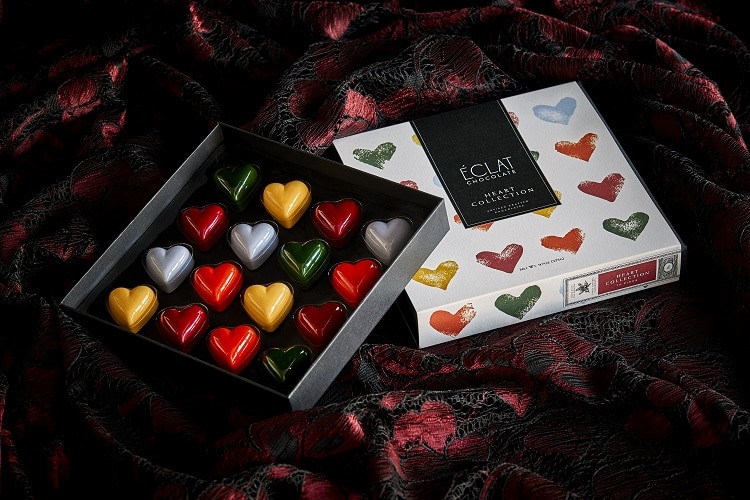 West Chester, PA's Éclat Chocolate is headed up by Christopher Curtin, who has created chocolate masterpieces in chocolate shops throughout Belgium, Switzerland, France, Germany and Japan. Now, local residents can indulge in the many delectable chocolate offerings that his expertise provides. Stop by the storefront on South High Street, or order your favorites online. 24 S. High St., West Chester; (610) 692-5206.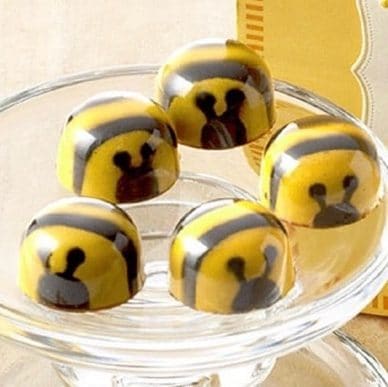 Whether you're searching for business gifts for corporate clients or want to buy unique shaped chocolates for your next party, Philadelphia-based John & Kira's Chocolates has you covered. (Keep in mind: You don't need a special occasion to enjoy John & Kira's Chocolates!) Find these artisanal sweets at local farmers markets, shops and online.
Feature photo and Eclat hearts:

Éclat Chocolate

John and Kira bon bons:

John & Kira's Chocolates