Pennsylvania is a huge agricultural powerhouse in terms of production rank in the U.S. According to the 2017-18 USDA Annual Statistical Bulletin, we're first in terms of mushroom farming (that's over 63% of the entire mushrooms in the country), 3rd in peaches and corn for silage, and 4th in apples and grapes. Pennsylvania farmers also raise a lot of cattle for beef and dairy, as well as other food products, like honey and maple syrup. (Did you know we rank 2nd in butter production?)
But it's not all big crops that our farmers are growing! Pennsylvania agriculture is responsible for everything from alfalfa to goats to oats. We've found four surprising crops grown in Pennsylvania, proving that nearly anything you want to eat, or to cook with, can be found right here in the Keystone State!
Kiwi Berries
You might think of kiwis as a tropical fruit, though actually, the majority of the world's kiwi is grown in China, Italy, New Zealand, Iran and Chile. Kiwi berries, miniature versions of full-sized kiwi, also known as Hardy Kiwifruit, actually grow exceptionally well in the Northeastern United States, as they are able to withstand cold temperatures. A favorite of home gardeners for a century, commercial kiwi berry production has picked up over the past few decades in Oregon, Washington and Pennsylvania!
Kiwi Korners in Danville, PA has been growing Hardy Kiwifruit since 1998, and became certified organic in 2001. Its claim to fame is producing the world's highest sugar-level reading of any kiwi documented internationally, in a testing that was conducted in 2009 by the Penn State University Department of Horticulture Foolad Labs, in University Park, PA. In addition to standard Kiwi Berries, Kiwi Korners makes other varieties, like Passion Poppers, with a slightly blushed exterior and a blend of flavors, including super sweet kiwi, exotic melon and a cotton candy, and Aloha Annas, with flavors of kiwi, pineapple and a hint of mint. Its Kiwi Berries have been featured in Pennsylvania public school lunches, and Hermit Woods Winery of Meredith, New Hampshire, even made a kiwi wine, which it compares to an off-dry Riesling, using the farm's fruit!
Weaver's Orchard in Morgantown, PA, also grows kiwi berries in its orchard, and offers them as part of its pick-your-own program. It suggests picking them while still a bit firm and allowing them to ripen off the vine over the next few days, stored at room temperature after picking. Aside from being small and cute (Delish once called them "your new food obsession"), kiwi berries are fuzz-less, sweet and can be eaten whole without being peeled. They're perfect for snacks or sides in kids' lunches, as a topping for yogurt and granola, or as the most adorable garnish on a cake or fruit salad.
Paw Paws
Paw Paw isn't the name of the new neighborhood pet store — it's a fruit that grows native to Pennsylvania, and it's super delicious!
This fruit, which is part of the custard apple family, sports a musky, tropical flavor, reminiscent of mango and banana, with dense, creamy flesh. Paw paws are so happy to grow in Pennsylvania's climate that you can often find the deciduous trees they grow on out in the wild; they're also popular fruit trees for home gardeners. Because they are a bit delicate and don't have a long shelf life, paw paws haven't traditionally been cultivated by commercial farmers. But recently, organic farmers have started to grow them, as they are hardy growers without many natural pests. In Pennsylvania, you will find paw paw trees growing at Horn Farm Center in Hallam, PA, Green Meadow Farm in Gap, PA and at Threefold Farm in Boiling Springs, PA.
Paw paws frequently make appearances in restaurant dishes; we've seen this curious fruit show up in an ale brewed by Harrisburg's Millworks in the winter of 2018, and in ice cream at The Franklin Fountain in Philadelphia. Curious to learn more? York County hosts a Paw Paw Festival every fall, featuring paw paw samples, trees for sale and products like jams and jellies made from the fruit. If you're lucky enough to have a paw paw tree on your property, try our recipe for paw paw stuffing.
Lavender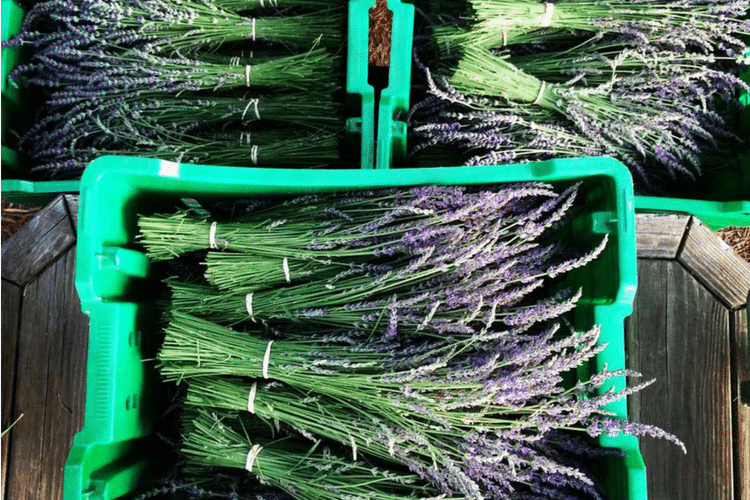 Oregon, Washington State, California, Texas and Maryland grow much of our country's lavender supply, but this beautiful, fragrant crop also grows right here in Pennsylvania! There are over a dozen commercial lavender farms, in fact, found in nearly all parts of the state, many of which make their own products and host visitors during certain times of the year.
Lavender Green Farm in Knox, PA, in the rolling foothills of the Allegheny Mountains, is one of America's oldest commercial organic lavender farms. It grows several varieties of English and French dried lavender flowers and buds, crafts a range of gifts and home products, and offers tours and workshops on its beautiful property.
Quiet Hills Lavender Farm grows lavender in a truly stunning setting in Palmerton, PA (right outside of Jim Thorpe), and then the lavender is dried to sell it by the bunch. According to the farm's website, poor winter conditions over the past few years have affected the the fields to a degree, where the farm cannot be open to the public right now. The Quiet Hills crew is planting, pruning, and prepping the fields in an effort to repair the damage, and they are hoping for a Spring 2020 grand re-opening.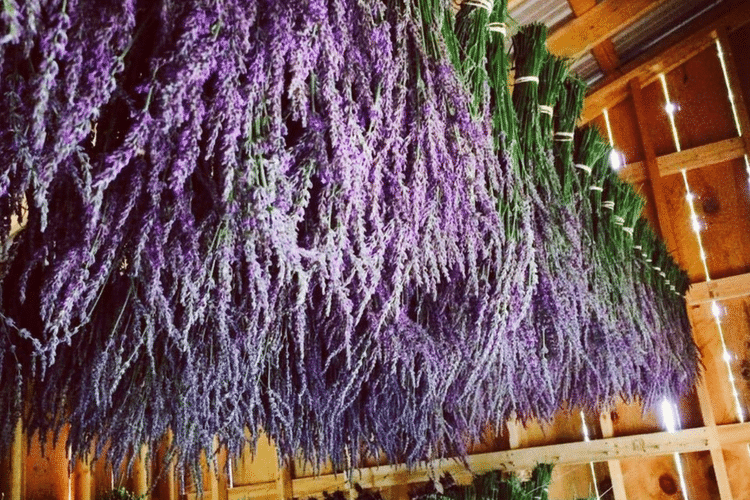 About 40 miles west of Palmerton is Hope Hill Lavender Farm in Pottsville, PA, founded by Wendy and Troy Jochems, who purchased the farm in 2004, and in 2010, converted the farm from growing Christmas trees to growing lavender. Thanks to the ideal climate and soil conditions, the lavender grows heartily, and the couple now cultivates 11 types of the flowering herb. Guests can visit Hope Hill Lavender Farm between April and December (June and July are the lavender's peak bloom time), which makes a great day trip when paired with a trip to the nearby Yuengling Brewery.
Christmas Trees
Pennsylvania ranks third in the entire country in terms of Christmas tree production, with about 32,000 acres of land dedicated to the popular evergreen's cultivation. The most common types of Christmas trees grown in PA are Fraser Fir, Douglas Fir and White Pine; other varieties include Colorado Blue and Norway Spruce and Concolor, Nordmann and Canaan Firs.
For fake-tree enthusiasts, just remember: Trees are incredibly good for the environment! Live trees absorb carbon dioxide and other gases and emit fresh oxygen; the farms that grow Christmas trees stabilize soil, protect water supplies and provide refuge for wildlife; and Christmas trees will often grown in soil that can't support other crops. Christmas trees are also a renewable crop (most farmers plant between one and three seedlings for every tree that is chopped down) and they are recyclable or biodegradable once the season wraps up!
While some Christmas tree farms only grow trees for wholesale, many welcome guests who wish to choose and cut their own tree, often with fun seasonal activities included. At Schmidt's Tree Farm in Landenberg, PA, free hot chocolate and coffee are offered, a gift shop is stocked with toys, decor and memorabilia, and live reindeer live on site. Twin Creek Tree Farm in Northampton, PA, allows you to cut your own tree or choose from pre-cut varieties; it too has a gift shop with free hot chocolate and candy canes and a selection of Christmas-themed items, like Santas, snowmen and wreaths.
There are so many tree farms to visit when the holidays roll around, there's no excuse for buying a random tree from a big-box hardware store! Use the Pennsylvania Christmas Tree Grower's Association map to find a tree farm near you.
Are there other crops that people might not realize are grown in Pennsylvania? Join in the conversation on the PA Eats Facebook page!
Feature and lavender bins photos:

Hope Hill Lavender Farm