Even if you love to cook — and I do — the whole routine can sometimes get you down. There's the planning, the shopping, the prep, the cooking and (everyone's favorite!) the cleaning. If you've got dietary restrictions or philosophies like paleo or Whole30, or even if you're simply trying to stick to nutritious, balanced meals, that's a whole other time-consuming piece of the puzzle to factor in. Instead of being a leisurely endeavor, searching through cookbooks and blogs for inspiration or recipes, making sure you have all the ingredients on hand, and maintaining some semblance of variety … well, frankly, it can be pretty exhausting.
When I heard about Snap Kitchen's new weekly meal plan subscriptions, my interest was piqued. I've often turned to Snap Kitchen's Philly-area locations for health-forward, satisfying breakfasts, ridiculously delicious lunches and energy-restoring cold-pressed juices. So, the idea of inviting its food home for dinner sounded quite appealing.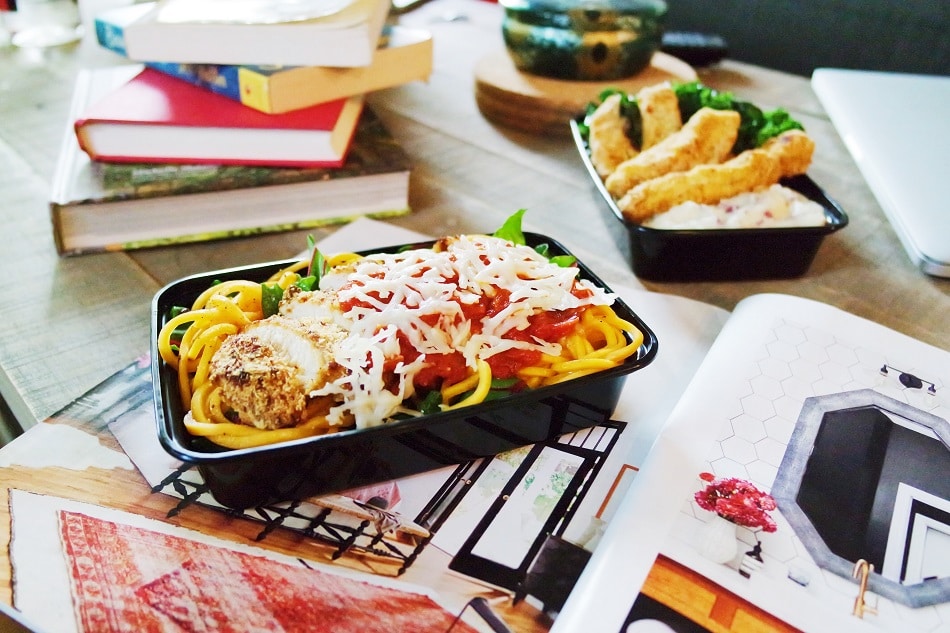 Turns out, unlike some other meal plans, Snap Kitchen's meal plans aren't just about dinner. Whether you choose its 3-, 5- or 7-day options, breakfast, lunch, dinner and snacks are all taken care of for you. And, to be clear: this isn't a box of ingredients that you're supposed to cook with — all of the meals come fully prepared, with simple reheating instructions included. Each dish is carefully planned in a collaboration between Snap Kitchen's nutritionists and chefs.
Lead registered dietitian Claire Siegel explains: "As the chef is developing recipes, I'm doing the analysis and giving suggestions on how to increase the nutrition." Their goal is to find that sweet spot where delicious and super-good-for-you overlap. "To live a healthy lifestyle, it has to be something you enjoy and look forward to, and with food that means it has to taste good," Siegel says. "That's the cornerstone of what we do: We take meals you crave, do some simple swaps, change the cooking techniques and add more veggies."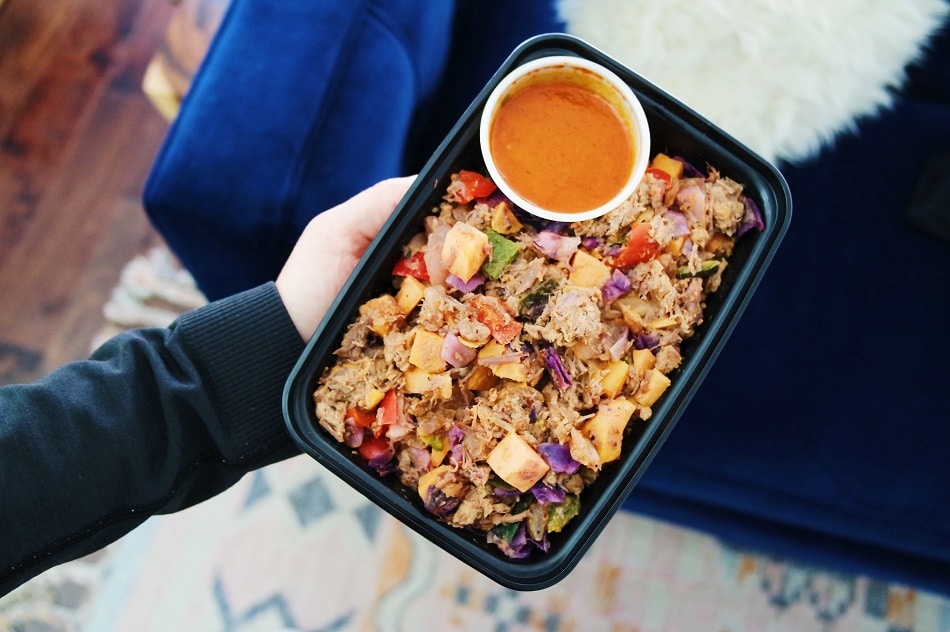 I decided to #goplanbased (as the clever hashtag suggests) and ordered a 3-day Snap Kitchen meal plan. Here's what happened:
Ordering
Snap Kitchen, as innovative with technology as it is with food, created a simple, intuitive ordering interface through its website or its app. The first step is to pick what meal plan fits your current needs; choose from high protein, low carb, Whole30, paleo, balance or camp gladiator, specifically designed for athletes in training.
From there, you decide how many calories you want per day, either 1,200, 1,500 or 1,800 and whether you prefer 3, 5 or 7 meals in your plan. Skipping weeks is as easy as one click, and cancelling is also no biggie.
As I'm not currently on any specific diet, I decided to go with the balance meals in the 1,500-calorie zone, described as "comfort food with a healthy twist to create meals you crave that help you to feel amazing." The meals roughly break down to 20–30% protein, 35–50% carbs and 20–40% fat. You know, the way we should be eating but don't always accomplish on our own.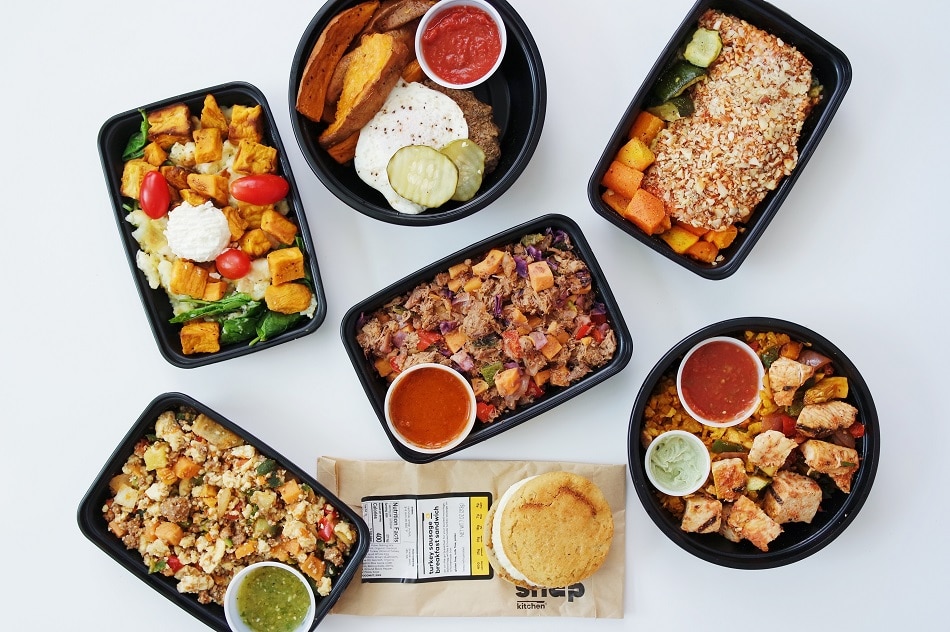 The ordering tool takes you day by day through your plan, allowing you to see what meals it's picked out and giving you the option to easily swap any meal or snack. A calorie counter keeps track, so you can see how your swaps add up. It was so much fun to go through and design each day — there were so many appealing options for each meal and I loved the snacks (all of which are "nutritionist blessed"): veggie sides, juices, protein bars, fruit and more.
After making my selection, I checked out and chose which day and time I wanted pick up (Snap Kitchen also offers free delivery in many locations!). Two days later, I went to the Villanova location and picked up a big bag, brimming with my meals for the next three days.
Day 1
Breakfast: Maple banana oatmeal bowl: Just the right amount of sweet with steel cut oats cooked to the ideal texture. Fresh sliced bananas and organic flax seeds were a nice touch — the kind of health-conscious detail I aspire to but never seem to remember as I'm rushing through breakfast in the mornings.
a.m. snack: Ginger greens juice from Snap Kitchen's own line of cold-pressed juices: a blend of apple, cucumber, kale, spinach, parsley and lemon with a serious ginger kick. At just 100 calories, this made for a serious mid-morning pick-me-up — no need for that second cup of coffee!
Lunch: Shrimp Pad Thai with spiralized sweet potato noodles: Roasted shrimp and stir-fried veggies topped the swoodles (I just made that word up!), with an awesome tangy sauce, chopped cashews and Thai basil. This felt virtuous and indulgent at the same time!
p.m. snack: Devily eggs: This is classic Snap Kitchen — taking something you know and love (in this case, deviled eggs) and turning them into secret health food. Hard-boiled egg whites are filled with jalapeno hummus and sprinkled with paprika and make the perfect protein-packed nosh.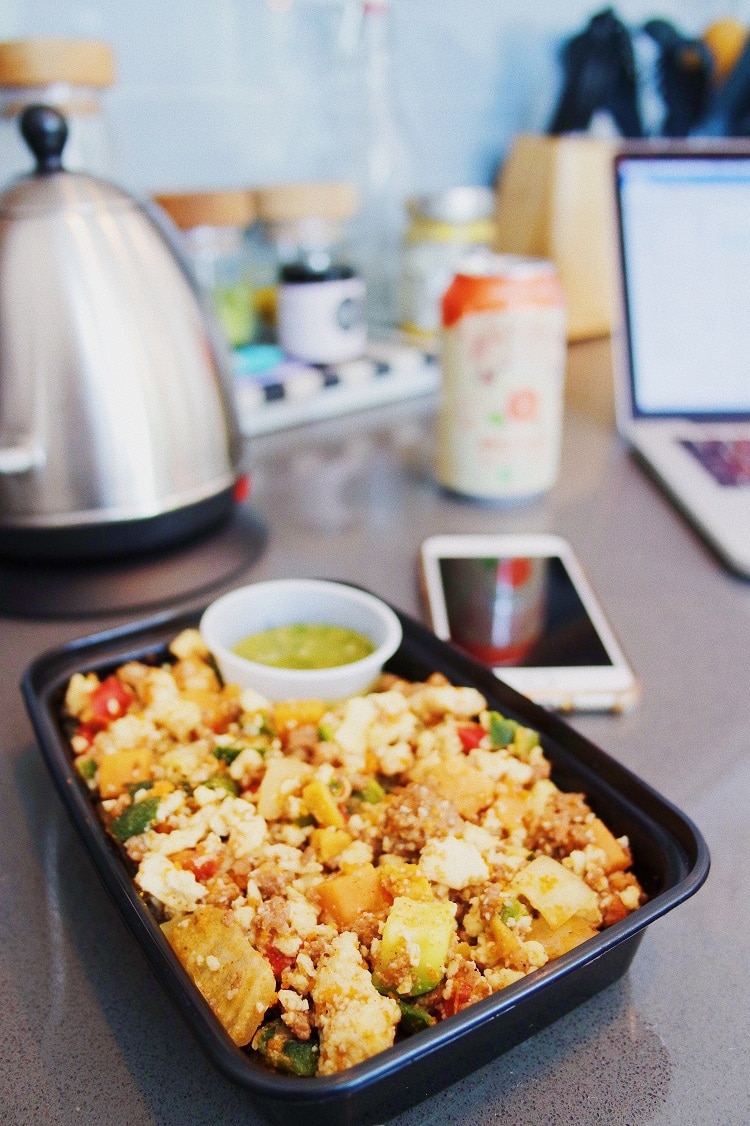 Dinner: Bison quinoa hash: Bison is an animal protein I truly never think to buy or cook with even though I know it's lean and healthy. But, I loved it here in a sort of chili-inspired dish of red quinoa, kidney beans, brown rice, onions, peppers and just a sprinkle of cheddar cheese. This was so hearty and warming on a cold January night!
Day 1 assessment: I could really get used to this! Not having to worry about what I'm eating next is so nice. I prefer to reheat my food on real dishes instead of in the plastic containers, but that still creates a nominal amount of dishes versus what I'm accustomed to.
Day 2
Breakfast: Almond butter maple pancakes with berry compote: I'll admit it — I was a bit skeptical of these. I make pancakes at least twice a week for my 4-year-old kid and consider myself a bit of an expert. These are gluten- and milk-free and looked a little flat in the container. But after a gentle spin in the microwave they smelled amazing and were so, crazy-delicious that my daughter and I literally argued over who was going to get to eat the second pancake.
a.m. snack: ZÜPA NOMA Superfood Soup: Carrot, coconut and lime chilled soup that was a bit like drinking unstrained juice. I read later on its website that you can heat up these farm-to-bottle soups, which I think I would've prefered. The flavor was good, but I just kind of wished I was drinking another Snap Kitchen juice.
Lunch: Tex Mex chicken bowl: Hardly a day goes by when I don't experience a serious taco craving, and this was definitely pushing all the right buttons! Smoked paprika and turmeric cauliflower rice with grilled white chicken and veggies are topped with red salsa and spirulina crema (cool, right?).
p.m. snack: Chicken spring roll salad: This was a bit like a deconstructed spring roll, with clear kelp noodles, white chicken, cukes, red peppers and carrots sprinkled with black sesame seeds and a sesame ginger dressing. It was just a few bites but really helped to tide me over until dinner.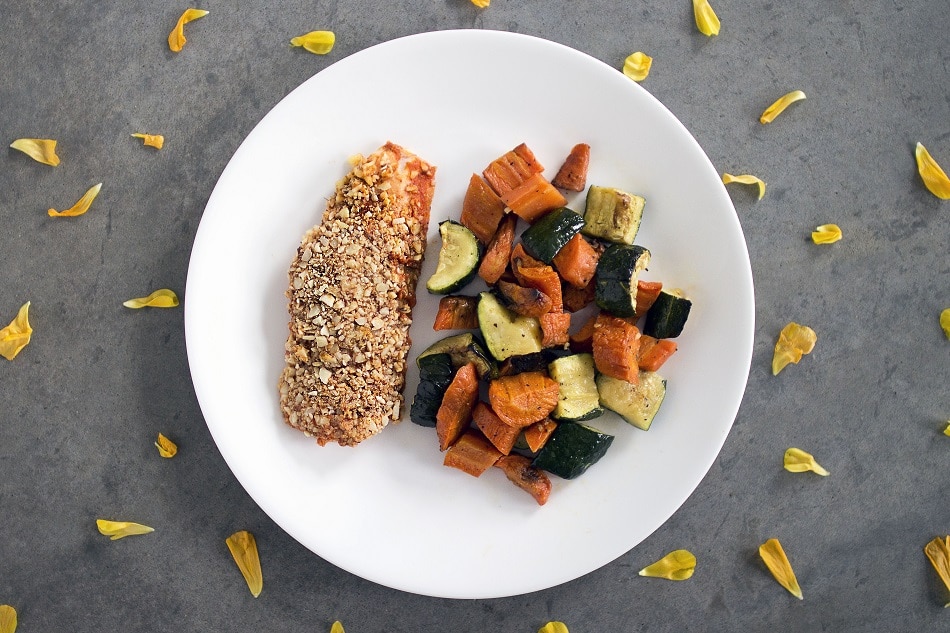 Dinner: Crispy salmon: This tender filet of salmon is crusted with almonds and comes with roasted zucchini and carrots. Sometimes, dinner without a carbohydrate of some sort feels incomplete to me, but this combo was satisfying without the carbs. It's the most "diet food" seeming dish out of all that I ordered, but the flavor was so good and the fish was so well-prepared that it easily held up to all the other entrees.
Day 2 assessment: I feel great, I'm loving not packing lunch and … how do I get more of those pancakes?
Day 3
Breakfast: Turkey sausage breakfast sandwich: I've had this one before, and was charmed by the somewhat magical gluten-free, cauliflower-based biscuit it comes on. The baked egg whites and sausage are perfect for sustaining you during a busy morning.
a.m. snack: Turmeric tonic: Ah, another mid-morning juice! This anti-inflammatory concoction contains apple, pineapple, jicama, turmeric root and basil. I shared a few sips with my husband and daughter who both couldn't get over how good it was.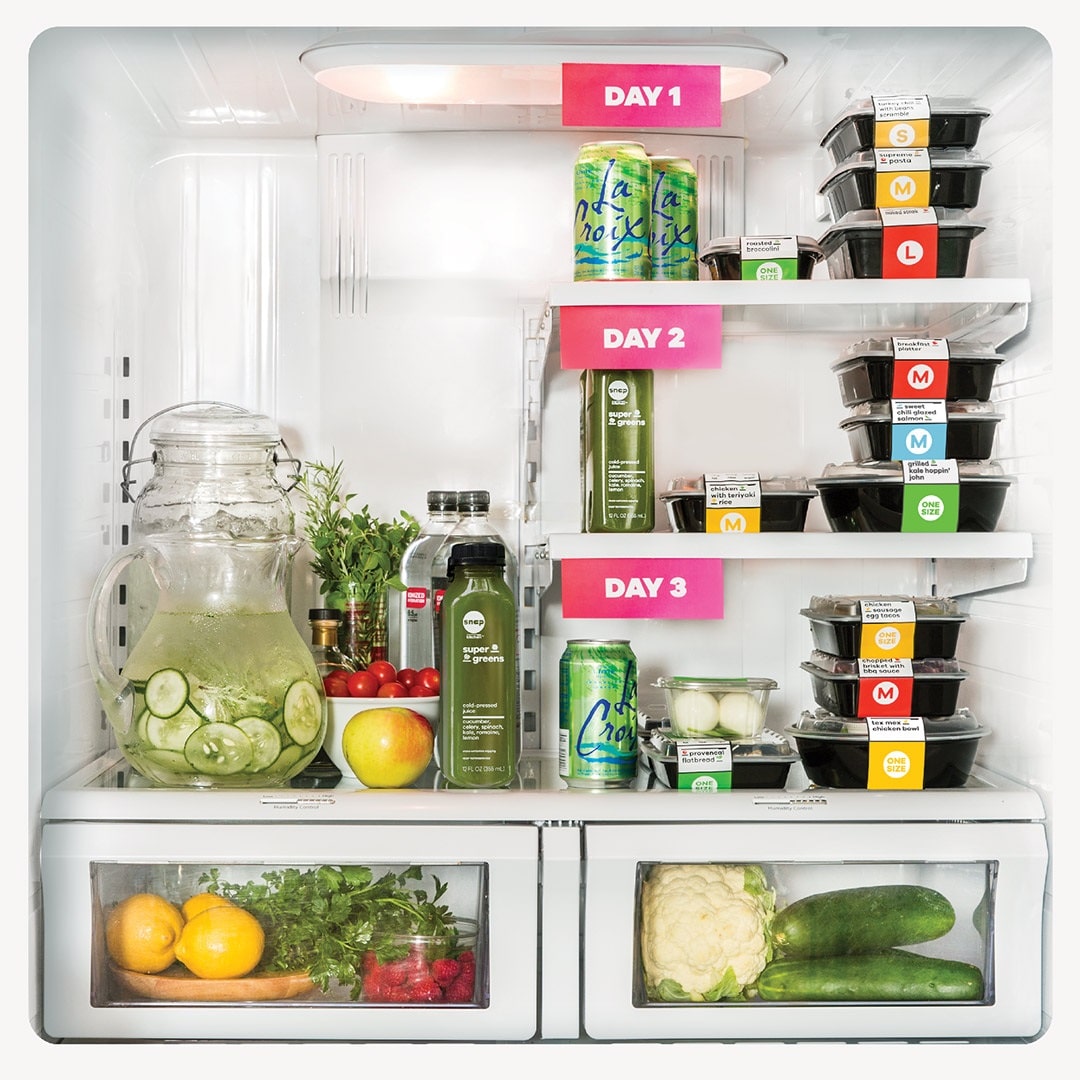 Lunch: Spicy dan dan noodles: I was most excited about this meal, and it did not disappoint! Ground shiitake mushrooms and a handful of other veggies are layered over brown rice noodles and dressed with a tahini-based sauce that I'd happily eat drizzled over veggies every day. And, unlike the dan dan noodles from my neighborhood Szechuan joint, I didn't feel like I immediately needed to lay down for a nap after eating them.
p.m. snack: Almond-crusted chicken nuggets with ranch: What a tasty little snack! Baked white chicken nuggets with a side of cashew-based herb ranch made for a great bite when that 3 p.m. salty-foods-craving came calling.
Dinner: Turkey chili with beans: A stellar way to end my 3-day meal plan! This dinner dish was exploding with bold flavors, generously studded with black and red beans and topped with red and green onions and cheddar cheese. At a whopping 35 grams of protein (considering the calorie count only came in at 360), this was so tasty, filling and made me feel so good after eating it.
Day 3 assessment: Wait, it's over already?!
Overall, I was really impressed with this service from Snap Kitchen. It's only been live since January 1, and the ordering, fulfillment and pick up process were so easy and efficient. The food knocked it out of the park: I loved the variety and the customization and nothing was disappointing or even "meh" (which I can't even say for my own cooking). And even after just a few days, I felt lighter, leaner and livelier thanks to the nutritionist-designed, perfectly balanced meals.
It's also a good value: A 3-day Balance Meal Plan from Snap Kitchen is $101.97 before tax — for 15 items over the 3 days, that's about $6.80 per item, which is so much less than you'd spend going out, even just for a snack. Plus, you've got all the time you're saving, which is really valuable, too.    
Even if you love cooking, Snap Kitchen's Meal Plans would be a smart solution if you know you're facing a crazy work week or travel week when you won't be able to shop and cook; an extremely thoughtful gift for new parents; or just a really solid way to "reset" your diet if you've gotten locked into some bad habits.
As a gift to our readers, Snap Kitchen has shared this code with us: THETOWNDISH. Use this code at checkout to receive $10 off your first meal plan (the code is good until April 30, 2018). When you do give it a try, don't forget to tag your social media posts with #goplanbased!
Find Snap Kitchen at 1901 Chestnut St. in Philadelphia; phone: (215) 845-0002; 601 S. 10th St. in Philadelphia; phone: (215) 845-0027; 243 Market St. in Philadelphia; phone: (215) 845-0004; 1325 Frankford Ave. in Philadelphia; phone: (267) 838-6590; 775 E. Lancaster Ave. in Villanova; phone: (610) 520-1122; and 5 S. Morehall Rd. in Malvern; phone: (484) 320-3447.