It can feel a bit intimidating setting healthy living resolutions during the peak of winter and flu season. Short, cold days leave us craving comfort foods and the couch far more than clean eating and the gym. Savory and nutritious, bone broth could be the cure for the winter blues and the flu.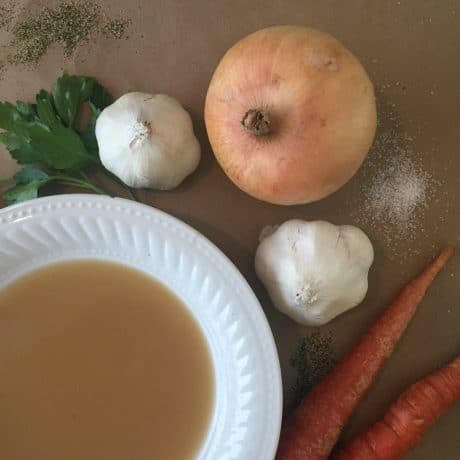 A long-standing culinary staple, bone broth has quickly become this year's health craze. "Broth cafes" opening up all over NYC are celebrating the traditional style of drinking broth as a nutrient-rich alternative to tea or coffee.
No need to travel to the big city to try out this trend. Your local Kimberton Whole Foods has a variety of bone broth products available to get you started and a knowledgeable staff to help you understand what all the hype is about.
Clara from the Kimberton Apothecary Team explains where the benefits come from: "When making broth (from scratch) it is important to use a variety of bones —meaty bones, cartilaginous bones (such as knuckles, joints) and gelatin-rich bones (chicken or pig feet, for example) — to get all the potential health benefits." The boiling process releases amino acids and easily absorbable minerals that are linked to boosting the immune system and healing the gut. Sounds like the tradition of eating chicken noodle soup when you're sick is relevant from both a nutritional and a scientific viewpoint!
Bone broth's benefits are believed to include relief of inflammation in the joints, as well as increased growth and improved appearance of hair, skin and nails. Kimberton Apothecary Team member Pam explains how she has felt these benefits: "I've found that incorporating bone broth into my daily diet has really helped heal my gut, and it's improved my skin and joint health, too."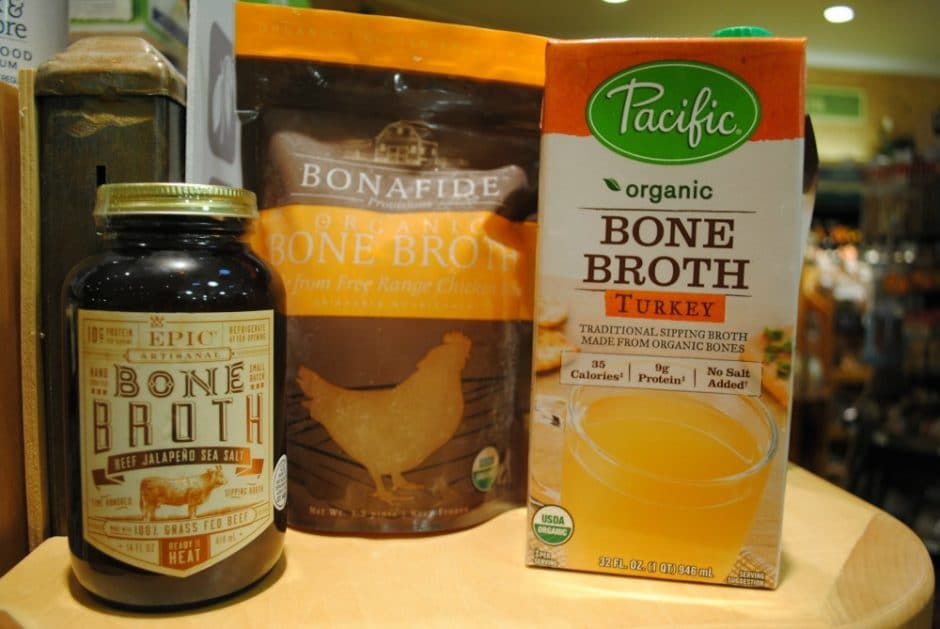 If you are ready to start adding bone broth to your diet, KWF has a number of pre-made broths stocked in their stores. From the freezer, you can grab Bonafide Provisions chicken or beef bone broth. This organic broth was created by health professionals to provide a pure product that is versatile in its simplicity and can be used as a base for a risotto or a latte. Epic Bone Broth bottles traditional technique and bold flavors — like beef jalapeno sea salt — into single serving jars that make them easy to grab, heat and go. Or, pack your pantry with any or all of the Pacific Bone Broth varieties that Kimberton offers. Stock up on cartons of chicken, turkey and chicken ginger bone broths so you never run out.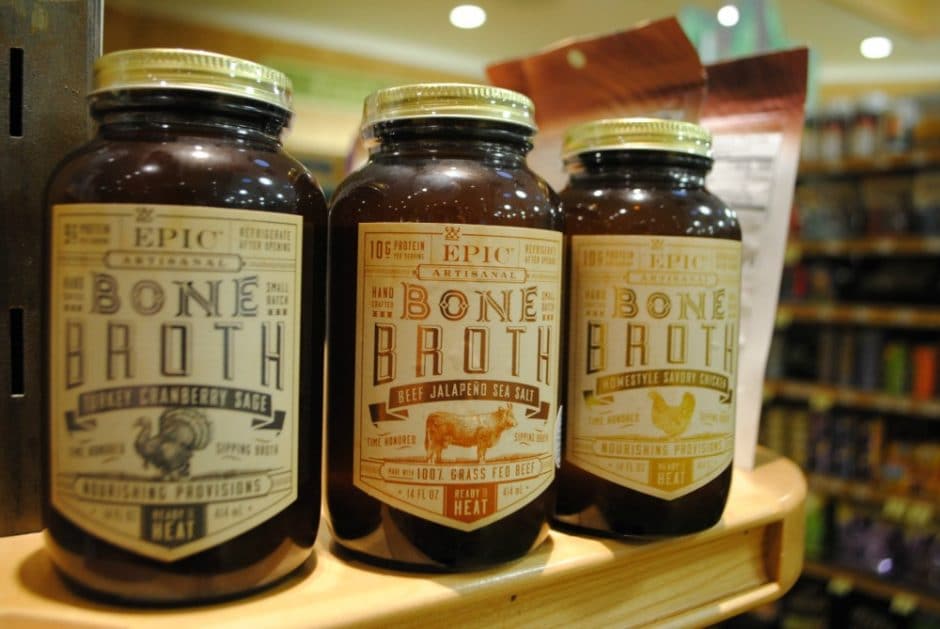 Looking for a local bone broth? Try Dutch Meadows grass-fed beef or chicken bone broth made in Lancaster County and available at your local KWF.
Adding bone broth to your routine can be as simple as substituting it into any recipe for a more flavorful and nutrient-dense base. Clara explains how she includes it in her daily diet: "I make bone broth weekly. I use it daily in soups and sauces, and also drink it by itself with a little fermented sauerkraut juice and sea salt."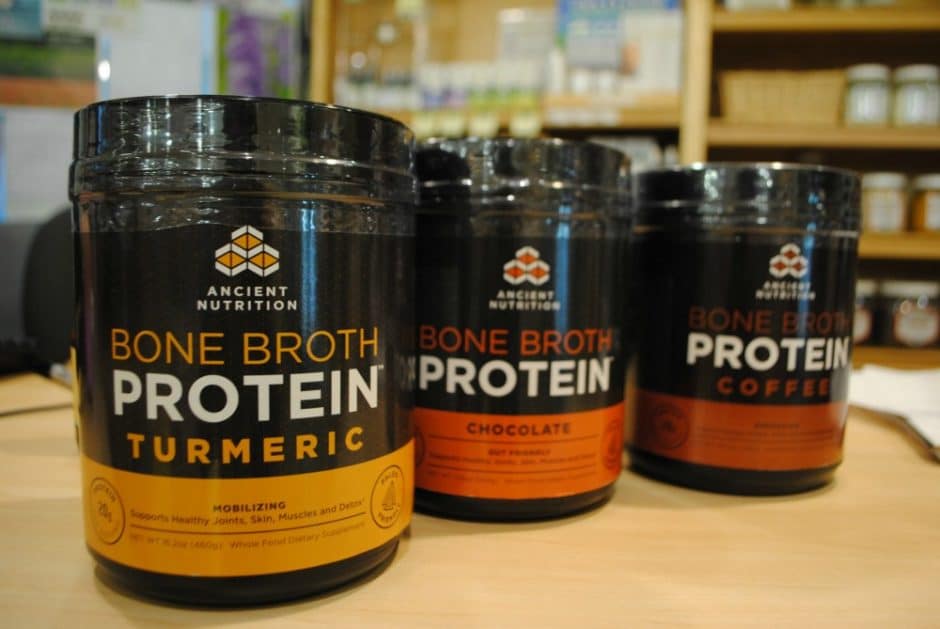 Bone broth may also support your fitness goals by promoting the growth of lean muscle and boosting metabolism. The Kimberton Apothecary offers a bone broth protein powder, Ancient Nutrition, which has modernized the benefits of bone broth via an all-natural powder that can be made into a smoothie or shake. The bone broth powder is heat stable, so it can used in cooking as well. Try the chocolate protein when baking cookies or the turmeric protein in soup.
If you're feeling the urge to make your own bone broth, get cooking with this chicken bone broth recipe from the Kimberton Kitchen:
Kimberton Whole Foods Chicken Bone Broth Recipe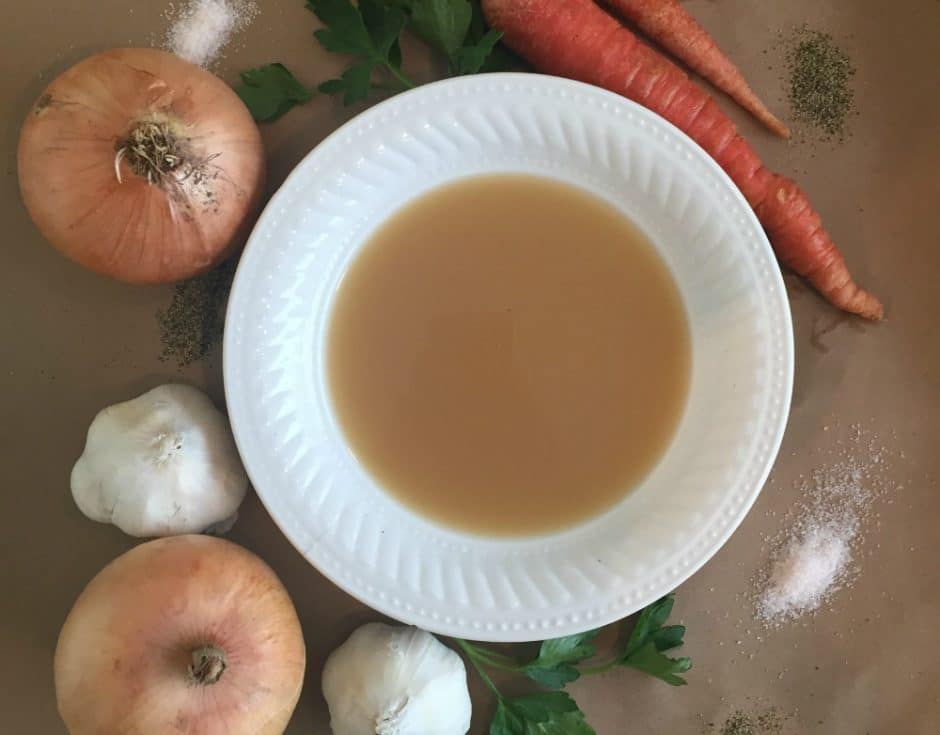 Ingredients
2 pounds chicken parts (wings suggested)
4 quarts water
2 large carrots, cut in chunks
1/2 of a celery bunch, cut into chunks
1 onion, quartered
Stems from a bunch of parsley
A few cloves of garlic (optional)
1 Tablespoon Himalayan pink salt
1 Tablespoon dried thyme
1 teaspoon dried sage
1 teaspoon black pepper
Method
Do not peel vegetables.
Add ingredients in a large stockpot.
Cover pot, bring to a full boil, stir, then turn down to a low simmer.
Let simmer for four hours, stirring once an hour or so.
Turn off heat, and allow broth to cool for half an hour.
Pour through a mesh strainer. Divide into canning jars or other containers that can be refrigerated.
Note: This recipe can also be made overnight — eight hours — in a large crockpot.
Visit your nearest Kimberton Whole Foods at these five locations: Kimberton, (610) 935-1444; Downingtown, (610) 873-8225; Malvern, (484) 324-2800; Douglassville, (610) 385-1588; and Ottsville, (610) 847-2419.
Recipe photos:

Kimberton Whole Foods

Remaining photos:

Morgan Paese