Pennsylvania is, by all accounts, an agricultural powerhouse. We're ranked 4th in the nation for apple growing and Christmas tree production, 5th in dairy sales and grape production and 7th in winemaking. But if there is one thing we're farming-famous for, without a doubt, it's mushrooms. We're number one (you can chant, if so moved) in edible mushroom production, with our state's 68 mushroom farms producing 63 percent of all U.S. white mushrooms, valued at $554.4 million each year. Nearly all of these 'shrooms are grown in Chester County, which is home to the largest concentration of growers in the U.S. These farms are mostly located in and around Kennett Square, with a reported 50 family-owned commercial mushroom farms within 25 miles of the town, rightly known as "The Mushroom Capital of the World."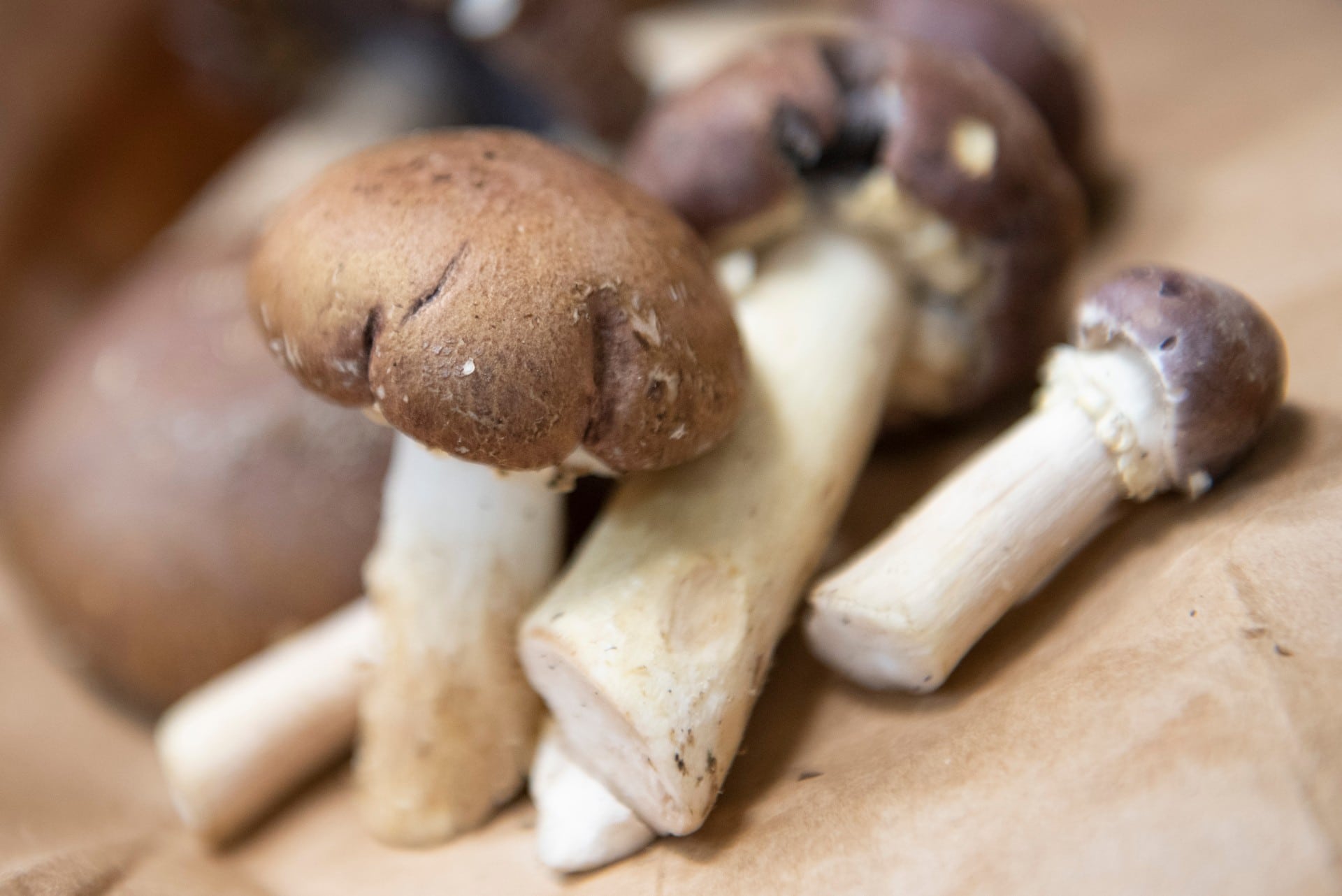 The history of PA mushroom farming can be traced back to over a century ago. According to the Pennsylvania Mushroom Growers Association, we can thank one William Swayne, a florist who was inspired to  grow mushrooms beneath his greenhouse benches. After receiving spawn from England, he built the first mushroom house in the region. Eventually his son, J. Bancroft Swayne, took over the mushroom business and helped to make it commercially successful. There were other Quaker settlers who emigrated to the area around the same time. They also had greenhouses for fresh flowers and began to grow mushrooms in their spaces, too. Then, in the early 20th century, Italian immigrants who arrived to the area to work in the stone quarries started working for the Quakers and then started their own mushroom farms. With plenty of "growing material" from nearby Lancaster County and huge metropolitan areas to the north and south, many of these businesses flourished.
This story is true for To-Jo Mushrooms, Inc. as well, a fourth-generation mushroom farm in Avondale, PA, just about five miles southwest of Kennett Square. In the early 1930s, founder Joseph A. D'Amico settled in the area and purchased a stone quarry in Avondale, which happened to include a small mushroom house on the property. He began growing mushrooms on the farm, producing 50,000 pounds each year. D'Amico's sons Alfred and Anthony J. "Tootsie" took over farming operations in the 1950s and expanded the production to 550,000 pounds annually.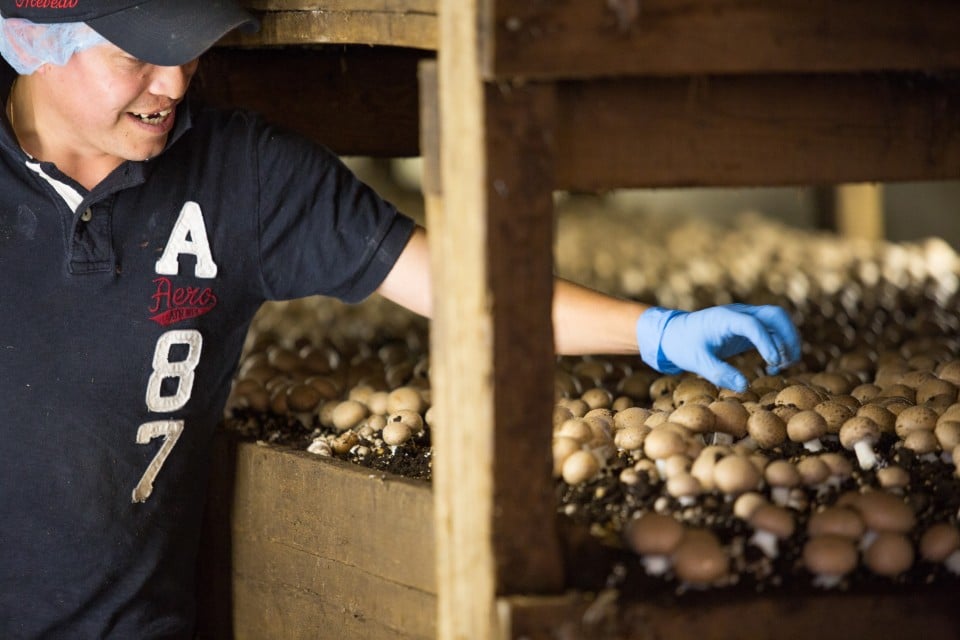 To-Jo Mushrooms was formed when Anthony's son John D. and Joseph D'Amico, Sr. split the business into JD Mushrooms, the growing operation, and To-Jo Mushrooms, the sales and marketing operation, naming the business after Joe's sons Tony and Joe.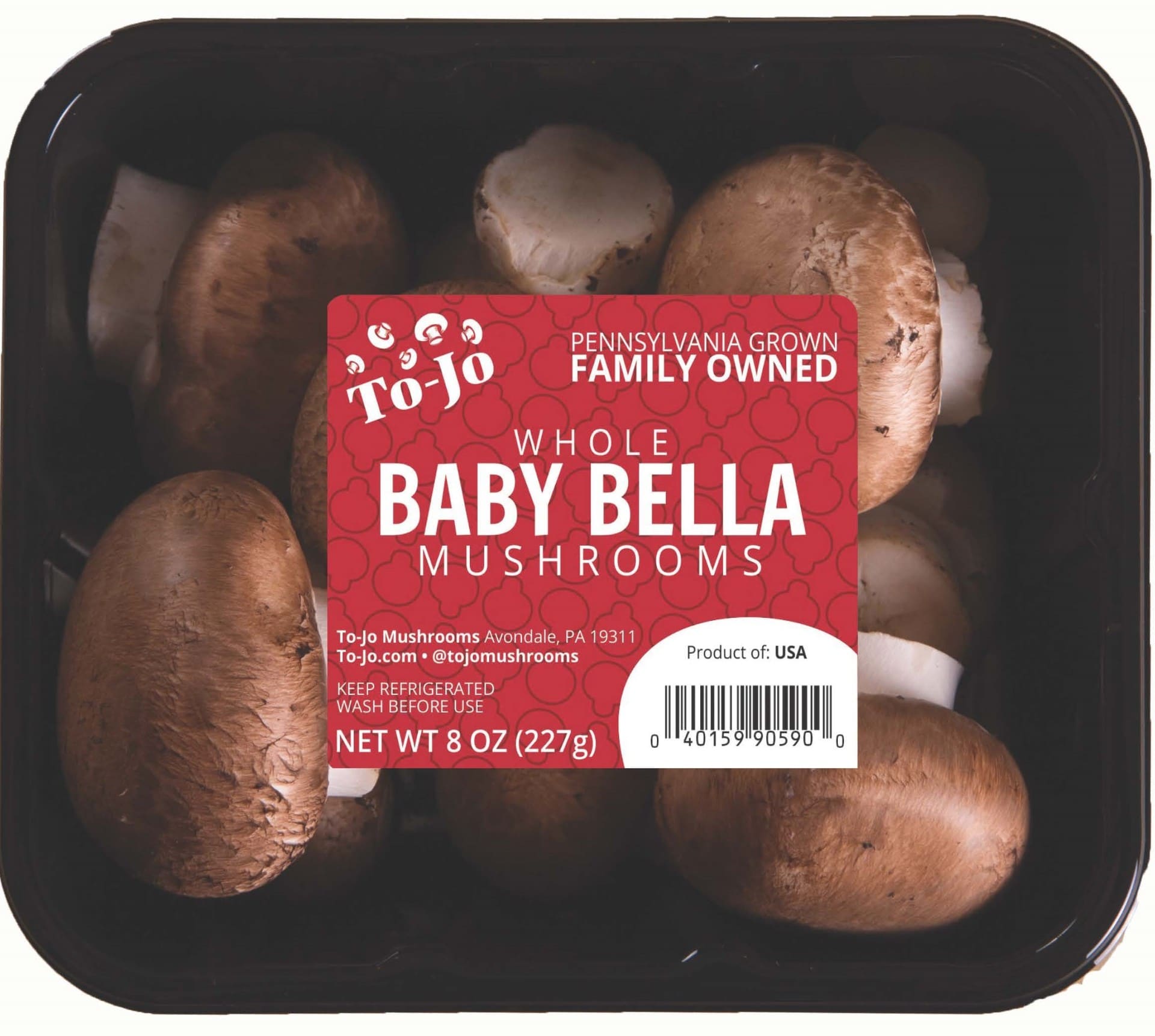 Samantha Snyder, To-Jo's national account manager, explains the To-Jo logo: "It incorporates five mushrooms into the artwork that represent everything that Joe Sr. embodied: family, culture, and a passion to treat every one of his customers like family."
These days, in addition to growing high-quality PA mushrooms of all sorts, To-Jo produces value-added mushrooms for the food service industry, which are distributed nationally. Two of its mushroom innovations are the Pulled Port Pulled Mushroom, a vegan and gluten-free portabella mushroom that has been tenderized and pulled apart.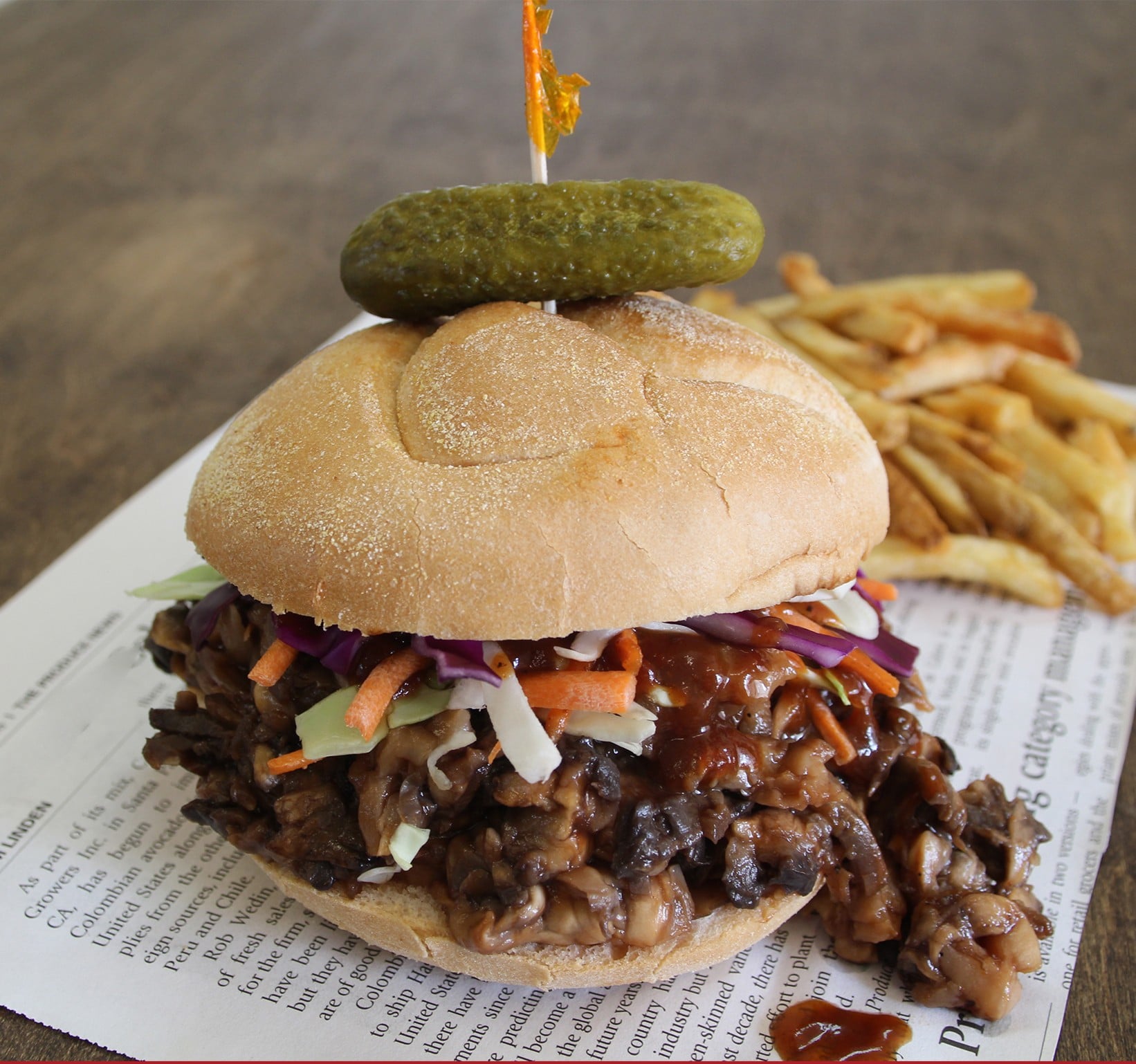 It comes in four flavors: Original, BBQ, Philly and Carnitas. Pulled Port is a vegetarian alternative to chicken, pork or beef in everyday recipes like tacos, salads and sandwiches. If you explored the Food Court at the 2020 Pennsylvania Farm Show, perhaps you saw the Philly Port Sandwich, a meat-free riff on a Philly cheesesteak, which was a big hit with show-goers.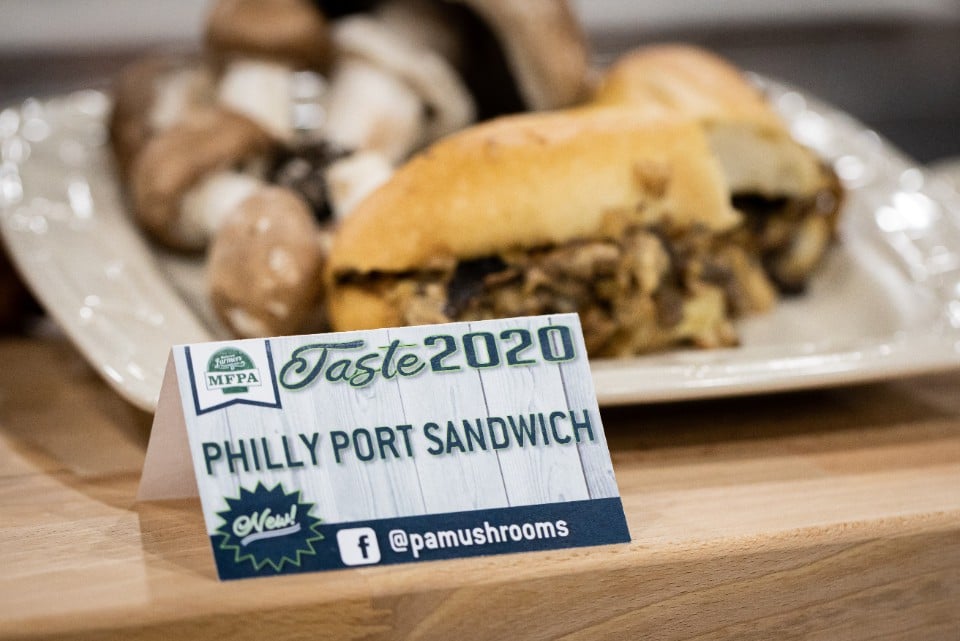 To-Jo also makes a Portabella Cutlet, a breaded and fried portabella mushroom cap that is a clever, healthy plant-based alternative to a chicken cutlet. You can find it at limited Wawa locations and some retail locations.
Pennsylvania mushroom pride runs deep throughout the southeastern region of the state. In Chester County, you'll find some sort of homage to Kennett mushrooms on nearly every restaurant menu, such as the Mushroom Soup Gratinée at The Gables at Chadds Ford, IPA battered mushrooms at Grain and the Kennett Square Mushroom & Cheese Omelet at Hank's Place. Cream of mushroom soup is ubiquitous (look for great versions at The Kennett Square Inn and Two Stones Pub). Even in Philadelphia and the Philly 'burbs, Kennett mushroom soup is common at spots like Good Spoon Soupery, The White Dog Cafe and The Silverspoon.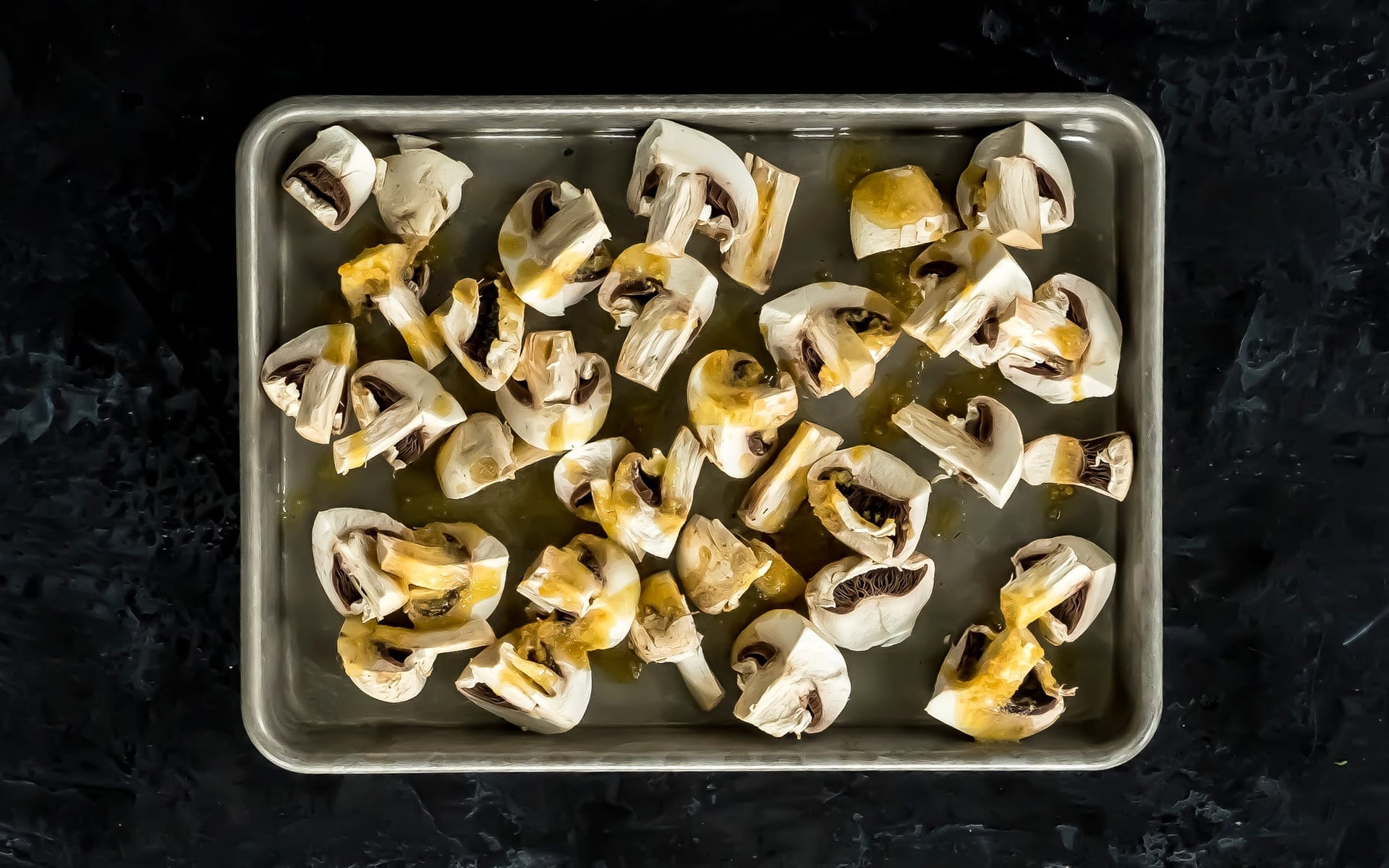 There's even a restaurant in downtown Kennett Square called Portabello's, and you'd better believe mushrooms are offered a number of ways across its menu, including an exotic mushroom crepe, portabello fries, a roasted mushroom soup, smoked portabello flatbread, mushroom frittata and mushroom fondue. Not far away in Chadds Ford, there's the more casual Mushroom Cafe, with a plethora of mushroom dishes, like stuffed mushrooms, mushroom dip and mushroom mac-and-cheese. Need a mushroom-themed gift? The Mushroom Cap in Kennett Square has got you covered with plentiful mushroom food products, like pasta sauce, dried mushroom chips and teas, as well as non-edible things, like "Who Gives a Shiitake" t-shirts, mushroom-growing kits, and mushroom-shaped cookie cutters.
Kennett Square is also the host to the annual Mushroom Festival, always scheduled for the first weekend after Labor Day, which includes a Community Parade, carnival, and any food you can think of with mushrooms in the recipe (even candy and ice cream!).
While mushrooms certainly represent the past and present of PA agriculture, they also may well be an important part of our future. While farmers across Pennsylvania and the world struggle with the ongoing realities of climate change and increasingly unpredictable weather patterns, mushroom farmers are at a unique advantage because the product can be grown indoors all year-round.
"They are a very sustainable crop, and we can produce high yields from a small physical footprint," says Samantha Snyder of To-Jo. "Mushrooms are the ultimate recycler, as waste from other agricultural industries is used to make the compost mushrooms need to grow."
Snyder shares that some of the recycled materials used as part of the compost recipe for mushroom substrate include chicken litter or bedding from poultry farms, cotton hulls, corn cobs, brewers grain (left over when processing grains to make beer and other malt products), wheat straw, saw dust, and other similar materials. Some mushrooms farmers even use spent cocoa shells from the Hershey factory, a truly local full circle! Mushrooms crops have a 6- to 10-week growing cycle, and mushroom beds can produce as many as eight crops a year. Once the harvest is over, the compost can be recycled for landscaping, potting soil or on the farmers' fields.
"Given the ways that mushroom compost can be used after the crop is done, and the ability of the farmers to re-use water within the operation, mushroom farms generate very little waste," says Snyder.
"Of course, mushrooms farmers aren't completely immune to the effects of climate change. Snyder notes that, "Although we do not face many of the issues those in field-based agriculture see, we are still subject to issues stemming from unpredictable weather. The quality of the materials we use for our compost is subject to warm and dry weather, and compost is the key to a good crop."
To learn more about this iconic PA crop, visit the Pennsylvania Mushroom Grower's website.
Are you a PA mushroom fan? What's your favorite local farm that grows them? Any beloved mushroom family recipes that have been handed down through generations? Join in the conversation here or on the PA Eats Facebook page!
Feature photo:

Ed Williams for PA Eats

Roasted mushrooms photo:

Dish Works

Philly Port Sandwich photo:

Alan Johnson for PA Eats

All other photos:

To-Jo Mushroom Inc.