Kennett Square, with its rolling countryside views, booming mushroom business and charming downtown, is a popular tourist destination in Southeastern Pennsylvania. However, just a few more miles down the road, there is another small town that's just as deserving of a day trip: Oxford, PA. Just about 20 minutes further west down Route 1, this tight-knit borough adjacent to Lincoln University, dates back to the 1700s.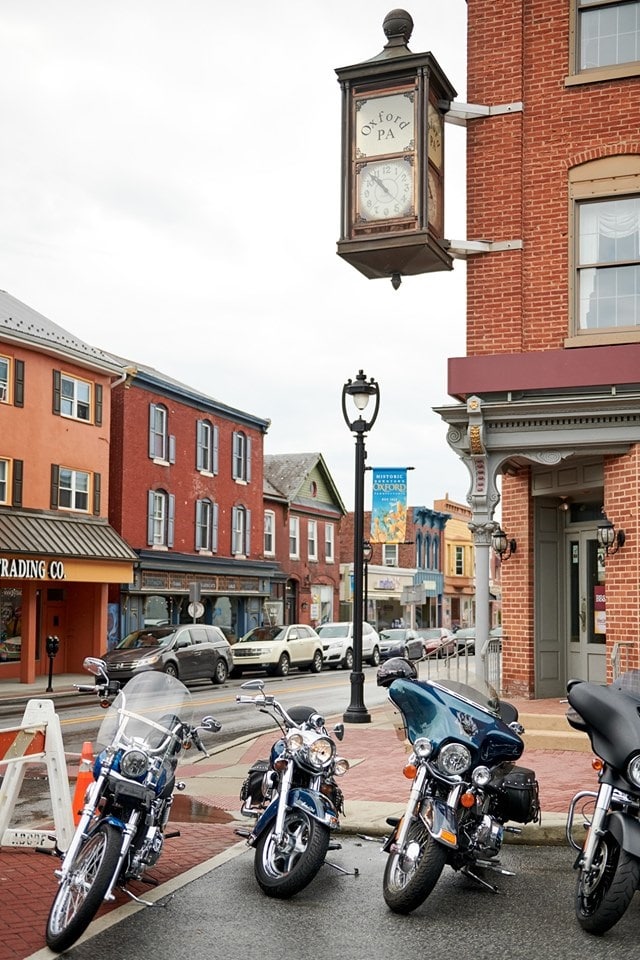 It was a popular stop in the 19th century, as it was the halfway point between Baltimore and Philadelphia, and it was a stop on the Philadelphia and Baltimore Central Railroad. By the mid-to-late 1800s, Oxford was established as a vibrant small economy, known for candy making and agricultural products. As traffic and railway patterns shifted in the 20th century, and industry also changed, the small downtown faced its fair share of challenges, similar to many small towns in America. But the past decade has seen a resurgence in the town's growth and retail offerings, and it now is a really quaint place to wander around for an afternoon or evening.
What to Eat
There are plenty of great places to grab a bite in town; we're partial to the vintage diner, Miss Oxford Diner, which sits at the edge of town. In fact, it's one of our favorite classic diners in the state. This silk-city 1950's diner, built in 1953 by the Patterson Vehicle Company, has not changed with the times, and for that we are very glad. The interior is very small, with a chrome bar, cozy booths and (non-functional, but still very cool) old-fashioned jukeboxes at each table. You can't go wrong with a classic cheeseburger, a Kunzler ham steak sandwich or turkey club, with a side fries, of course. 233 S. 3rd St., Oxford; (610) 932-2653.
For a slightly more modern family-friendly dining experience, the SawMill Grill, offering no-nonsense pub grub and drinks. Apps include fried pickles, soft pretzels, wings and coconut shrimp, as well as soups and salads. For mains, try one of the grill's signature sandwiches, like the Bruhlwich, hot-sauce coated fried chicken between two waffles, drizzled with maple syrup and powdered sugar. You can go bigger with an entree, like a t-bone steak or fish and chips, paired with a cocktail, local brew or cider! 306 Market St., Oxford; (610) 467-1909.
Enjoy fresh, authentic Mexican food at Avocados from Mexico and Ice Cream, an unassuming little spot that serves delicious tacos (just $1 on Tuesdays!), burritos, fajitas and all kinds of platters, including the popular, shareable Molcajete Platillo, chicken, steak, Mexican sausage and grilled cactus smothered with green or red sauce and served with fresh cheese, green onions, avocado, jalapeno, rice and beans. For dessert, try churros, tres leches cake or one of the many flavors of ice cream bars brought in from Paleteria Y Neveria Tocumbo in Wilmington, Delaware. 9 S. 3rd St., Oxford; (610) 467-1188.
What to Drink
Bog Turtle Brewery is a from-scratch, small-batch local brewery in downtown Oxford. Stop by its tasting room to try one of its signature brews, like Two Stories Blonde Ale or Devil's 9 Ball Pale Ale, or a specialty beer, like the Praxis:3 NEIPA. Beers can be enjoyed by the pint, or to-go in 64-ounce growlers. The brewery hosts frequent events, including lots of live music, mostly on weekends. Don't delay on visiting Bog Turtle Brewery; word has it it's moving the brewing operation to Rising Sun, Maryland in 2020. 14 S. 3rd St., Suite 1, Oxford; (484) 758-0416.
Though it produces its wine in Kane, PA, Flickerwood Wine Cellars also has an outpost in downtown Oxford, Flickerwood Wines & Twisted Treats, which serves its own brand of coffee, baked goods and ice cream, as well as Flickerwood's wines, PA beers and spirits, and a small food menu, with wine-friendly bites like cheeses from DiBruno Bros. While there are daily wine tastings, this spot feels more like a comfy community hangout than a winery, with weekly happenings like live music, bingo and quizzo. 33 S. 3rd St., Oxford; (610) 932-9498.


While it isn't in Downtown Oxford proper, Va La Vineyards (about 13 miles east) is worth a visit while you're in the area. Winemaker Anthony Vietri is making some of the best wines in Pennsylvania – and, some critics say, in the country – driven by the terroir of the property that's been in his family for generations. Vietri grows a variety of lesser-known grape varietals on his 6-acres of land, and lets them shine in field blends that are elegant, expressive and delicious. Va La's tasting room is open Friday through Sunday. 8820 Gap Newport Pike, Avondale; (610) 268-2702.
What to Do
If you're in town on a Tuesday or Saturday, don't miss the Oxford Village Farmers Market. Running May through October, this market draws farmers and producers from around the region to offer the best of PA produce and products. Pick up a beverage from Wholly Grounds Coffeehouse and peruse the stalls for sweet, juicy fruit and the freshest veggies. Corner of Third & Locust Streets.
There are lots of fun places to shop local for clothes, jewelry, gifts and more in Oxford, as well. Lola's on 3rd is a cute, trendy size-inclusive boutique with stylish apparel, accessories and cosmetics; Pickled Pickles is another fun, eclectic shop offering locally crafted jewelry, skincare, candles, clothing, accessories and gifts. For outdoorsy types, Outback Trading is a one-stop-shop for Western-inspired men's and women's clothing, hats, hiking gear and more.
For a classic Pennsylvania Amish market experience, the Oxford Farmers Market (open Thursday through Saturday), is packed with vendors selling Amish foods, meats, baked goods, cheeses, antiques, crafts and more. 193 Limestone Rd., Oxford; (610) 932-8048.
Historical points of interest include the Oxford Town Clock on the BB&T bank on South Third Street, the town's original firehouse off Market Street and the Oxford Presbyterian Church on Pine Street, which was built in 1775. In 1989, its famous steeple was struck by lighting and the building caught fire, but it was rebuilt and restored soon after.
Historic Downtown Oxford hosts a number of family-friendly community events throughout the year, including motorcycle meet ups, First Fridays, clean up days, car shows and the annual Kentucky Derby Party.
Start planning your small town adventure to Oxford, PA today! For more information, head to Downtown Oxford's website and follow along on its Instagram and Facebook pages.
Feature photo:

Historic Downtown Oxford, PA

Va La Vineyard photos:

Emily Kovach