Last year, I tried Snap Kitchen's newly launched meal plan subscription service, and enjoyed a blissed-out week of eating fully prepared, nutritious and tasty food. Even as an enthusiastic home cook, not having to worry about planning, shopping, prepping and cleaning for those days provided a nice respite from that part of the daily grind.
And, the delicious and clean eats helped give me the hard reset I needed after the holiday indulgence and a somewhat cavalier while-other-people-are-making-resolutions-I'll-keep-eating-cake-for-breakfast attitude.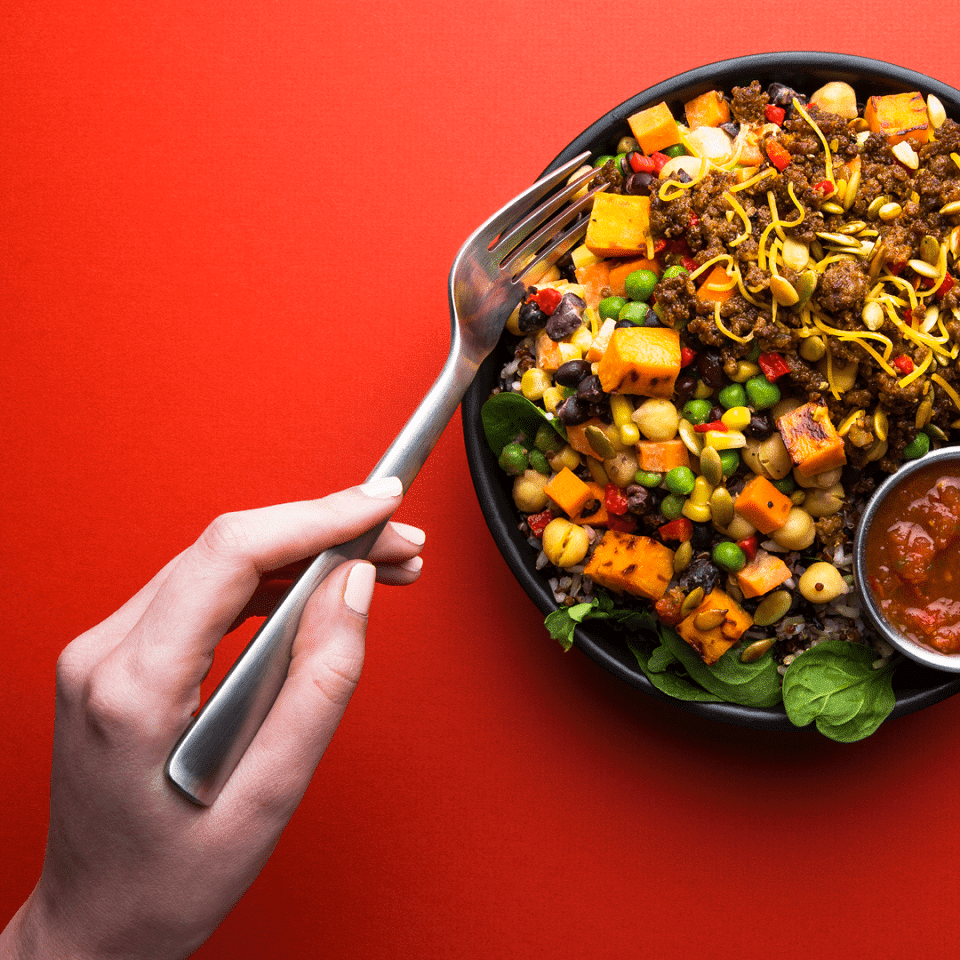 Even though it was such a pleasure, there remained a fact that made it a little hard to recommit: Three meals a day, plus snacks and drinks, is a lot of food. There are plenty of days where I just want a yogurt for breakfast, to grab lunch with a friend and make dinner with my family. All of those fantastic Snap Kitchen meals don't always fit into the shape of my lifestyle.
Like any good company, Snap Kitchen listens to its customers and fans, and to address this very issue, Snap Kitchen launched version 2.0 of its meal plans and there's only good news: It's now better than ever — more menu options and fully customizable to fit whatever schedule you're facing each week! Plus, delivery is now available in all seven Snap Kitchen locations in Philly, and meal plan delivery is always free (though you must live within the delivery zone).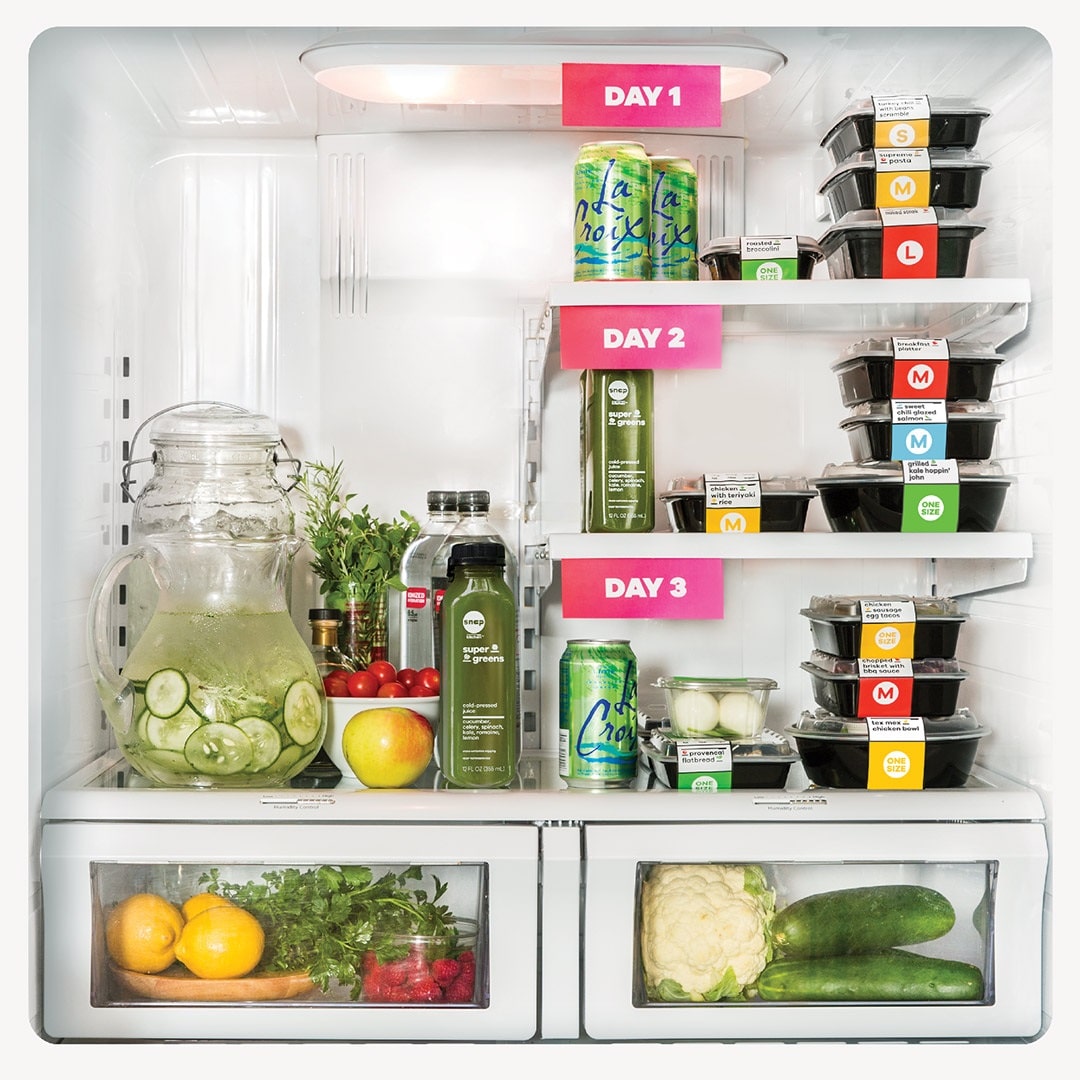 My struggle is always lunch. I like a light breakfast (plenty of coffee, though, please!), and my husband and I often cook together to unwind after our long days. But, lunch is tricky. Sometimes there are leftovers, and occasionally I'll go out. But, because I work from home, I often find myself staring into the fridge, scratching my head, asking "what can I make with any of this stuff?" I don't have the time to actually cook something, but I don't want to just end up eating sandwiches every day. Back when I worked in an office, the situation wasn't much better.
So, I was excited to use Snap Kitchen's new customizable plan to load up on lunches for the week and stop spending mental energy to figure out my midday meals. I was delighted to find that the Snap Kitchen app is more intuitive and user-friendly than ever: Simply pick the number of days you want the service to last each week (3, 5, or 7 — I chose 5), which meals you want covered and which plan suits your diet.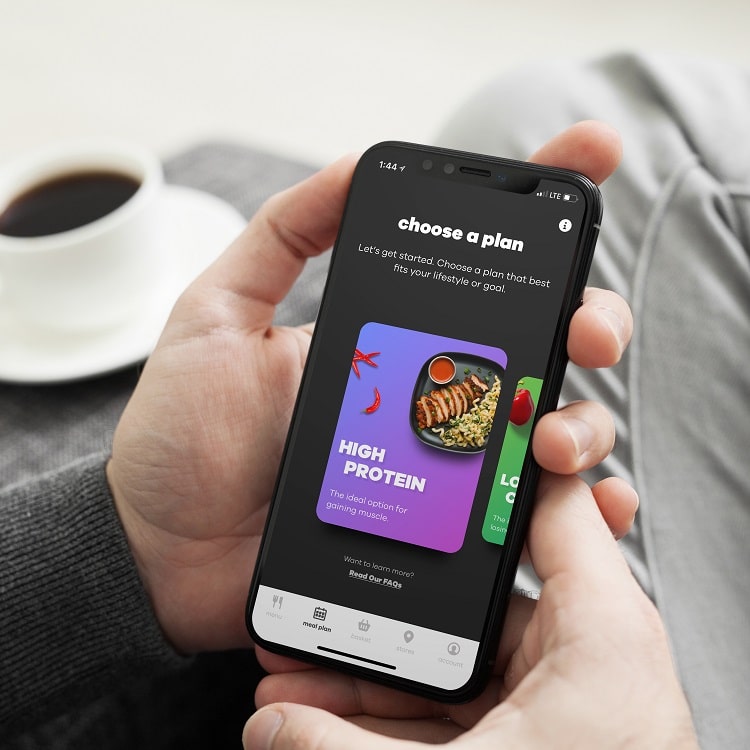 Options include Paleo, Whole30, High Protein, Low Carb and Camp Gladiator (designed for athletes in training), and you can specify dairy-free and vegan, as well. If you don't have dietary restrictions, the Balance meal plan opens up most of the menu to experience. I chose Low Carb because — I'll be real with you — between writing about craft cider, exploring natural wine and a weekly pizza habit, I'm getting plenty of carbs elsewhere in my diet. You can also choose the number of calories you want to aim for each day, and the app will smartly track them as you make substitutions.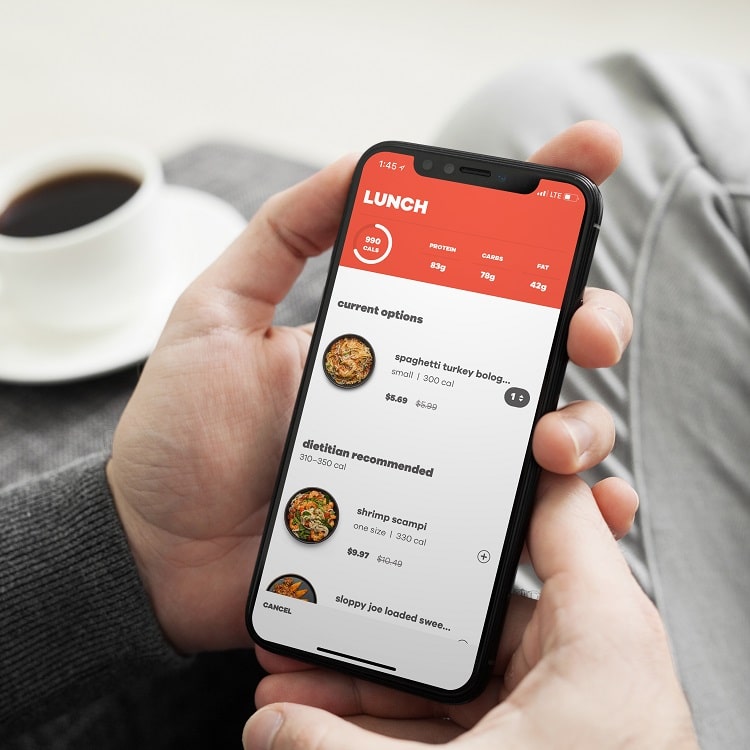 Then, it's time to start shopping! Though I was focused mostly on lunches, adding other meals, snacks and beverages to each day was simple. In fact, each day could include as much or as little as you want. By clicking through on each item, you can read a short description of it, see its nutritional and dietary info and even change the quantity (which I may have done for a few of Snap Kitchen's ginger greens juices and new collagen smoothies).
Don't like the meals the app has chosen? It's a cinch to swap them out for other dishes. Lately, I've been avoiding red meat, so when the app chose the grass-fed beef taco bowl for one of my meals, I simply deleted it and chose the BBQ chicken plate (a new menu item!) in its place. Easy-peasy.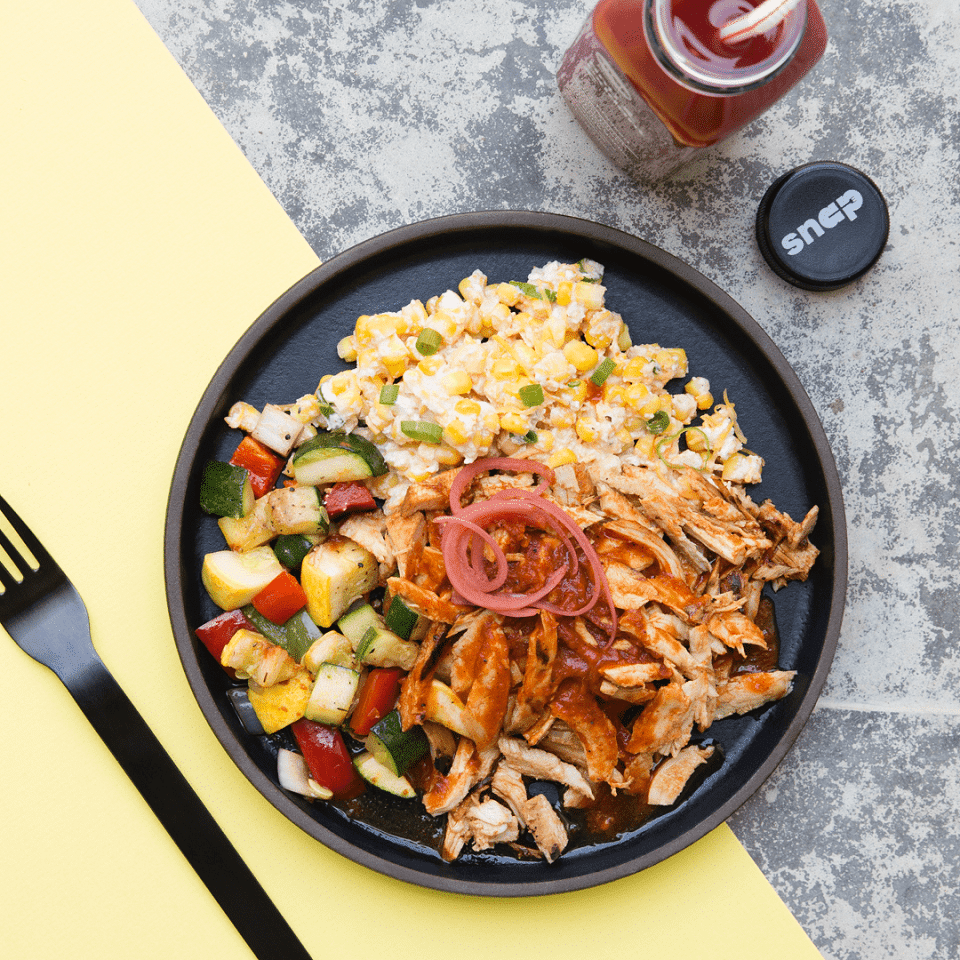 Also, because I knew the week coming up was going to be busy, I added some snacks and drinks to a few of the days. The selection is unreal, like all the things I wish my fridge was always stocked with: sweet and spicy turmeric tonic, protein shakes in dessert-y flavors like Chai Cashew and Power Cacao, veggies with vegan ranch, Perfect bars, Health-Ade and BABA's Brew kombucha, Cocoyo non-dairy coconut yogurt, La Colombe Pure Black canned cold brew, and of course, Devily eggs. Knowing I have healthy and quick things to grab throughout the day checks one more thing off the list of things that need my attention.
I also added a couple of breakfasts, because how can I pass up the almond butter maple pancakes? (Though I was smart enough to hide them from daughter this time!) And, it is nice to have a heartier breakfast than yogurt and granola waiting to refuel after an early morning workout, so I also opted for the chicken sausage tacos with salsa verde (so good) and the spinach goat cheese scramble. I love how all of the Snap Kitchen breakfast meals strike just the right balance of light and satisfying, so you can power through the morning with energy to spare.


The Snap Kitchen meal plans are so flexible, the app is so streamlined and easy to navigate, the customer service is tops (I got a text from a team member when a juice I'd ordered was out of stock) and, compared to ordering out or subscribing to meal plans that require cooking, it's quite affordable. Starting at just $25, there's no reason not to #goplanbased, to cover all of your meals, pinch hit during a busy week, or supply some midday options if, like me, you're just kind of lousy at planning lunch. Oh, and the free delivery! The convenience of your food arriving at your doorstep (or office) can't be underestimated. Plus, If you need to skip a week or cancel altogether, it just takes one click in the app.
Ready to give it a shot? Check out Snap Kitchen's website, Instagram and Facebook for more info and meal plan inspiration.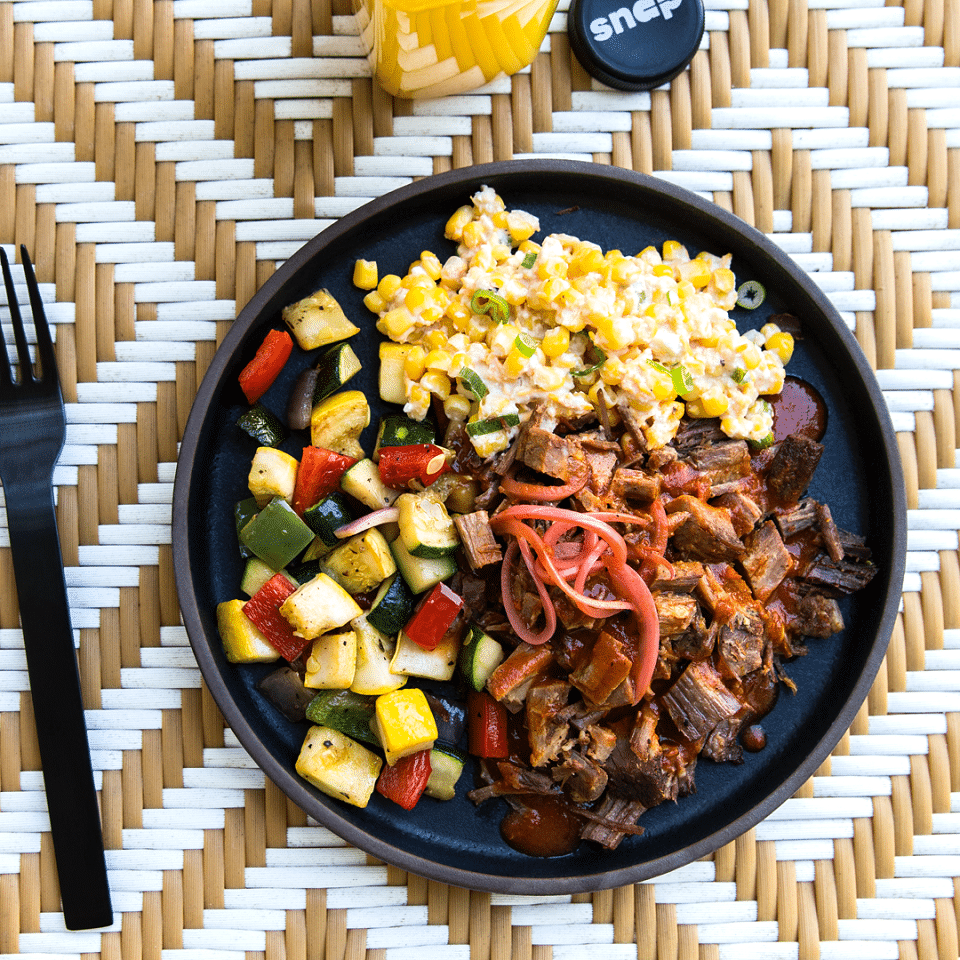 Find Snap Kitchen at 1901 Chestnut St. in Philadelphia; phone: (215) 845-0002; 601 S. 10th St. in Philadelphia; phone: (215) 845-0027; 243 Market St. in Philadelphia; phone: (215) 845-0004; 1325 Frankford Ave. in Philadelphia; phone: (267) 838-6590; 775 E. Lancaster Ave. in Villanova; phone: (610) 520-1122; and 5 S. Morehall Rd. in Malvern; phone: (484) 320-3447.