If your go-to gift is a bouquet of blooms, up your game by shopping locally and sustainably in your neighborhood. Flowers bring the joy and beauty of nature into your home, and they're even more beautiful if you know who grows them and cuts them!
Ditch the cellophane-wrapped bouquet from the supermarket and shop local at any of these local, sustainable florists in PA: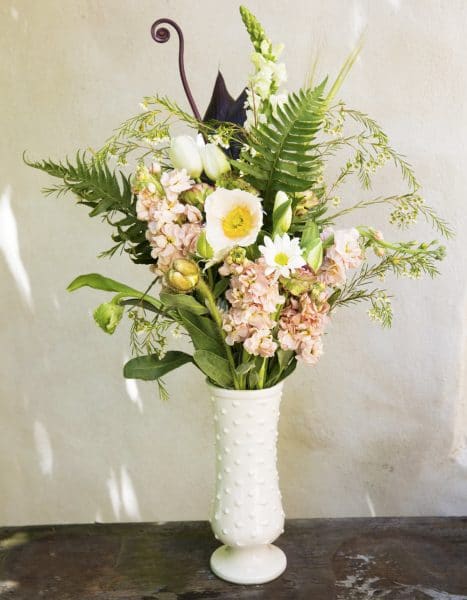 Snapdragon Flowers provides its Philly clients with magical bouquets from the freshest, most captivating and seductive blooms, branches and greenery available. Snapdragon is a small shop and only has one fridge, which means there is no storage cooler to keep flowers. You can rest assured that your blooms are sourced at least twice each week, guaranteeing a fresh, long-lasting bouquet. Snapdragon's floral designs range from the provocative to peaceful, and everything in-between. In addition to florals, it also carries botanical gift items and spiritual tools. Snapdragon Flowers provides floral delivery to Philadelphia and most surrounding counties, including the Main Line. Order online.
Vault + Vine is a floral studio and thoughtfully curated retail space in East Falls. Its team offers custom floral arrangements made and delivered daily, floral design services for weddings and events, plants for the home and garden, a collection of specialty home goods and gifts, and a café and gathering place. The seasonal flowers Vault + Vine uses in its arrangements are grown in and around Philly at small farms. The flowers are harvested and delivered by the same farmers who planted the seeds!
Vault + Vine's vision is to create a community of businesses and customers that supports, promotes and celebrates the local and global economy by demanding accountability in every aspect of the supply chain. Its website online ordering, with delivery from Thursday through Saturday, and curbside pick-up Thursday through Sunday. The shop is also open Thursday through Sunday from 8 a.m. to 3 p.m. 3507 Midvale Ave. Philadelphia; (267) 331-6292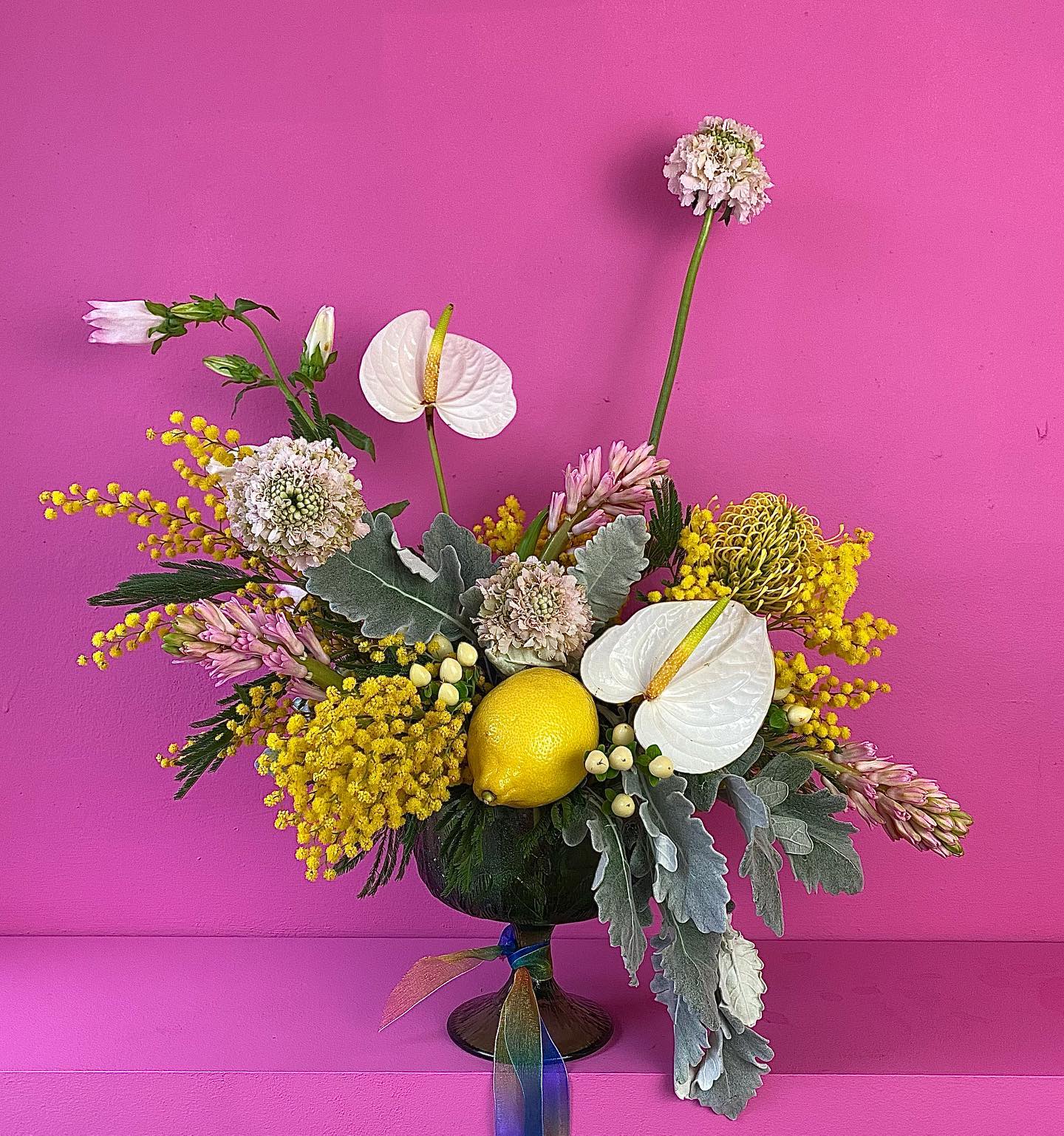 Since 2021, this West Philly-based online flower shop has been queering flowers and gaining tons of fans along the way. Colorful, bold, statement bouquets are Flower Shop PHL's specialty. But instead of shopping through a website, you must fill out an order form and chat about what size and type of bouquet you desire. Pick-ups in West Philly are offered on Thursday and Friday from 11 a.m. to 6 p.m., and local deliveries are available for a milage-based fee on Fridays between 4 and 7 p.m. no address, no phone
Market Blooms is dedicated to providing seasonal variety and quality blossoms, while sticking with its urban farmers market roots. Its selection includes fresh flowers from all over the world. But, what makes Market Blooms truly special is that, during the local growing season, owner Sidney Poor sources many of the stand's flowers from former owner Steve Deshong's farm in Clarksburg, New Jersey. Enjoy a simple arrangement of local peonies, sunflowers, zinnias and many other flowers and greens, all grown using organic and sustainable practices whenever possible. In spring, Market Blooms is also the place to source spring and summer bulbs, as well as vegetable, herb and flower seeds year-round. Shop in-person at the market, or order delivery through Mercato. Located inside Reading Terminal Market, 1136 Arch St., Philadelphia; (215) 625-6667
Tucked into NextFab North, a maker's space in North Philadelphia, this small-but-mighty flower market offers a lovely array of locally grown flowers and foliage from its founder, Jig-Bee Flower Farm. Fresh and dried bouquets, succulents and more are available. Shop in person, or place an order online — choose from tulip bouquets, classic bouquets, luxe bouquets, or go big with a weekly flower share subscription. The market's current hours are: Thursday and Friday, noon to 7 p.m. and Saturday, 10 a.m. to 3 p.m. 1800 N. American Street, Philadelphia; (267) 777-9636.
On her property in Lebanon County, farmer/florist Rhonda Martin grows using sustainable and organic practices. She sells Three Blossoms Flower Patch's specialty cut flowers online, as well as through an adorable roadside stand (u-pick is also available in the summer!). Flower arrangements and subscriptions are both on offer for pick up or local delivery. 244 Sheep Hill Rd., Newmanstown; (717) 304-0508.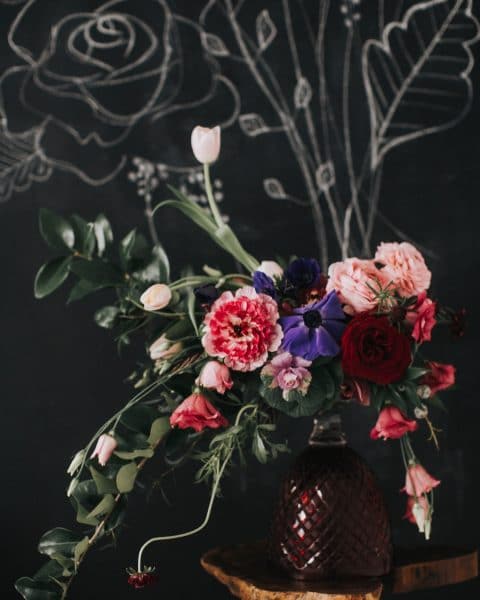 Splints & Daisies creates floral designs for weddings, events, and even editorial work. To say owner Tara is flower-obsessed is an understatement. Whenever possible, she strives to use only local blooms. During the growing season, she use flowers from local farms, foraged finds, and blooms grown in her own cutting garden. Splints & Daisies is passionate about caring for our earth and the health of those residing here, and shows this in all aspects of its business. Tara dreams of owning acreage one day where she can be even more sustainable in her everyday life and farm all of the flowers the business uses. Order online for local delivery. 480 New Holland Ave., Lancaster; (717) 735-1500
Family-owned since 1937, Hendricks' Flowers supplies only the freshest locally grown quality flowers to its customers. Adjoining the retail flower shop in Lititz are six greenhouses, where around 70 cut-flower crops are grown, ensuring you get the perfect flowers every time. If you can't make it to the shop, call in your order! Hendricks delivers to Lititz, Lancaster, Ephrata, Manheim, Rothsville, Akron, Brickerville, Neffsville and the surrounding communities. 322 S. Spruce St., Lititz; (717) 626-2009
Locaflora is Gettysburg's only 100% local florist, founded by lifelong flower-lover Rebecca Muller. She partners with PA and MD farmers and makers located within 100 miles of Gettysburg to support both the local economy and the environment. Shop in-store or online for fresh and dried flowers, plants and other gifts. For online orders, flowers can be picked up or delivered locally; find more info here. The shop is open Thursday through Saturday from 10 a.m. to 6 p.m., and Sunday from 9 a.m. to 3 p.m. 102 Carlisle St. Gettysburg; (717) 516-8647.
After years of living in New York City and working for elite florist shops, Lauren Work returned to PA to with a vision to "create a business that allowed me to to grow a variety of flowers to incorporate in my designs." In her shop, The Farmer's Daughter Flowers, she takes care to source locally, including from her own garden! Her whimsical, creative floral designs emphasize the flowers' natural qualities, drawing inspiration from foliage, herbs, branches and fruits. Shop online for flowers and gifts (available for pick-up or local delivery), or check out The Farmer's Daughter's brick and mortar location in Pittsburgh's East Allegheny neighborhood. 502 E. Ohio St., Pittsburgh; (412) 231-1238
Where are you sourcing fresh local blooms? Let us know on the PA Eats Facebook page!
Feature photo:

Pexels

Photos in order::

Snapdragon Flowers, Flower Shop PHL, Splints & Daisies