When I walk back into the kitchen at Talula's Table, I spot chef Dylan Sweeney hunched over a large plastic tub, small scissors in one hand. Walking closer, I see that he's snipping tiny green frills from a miniature plot of microgreens, nestled into the bin with half a dozen other varieties. Before we've barely exchanged hellos, he's offered up tastes of each type of microgreen, enthusing about each one's special properties. "Usually microgreens are just for color, but these have so much flavor!" Sweeney announces. "Try the leek microgreens," he urges as he sprinkles a few tiny emerald blades into my palm.
Indeed, they taste onion-y and sweet, like their full-grown counterparts, but with a subtle perfume not often associated with the pungent members of the allium genus. We go on to try opal basil, micro mizuna and teeny arugula, each offering an arresting jolt of flavor completely mismatched with their diminutive size.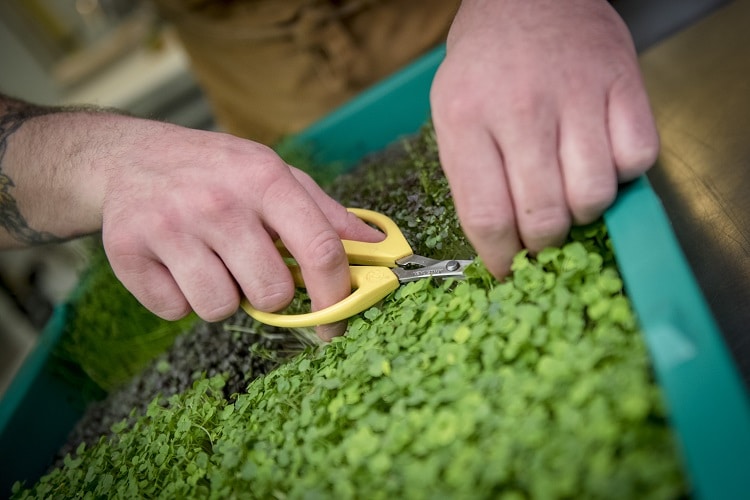 The microgreens, which are still alive in their little patches, come from High Hill Hydro, a small farm in Concordville, Pa. They're just one of the many incredible products that chef Sweeney can access while building his seasonal tasting menus at this Kennett Square institution. Farm-to-table sourcing has always been the hallmark of Talula's Table, which was founded over a decade ago, and quickly rose to food-lover fame with its "Farmtable Dinner," an elaborate multi-course meal served to just one party a night. Famously, reservations for the dinners are accepted exactly one year in advance, "to the numerical date," as the website firmly notes. To claim the table for that day on the following year, you must be the first to call the market (it opens at 7 a.m.); each reservation is for just one group of 8–12 guests. A "chef's table" in the kitchen seats 4–8 guests and is usually booked about four months out. (Pro tip: There are occasional cancellations at both tables, which can be nabbed by persistent callers).
Even so many years into the game, the table is still in high demand. And while founder/owner Aimee Olexy has gone on to open other much-lauded concepts in Philadelphia (Talula's Garden, Talula's Daily and The Love.) there is still something so special about Talula's Table.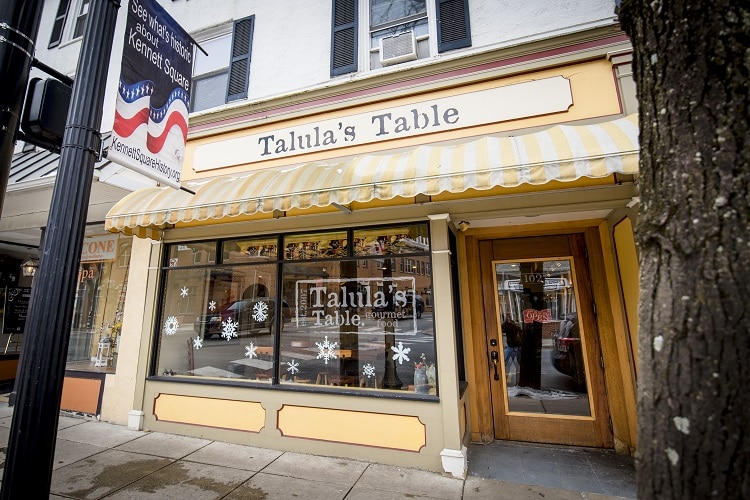 The cheerful store front is right at home on State Street, Kennett Square's charming main thoroughfare. The shop is welcoming and cozy, especially on a toe-numbing-cold day. Up front, you'll find a gourmet market, full service coffee bar and lunch counter offering scratch-made prepared foods, luscious desserts and grab-and-go sandwiches and salads. Paired with genuinely friendly service, it's the kind of cafe every small town needs, as evidenced by the buzzy midday service I encountered during my visit. But it's undoubtedly the Farm Table that sets Talula's Table apart from other spots in the "cute cafe" genre.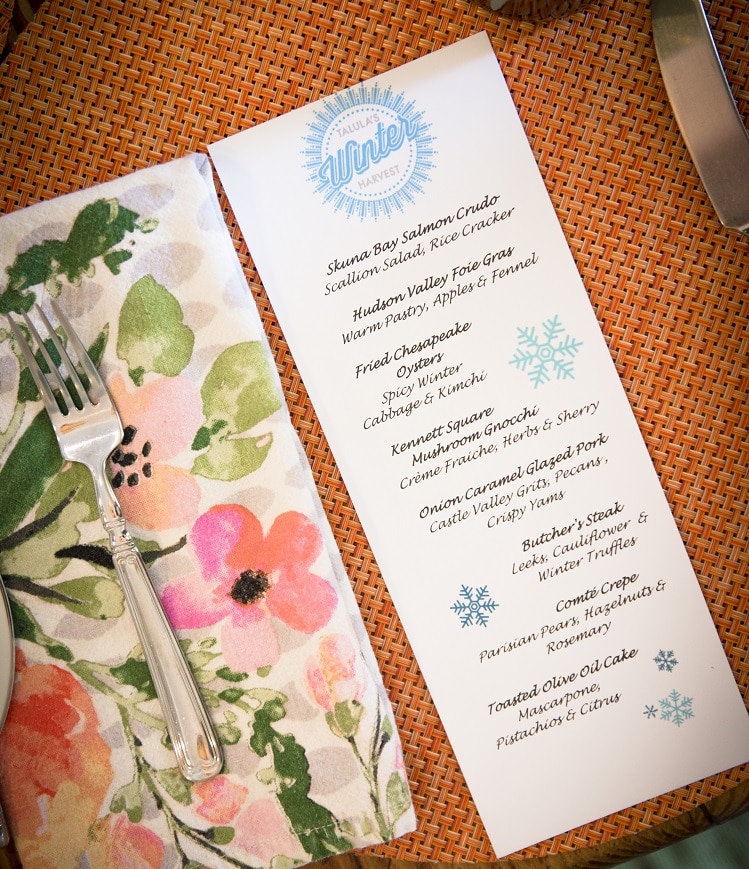 For the 26-year-old chef Sweeney, executing the prix fixe menu ($108 per person) seems like a pretty dreamy gig. Access to first-rate purveyors, a relaxed company attitude toward budget and a receptive and enthusiastic audience, capped at max 24 covers each night, "gives us time to do fun stuff," he says. He also notes that while Olexy encourages him to experiment, take his time and get the products he wants without stressing too much about cost, there is an expectation of perfection. "The only rule is that we blow the guests away," he says.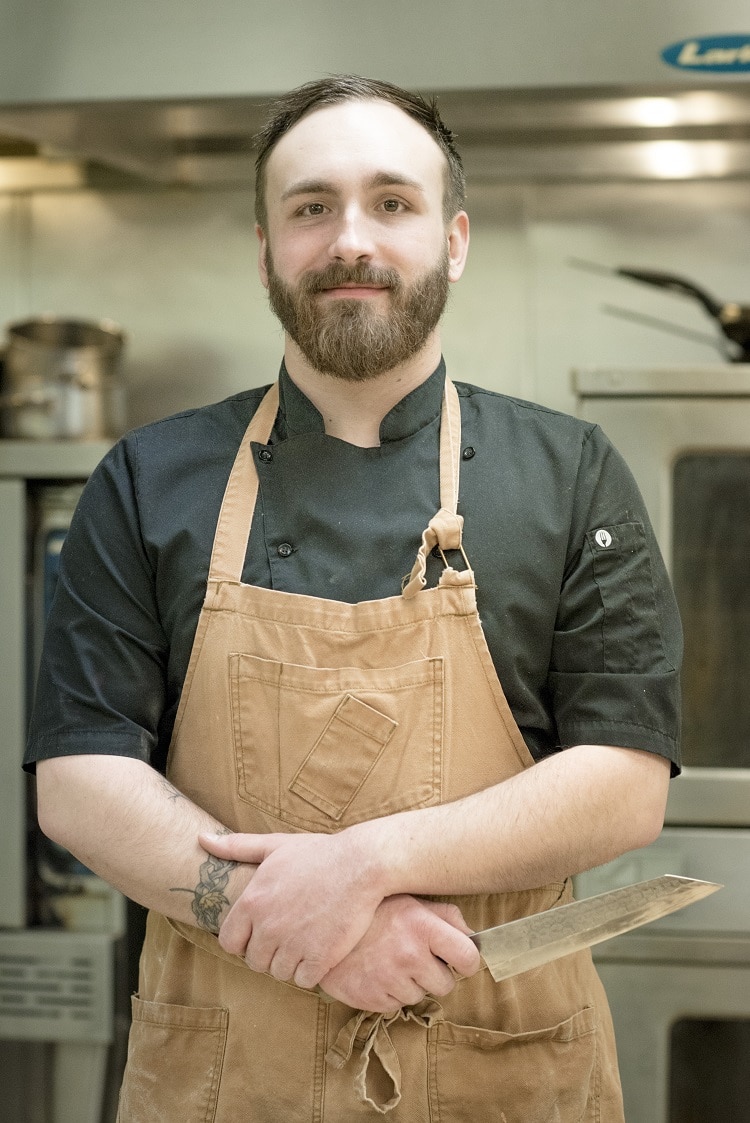 Sweeney came to Talula's Table in May of 2017, originally hired as sous chef under then-head chef Ryan McQuillan. He credits his mom for teaching him to cook, and while he washed dishes in a few local spots in his hometown of Kunkletown, Pa., a culinary career wasn't always part of his plan. After high school, Sweeney moved to Denver, Colorado "to be a ski bum," and then started gigging in some restaurant kitchens there. He decided that in order to get more serious, he needed to move to a place where he could work in a Michelin-starred restaurant. In 2010, he landed in San Francisco, where he worked at AQ and Nightbird, both renowned fine dining destinations. Sweeney credits Kim Alter, chef/owner of Nightbird, with making a huge impact on his career. "[She] whipped me into shape," he remembers. "She's the most incredible chef I ever worked for."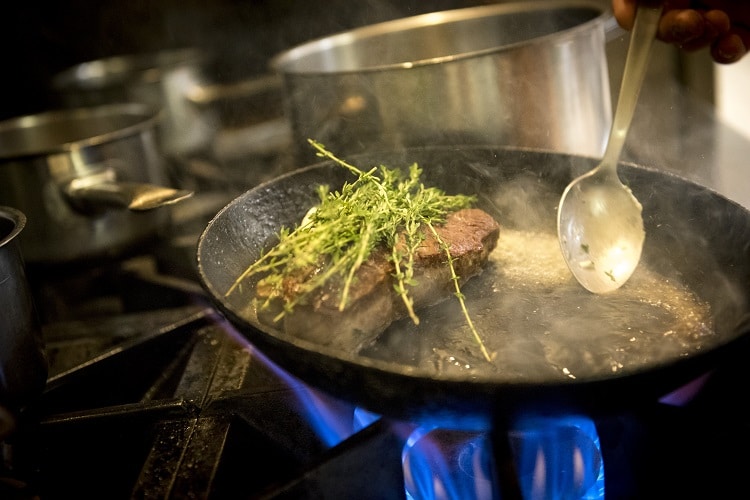 Sweeney had only been at Talula's Table a few months before McQuillen left for a surgery and ultimately decided not to return. Though he says it took the kitchen team a few months to grow together, they are now in a good groove. As a result, the tasting menus are progressing and becoming more technical. And, compared with more traditional fine dining kitchen work, he's loving the different pace of the tasting menu. "It's super prep-heavy, but then service is smooth as can be," he says. "It's great to be able to go out and talk to the guests … I'm outgoing and really enjoy connecting with the regulars."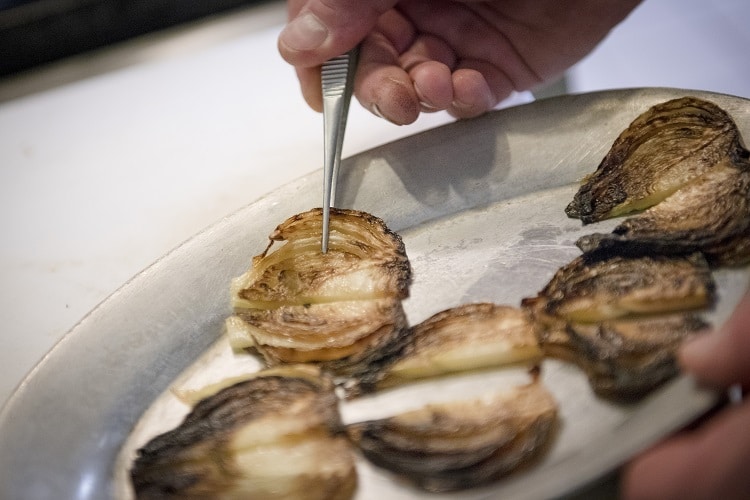 Sweeney's comfort in his role as head chef and his pedigree and technical skill shine in his flavor-forward, fancy-but-not-stuffy food. From the late-winter menu, the Hudson Valley foie gras is somehow feather-light and impossibly creamy, piped between layers of caramelized puff pastry, with a garnish of jam-sweet apples in a port reduction and grilled fennel. It's a dish that has an old-school classic French vibe with the elegant, artful restraint of more modern restaurant cooking.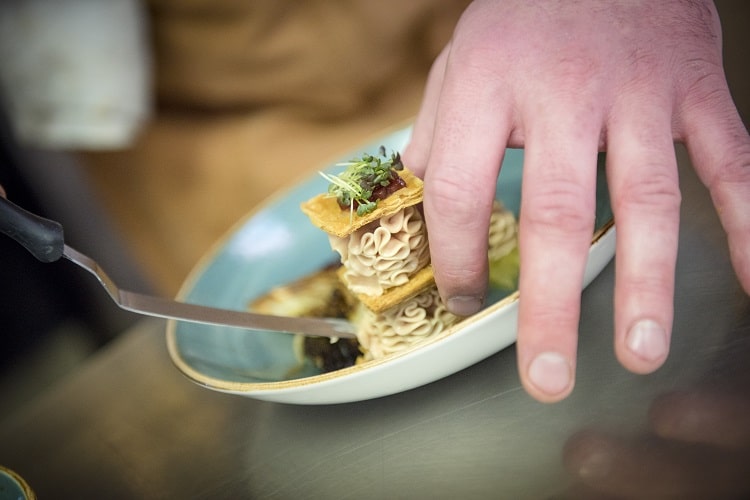 Sweeney says that he's willing to look outside of the 100-mile local radius to acquire the best product, like the rich foie that upstate New York is known for. But, in general, he will shy away from dishes if he can't get his hands on local ingredients. He muses about the time the farmer from Happy Valley Berry Farm let him try a ripe, warm blackberry picked just hours before. "It was like tasting a blackberry for the first time," he says. While he doesn't subscribe to "one set style," Sweeney credits his inspiration from beautiful, seasonal produce. In excitement of the changing seasons, he'll prepare two or three menus in advance. He loves to forage for local specialties like paw paws and ramps, and he and his team take a break from prep every Friday during the warmer months to peruse the farmer's market that sets up right out front of Talula's Table.
Local farms like Swallow Hill Farm, Avondale Hills Farm and Happy Valley keep his kitchen stocked with the best the region has to offer. Of course, because this is Kennett, mushrooms play a starring role ("I love messing with mushrooms!" Sweeney laughs), as in the fourth-course Parisian-style gnocchi on a swipe of mushroom puree, accented with meaty royal trumpet mushrooms, creme fraiche and a whisper of tarragon foam encircled in a delicate wreath of mixed microgreens.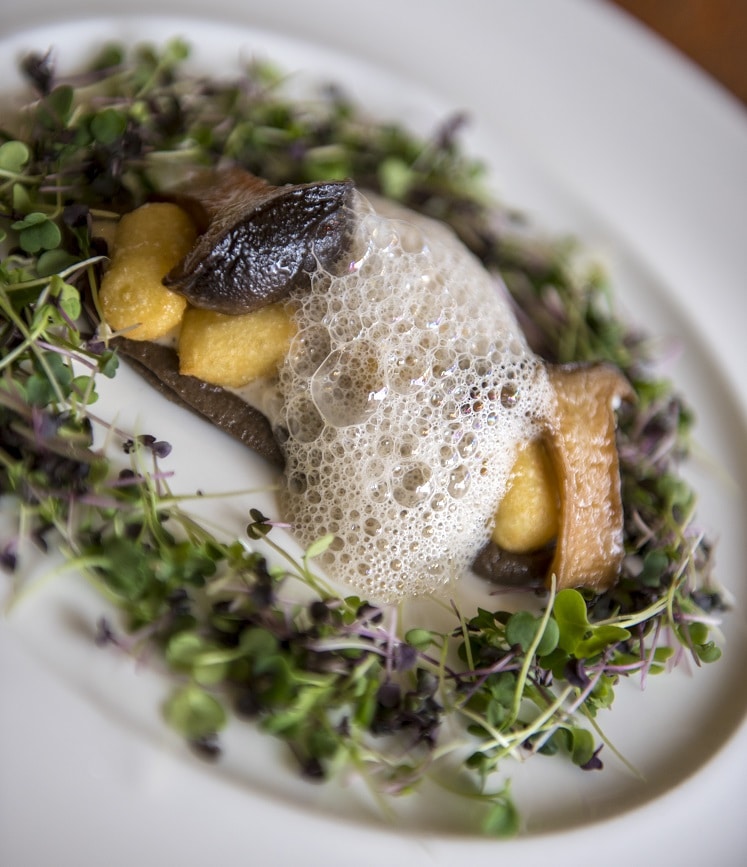 While there is plenty of meat on the menu — Sweeney and his kitchen crew make their own charcuterie and age their steaks — he is quick to point out that, with a bit of advanced warning, they can modify the tasting menus to accommodate nearly any dietary restriction or allergy. Though the later-winter menu is currently wrapping up, there is certainly plenty in store for the spring season. Sweeney, who wasn't living back on the east coast this time last spring, is especially excited about getting to use "bright stuff," like herbs and edible flowers.
In his own time, Sweeney, who lives in the Graduate Hospital neighborhood in Philadelphia, loves all kinds of ethnic food and will never tire of cooking fried chicken — the dish he's been known to make to impress a date. The easygoing young chef seems to be thriving in his leadership position at Talula's Table, though we share a half-joking moment about the pressure not to screw up (he used stronger language) the restaurant's stellar reputation. The per-person price tag is relatively steep for a small-town restaurant, and many guests around the Farm Table are there to celebrate a special milestone or holiday.
In addition to local acclaim (Philly Inquirer Food Critic Craig Laban awarded it a very rare "4 Bells" in a 2012 review), Talula's was nominated for a James Beard Award this year in the Outstanding Restaurant category ("a restaurant in the United States that serves as a national standard bearer of consistent quality and excellence in food, atmosphere and service"). Only restaurants open for 10 years or more are eligible, and Talula's Table, alongside heavyweights like Balthazar in New York City and Quince in San Francisco, made it to the semi-final round.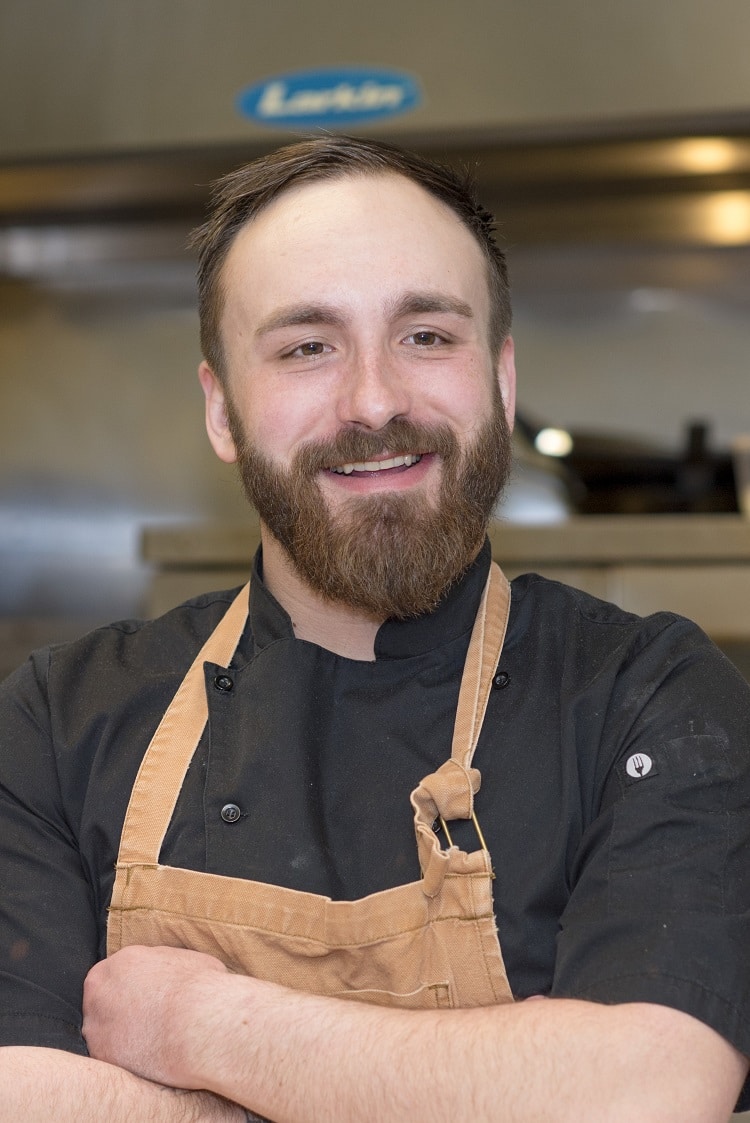 But after spending time in his kitchen and eating his food, we have no doubt that Sweeney, armed with his technical prowess and emboldened by the creative risk-taking that young chefs are so often known for, will only further the evolution of Talula's Table as one of the best restaurants in the region, and in the country.
Find Talula's Table at 102 W. State St. in Kennett Square; phone: (610) 444-8255