What is your Platonic ideal of a chocolate chip cookie? Is it gooey, just one step over the line between raw and unbaked? Maybe it's chewy, and studded with extra chocolate chips. Or perhaps you're on team crunchy, with crisp, caramelized edges.
However you define the perfect cookie, you know it when you find it! That's the quest that began the story for Doug and Sara Taylor of the Lancaster-based cookie companies, Taylor Chip Cookie Co. and The Perfect Dough.
When the young couple began dating, one of their favorite ways to spend time together was making cookies, exploring a variety of recipes in search of the ultimate chocolate chip cookie (which Doug says for him is "thick and gooey, but still has that crispy golden brown crunch on the outside"). It took them nearly a year to dial in their recipe.
During that time, they'd bring their cookies to dinner parties and gatherings, and friends and family started placing special orders. Their first pro gig was actually for their own wedding in 2017, when they baked chocolate chip cookies as party favors for all of their guests. Now, people all across Central PA can experience the fruits of their labor, as they've thrown themselves into establishing and growing their companies. In August of 2018, they became part of the Lancaster Marketplace, a relatively new foodie market on Fruitville Pike that includes other gourmet-leaning vendors, like Miesse Candies, Lancaster Pickle Company and Christina Maser Co. Their stand sells glorious from-scratch cookies, kombucha, milk and cookie creations, like the Cookie Dough-Licious, a genius cookie sandwich that uses edible cookie dough as its filling.
We were able to catch up with the Taylors to see how thing are going in the first big phase of their cookie startup endeavor. Learn more about their story in this artisan Q&A:
PA Eats: What makes Taylor Chip's cookies better than the kind you can find in the grocery store?
Doug Taylor: I love dense desserts that are still a little gooey. A lot of cookies are flat, so we create a sugar cookie consistency while also giving it thickness. And the taste is great, too. We wanted to create a dense, flavorful experience.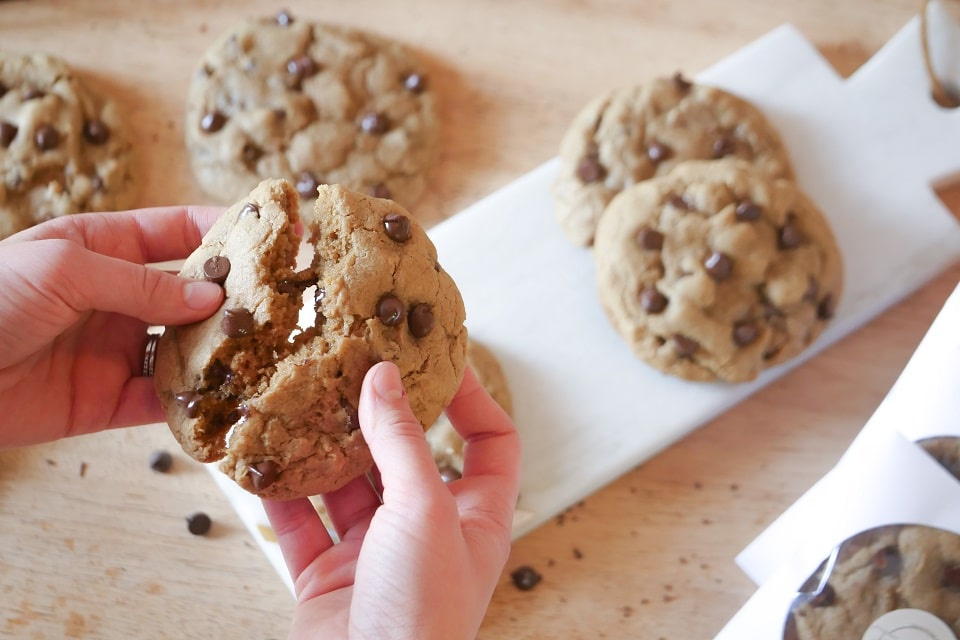 We also knew we didn't want to use preservatives, and we use free-range, soy-free, non-GMO eggs, Wilbur chocolate and real butter. We don't want to substitute bad fats for good fats. We make our cookies as old-fashioned, ingredients-wise, as possible.
At your stand in Lancaster Marketplace do you offer other cookies besides chocolate chip?
Sara Taylor: Yes, we have all kinds of flavors, like sweet potato fluff, which is sweet potato with candied pecans and a homemade marshmallow on top, an espresso cookie with chocolate-covered coffee beans, Oreos and cream, chocolate chip peanut butter fudge … We have some gluten-free flavors, too!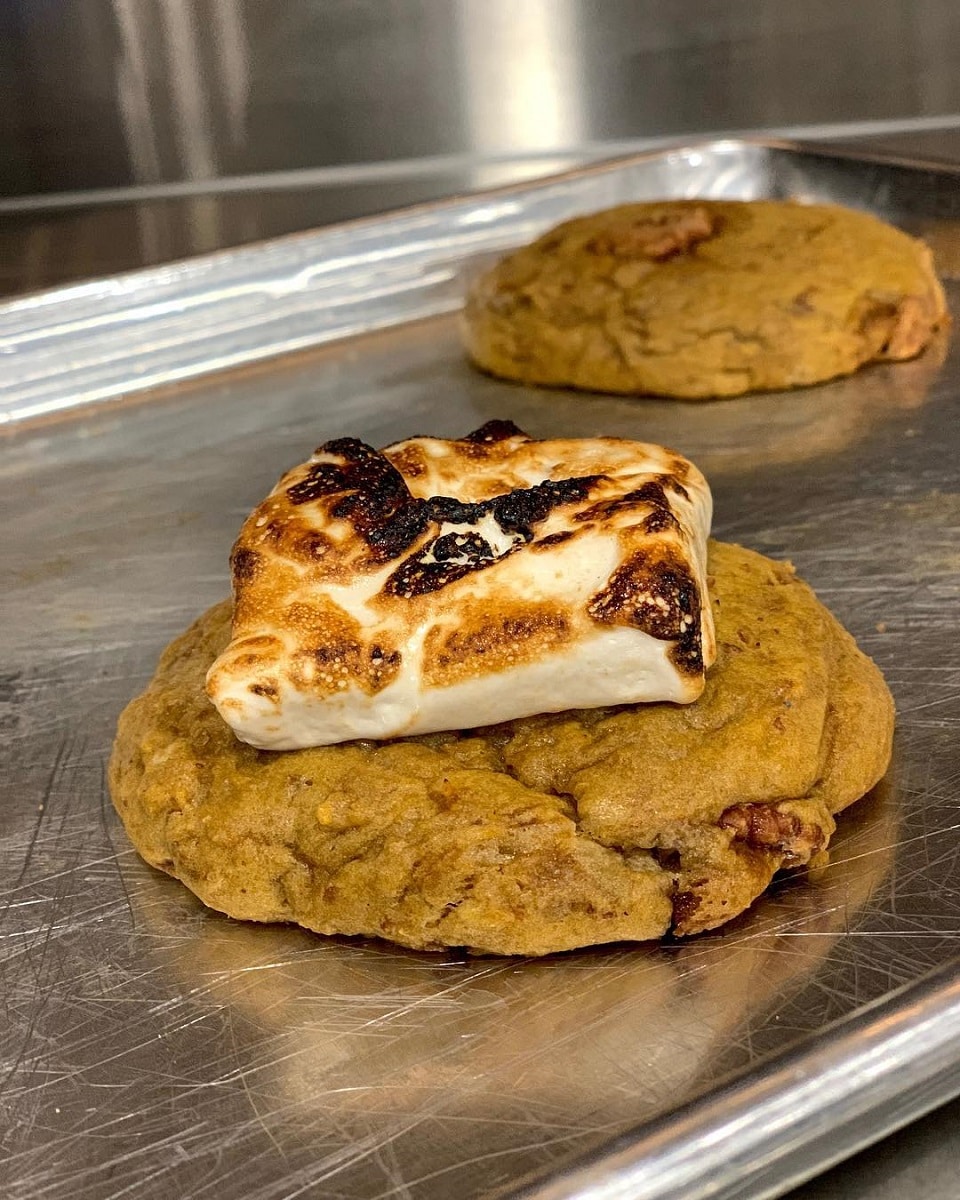 Doug: We do most of the classics and some seasonals, like pumpkin spice. Now that I have a little bit more time to experiment, I want to do some interesting cookies, with more fruits and herbs, like lavender.
Can you tell us about your edible cookie dough company, The Perfect Dough?
Doug: When you bake a lot, you're going to eat dough whether or not you should. We wanted to add an edible version of the cookies we offer without changing the recipe at all. So, the edible dough has eggs and flour, but we pasteurize our own eggs, because we wanted to keep the eggs local. We buy heat-treated flour, so it's edible and safe and maintains its bake-ability. We sell it by the scoop and by the pint.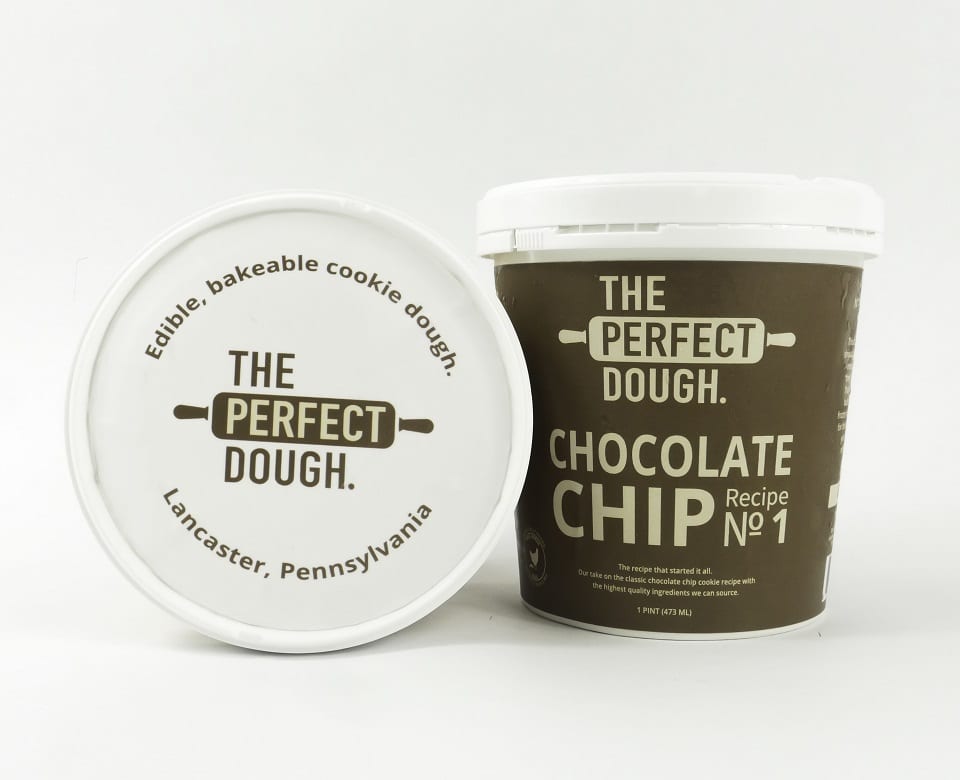 Lots of people love to bake, or have a passion for baked goods. What made you decide to turn a hobby into a business?
Doug: Owning a business isn't new to me. I own a recording studio that I started in high school with no money, so I learned how to be savvy with marketing, how to build websites and do a lot of the business that's needed nowadays. During the year when we were developing our recipes and first in business, we both had part-time jobs, so business was pretty slow. But then we had an opportunity; someone contacted us about going into a new market in Lancaster that was opening where an old Wine and Spirits shop used to be. We felt like it was something we needed to do. We both knew that if wanted to go all-in on this, we had to quit those jobs. We opened up in Lancaster Marketplace, and we've been nonstop ever since.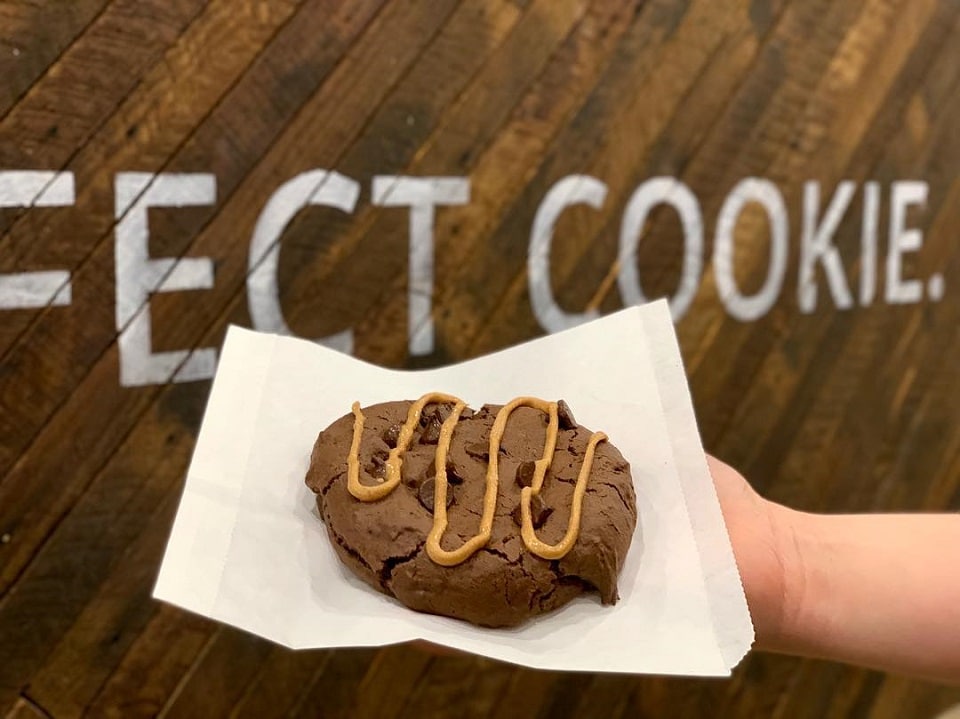 What's it like working with your partner? How do you keep everything in balance?
Sara: We are completely opposite, so Doug takes care of social media, marketing, website, all of the back end. I take care of the dough mixing, and all of the front end, like organizing events and managing the store.
Doug: Both Sarah and I pick up on things quickly. I learn really well if it's something I enjoy. Growing up, my parents never cooked, I was always the one who cooked and baked, so that's where I learned kitchen skills.
Do you plan to expand beyond Lancaster Marketplace at any point?
Doug: We're hoping to open up two more markets this year, perhaps in York and Harrisburg. We also want to add ice cream, but we always want to keep the cookies as the centerpiece. Whatever products we add, we want to highlight the cookies.
Keep up with Taylor Chip and The Perfect Dough through their websites and social media feeds (Instagram here and here, Facebook here and here). You can shop online, or look for The Perfect Dough by the pint in locations in Central PA, like Provisions in Harrisburg and Harvest Lane Farm Market in Lititz. Be on the lookout for more soon, as they're working on expanding their wholesale footprint!
Visit Taylor Chip Cookie Co. at Lancaster Marketplace, located at 2084 Fruitville Pike in Lancaster; phone: (717) 875-7862.
Photos:

Taylor Chip Cookie Co.