A summer staple — but also perfect for year-round refreshment — tiki drinks are beverages with a long history, and they are more than just a passing fad. While tiki bars had a major boom a decade ago in Portland, Chicago, Hawaii and L.A. bars, the communities and cities in our own backyards in Pa. are now totally on board with adding tiki cocktails to their menus, alongside classic cocktails and draft beer.
The kitsch of tiki might come and go, but the fundamentals of great tiki cocktails are here to stay!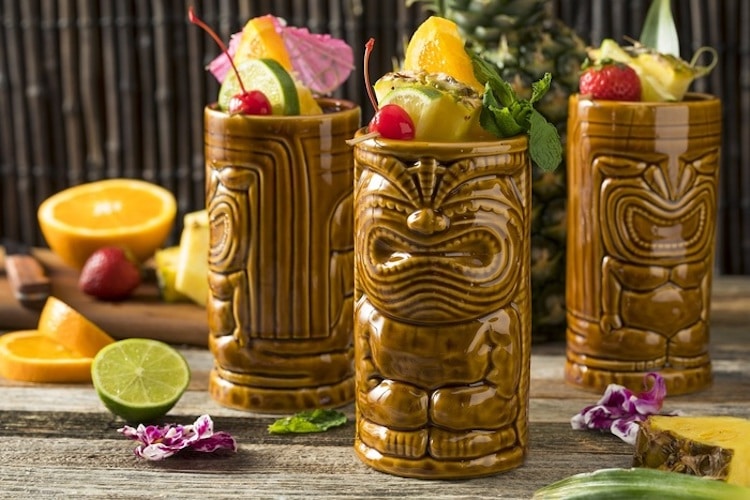 Tiki started around 80 years ago, with Don the Beachcomber, a bar concept created by Ernest Raymond Beaumont Gantt in Los Angeles. He was lucky enough to spend a good amount of time in the Caribbean and South Pacific, coming home with a bunch of ideas about making tropical tiki drinks, like combining rum, flavored syrups and fruit juices, and then pairing them with foods loosely based on Cantonese, Hawaiian and Polynesian cuisines.
Fast-forward to when Gantt headed off to Europe during World War II: While he was away, his wife expanded his empire to 16 locations of Don the Beachcomber. When they later divorced, she had control of the company and all of these U.S. locations. However, Gantt wasn't done with tiki, and he headed to Hawaii in the 1940s, prior to its statehood, where he could legally open his own Don the Beachcomber bar.
What else was happening at this time? The post-war economy was booming, and some families had the disposable income with which to travel to tropical destinations. The musical South Pacific was a hit on Broadway. Hawaii joined the U.S. in 1959, and shortly after, Elvis Presley starred in Blue Hawaii.
It was around this time that Americans began a romanticized obsession with the tropics, and, naturally, tiki bars helped them get a taste of island life without traveling.
Tiki began to fall away in the 1960s and '70s, but it experienced a revival in the 2000s, as the craft-cocktail scene began to emerge. Jeff "Beachbum" Berry was responsible for leading the way, and is perhaps the world's biggest tiki fan. He's written several books on tiki and he is also planning to open his own tiki bar later this year. Berry has also created a tiki app, which has a unique recipe database of over 250 great exotic drinks and tiki cocktails.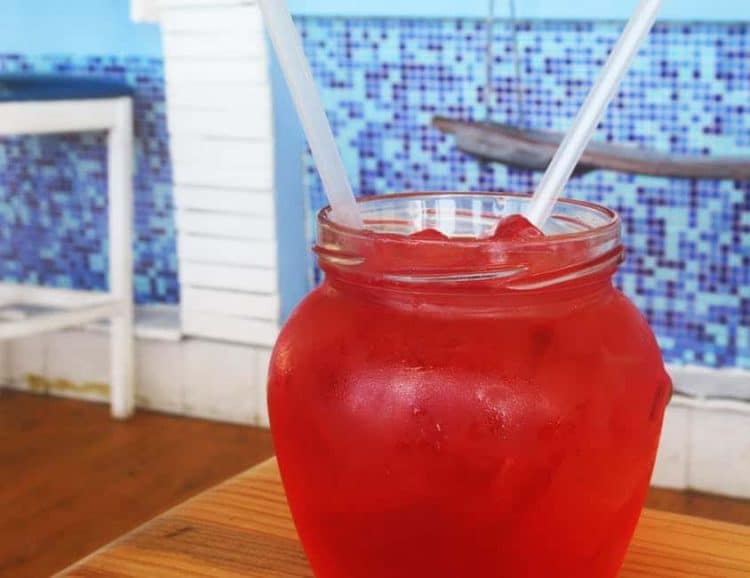 Want to make great tiki drinks yourself? First, start with rum. Not every tiki drink is rum-based, but tiki is inspired by the tropics, and rum's the winner in the tropics! Second, you need fresh juice (seriously, the bottled stuff just won't do). Third, you'll want to create layered flavor with a blend of two or more rums, liqueurs, bitters and other ingredients. And, finally, include spices or other flavor accents like nutmeg, cinnamon or pomegranate, which are crucial in many tiki drinks for providing the complex flavors we've come to know and love.
Starting a collection of tiki ingredients can be pricey, so we've rounded up a bunch of tiki drinks at some of our favorite spots here in Pennsylvania. Take an afternoon to relax and pretend you're somewhere tropical at these local bars: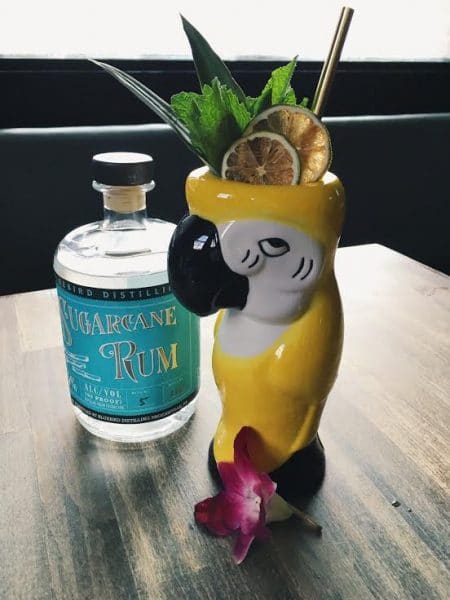 A blend of Bluebird Distillery rum, Rowhouse Distillery rum and Manatawny Distillery rum, natural mango purée syrup sweetened with agave nectar, orgeat, fresh lime juice and Dock Street Summer Haze beer
Danny Godinez, the bar manager and beautiful mind behind the cocktail program at the Cannery (the little bar adjacent to Dock Street Brewery in West Philly), is a big fan of the tiki-genre style in cocktails because they're playful, not rigid and somewhat mysterious. He originally found his love for tiki in the oasis of Smugglers Cove, in his hometown of San Francisco. The Birdie Draper, which started out on the secret menu, is Danny's take on a San Francisco tiki drink: glamorous, unexpected and at home in the 1960s, just like the Mad Men characters. 705 S. 50th St., Philadelphia; (215) 726-2338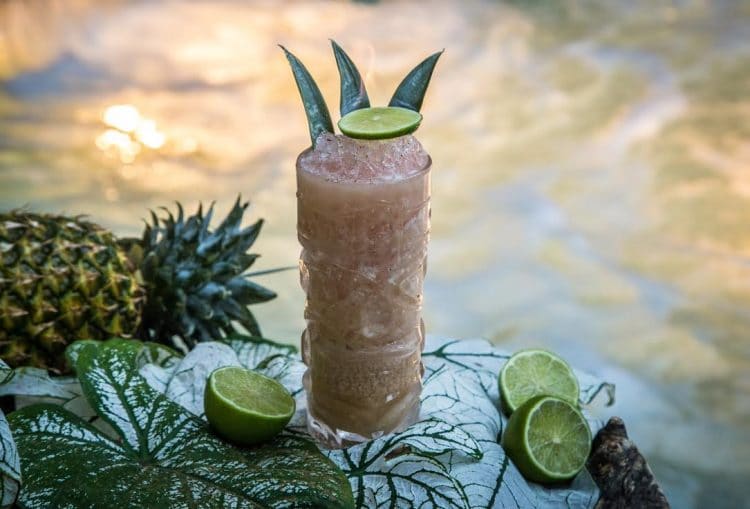 Lot 40 Single Pot Still Canadian Rye Whisky, Rhum Clement Mahina Coco Coconut Liqueur, Fernet Branca Menta, cinnamon-infused falernum, pineapple and lime juices and mint, garnished with a dusting of nutmeg and powdered sugar
Did you know there's an outside bar behind The Pressroom in downtown Lancaster called The Park Bar? Its team is cooking up a bunch of beautiful cocktails, like this Tiki Rye Dark Slide. According to Steve Wood, the assistant beverage director, "It's a spice-forward, rye and menthol laced ode to two of my favorite things: a properly made pina colada and a 50/50 shot of Fernet Branca Menta. It is bold yet refreshing, and has become a favorite to lovers of both tiki and rye cocktails." Belly up to The Park Bar this summer to sip on this tiki refresher. 26-28 W. King St., Lancaster; (717) 399-5400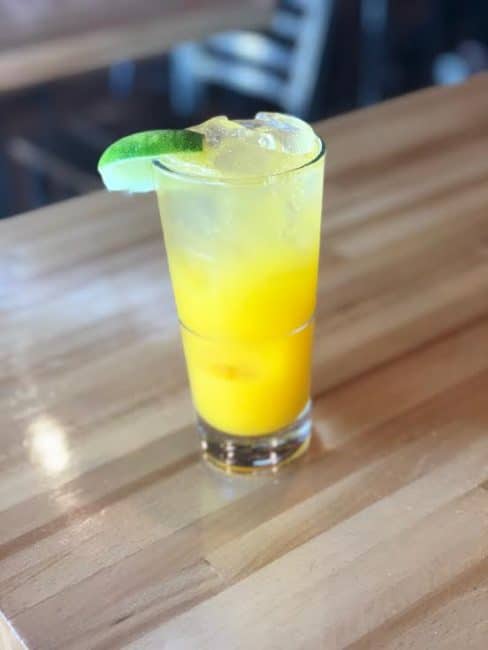 Rum, mango, papaya, Thai basil, mint, grapefruit and lime
At Bing Bing Dim Sum, its team cooks what it likes to eat, and makes drinks that it likes to drink. And they like to keep it real! Take, for example, the Fruity Jungle Bird, a juicy tiki cocktail. Bing Bing Dim Sum's advice? Pair it with anything spicy, like the Spicy Sichuan Cucumbers or umami-rich Dan Dan noodles. 1648 E. Passyunk Ave., Philadelphia; (215) 279-7702
Dark rum, sake, blood orange, pineapple and almond orgeat
Revival Social Club in York, Pa. is a fun, inviting restaurant with a unique take on globally inspired cuisines. The spot was created to be a destination to gather for interesting small plates and innovative cocktails, but versatile enough to deliver a fine-dining experience. Stop in for just that! And don't leave without ordering the pina colada! While it may not have all of the frills of some more ostentatious tiki drinks, it does have all of the flavor and fun this summer chiller is known for. 19 North George St., York; (717) 430-2981
The Upstairs Bar is an island-inspired bar adorned with bamboo, twinkling lights and, of course, leis. Choose from a large selection of delicious cocktails made with fresh juice, premium spirits, house-made tiki ingredients and fun glassware. A variety of large-format drinks are available for you and a guest to enjoy together. If fun, adventurous and light-hearted is what you're looking for, than the Upstairs Tiki is a the perfect space. Make sure you're following The Upstairs bar on Instagram, as it posts all of its special menus, events and thirst-quenching tiki drinks there. 112 S. 18th St., Philadelphia; (267) 467-3277
Mango-ginger-infused rum, velvet falernum, tropical juice, dark rum
Irv's Pub offers a great selection of seasonal dishes, with a focus on providing customers with the highest quality of locally sourced ingredients. And that goes for the drinks, too! Its cocktail menu is inspired by vintage and contemporary recipes, and it offers seasonal drinks crafted with premium spirits, freshly squeezed juice and house-made syrups. If you're craving something tropical and tasty, sip on the Bermuda Beach Towel! 814 E. Chocolate Ave., Hershey; (717) 298-6476
Dark rum, orange juice, pineapple and Coco Lopez
Filled with booze, dumplings and good vibes, Tiki Philly is the place to be, especially on those hot summer days! With two floors, two bars and a pretty sick roof deck, this is easily your go-to spot for island-inspired drinks and more. A new addition to its already stellar cocktail lineup is the Painkiller, which is made with orange juice, pineapple juice and Coco Lopez cream coconut. It screams summertime! 102 S. 13th St., Philadelphia; (215) 309-3435
Hawaiian combo of 3 different rums and fruit juices with a fresh pineapple garnish
When you belly up to the bar on T.J. Rockwell's expansive outdoor deck, you'll feel transported to an island resort. Order the Mai Tai to complete the feeling. With three different kinds of rum and fruit juices, you'll be set for a long afternoon in the sun. Hungry? Order the Rhino Fries, as T.J. Rockwell's is famous for them! Expect a giant platter of homestyle fries covered with a special blend of melted cheese and bacon. And, of course, it's all served with a side of ranch dressing. Talk about a vacation treat! 800 Mt. Gretna Rd., Elizabethtown; (717) 367-5544
Where are you turning to for tiki drinks this summer?
Feature Image:

Big Stock

Intro Photo:

Pexels

All Other Photos:

Courtest of Respective Restaurants