With the busy university and the influx of new families and businesses, West Chester touts its fair share of pizza parlors, bodacious burger bars and decadent dessert destinations to satiate the masses.
But the borough also balances the healthier-lifestyled resident with clean-eating eateries, like Jaco Juice and Taco Bar, Love Again Local, Local Yoga and Cafe and Liquid Eatery (opening before the end of summer).
Five months of interior-space preparation and hiring of personnel have gone by since our initial announcement in February that Bango Bowls was coming to town, and now this spot is open for business. Owner Katrina Sandstrom (who has lived in the area for five years) says, "The concept of Bango Bowls was created with seven initial locations within one year in the Long Island area. This one in West Chester is our initial entry into Pa., and we're very excited to bring the concept of freshness, nutrition and speed to a town that boasts over 20 fitness centers within its proximity."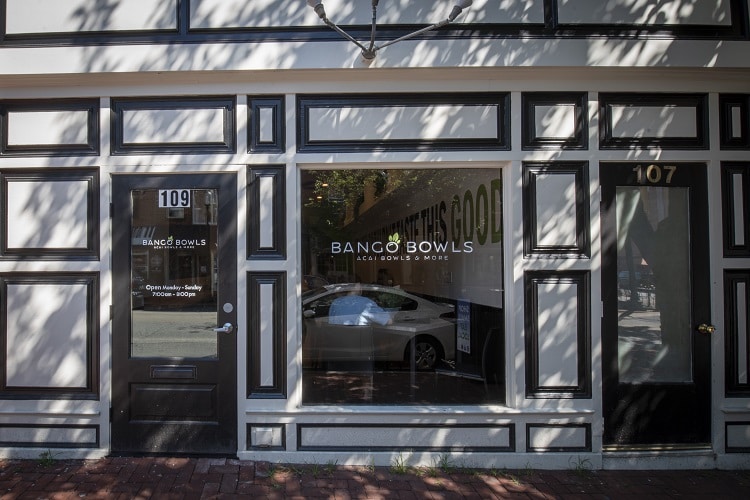 From signature and made-to-order bowls to smoothies that use only organic ingredients, we've scooped seven solid reasons why you need to investigate this new kid in town as soon as possible.
1. Açai Bowls
The açai berry (blueberry-like in appearance) comes from the depths of the Amazon rainforest and contains more antioxidants than other commonly eaten berries. High in fiber and heart-healthy fats as well, the berry is a great immune-booster and aids in good digestion.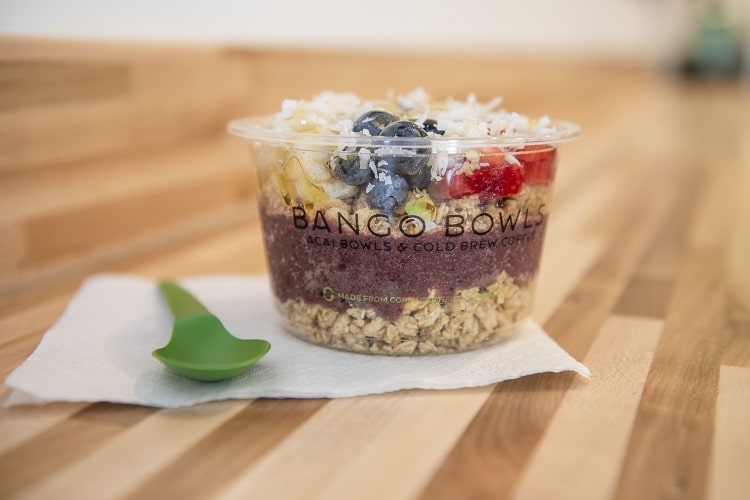 The deep purple, sweet-tasting berry (with a rich aftertaste of dark chocolate) serves as the base of one of two signature bowls. The Bango includes açia, banana, strawberries, blueberries and a dash of soy milk, topped with layers of oats and honey granola and a drizzle of honey. The other signature bowl, the Pink Dragon, uses the sweet, mild pitaya (dragon fruit) as the base, and it's layered with apple, vanilla nut granola and light flakes of coconut.
Several granolas (including a gluten-free version) and additional toppings (peanut butter, almond butter, nutella) are available for 8-, 16- and 32-ounce bowls.
2. Poke Bowls
Sandstrom describes heaping poke bowls as "deconstructed sushi." Poke is a Hawaiian term that means "cut or slice" and typically includes a protein of raw or marinated fish over rice with lots of fresh vegetables and flavorful sauces.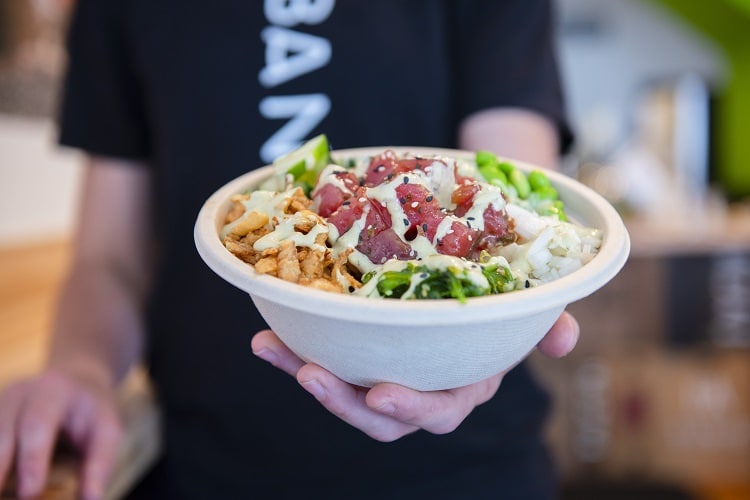 Tender salmon and ahi tuna (marinated or naked) are used as proteins for the bowls. The signature Bango Big Eye starts with marinated ahi tuna then adds cucumbers, edamame, seaweed salad, sweet onions, crispy onions, avocado poblano and soy sauce. Fins Up is another poke option, with naked ahi tuna, sprouts, radish, green onions, crab salad, crispy wontons, sriracha and soy sauce. Going plant-based? Try the vegan Feel the Beet with quinoa, kale crunch, roasted beets, cucumber, radish, edamame, mango, crispy onions and a tasty blood orange shallot sauce. Or, build your own and include premium toppings of avocado pulp, seaweed salad or mango, and drizzle with sauces of cucumber wasabi, spicy mayo or low-sodium soy.
3. Oatmeal Bowls
Smooth and creamy oats (for our gluten-intolerant readers) make for a delicious, hearty bowl of goodness for breakfast! The Montauk tops the oats with apple, cinnamon, brown sugar and raisins; Fire Island Surprise which uses pineapple, mango and coconut for that tropical twist; and Holy Hamptons is a fun mix of peanut butter, banana, coconut and dark chocolate chips.
4. Smoothies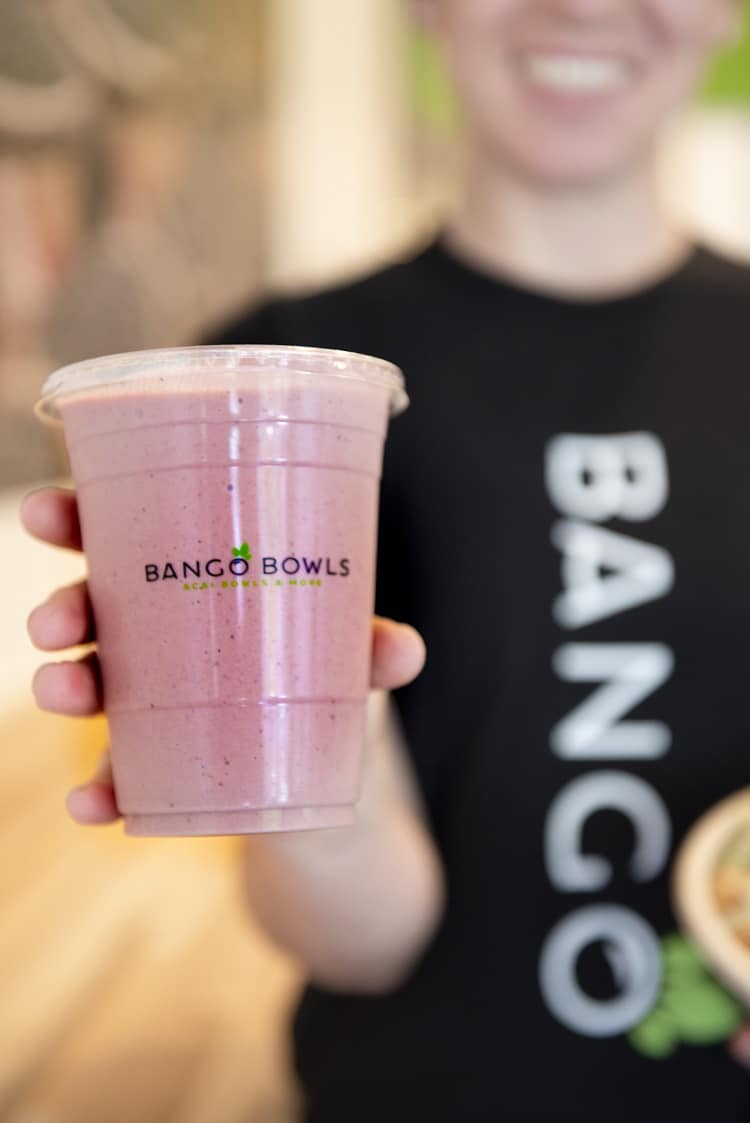 "We don't use dairy for our smoothies," says Sandstrom. "The only dairy milk we use is half-and-half for the coffee station." Almond, soy and coconut milk serve as the base for the smooth signature Bango blends. We love the Prince-themed Purple Rain with açai, strawberries, banana, peanut butter, honey and soy. Add proteins to any smoothie for an extra dollar.
5. Great Local Coffee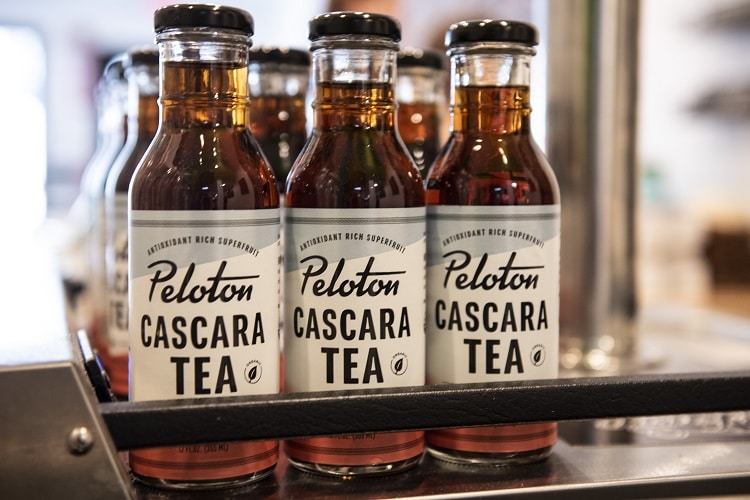 Locally-produced Peloton Cold Brew of West Chester is on draft as a cold brew and bottled cascara teas (loaded with antioxidants) are available, as well. Whole roasted beans from the artisanal ACE Coffee Company are ground daily for the freshest cup of java.
6. Atmosphere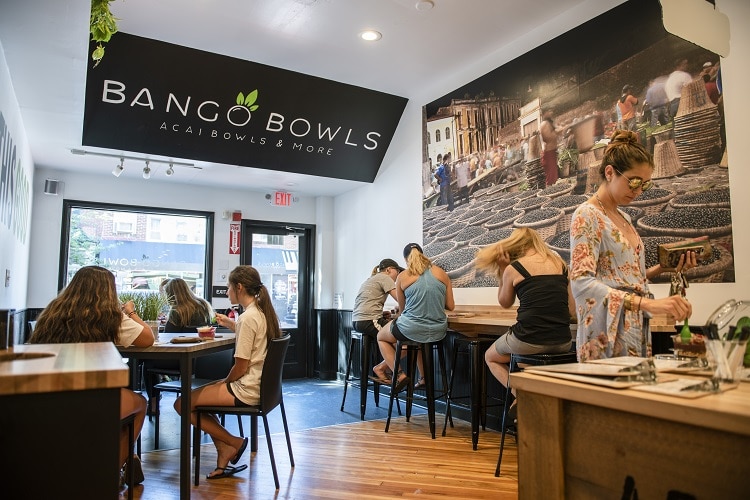 Located in the former Letterhead Comic Book Store (and across the street from another first look fave, BYO Andiario Restaurant), the location is on the laid-back west side of town. The space is long and narrow ,with seating at a wall table to the left of the entrance and a couple of group tables to the right. Chartreuse and greenery is used to accent the clean space, with a large community-style mural on one wall. Ordering locations for poke bowls are at the front counter and açai towards the rear. Eco-friendly bowls and eating utensils show love to Mother Earth.
7. Grab and Go
Bango Bowls is open daily from 7 a.m.–8 p.m. for those looking to score a quick and nutritious meal on the run, or a quick pick-me-up after a vigorous workout. Online ordering of the full menu for pick up and third-party delivery for this location should be available soon.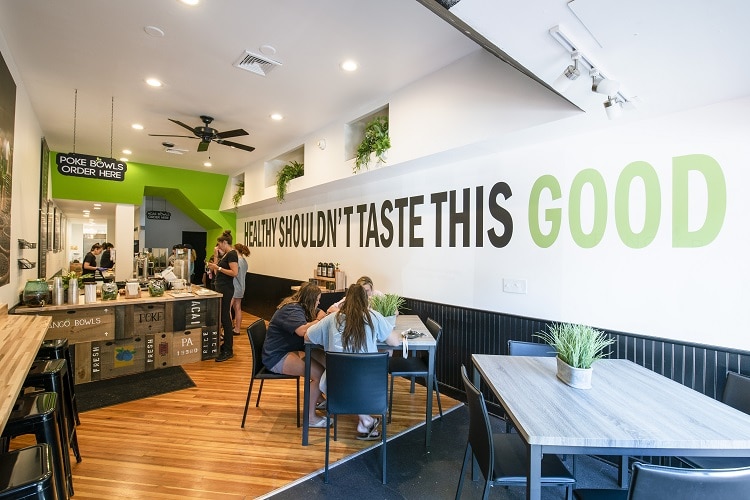 Bango Bowls is located at 109 Gay St. in West Chester; phone: (484) 266-7389.