The bounty of the summer season is upon us, and with it comes the arrival of the produce we long for all year: strawberries, peaches, tomatoes, corn and so much more. Even as Pennsylvania starts to open back up after the COVID-19 stay-at-home mandate, this year feels different than those in the past, with many CSAs sold out, grocery supply chains still recovering, and many farmers markets operating on different models than we're used to.
If you want to make sure you have a steady, reliable supply of seasonal PA produce this summer, don't worry! There are so many ways to order locally grown fruits and veggies online, and have them delivered or boxed up for pick-up. Here are some of the ways we've found that you can order Pennsylvania produce from home:
Farmers Markets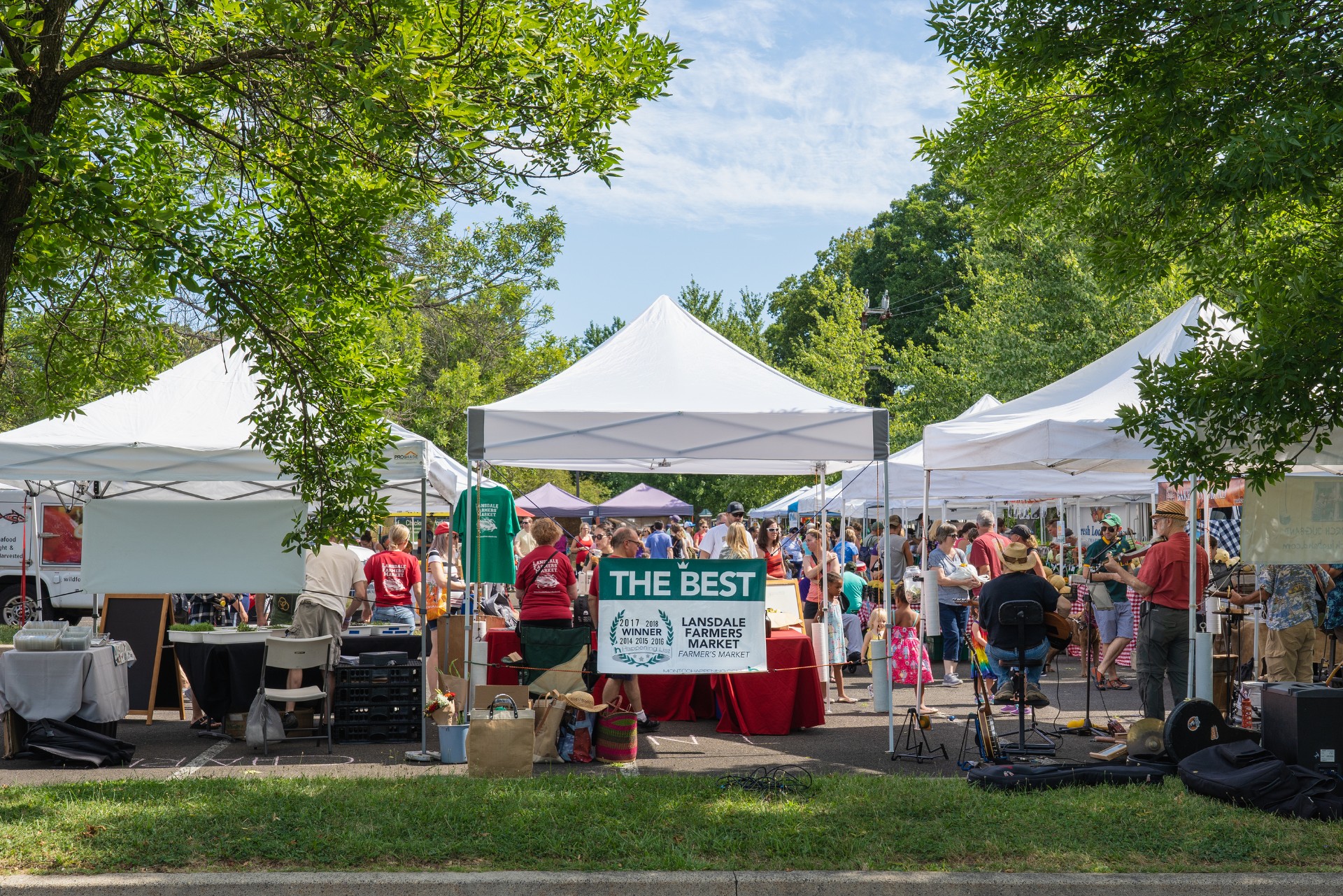 Farmers markets are still scheduled for spring and summer 2020. Many of them now require that you pre-order your goods and then show up to the market at a scheduled time for quick and easy pick-up. Different markets might have different systems; we urge you to check your local farmers market's website or social media accounts for more info. Some good places to start are The Food Trust, Growing Roots Partners, the Farmers Market Online Pennsylvania Directory and Good Food Pittsburgh's Guide to Western PA farmers markets.
Online Ordering Direct from Farms & Purveyors
Bartoli Produce (Carlisle, PA): A stand in the Carlisle Country Market that's been providing the region with high-quality fruit and veggies year-round since 1964
Shop online: All sorts of vegetables and fruits, including a wide variety of tomatoes, mushrooms and herbs. Dairy and locally roasted coffee are also available.
Orders received online by noon will be ready by the next day; deliveries are offered Monday through Friday from 11 a.m to 4 p.m, with picks-ups Monday through Friday from 9 a.m. to 3 p.m., and Saturday from 9 a.m. to noon.
Cherry Valley Organics (Burgettstown, PA): Founded in 2001, this farm is a collaboration between growers, scientists, food and health enthusiasts, teachers, caretakers and nutritionists, committed to growing and producing high-quality, certified-organic products for the community
Shop online: Many types of fruits and veggies, as well as dried and cut flowers, herbs and teas, body care products, potted plants and more.
Free online order pick-up is available on the Friday following your order at the Cherry Valley Organics Farm Market & Cafe in Burgettstown, PA, or on the Saturday following your order between 9 a.m. and 1 p.m. at the Sewickley Farmers Market in St. James Church parking lot.
Clair's Orchard (Carlisle, PA): A family-owned fruit orchard and market in Central PA
Shop online: Fresh produce is available, as well as fruit butter, apple sauce, honey, jam and other jarred goods. Dairy and snacks are also offered.
After you place an online order, Clair's will call to arrange a curbside pick-up appointment. Hours are Tuesday through Saturday from 9 a.m. to 5 p.m. and Sunday from 11 a.m. to 5 p.m. Orders placed during non-business hours will be processed the next day.
Crooked Row Farm (Orefield, PA): A certified-organic, woman-owned vegetable farm on the western edge of the Lehigh Valley, specializing in seasonal veggies, wholesale herbs and pasture-raised eggs
Shop online: Veggies (both fresh and frozen), fruit, dairy, meat, grains, ferments, and jarred goods are offered. Order a bag of food for $7 to be donated to a family in need.
Curbside pick-up is available at the farm; deliveries go out on various days of the week to different parts of the Lehigh Valley, check the website for more specific info.
D&S Produce (York Springs, PA): A third-generation family farm in Adams County, PA, growing and selling fruits and vegetables to the local community from its on-farm farm market
Shop online: Fill out the online order form to purchase fruits, veggies, milk, bread and pantry items.
Contact-less pick-ups at the farm are offered Monday through Saturday from 10 a.m. to 6 p.m.
Dutch Country Farm Market (Spring City, PA): A family-run farm that grows corn, tomatoes, strawberries and many other fruits and vegetables
Shop online: A wide variety of fruits and vegetables, local grocery items, coffee, honey, flowers, garden plants and more are offered.
Curbside pick-up Monday through Saturday from 9 a.m. to 5 p.m.
FarmArt (Folcroft, PA): This family-owned business primarily wholesaled local produce to restaurants and other food businesses, but transitioned to residential home deliveries during COVID-19
Shop online: Locally grown, sourced and foraged produce and goods, as well as a huge array of produce, dairy, meat, condiments, cleaning supplies and more.
Delivery is offered throughout the Greater Philadelphia area; there is an $85 order minimum. Orders are open from 8 a.m. through 10:30 p.m. Sunday through Thursday for next-day delivery.
Farmhand Delivery to You: Weekly home delivery of local and organic vegetables and other farm-fresh foods, serving the Delaware Rivertowns, Doylestown and surrounding area
 Shop online: Different sizes of CSA-style produce boxes are available for weekly delivery, with add-ons like milk, bread and meat. Mushrooms, dairy, prepared and frozen foods, beauty products and more available a la carte.
Order by 5 p.m. on Monday to receive delivery on Friday delivery; the delivery is $9.99, or free on orders over $49.99.
Green Circle Organics (Lancaster, PA): This stand in the Lancaster Central Farmer's Market supports area farmers and their families by sourcing locally grown produce to sell
Shop online: Customizable, CSA-style boxes are available each week; choose the size and style box you prefer, then add on extra items, like dairy, eggs and bread.
Home delivery is offered in Lancaster County on Tuesdays; other pick-up sites may be available.
Harvest Valley Farms (Gibsonia, PA): A fourth-generation family farm that began as a poultry and vegetable farm in the mid-1940s and transitioned entirely to vegetable production in 1982
Shop online: Sustainably produced, freshly-picked fruits and vegetables, including a wide selection of greens. Eggs are also offered.
Pick-ups available in Harvest Valley's market. Order windows are as follows: Monroeville from Mondays at noon to Wednesdays at noon; Forest Hills on Mondays from noon through Wednesdays at 10 a.m.; and Lawrenceville from Friday at noon to Saturday at midnight.
Highmark Farmstand (Easton, PA): A stall in the Easton Public Market selling locally sourced, quality fruits, vegetables, dairy, eggs, honey, grains and meats
Shop online: Many varieties of fresh produce, as well as potted plants and seedlings, dairy, bread, desserts, prepared meals to-go and much more.
Curbside pick-up offered every day from noon to 6 p.m.
Josie Porter Farm (Stroudsburg, PA): A biodynamic farm, now in its 12th season, that's operated on a portion of the former Snyder Farm
Shop online: Farm-fresh food like fruits, vegetables, root crops and mushrooms are offered, as well as dairy, meat, pantry items.
Order and pay online on Tuesday mornings, then pick up at the farm on Fridays or Saturdays.
Lancaster Farm Fresh: A non-profit organic farmer's cooperative of over 100 family farmers headquartered in Lancaster County
Shop online: Buy certified organic fruits, vegetables and other farm-fresh products a la carte, or through CSA subscription boxes.
CSA pick-up sites are available throughout southeastern PA; home delivery is offered to many zip codes throughout Southcentral PA.
Lemon Street Market (Lancaster, PA): A full-service grocery store focused on sustainable and healthy living, with many local, organic, vegan, and gluten-free options
Shop online: A wide variety of fresh produce, as well as plentiful grocery items.
Peruse the store photos, then email your order to shoplemonst(at)gmail.com or call the store at (717) 925-7423. Personal shopper services are also offered through video chat. Curbside pick-up is available and delivery is offered with a fee of $10 within 5 miles and $20 for between 5 and 10 miles of the market.
Meck's Produce (Lancaster, PA): A family-run market offering fresh, locally grown produce sourced from Lancaster County
To shop online, check out the item list of what's available and then submit your order through an online form. Many types of fruits and veggies are available.
Email your order form to [email protected], or place your order over the phone by calling (717) 786-4713.
Philly Food Works (Philadelphia & surrounding areas): An online market and farm share program dedicated to creating a sustainable local food system for the Greater Philadelphia region
First, you must subscribe to Philly Food Works (it's free, but there may be a waitlist); the window for ordering opens each weekend, with order cut-offs depending on your delivery date. Fresh produce from many PA farms is available, as well as dairy, eggs, meat, seafood, coffee and more.
Delivery is offered, and there are many pick-up points throughout the Greater Philadelphia area.
Pocono Organics (Long Pond, PA): At over 380 acres, this is one of the largest regenerative organic farms in North America
Shop online: Fresh-cut herbs, leafy greens, veggies and starter plants are available, as well as meats and pantry items
Place orders by Monday to pick up on Wednesday of each week. Pick-ups happen outside of the market cafe.
Radish Republic (Allentown, PA): An urban grocery store specializing in local food from small farms and businesses in the Lehigh Valley region
Shop online: A huge selection of fresh produce, baked goods, prepared foods, snacks, meats, dairy, drinks and more, are offered.
 In-store pick up is offered, as well as next-day delivery to various towns and areas in the Lehigh Valley.
Riverwards Produce (Philadelphia, PA): A neighborhood grocery providing unique quality ingredients to creative chefs and neighbors with a focus on sourcing local ingredients and "ugly" produce that may not make it to big-box supermarkets (read more here)
Order ahead online for scheduled in-store pick-ups on Tuesdays. Fill out an email form with your order; substitutions may be necessary. Check the market's Instagram for a sense of the huge array of produce and products on offer.
Rowland's Pennsylvania Produce (Falls, PA): A farm growing hydroponic pesticide-free lettuce and herbs
Shop online: A small, but beautiful, selection of local produce, like radishes, greens and onions. CSA-style Farm Boxes are also available.
Weekly pick-up sites in Dallas, Kingston, Clarks Summit and Tunkhannock.
Who Cooks for You Farm (New Bethlehem, PA): A first-generation family farm with a mission to grow as much sustainable, organic produce as possible and provide this produce to people
Order online: Greens, strawberries and other produce, as well as herb, flower and vegetable seedlings are offered.
Weekly pick-up sites and delivery windows differ in areas across Pittsburgh; check the website for specific info.
What Pennsylvania farms or markets have you been buying produce from online? Let us know in the comments here or on the PA Eats Facebook page!