When you hear the phrase "chicken and waffles," you might imagine a waffle piled high with fried chicken. And to be sure, at many a restaurant or  on a diner menu, that's probably what you'll find. But did you know that Pennsylvania has our own version of chicken and waffles that is a totally different experience than the Southern comfort-food dish? It's true! Berks-Style (sometimes called PA Dutch) Chicken and Waffles goes deep into our local heritage, as it was actually the Pennsylvania Dutch who are credited with inventing the modern (non-electric) version of the waffle iron, and who helped to introduce waffle irons to America at large. According to the book,  Antique Electric Waffle Irons 1900-1960: A History of the Appliance Industry in 20th Century America by William George (Trafford Publishing, 2003), it was the work of John Kleimbach, a German immigrant living in Shamokin, Pennsylvania who helped spread the waffle iron's popularity: In 1891, Kleimbach became a traveling salesman of waffles after fashioning an iron for the Mansion House Hotel. He sold waffles for a penny apiece and took his operation to the Chicago World's Fair.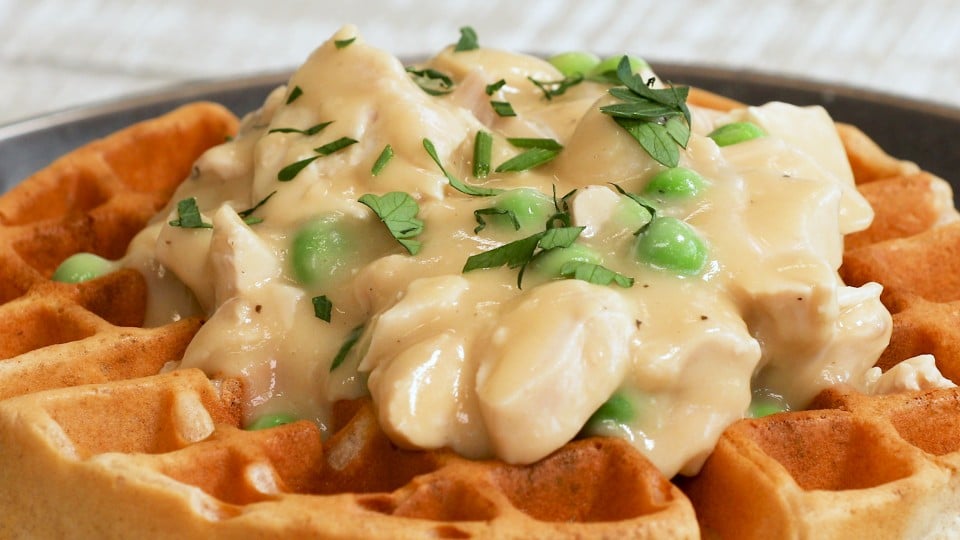 The recipe for Berks-Style Chicken and Waffles features shredded chicken and simple veggies in a flavorful gravy, served atop not-too-sweet waffles. As Pennsylvania Kitchen guest and Philadelphia-based food writer Mike Madaio explains, waffles were eaten by Pennsylvanians in the 1800s as an all-purpose bread, served alongside all sorts of roasted and stewed meats, as one might expect of a dinner roll or slice of Italian bread today. He delves into Pennsylvania food culture and so much more in his new book, Lost Mount Penn: Wineries, Railroad and Resorts of Reading, released on November 18, 2019. This satisfying homestyle recipe is great for any meal of the day, but especially as a hearty lunch or supper (though topping it with a fried egg at brunch is a great move, too!). To save time, use a rotisserie chicken, but do not use freezer waffles! Homemade waffles, all warm and fluffy right from the hot iron, is the only way to experience this classic PA dish!
Check out our video for the technique, then head here for the full recipe for Berks-Style Chicken and Waffles!