Dessert is, for many of us, a big splurge. As we become more savvy about excess sugar in our diets, a meal out might be one of the only times we allow ourselves the indulgence of a sweet treat. Whether that's a scoop of gelato, a flaky pastry, or a mile-high, artful plate at a fine-dining restaurant, one thing is for sure: If you're going to order dessert, make sure it's something fabulous.
We've compiled a list of the most "worth-it" confections and creations across Pennsylvania. How many can you check off your bucket list?
Northeast PA
Pie is the name of the dessert game at Bingham's, a comfort-food-focused family restaurant in the Scranton/Wilkes-Barre area. No matter what you order for lunch or dinner, you simply cannot leave without a slice of its famous pie — there are over a dozen flavors to choose from on the dessert menu! Try the perfectly tart lemon meringue, Fruits of the Forest (loaded with strawberries, raspberries, blackberries, blueberries, rhubarb and apple) or the Caramel Apple Crumb, and make it a la mode with a scoop of ice cream for just $1.19 extra. Bingham's pies are so beloved, they can be ordered whole to take home. If pie is somehow not your thing, there is an additional dessert menu to choose from, including cream puffs, strawberry shortcake and an ice cream sundae. 6092 State Route 92, Kingsley; (570) 222-6666
Amberdonia is an Old World European-style bakery run by Aida and Butch Sacipi. Amberdonia has two locations: one in Kingston, PA, and the other in Wilkes-Barre. With a commitment to using fresh and natural ingredients, with no preservatives, additives, or fillers, this is an amazing stop for Italian pastries like cannoli and sfogliatelli, cakes, tarts, pies and more. It's a pleasure just to feast your eyes on its glistening glass case, filled to the brim with beautifully decorated treats. If you need something savory first, try one of Amberdonia's Neapolitan-style pizzas, made in under a minute in its 1,100-degree wood-fired oven! 16 E. Union St., Kingston; (570) 714-6000; 45 E Northampton St, Wilkes-Barre; (570) 266-8999
Kitchen Chemistry launched in the summer of 2010 as a bakery supply shop and educational center, and it soon began selling scratch-made baked goods to the public. Four years later, it suffered a devastating fire, but was able to reopen in the Spring of 2015 with a revamped vision. In addition to workshops, birthday parties and other private events, Kitchen Chemistry is open to the public with a delectable menu centered around cupcakes. There are six cupcake flavors offered every day, and a featured cupcake flavor that changes every week of the year (including pumpkin spice in the mix every week in October). On the weekends, stop by between 1 and 2 p.m. to decorate your own cupcake! Other treats are also available, like French macarons, cake cubes and crumb cake. 733 Main St., Stroudsburg; (570) 730-4944
Lehigh Valley
Since opening in 2008, Dolce Patisserie has been the place to go in the Lehigh Valley for gorgeous chocolate and truffles, handcrafted pastries with a French flair, and custom cakes that will make your jaw drop. Just to give an idea of the level of the craft here, the shop's signature cake is a chocolate cake with a layer of vanilla creme brulee, chocolate mousse and fresh raspberries. Fun fact: Owner and pastry chef Alan Pitotti, who was trained under legendary pastry chef Philippe Parc at Le Bec-Fin in Philadelphia, was featured in the Food Network show, Sweet Genius, a pastry competition show. During the episode he was featured in, Pitotti won the competition and a $10,000 prize! 23 Main St., Hellertown; (484) 851-3652
You don't have to be a Francophile to recognize the deliciousness that is crepes for dessert. At Cachette in Bethlehem, the sweet crepes are superb: wonderfully thin and flavorful, stuffed with traditional fillings, like Nutella and bananas, or orange zest and orange liqueur (that's a "Crepe Suzette"), and not-so-traditional ones, like peanut butter and jelly, and butter and maple syrup. Add a scoop of vanilla ice cream (highly recommended) for just $1.25. Bonus: You can substitute a gluten-free crepe at no extra charge! 504 Main St., Bethlehem; (610) 419-2091
Indian food may be known for spicy, rich curries, fluffy flat breads and succulent meats made in the tandoor clay oven, but its traditional desserts are equally layered with amazing flavor and texture. At super veg-friendly Aman's Artisan Indian Cuisine in Easton, the dessert menu offers an array of sweets to cool you down after a fiery feast. A cardamom-spiced rice pudding with almonds and raisins called Kheer, and house-made, hand-churned, orange-flavored Indian ice cream are Aman's signature desserts, though we must insist that you also get an order of delightfully spongy Gulab Jamun (milk puffs soaked in cardamom syrup) for the table. 336 Northampton St., Easton; (484) 298-0400
Southeast PA
With four locations across Southeast PA, Nina's Waffles & Ice Cream is clearly winning the dessert waffle game. Everything at Nina's is scratch made: Nina's pasteurizes its own gourmet ice cream base at its dairy plant in Bucks County to top its hand-cooked yeasted Liege style waffles, which are made from an original in-house recipe. Apparently, Belgian visitors who've tried Nina's waffles claim they are better than the ones at home! At the waffle shops, order up a vanilla and honey-scented warm waffle, topped with anything, from dulce de leche to cookie dough to ice cream to whipped cream. As you can imagine, toppings abound, and you can't really go wrong with any combination of them. 31 W. Mechanic St., New Hope; (215) 862-1660; Route 202 and 263 Peddler's Village, Shop #18; New Hope; (267) 544-0376; 30 E. State St., Doylestown; (267) 454-7294; 2905 S. Eagle Rd., Newtown; (267) 759-6937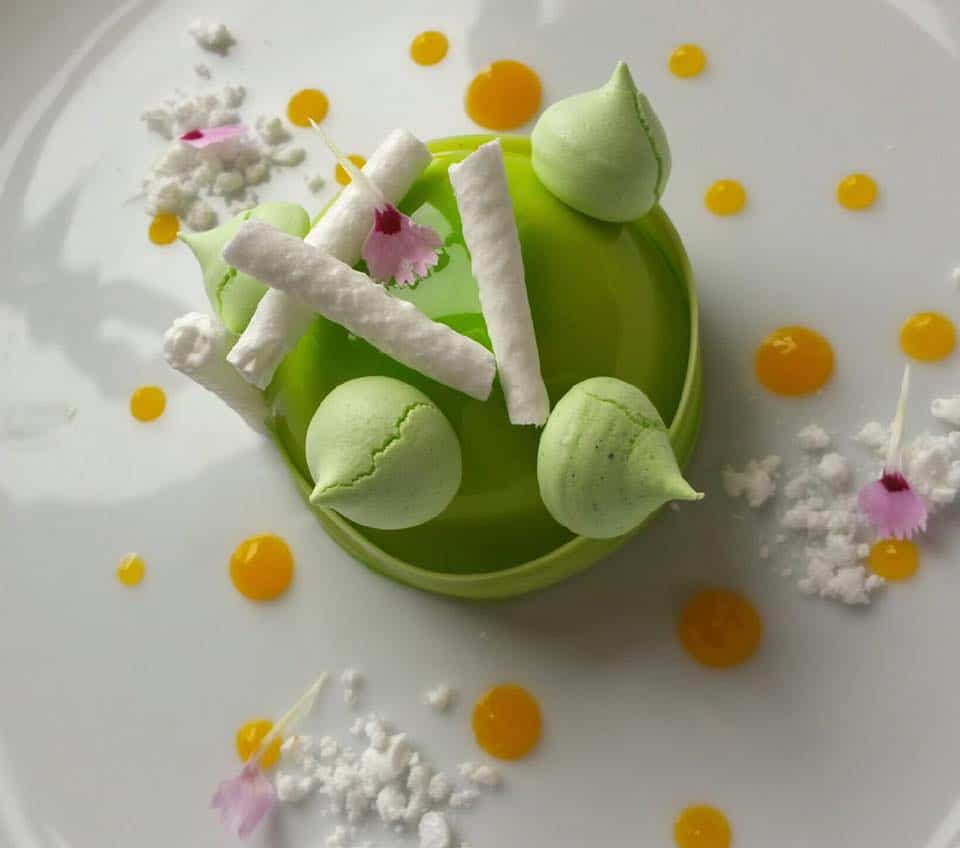 The Farmer's Daughter is the on-site restaurant at bucolic Normandy Farm, and under the guidance of its pastry chef, Sam Nahhas, the dessert program truly shines. With a focus on seasonal, locally sourced produce, these stunning creations combine the flavors you crave with precious presentations that emphasize color, texture and shape. Selections include a sea-salted caramel tart, a gluten-free molten lava cake with your choice of Nutella, salted caramel or peanut butter filling, and house-made gelato and sorbets in a rainbow of flavors. Even if you aren't staying for a whole meal, you can pop into the bake shop for take-home treats, like French macarons, vanilla mousse cake and chocolate truffles. 1401 Morris Rd., Blue Bell; (215) 616-8500
With three locations in and around Philadelphia, A La Mousse is a cafe and patisserie bringing Asian flavors to traditional French confections. Unbelievable cakes, pastries, layered desserts and more, are a delight for the senses, with vibrant colors and whimsical shapes galore. House specialties include a Matcha mousse cake, lychee panna cotta and tofu cheesecake with chocolate ganache. 145 N 11th St, Philadelphia; (215) 238-9100; 1622 South St., Philadelphia; (215) 546-3888; 920 Montgomery Ave., Narberth; (610) 664-6888
Just like everything else at Zahav, widely understood to be one of the best restaurants in Philadelphia (if not the entire country), dessert is a splendid affair, with imaginative ingredient combinations, vivid flavors and impeccable plating. Inspired by Israeli cuisine, these dishes feel rustic and modern, all at the same time, and never cease to surprise. The seasons dictate the curated dessert menu, with wintertime options, including blood orange sorbet with almond granita, candied almonds and coconut tuile, and Malabi custard with butternut squash, cranberry and walnut. 237 Saint James Place, Philadelphia; (215) 625 8800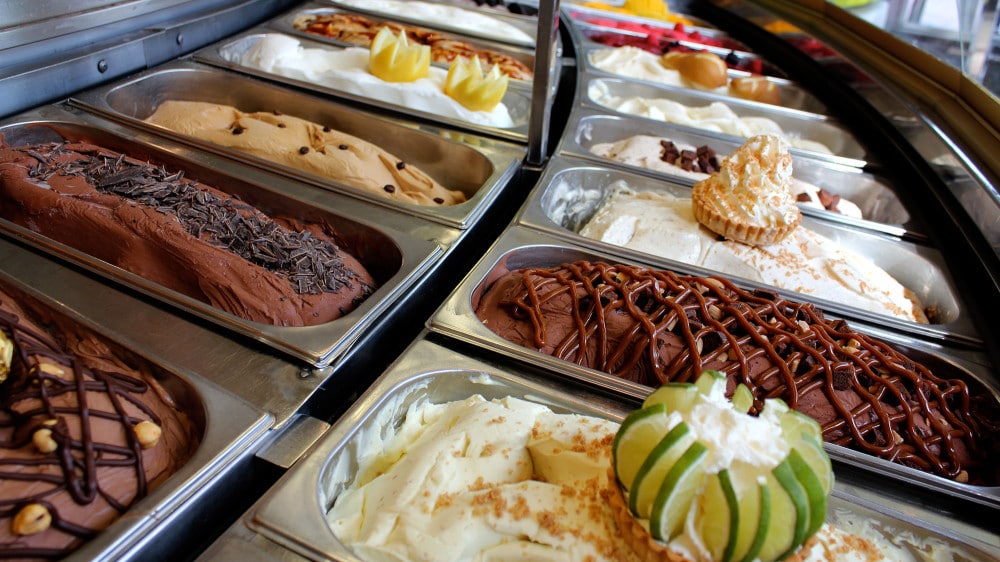 You can taste the artisanship that goes into the fine scoops at Gemelli Gelato and Dessert Cafe in West Chester. Everything is made from scratch, using  local, organic, grass-fed fresh milk, cream and yogurt, and local, organic produce, jams, cheeses and raw honey, to create the various gelato and sorbetto flavors. Most flavors change with the seasons, especially fruits (think blood orange and clementine sorbetto in winter and strawberry basil in summer), and there are a handful of classics, like pistachio and chocolate that you'll always find on the menu. Keep it minimal with a scoop or two in a cone, or add toppings, which include fresh organic whipped cream, crushed amaretto cookies, chocolate and caramel sauce and chopped hazelnuts. Affogato (gelato or ice cream "drowned" in espresso) and gelato brioche sandwiches are available, as are other desserts, like tiramisu, mascarpone mousse and a chocolate torta. 12 W. Market St., West Chester; (484) 557-8482
South Central PA
Chocolates and ice cream account for some of the sweets in Lancaster Sweet Shop, but if we're there, we're not leaving without a couple of Stroopies, traditional Dutch stroopwafels made in Lancaster by resettled refuge women. These caramel-laced thin cookies are meant to be placed atop a steaming cup of coffee, tea or cocoa, so they get slightly melt-y and even more delicious. Try a plain or chocolate dipped version, or take it to the next level with a Stroopie ice cream sandwich. 141 N. Duke St., Lancaster; (717) 869-5955
The Left Bank, a fine dining destination in York County, is known for seasonally driven contemporary cuisine. This style extends from the first bites of the meal to the last, with a dessert menu that features items made fresh daily, in house. Feeling decadent? Try the LB Candy Bar, a brownie topped with milk chocolate ganache caramel, peanuts, chocolate sorbet and caramel popcorn or the Caramel Poached Apple with granola, nougat, an almond financier, and brown butter ice cream. 120 N. George St., York; (717) 843-8010
If there's anywhere in Central PA where you can assume dessert is going to rule restaurant menus, it's Hershey! And it's hard to find anyone doing it better than The Circular, the flagship restaurant in the well-appointed Hotel Hershey. Not only are there six mouthwatering desserts to choose from (though we've only got eyes for the Tiramisu Chocolate Ball — watch the video above for the full effect), and a list of farm stead cheeses, but there's an entire selection of dessert cocktails, like a Pistachio Martini and a Kahlúa and brandy-spiked Hotel Hershey signature coffee. 100 Hotel Rd., Hershey; (844) 330-1711
North Central PA
The stated aim of Dolce Vita Desserts in State College is to "make life a little sweeter." In addition to camps and classes, Dolce Vita runs a little cafe, with a delectable everyday menu of classic cupcakes (vegan and gluten-free options are available, too), adorably decorated sugar cookies, cake pops, cannolis, brownies, bars, French macarons and more! Cheesecake and tiramisu by the slice are the cherry on top. 2490 Commercial Blvd., State College; (814) 954-4960
Say it with Sweets is a bakery specializing in gourmet cakes, cupcakes and cookies, with plenty of custom work for specific events, sports teams, and so on. Clever gifts, like cupcake bouquets, cookie cakes, truffle collections and cookie arrangements make this operation, tucked into the first floor of a house, a popular community favorite. Many items must be ordered in advance, so plan ahead to make sure you're not disappointed! 1307 Pleasant Valley Blvd, Altoona; (814) 201-2366
At the lovely Herdic House in Williamsport's historic district, the menu is as classic fine dining as they come, with dishes like bacon-wrapped scallops, duck leg confit, French onion soup and filet mignon. This elegant aesthetic extends to the dessert selection, as well, with stalwarts that have stood the test of time, like bread pudding, apple dumplings and raspberry cassis. If you'd prefer after-dinner drinks, try the Grand Marnier Coffee, prepared tableside, or the Espresso con Mosca, a shot of espresso served with Sambuca, which is set on fire right before it's served. 407 W. 4th St., Williamsport; (570) 322-0165
Western PA
As far as desserts go, the options at The Butterwood Bake Consortium are some of the dreamiest we've seen. Everything is made with organic Beehive Flour from Central Milling, organic evaporated cane juice, organic cocoa powder, and local butter, cream and organic eggs sourced from Frankferd Farms Organic Foods in Saxonburg, PA. Light-as-a-feather pavlova stacks filled with cream, succulent mascarpone cheesecakes with layers of citrus curd and meringue, cakes stacked high and decorated with flowers and fruits … the list goes on and on and we can't get enough! 5222 Butler St., Pittsburgh; (412) 781-0218
In Pittsburgh's Cultural District, find Braddock's Rebellion, a whiskey bar serving New American Cuisine that celebrates the city's many cultures. Save room for dessert​, including the signature Cookie Brownie with vanilla ice cream, whiskey caramel and chocolate sauce, or try one of the other boozy creations, like the 21st Amendment Cobbler, with moonshine-infused berries, graham cracker and oat topping and a scoop of cinnamon ice cream. 107 6th St., Pittsburgh; (412) 992-2005
Icing on the Lake is one of Erie's premier independent bakeries, founded by Heidi and John Fette in 2011. This charming little shop is known for its cupcakes; Strawberry Fields, Vanilla, Triple Chocolate, Salted Caramel and Peanut Butter Cup are available every day, and each day of the week offers special flavors. There are even vegan, gluten- and sugar-free cupcakes! Other popular sweets include cookies and cookie sandwiches, French macarons, scones, mousse cakes and more. 940 West Erie Plaza, Erie; (814) 464-0523
Where are your top spots in PA to go for a special occasion dessert or a quick sugar fix? Let us know in the comments here or on the PA Eats Facebook page!
Feature photo:

Normandy Farm