There's a growing trend of bars, coffee shops and restaurants ordering custom and/or handmade dishware from artisans, an expensive and risky investment to be sure — do you have any idea how often cups and dishes break in a restaurant? But, for those with the budget, it's a worthy splurge; distinctive dishware sets you apart from the competition. Beautiful food deserves a beautiful plate, and in this era of social media oversharing, providing enticements for a diner to Instagram their food is its own form of free advertising.
Speaking of Instagram, we first came across Teresa Chang Ceramics in an Instagram video post from Chef Anthony Andiario, soon before he and Maria van Schaijik opened their BYOB in West Chester. As we learned during our first visit, Andiario is full of plates, bowls and dishes made by local artisans, including Chang. In fact, as we learned, they're one of the only restaurants to carry her work (because of the cost)! Her beautiful dinnerware, which you can explore via her website or Instagram, is modern and sleek, with a certain lightness, a quality that's not often found in hand-thrown ceramics. And, understandably, the price tag is considerably more than mass-produced dishes.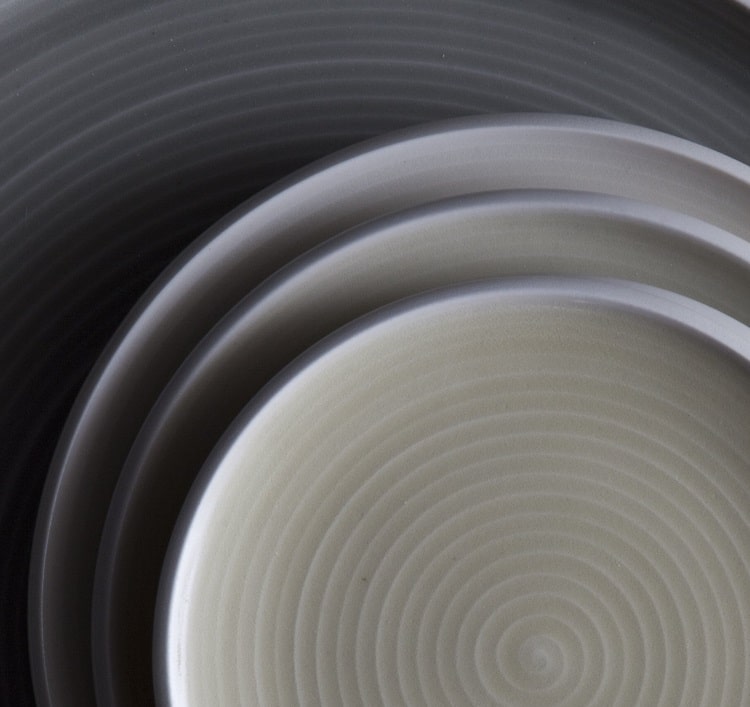 Learning that Chang is based in Philadelphia, we wanted to meet her and learn more about her history, her work and her company. Earlier this spring, she was kind enough to take an hour away from her wheel to share her story:
PA Eats: So, how did Teresa Chang Ceramics get started?
Teresa Chang: I started officially back in 1997. I started just doing local craft fairs when I lived in New York, and I hadn't really meant to make it a profession. I was between degrees, contemplating going back for a second master's [degree], but decided to live a creative lifestyle for awhile. In Brooklyn, I lived in this legal live/work space, and we had all these amazing creative people living there. There was a potter there, and it was by his example that I saw that you could actually make a living doing this.
Another formative experience was when I was between undergrad and grad school, I worked for a woman who had a small business. She showed me that there are many different ways to conceive of a business, and that you can define your own businesses. There isn't really a handbook.
How did you level up from craft fairs to launching the business?
When I first started out selling at craft shows, I was just trying to get my bearings and I quickly got myself into the wholesale market. I was told that was a good step and I got in right away. I found myself right in the thick of it, at the New York International Gift Fair, selling to big markets.

I did wholesale for four or five years and then met my husband and knew I'd be leaving New York and probably starting a family shortly thereafter. I knew I'd need to scale back. That's when I stopped wholesale and launched my retail website. And, since then, since about 2001, it's just been me and a few assistants.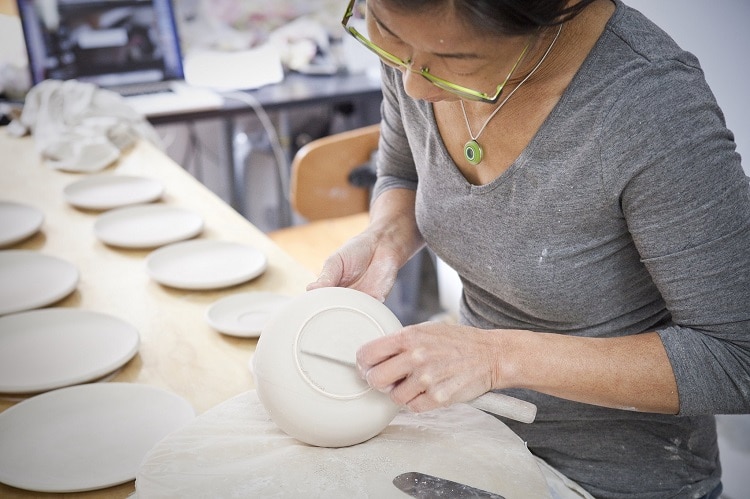 During the wholesale experience I experimented with growing; people said that was the only way to make money. But, I realized I'd have to outsource some of processes, and that would be giving away the part I liked best, actually making the stuff. So, I traded the growing large thing for growing smaller, and charging what I needed to in order to make it sustainable.
Where are you based now? What's your production facility like?
We live in Northern Liberties, and I used to have a separate studio. After our second child came along, I realized that wasn't going to work. With clay, you have to check in on multiple steps of the process, you have to keep a close eye on the clay while it's drying and on the kilns while they're firing.

Our house is one of these 15-foot row houses, but the lot behind it was deeded to us, so in 2008 we actually turned that area into a very small studio, just about 300-square feet. It has an entrance off the back alley so my customers can visit me without having to come through the house. It's ideal — when I'm working I don't have to worry about dishes and things, and when I'm in my house I don't have to worry about my work.
You have kids, right? Do they help with your work at all?
My kids are 12 and 14. You would think that if your mom's a potter you'd be in the studio playing with clay all the time, but that's not really how it's worked. When they were really little, they could mess things up really quickly. We had this one great exemplary experience where my kids were being dropped off by another mom and all four kids kind of spilled into my studio. Before I could get up from my wheel one of the girls stepped on something that led to something dropping on the pedal of my wheel that knocked into a shelf of work, and within like two seconds a bunch of stuff was destroyed. It was fine, more just frightening for the kids, but because of that, they know to tread lightly. But, twice a year or so, they like to come help me clean and scrub things down.

https://www.instagram.com/p/8ddge3EKo8/?taken-by=teresachangceramics
How do you define your aesthetic? Has that changed over time?
Back in Brooklyn, when I was asking, "What am I interested in making?" I puttered around with a little bit of sculptural work, but quickly realized I was only interested in making functional work. I'm an architect by training … I'm not one so much for objects that remain in a display case, I'm a practical person, so functional dinnerware made a lot of sense. It turns out, actually, that as a business it's much easier to sell functional, durable goods than to enter in to the art market. Again, because of my architectural training and my own interests in minimal and elegant structures, that informed how I approached the forms of my pieces.

I think of my things as not having any excess, there's no excess mass that isn't structurally necessary. They're forms that are pared down to a minimal expression of what the forms need to be. It's my aesthetic that things that are pared down are beautiful, I think that's why things in nature are beautiful, they're minimal and structurally sound in their forms.
Can you explain the start-to-finish process of one of your pieces? Do you see the piece in your mind that you want to create, or sort of make it up as you go?
I hand-throw and trim everything on a potter's wheel. This might not be evident, because as far as handcrafted items go, they're pretty uniform and consistent from piece to piece, and tend to be on the delicate, thinner side. People often assume those items are slip-cast. "Pottery" refers to things that are hand-thrown, but I don't call myself a potter, because of its sort of leftover crunchy connotations from the 70s. I call myself a "ceramist" or "ceramacist."

There are moments when I am sort of fooling around and may not have an exact idea of what I want, but you can never sit down at the wheel with the intention of a final product if you don't know what you want to throw before you start. You have to have the right amount of clay, know how large to make the base, when to flare it … there's a lot of different techniques going on, and if you don't know what you're doing, and what order to do them in, it won't turn out how you want.

I have my dinnerware collection that I've been making basically since the get-go with some changes and refinements along the way that I'm kind of committed to making. If you bought something from me 10 years ago and need me to replace something, I can do that.

I also have this parallel body of work, which is whatever I feel like working on … that's more of my creative outlet. Just in this past year or two, I started doing vases. I'd never thrown tall cylinders before, which seems like a basic thing to do, but I never had. That was an outgrowth of making cups. There are so many different things you can make in clay, and I do have this tendency to get an idea and refine, refine, refine. It might even take me a year or two to get to a point where I really like them. After I've nailed it, I get a little bored and move on to something else. Some things I might make just for a little while, and some things I might make for years.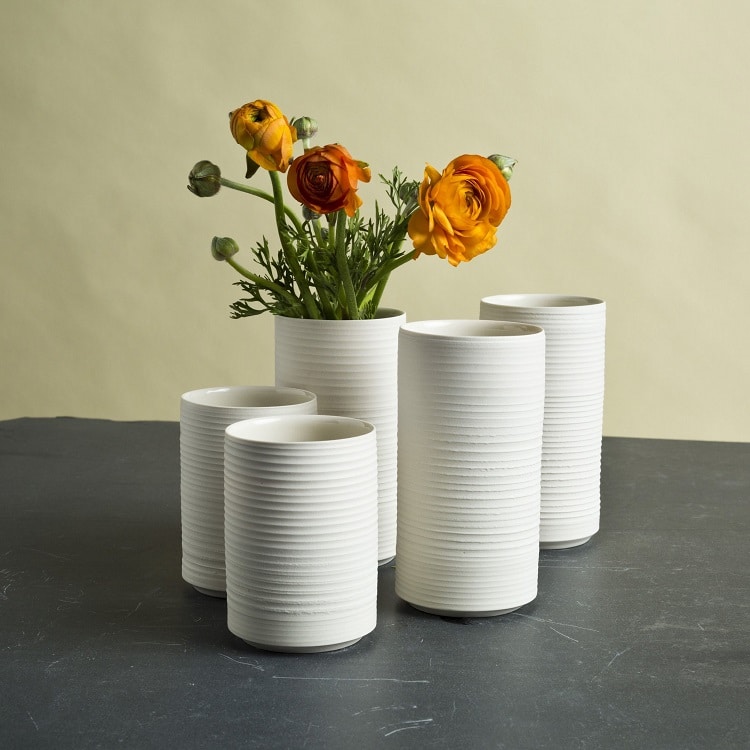 Do you ever think about what happens to your pieces once they've been purchased or gifted? Are there any pieces that you couldn't let go of?
I actually think about that a lot. When I'm making dinnerware orders, which is the bulk of my business, it's lovely because I've met the people, either in person or over the phone, and have gotten to know them a little bit. I'm committed to making a quality product and I want to know that my pieces will perform well under daily use over years, so I check in with my customers periodically, and if they're seeing problems I'll replace things for them. I hate the idea that someone might have a piece at home, see something that's wrong and not call me.

There are a few things scattered in my house that I didn't want to part with. A teapot, for example, that my daughter has claimed because I'm not really making teapots anymore. I spent about 10 years working on teapots, getting a good pour and getting the ergonomics right. And once I nailed two or three designs, I noticed that I was getting board and stopped making them. So, my daughter claimed that one. And 98% of the dishes in my home are my work, but they're seconds — I can't afford my own work! I don't like to toss out seconds that are still functional, a lot of my physical energy and electrical grid energy has gone into making these pieces, and I don't want them to go into the landfill if they're still usable. I also pull them out and have an open studio sale during the

Philadelphia Open Studio Tours

.
Do you see yourself doing this far into the future? Anything you hope to grow into in the next few years?
I don't foresee any significant changes … the only limiting factors I can imagine are my physical health. I'm really fit, but I'm 52. I had this crazy workday the other week and did something to the tendons in my arms. I was cleaning and sanding, and kind of messed things up and that is happening more as I get older. I have to watch it now! I also probably won't do shows forever, they can be so physically demanding, it's like a circus. I can imagine ten years down the line I might not want to be doing that, or order assistants for me. But otherwise, I have a really nice balance right now, the creative outlet, the physical outlet, and the consistent and meditative quality of doing the production work. It may sound boring, but to sit down with all these bags of clay and throw the same piece over and over again, it feels awesome. I almost have to exclaim out loud, "I love throwing!"
Shop Chang's stunning collections at her website and take a peek inside her studio via her Instagram page.
For more stories on local artists and artisans making kitchenware by hand, check out our interviews with Steve Pellegrino of Pellegrino Cutlery and art-driven ceramicists Brian Giniewski and Bridget Briscione.