We're always on the hunt to find the best, locally sourced ingredients for our kitchens and we expect our favorite restaurants to do the same. We cook and puree each of our baby's food by hand, and don't think twice about it. But what about our other family members — you know, the furry ones who happily eat what we put in front of them. Their diets are important too, right?
With the growing number of dogs with food allergies and other health issues, some fur parents are exploring home-cooked, unprocessed diets for their dogs. Although processed foods are convenient and provide a balanced diet at an affordable price, fresh foods are, of course, healthier for dogs and humans, alike.
And while you may not have access to raw bones, salmon skin or spent grain, we know a few pet bakeries that do! Check out a few of our favorite dog treats, handcrafted in Pennsylvania for your furry friends.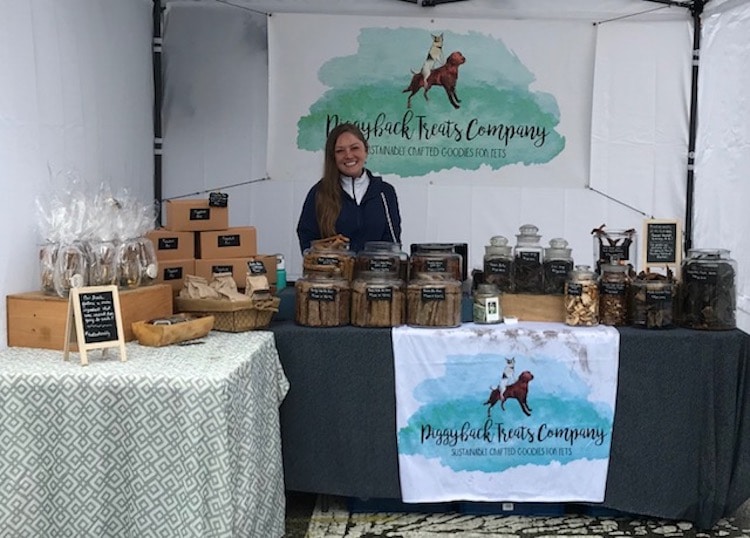 Meet Jennifer Kirby, the chef and owner of Piggyback Treats Company! She and her boyfriend, Christopher Courter, make sustainably crafted goodies for pets with "rescued" unwanted ingredients and usable by-products from local businesses and small farms. These ingredients are turned into healthy treats for pets. Each recipe is developed by Kirby, who is a trained chef, with good pet health in mind. That means no fillers, no preservatives, no colorants or artificial flavorings are ever added.
She runs the entire business out of her home in Chestnut Hill, and she continues to get out in the surrounding communities and to as many events as possible, like flea markets, festivals and farmers markets. Her products are also available at several shops around the city. Some of the most popular treats are the jerkys, which Kirby makes by using by-products from small farms. Heart, tongue and liver jerky are popular for both cats and dogs. And the Bier Bones (peanut butter is the most popular flavor) are made using spent grains from Wissahickon Brewing Company in East Falls. There is also a very popular dehydrated salmon skin treat, which comes from wild-caught salmon in upstate New York. Shop online and make sure you're following Piggyback Treats on Instagram and Facebook to find Piggyback Treats Company at an event near you! (315) 427-8262
In search for healthy treats and snacks for her own dogs, Brooke Faracchio started her research journey looking for fresher products made with local farm-raised beef, chicken, turkey and duck. When she couldn't find anything that fit the bill, she started to design healthy treats for her dogs, and then her friends quickly became interested in treats for their pups, too.
One treat led to another and Canine Acres Bakery & Deli took off! In addition to grain-free treats, bones, jerky and a meaty trail mix, Canine Acres has even come up with a something special for your fur baby's birthday: a cake! The birthday cake bowls sit on a bed of yummy trail mix and are surrounded by beef liver jerky! Stop by the store in Bechtelsville (about 20 miles east of Reading) or shop online! 826 Rt. 100 North, Bechtelsville; (484) 415-5856

This Lancaster Central Market stand started out selling all natural dog bones back in 2006. It now sells gourmet dog and cat treats, long-lasting chews, a wide variety of tasty biscuits, training treats, 100% recyclable toys, and a super-strong organic cat nip. Lancaster Pet Bakery also carries omega-3 and protein-packed products for the meat-loving pet, including salmon, tuna, rabbit, lamb, duck, venison, beef, chicken and bonito fish snacks. For the vegetarian pet (or pet owner) it has peanut butter, carob, veggie, mint and apple cinnamon bones, as well as dried sweet potatoes. Products specifically for puppies, elderly dogs and those with sensitive stomachs, poor dentition and allergies to wheat, corn and soy are also on offer. Stop by the stand and treat yourself and your pet to something yummy! 23 N. Market St., Lancaster; (717) 413-2430
Did you know there's a natural pet store and bakery right in the heart of Philly's East Passyunk neighborhood? At Amelie's Bark Shop, pet-lovers will find a carefully curated line of products with a focus on all-natural, eco-friendly and locally sourced options. Its in-house bakery churns out all-natural dog treats and custom cakes using only the best ingredients. Accessories are handmade with all natural fibers and lots of love, and it also stocks a selection of high-quality products from other brands, including treats, toys, clothing, food, housewares, cat litter and more! Amelie's even carries CBD-infused honey for your pets and for you, if you're into that sort of thing! This pure raw honey also contains propolis, which has excellent anti-inflammatory, antibiotic and antiseptic properties. The cannabinoid and terpene-rich full spectrum hemp has a calming effect. Anxious pup? This might be for you! 1544 E. Passyunk Ave., Philadelphia; (267) 758-6151
When it comes to ingredients, Doggie Delights Bakery believes only the freshest will do for our best friends. The bakery takes pride in using only the finest, freshest, all-natural, human-grade, wholesome ingredients in its homemade treats. It doesn't add salt, sugar or chemical preservatives and absolutely no fillers are in the mix. Its philosophy is that using healthier ingredients means healthier, more energetic dogs. Its location within the West Shore Farmers Market in Lemoyne gives Doggie Delights Bakery access to the freshest ingredients, such as blueberries, carrots, apples, bananas, cranberries, sweet potatoes, pumpkin and eggs, which contain essential vitamins to keep your pup healthy and happy. You can even pick up treats containing carob chips, a healthy and safe alternative to chocolate. Doggie Delights' team mixes each batch of dough by hand, then rolls and cuts it the old-fashioned way. Freshness is guaranteed, as everything is baked in small batches. 900 Market St., Lemoyne; (717) 761-6419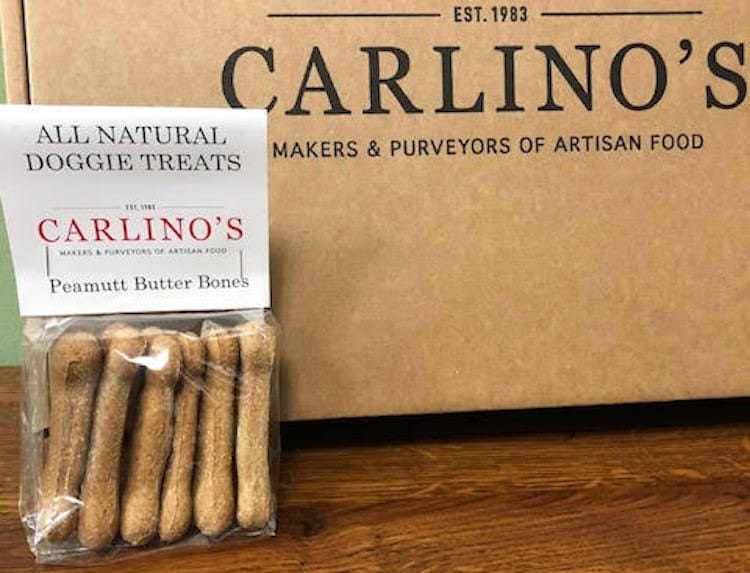 While you're at Carlino's picking up lunch, family dinner or a few specialty groceries, why not grab something for Fido? Handmade in New Cumberland, Pa. specially for Carlino's, the ingredients are simple: wheat flour, peanut butter and water.  And your pup will love them! 2616 E. County Line Rd., Ardmore; (610) 649-4046; 128 W. Market St., West Chester; (610) 696-3788
Where's your go-to spot for handcrafted goodies for your good boy or girl?
Feature Image:

Piggyback Treat Company

Piggyback Treat Company Photo:

Piggyback Treat Company

Lancaster Pet Bakery Photo:

Madeline Rice Brommer

Carlino's Doggie Treats Photo:

Carlino's