Bread, meat and cheese — it's hard to believe that the combination of these simple few ingredients has, for many Pennsylvanians, spawned something akin to an obsession. In Southeastern PA, the hoagie is a way of life.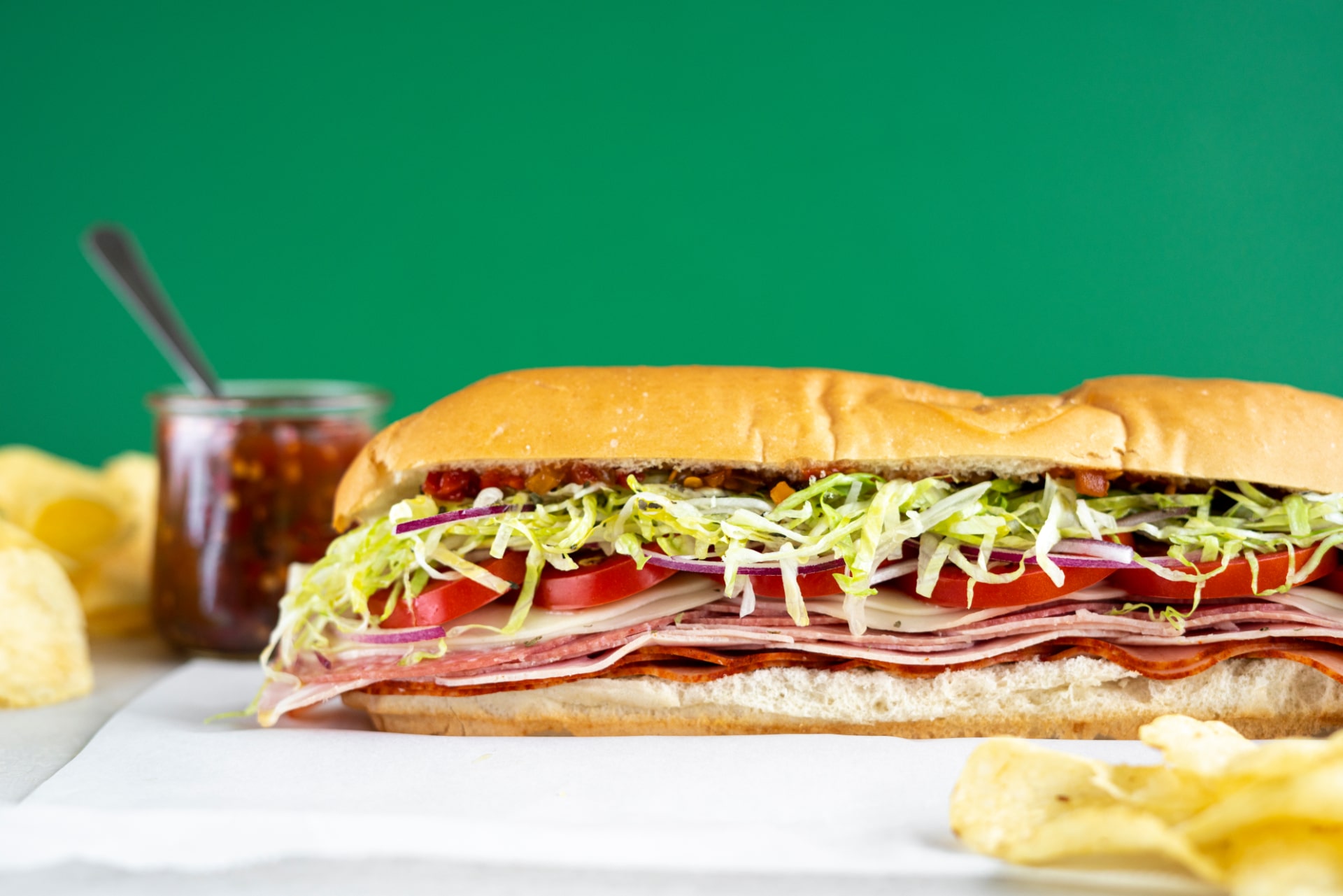 In other parts of the country, a sandwich on a long roll goes by other names: a submarine or sub, a hero, a grinder, etc. But in Philadelphia and the surrounding region, to call this type of sandwich anything besides "hoagie" is sacrilege. In fact, the term itself was coined in Philly. Local historians trace the term back to World War I, when many Italian immigrants worked at the shipyard outside of the city called Hog Island. A common lunch item was a sandwich layered with meat, cheese and lettuce, which became known locally as the Hog Island sandwich. Over time, that was shortened to a nickname, "hoggies," which then, some think due to the Mid-Atlantic accent, transmuted into "hoagie" (which were sometimes written as "hoogie").
There are other theories, too: Some food historians credit street vendors, who in the early 1900s would sell salads, meats, and buns. These "hokey-pokey men" would sometimes create makeshift sandwiches by stuffing the salads and meats into the bread. Others say that in the Italian community in South Philadelphia, the term "on the hoke" was used to refer to someone who was broke. Sometimes, deli owners would take pity on people "on the hoke" and give them free scraps of bread and meat, which were referred to as "hokies." The Italian immigrants' accent changed the pronunciation to "hoagie."
Whichever origin story is true, the fact is that by the mid-1950's, hoagies were ubiquitous in southeastern PA and parts of Pittsburgh. Hoagie shops and delis became cornerstones of nearly every neighborhood, and hoagies became a staple of many Philadelphians' diets. Throughout the second half of the 20th century, the hoagie earned its place among the other iconic sandwiches of the region, like the cheesesteak and the roasted pork sandwich. In 1992, Mayor Ed Rendell even declared the hoagie the "Official Sandwich of Philadelphia." Today, hoagie-love rages strong in our sandwich-loving state, with no end in sight. In this region, you can find hoagies everywhere. There are hundreds of small delis, some of which have been around for decades, new-school sandwich shops and special hoagie pop-ups. Of course, Wawa dominates the mainstream hoagie game.
One current champion of all things hoagie-related is Hoagie Dom, based in Philadelphia. Working anonymously out of his "hoagie dojo," Hoagie Dom is a leading voice in hoagie criticism and appreciation, sharing his opinions, recipes, reviews and hoagie photography through his website and Instagram account. He even co-wrote a children's book called "Baby's First Hoagie."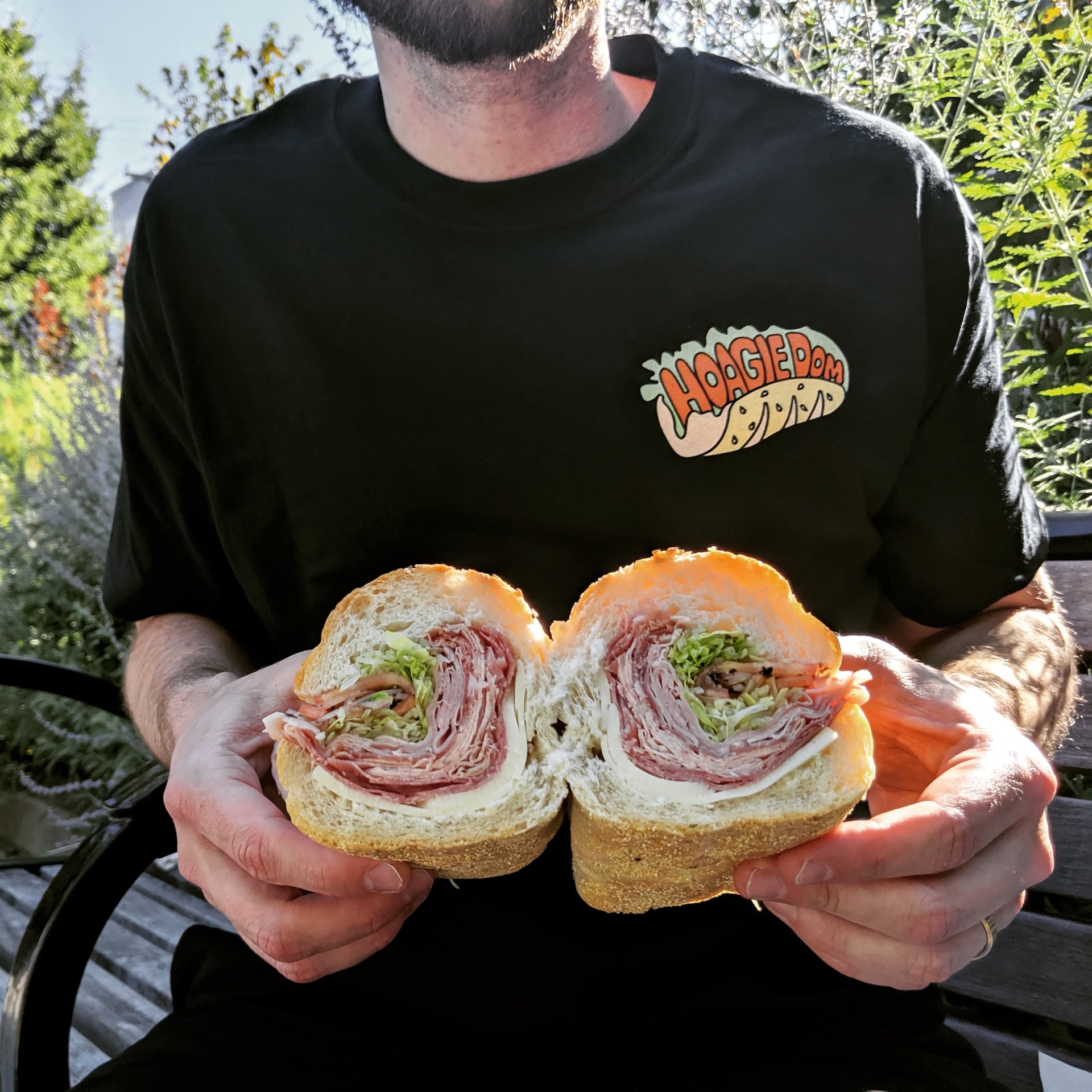 Hoagie Dom has collaborated with Philly-area food businesses on hoagie-related events and projects, like his recent seeded hoagie roll-infused beer with Tired Hands Brewing Co. With all these credentials, he seemed like a good person to weigh in on the topic, as we consider the hoagie's importance in Pennsylvania's food canon.
PA Eats: Hi, Hoagie Dom! Before we get started, how do you like to be referred to? "Food writer"? "Blogger"? Something else?
Hoagie Dom: Typically, just Hoagie Dom, as I believe that gets the point across as to who I am: someone who eats/sleeps/drinks hoagies. But I've also given myself the job title of Hoagie Editor (like a Magazine Editor), as I oversee all matters of hoagie content that goes into Hoagie Dom. I landed on Hoagie Editor when I noticed that Alex Delany's job title at Bon Appetit was the Drinks Editor. I thought that was pretty cool and niche. And it made me think, "I've never seen or heard of a 'Hoagie Editor' before." So the very next day, I promoted myself to Hoagie Editor. 
What drove you to begin reviewing/writing about/developing recipes in the 'hoagiesphere'?
Passion and creativity. Hoagie Dom allows me to channel my creativity into a passion of mine. I have a 9 to 5 day job working at an ad agency, which I love. And I've been doing that for the past 12-plus years.

A lot of my free time in the evening and on weekends gets put into my alter ego, Hoagie Dom. I've always had a passion and interest in food, specifically foods that originate from the Philadelphia region and/or regions in Italy. I acquired the Instagram handle @hoagie_dom a long time ago but I had kept it inactive for many years. Until one day. I had just gotten a massage, my first full body massage actually, so I was in need of replenishment. I stopped by George's Sandwich Shop on 9th Street in the Italian Market and I ordered the PBR (roast pork, broccoli rabe, sharp provolone). I took a picture. And then I decided to post it to @hoagie_dom. And the rest is kind of history, as I've evolved from reviewing sandwiches to developing my own original hoagie recipes.
Where are you from? Were hoagies part of the food landscape as you were growing up?
I was born in Chalfont, Pennsylvania! That's in the suburbs of Philadelphia, in Bucks County, just a chicken cutlet's throw away (about 50 minutes) from Philly. I went to college at Temple University and have lived in this area for my entire life. 

Hoagies have been a big part of who I am, as it is one of our region's specialties. I grew up eating them, from childhood birthday parties to family gatherings to post-game meals. I remember hoagies and tomato pie as being the focal point of the "nice spread" that would get set up on the folding table at any gathering. Every local deli or pizza shop offers a hoagie. Hoagies are as Philadelphian as Broad Street and the Eagles, booing and "Counting the Votes." 
Any formative hoagie memories? Any life-changing hoagie encounters you can share?
Yes. Growing up, I remember riding my bike with friends to the local pizza shop, Spatola's Pizza, and we'd all order hoagies and slices and sodas. We'd just hang out and have a good time and be kids. I also remember coming down to see the Phillies or Sixers and stopping at Sarcone's Deli before the game or Tony Luke's after. In terms of a "life-changing hoagie encounter", it has to be the first time that I unwrapped a hoagie from it's wrapping paper. The aroma that hits you upon unwrapping… ooofff… it is big time nostalgia for me. And every time it happens, I am reborn. Given new life. People who have never had a proper hoagie will never know this smell, this aroma … and I genuinely feel bad for those people.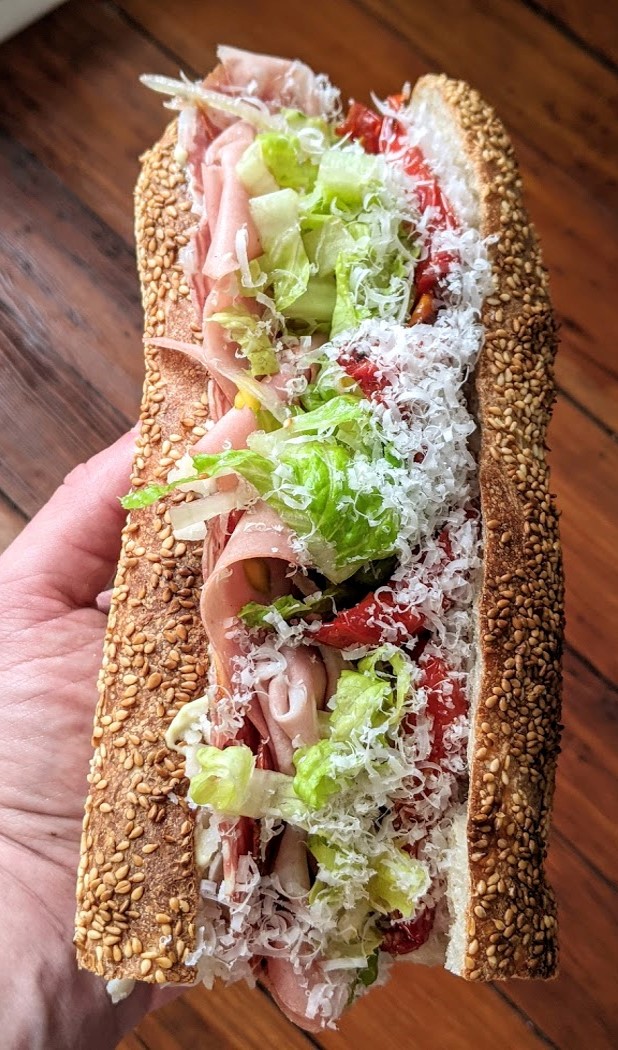 What's your working definition of a hoagie?
I preface this by saying, I am not the authority on this. But I think most Philadelphians would agree that a traditional hoagie is a selection of deli meats and cheese, stuffed into a long roll with proper accoutrements, traditionally shredded iceberg lettuce, tomato, onion, oil and vinegar and hoagie spices. Hot, sweet or roasted red peppers can be added or provided on the side. The Italian Hoagie is the most classic form of this, and includes 3 to 4 Italian deli meats and should come with provolone, along with the aforementioned toppings.

The purview of Hoagie Dom extends beyond this definition, as I make chicken cutlet hoagies, roast pork, cheesesteaks, really any of the classics from Philadelphia's Dream Team Sandwich Roster.

To you, what are the MUST HAVE components in a hoagie?
First, you need to have good bread. Without good bread you have a crap sandwich. For a hoagie, a freshly baked sesame seeded hoagie roll is standard. A seeded hoagie roll should be soft and airy on the inside, with a crusty crust on the outside and have just the right amount of chew to it. Thankfully, Philadelphia is home to a number of outstanding bread bakers. I believe that Philadelphia has the best sandwiches because we have the best bread. Our bread bakers set the bar high and everyone cares about the bread.

Beyond the bread, it is customary to use high-quality ingredients, deli meats sliced thin and to order, peppers roasted in house, provolone so sharp that it'll cut you. You get the point. Don't skimp, because the average Philadelphian will know. We have a very high Sandwich IQ. But again, just to reiterate, the bread is what makes a hoagie.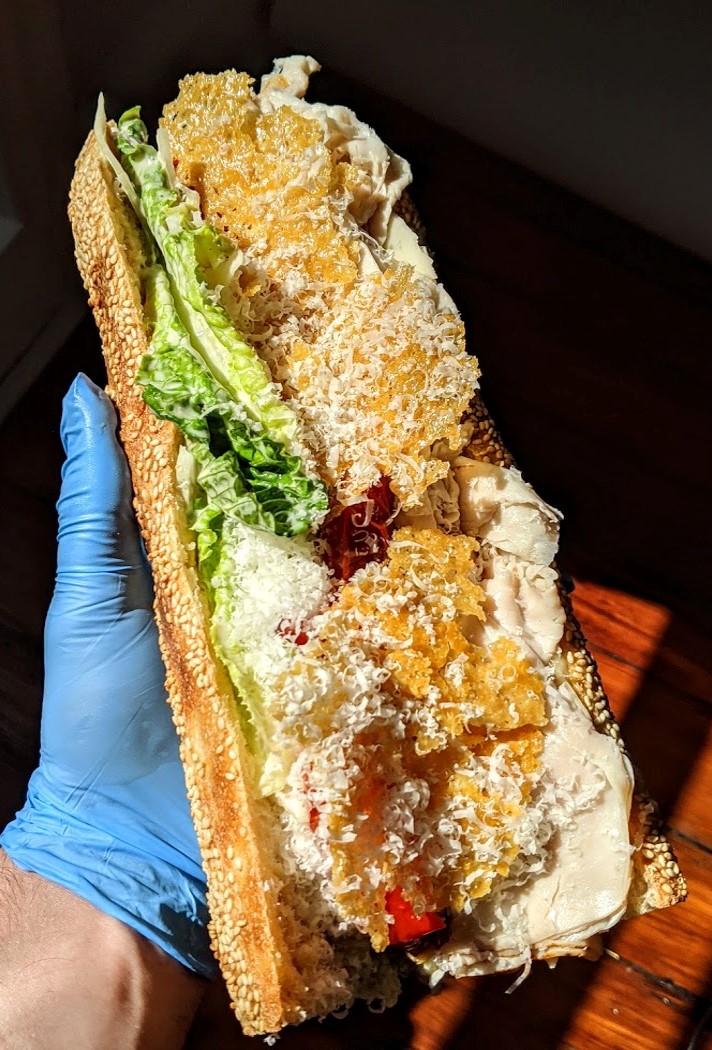 How much leeway do you think can be taken with what's on a hoagie until it doesn't really fit the definition anymore?
Depends on who you ask. But locally, you have two groups of people: "Hoagie Traditionalists" and another group whom I'll refer to as the "New Age Hoagie Eaters." And their differences can be summed up via the disapproval or acceptance of one ingredient: mayonnaise. The Hoagie Traditionalist will ONLY accept the definition that I gave above of bread, meat, cheese, LTO, oil and vinegar and hoagie seasoning. Maybe some long hots or roasted peppers. That's it. If they see mayonnaise, they will walk out. They might accept pesto or a chopped olive spread. But they are very anti-mayo, and adamant that a classic hoagie should never, ever, EVER have mayo. And I see their point, as classically, when the hoagie was invented way back when, it did not include mayo. 

The other group, the New-Age Hoagie Eaters, are a bit more tolerant as to what other ingredients can be included, specifically mayo or a mayo-based spreads. They enjoy and will seek out the more creative, new age hoagies that a lot of shops (including myself) like to make. I'd say I'm more in tune with the New-Age, but I respect the Traditionalist.

I will add that when places start to add pickles or mustard or avocado or other non-traditional ingredients (beyond mayo and beyond classic Italian ingredients), or they toast it like a grinder, then that becomes something else and is borderline a "California Hoagie" or something not from Philadelphia.
Any consistent hoagie favorites in Philly/PA that you want to shout out?
The place that I recommend the most is Angelo's Pizzeria. Everyone knows them by now, but I've been eating at Angelo's since they were in Haddonfield, NJ. Danny (the owner) is someone that I really look up to and admire for the way that he does it. He makes his own bread (which is the best in the world), mozzarella, roasts his own peppers … everything he does is fresh. And that is the reason why he is considered to make the best of any sandwich category in Philadelphia. 

I also love Middle Child and Liberty Kitchen for their new-age approach to making hoagies and sandwiches, as they both often use mayo-based or creative spreads. For more traditional, classic hoagies, I prefer Antonio's Deli and Lil Nicks. These are both as OG South Philly as you can get, and they make a great hoagie.
We know you've got hoagie opinions to share — don't be shy! Do you know where to find the best hoagies and hoagie ingredients? Are you more of a hoagie "Traditionalist" or "New-Age Hoagie Eater"? Chime in through the comments here or on the PA Eats Facebook page!
Feature photo:

Dish Works

Hoagie Fest photo:

Courtesy of Wawa

All other photos:

Courtesy of Hoagie Dom