Pennsylvania is a state of sandwiches, there's no doubt about it. Putting together a comprehensive list of all the extra-delicious ones to try is nothing short of impossible, but there are some sandwiches that are so tied to a specific place or region they have achieved icon status. We're not implying that you won't find these sandwiches elsewhere in the state or the county, but rather that they are so ubiquitous here that a curious eater would be remiss to go a lifetime without trying them.
Are you ready for adventure between two slices of bread? Here are the iconic sandwiches of PA that need to be on your bucket list.
[Ed. note: In our book, tacos and hot dogs don't quality as "sandwiches," but we've still got you covered with our Hot Dog and Taco Bucket Lists.]
Greater Philadelphia
Roast Pork
It's a controversial statement, but the most excellent form of hot meat and cheese sandwich in Philly is not the cheesesteak, but it's the roast pork sandwich. This Italian-American creation typically consists of tender roasted pork piled on a seeded roll, topped with provolone cheese and layered with garlicky broccoli rabe, cooked to the point of melting. The rich saltiness of the pork with the sharpness of the cheese and bitterness of the greens is extraordinary.
Popular spots for roast pork sandwiches in Philly include:
John's Roast Pork: a tiny sandwich spot in deep South Philadelphia with a sandwich counter inside, and a few tables under a covered patio outside. Open for nearly half a century, this place is beloved by locals (and tourists who are in the know). 14 Snyder Ave., Philadelphia; (215) 463-1951.
Tucked into the heart of Reading Terminal Market, Dinic's Roast Pork is one of the highest regarded sandwich spots in the city. A fourth-generation business, the Dinic's team crafts all of its offerings with high-quality ingredients and old-world recipes. Its roast pork sandwich was dubbed "Best Sandwich in America" by the Travel Channel. 51 N. 12th St., Philadelphia; (215) 923-6175.
Philly Cheesesteak
Is any food more synonymous with Philadelphia than the cheesesteak? Whether you love them or can live without them, it can't be argued that cheesesteaks symbolize the city on a level rivaled only by the Liberty Bell and the Philadelphia Phanatic. The variations are practically endless, though for many purists a whiz wit (a cheesesteak with Cheez Whiz and fried onions) is the only way to order.
The rivalry between Pat's King of Steaks and Geno's Steaks holds it own special place in the cannon of Philly-things; these two neon-covered steak joints sit across an angled intersection from each other on East Passyunk Ave. in South Philadelphia. Open 24/7 (and a favorite stop after ball games or beer-fueled outings), each place boasts its superiority over the other, and many visitors make a game of ordering a sandwich from each place and trying them side-by-side. 1237 E. Passyunk Ave., Philadelphia; (215) 468-1546; 1219 S. 9th St., (215) 389-0659.
Plenty of locals pass by the hectic intersection of Pat's and Geno's in favor of Jim's Steaks, another longtime institution, located on bustling South Street (it also has three other locations in the Greater Philadelphia area). The Art Deco interior is a fun throwback to its 1939 origins, and the USDA Choice Top-of-the-Round Angus beef and Amoroso's rolls are, to many aficionados, the hallmark of a true Philly cheesesteak. Fun fact: Jim's will ship its cheesesteaks to anywhere in the U.S.! 400 South St., Philadelphia; (215) 928-1911.
Italian Hoagie
Another sandwich tracing its roots through Italian-American foodways is the Italian hoagie. While credit for this sandwich's invention is given to baker Giovanni Amato in 1903 in Portland, Maine, Philly has since adopted it as one of its favorite lunches. A classic Italian hoagie comes with a trio of cured meats: prosciutto, capicola and salami, with sharp provolone cheese, often dressed with lettuce, tomato, onions and sweet or spicy hot cherry peppers, and either oil or mayo.
You can (almost) literally find an Italian hoagie on every street in and around Philadelphia, but a few fan favorites are:
Cosmi's Deli, a tiny convenience store tucked onto a mostly-residential block of South Philadelphia. Its South Philly Italian Hoagie shines with paper thin ribbons of freshly sliced prosciutto, Di Lusso salami, hot capicola and sharp provolone. You get your choice of hoagie roll or seeded bread, which are always fresh and can hold up to the multitude of fillings inside. 1501 S. 8th St., Philadelphia; (215) 468-6093.
For a gourmet take, check out the Italian hoagie offerings at DiBruno Bros. and Carlino's. Both of these fine-food purveyors have deli cases stocked with incredible imported meats and cheeses, and with family roots going back to the Old Country, you can be sure they're not skimping when it comes to flavor, technique and quality. The Ultimate Italian hoagie at Carlino's is loaded with prosciutto, mortadella, Calabrese hot salami, hot capicola, rosemary ham, aged sharp provolone, lettuce, tomato and Carlino's Extra Virgin Olive Oil; at DiBruno, it's all about aged provolone, sweet soppressata, Genoa salami, capicola, Prosciutto di Parma, lettuce, vine-ripened tomatoes and a blend of Italian spices. You can even buy an Italian Hoagie Kit from DiBruno Bros. to recreate this sandwich masterpiece at home! Find Carlino's locations here; DiBruno Bros. locations here.
It's not every day that a neighborhood bar invents a sandwich that completely takes the world by storm. But that's precisely what happened with The Schmitter at McNally's Tavern, an old-school pub in the Chestnut Hill neighborhood of Philly. This beer-friendly sammie, which was developed by McNally's in the 1960s, features a Conshohocken Bakery kaiser roll stuffed with thin-sliced roast beef, Hatfield salami, Kraft American cheese, sliced tomato, grilled onions, a 1,000-Island-type sauce and Worcestershire sauce. Over the years, it's received tons of media attention, including a copycat recipe printed in Saveur magazine a few years ago and coverage on NPR. Until 2016, it was available at Citizens Bank Park, but was pulled out of concessions offerings due to quality-control concerns. Anyway, the best way to enjoy The Schmitter has always been to make the trek to its birthplace in Chestnut Hill. 8634 Germantown Ave., Philadelphia; (215) 247-9736.
Zeps (Zeppelins)
Norristown, located about 20 miles northwest of Philadelphia, has its own special sandwich with its own name: Zeps. Some speculate that the name is short for "zeppelin" because of the sandwich's shape. While zeps sort of resemble hoagies, they operate with their own rules and logic: only one type of meat (traditionally, thick-sliced cooked salami), provolone, tomatoes, onions, oil and oregano (hot peppers and mayo are acceptable, though optional). Two things are for sure: Meats are not to be mixed, and lettuce is a no-no. The bread is a flat, wide roll from Conshohocken Bakery.
Two notable spots for zeps in Norristown are:
Eve's Lunch, a small, no-frills deli serving up lunchtime classics like cheesesteaks and burgers, though the real stars of the show are undoubtedly the zeps. For 50 years, Eve's has perfected its zep-craft, and offers a variety of options, like a cheese zep, a chicken salad zep and a classic Eve's zep. 320 E. Johnson Hwy., Norristown; (610) 277-6600.
Lou Bondi opened Lou's in 1941 as a convenience shop, and it's been a community institution ever since. Now a full-service sandwich and steak joint, Lou's Steak Shop is known for its zeps, which are available in medium and whole sizes, always on Conshohocken Bakery rolls. Variations include Tuna Zep, Zep Burger, Steak Zep and more. 414 E. Main St., Norristown; (610) 279-5415.
Central PA
Scrapple, Egg and Cheese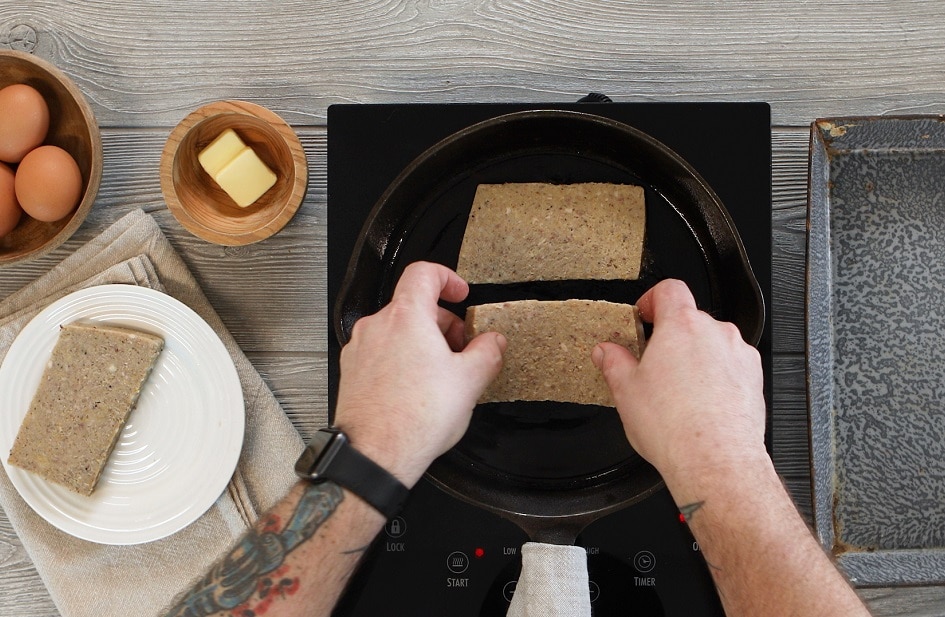 Scrapple, the meat-loaf made from pork scraps, spices, cornmeal or flour, is beloved by some, reviled by others. We're into how resourceful this PA Dutch specialty is — very "snout-to-tail," way before that was a buzzy phrase — and we think it's especially welcome on a breakfast sandwich or platter, snuggled up with fried or scrambled eggs and melty cheese. (For a phenomenal version of this Central PA favorite, check out our first installment PA Kitchen with Chef Josh Fidler). Salty, porky, and for many of us, imbued with nostalgia, scrapple is Central PA, through and through, and you'll find it everywhere throughout the region.
Find scrapple, egg and cheese sandwiches here (among many, many other restaurants and cafes):
Tucked inside Stoltzfus Meats & Deli is Amos' Place, a PA-Dutch eatery offering breakfast and lunch specials. Order up an eggy breakfast sandwich or wrap made with its award-winning scrapple,  and throw in a grilled cinnamon bun on the side, if you're feeling extra hungry. 14 Center St., Intercourse; (717) 768-7287.
At Hometown Kitchen, Amish dishes abound — you can even order an Amish Wedding Meal on Fridays (homemade bread filling with chicken, mashed potatoes, creamed celery and pepper slaw). On the breakfast menu, which is served daily until 11 a.m., scrapple is available on egg and cheese sandwiches served on toast, bagels or in wraps. 18 Furnace Rd., Quarryville; (717) 806-5188.
Cosmos in Williamsport, PA
In Williamsport, PA, there's a sandwich that you'll only find in that particular place: the Cosmo. Basically a toasted hoagie or sub (gotta love some melted cheese with some deli meats), it's believed that the term "Cosmo" originated in the 1950s with Cellini's Subs, currently located in Montoursville, but founded in Williamsport. Legend has it that there was a kid that worked there named Cosmo who always liked his subs toasted. Find them here:
At local favorite, Mileto's Sub Shop, find cosmos with a variety of fillings, ranging from Canadian bacon, The Big "R" (ham, turkey, roast beef and cheese), Lebanon bologna, mixed cheese and meatballs. 2127 W. 4th St., Williamsport; (570) 323-0103.
Newburry Sub Shop is known for A+ cheesesteaks, and its cosmo game is equally strong. There are over a dozen types of cosmos that are available, ranging from vegetarian options to meatier options, like pizza roll up, roast beef, salami and grinder. Pair it with a bag of Middleswarth potato chips, and you've got yourself a square PA-proud meal. 2002 Newberry St., Williamsport; (570) 326-5544.
Pittsburgh
Wholey's, a bustling fish market in Pittsburgh's Strip District, has been in business since 1912, making what many believe to be the best fish sandwich in the city. The standard is the batter-dipped Icelandic cod or whiting on your choice of soft, Mancini or wheat bun; sides of french fries and coleslaw are practically mandatory. The Whaler, a whopping pound of fried whiting, is the sandwich choice for big appetites. 1711 Penn Ave., Pittsburgh; (412) 391-3737.
When Pittsburgh makes a sandwich, it goes big. Chief among those who helped put mile-high two-handers on the map is Primanti Bros., which originated in the Strip District and is now franchised, with locations all over the place. Any filling, from pastrami to kielbasa to a black bean burger, the sandwich comes loaded with french fries, coleslaw, tomatoes and onions (upon request), not on the side, but on the sandwich. Options for cheese, eggs, bacon and double-meat up the ante even farther. How high-crazy can you take it? It's up to you.
What's the iconic PA sandwich you can't live without? Let us know!
Feature & Ultimate Italian hoagie photos:

Carlino's

Scrapple photo:

Dish Works