Bread and cured meats: two food groups that have been simpatico for about as long as humans have been baking with yeast and using salt to preserve animal proteins. They're also the main ingredients for a Western Pennsylvania delicacy known as Pepperoni Rolls, a union of a soft white roll and spicy pepperoni, wherein the oil from the pepperoni gloriously permeates the bread during the baking process. Like most iconic American snacks, pepperoni rolls, which can also be found in West Virginia, western Maryland and parts of Ohio, have working-class roots, tracing their history back to 1927.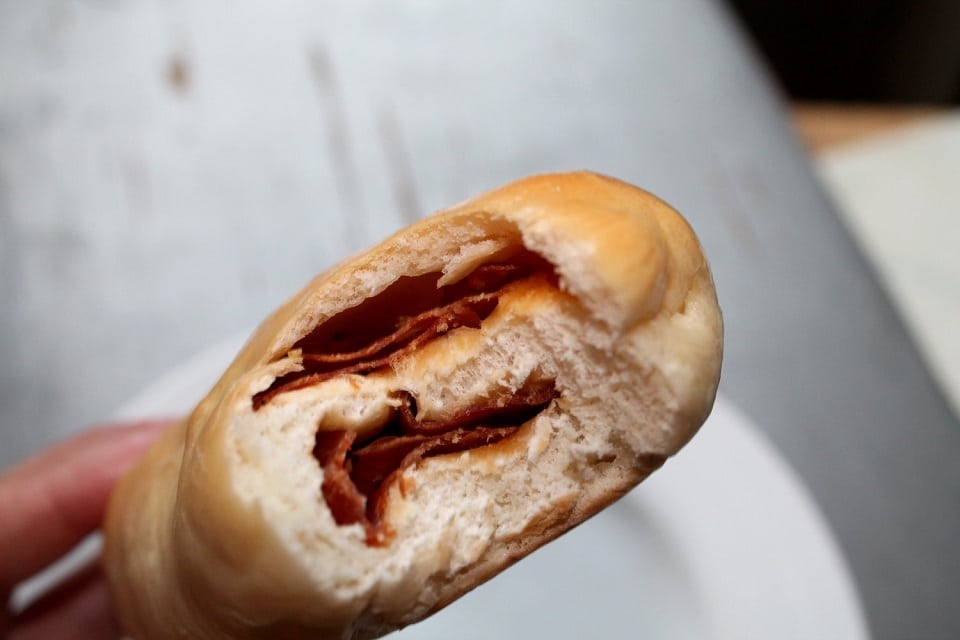 A baker named Giuseppe "Joseph" Argiro, who worked at the Country Club Bakery in Fairmont, West Virginia, developed pepperoni rolls for coal miners to eat for lunch. You see, the primary positive attribute of the rolls — aside from their deliciousness, of course — is that they don't need to be refrigerated, making them a great lunch option for anyone who doesn't have a fridge at work. Which, in the 1920's, was pretty much anyone working in a coal mine.
Today, the convenience factor of pepperoni is still a huge part of their appeal. Throughout Western PA, you'll find them in gas stations and the like, next to other processed grab-and-go foods. And while some versions very much resemble Hot Pockets in terms of appearance and flavor, there are some really good, scratch-made versions out there, too.
Mancini's Bread Co. and Colangelo's Bakery, two well known Italian bakeries in the Strip District in Pittsburgh, are revered for their house-made pillow-y pepperoni rolls. Jimmy & Nino Sunseri Co., also in the Strip District (famous for its sausage sandwiches) offers a few different kinds, like the Atomic Pepperoni Roll with hot peppers, and the Griddled Pepperoni Roll Parmesan, which is a pepperoni roll, sliced and cooked on the flat top, then topped with marinara sauce, fried peppers and onions and a sprinkle of its "famous mystery cheese." At Donatelli's Italian Food Center, which has been in business in Bloomfield for 75 years, pepperoni rolls are made on site and are offered daily, alongside other fresh baked goods, like Italian ring bread and onion rolls. And, though The Pie Place in south Pittsburgh is better known for its sweet treats, like pies, cookies and cakes, it makes excellent pepperoni rolls that are favorites with the locals.
There is also a savory bakery in Pittsburgh devoted not only to the art of the pepperoni roll, but also to connecting cultures by sharing and preserving the Stories of Appalachia: Rolling Pepperoni.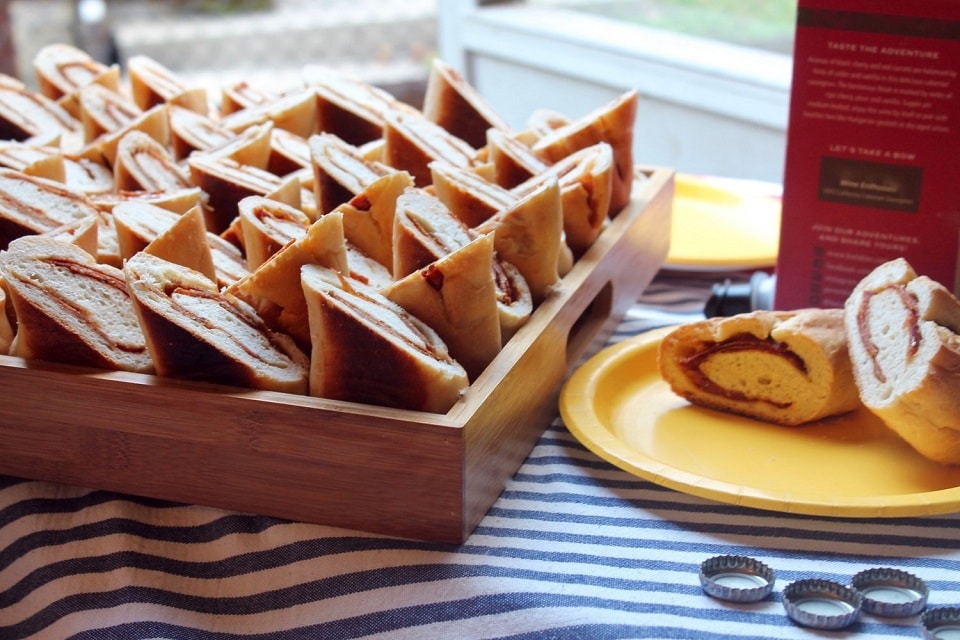 Founded in late 2015 by Katt Schuler, the mission of the company is to, "create a sustainable model for sharing Appalachian stories across the region: Bake and sell delicious, all-natural pepperoni rolls to fuel story sharing of the Appalachian culture that created the pepperoni roll."
With an eye on quality and locally sourced ingredients, like pure Pennsylvania honey in the dough and house-cured, all-natural pork pepperoni (no preservatives, chemicals or nitrates), you wouldn't be remiss to call these artisanal pepperoni rolls. Schuler even makes a vegan roll, stuffed with Oliverio hot peppers, marinated artichokes and thyme.
Schuler says that she decided to apply her baking skills to pepperoni rolls, which she became enamored with in her elementary school cafeteria, simply because, "they make me feel good."
"I love baking, bread and sweets, but the pepperoni's protein and fats balance out the carbs in a pepperoni roll to sustainably energize instead of causing a crash," she says. "I run around constantly, and it's nice to be able to grab something that has very few ingredients yet is full of micronutrients from the handmade bread and cured pepperoni."
Schuler's experience moving from West Virginia to Pittsburgh, and realizing how nuanced the region of Appalachia is, influenced the storytelling aspect of her company.
"There's so much more to Appalachia than we realize, and when I started talking about the region's similarities instead of differences, like-minded individuals joined the conversation," she notes. "Pepperoni rolls created an opportunity to talk about home, the legacy of industries, present disparities and initiatives for our future."
On the stories side of things, the Rolling Pepperoni website acts as a blog to introduce fans to other local folks, like April Graper of Ideal Grain Free Granola, Dr. Lou Martin, professor at Chatham University who is a leader in the field of Appalachian Studies, and Odana Chaney, a poet and sixth-generation Appalachian woman.
She weaves little nods to place and history into the names of her products, such as one of the pepperoni rolls variants, which is called "The Fairmont." Fairmont, as we discussed in the beginning of this story, is the place which is where the first West Virginia coal mine was established and is where the creation of the pepperoni roll is attributed.
"When I serve The Fairmont at events in Pennsylvania and Ohio, West Virginians gravitate towards me like, 'Hey! You're my people!' Pepperoni rolls are my thing because they represent a keystone of Appalachia's history and bring all my friends to the figurative lunch table to share their stories of our shared history."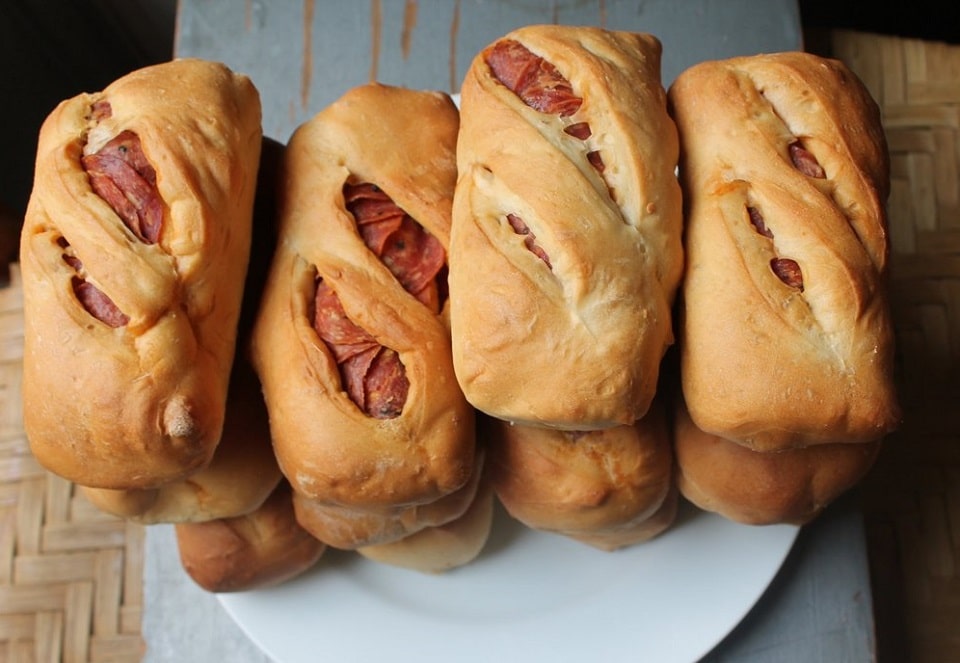 Schuler acknowledges that sometimes, pepperoni rolls get a bad rap, which she partially attributes to the fact that the salami baked in is often sub-par. Part of her mission to create a wholesome version, is making her own pepperoni, with the help of Parma Sausage.
"Even fine pepperonis use liquid smoke, liquid spices, nonfood stuffs and ingredients with too many X's and Y's. Most pepperoni rolls have bottoms sodden with an electric orange grease — that's the nonfood items and dyes oiling out," she notes. "Rolling Pepperoni's Signature Pork Pepperoni is pork, cracked black pepper, mixed red pepper, fennel, garlic, paprika and salt.  Our rolls have greasy bottoms that are transparent in color because the fat that marbles our pepperoni is colorless."
The other part of pepperoni rolls' reputation, she asserts, is classism.
"People hear pepperoni roll and they hear 'back-woods garbage', but we're changing that and witnessing a new appreciation of culture at this very moment," Schuler says. "Handmade bread and cured meat is such a wonderful form of energy and, ironically, comes from a history of energy extraction. It's a weird, beautiful cyclical story and Rolling Pepperoni strives to keep the cycle rolling while pushing it to be the best it can be."
To learn more about Rolling Pepperoni, or to order online (including nationwide shipping!) visit its website. Keep up with Schuler's adventures in pepperoni rolls and storytelling by following along on Instagram.
What are your thoughts on pepperoni rolls as a Western PA food icon? Do you have a favorite? Join in the conversation in the comments here or on the PA Eats Facebook page!
Find Rolling Pepperoni at 6140 Butler St. in Pittsburgh; phone: (412) 929-0235.
Photos:

Rolling Pepperoni