Hot dogs are wired to the American consciousness. Whether grabbed from a cart on a busy city street corner, ordered up at a ball game, scarfed after a day at the pool or the beach, or fully loaded with creative toppings from a new-school hot dog joint or gastropub, there are just as many scenarios in which we love to eat franks as there are types to be enjoyed. In the culinary world, an endless debate rages on about whether hot dogs are technically sandwiches (we say, nope), but it can't be denied that there is a similar satisfaction between the two. There's the perfect union of bread, meat and toppings in their many combinations, the fact that they're easily handheld and portable, and the nearly universal popularity of both.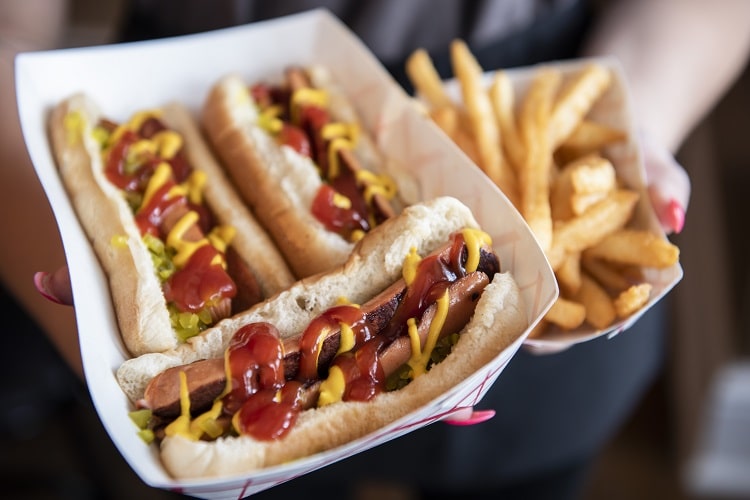 The point is: Hot dogs are awesome, everyone loves them, and whether you're a hardcore vegan or omnivorous, there are umpteen places in Pennsylvania to get an insanely good dog. All across the state, we've found charmingly low-fi roadside shacks, hip bars and mom-and-pop sandwich shops, alike, all slinging superb versions of this all-American classic. Are you ready to go on a hot dog journey? Good, because here it is: The Pennsylvania Hot Dog Bucket List.
Northeastern PA
For an old-school hot dog experience in Scranton, look no further than Coney Island Lunch, where it's all about Texas wieners, which are a bit different than your standard hot dog. Using a 93-year-old recipe, Coney Island Lunch makes its hot dogs with a Berks All-Beef wiener on a National Bakery roll, topped with Düsseldorf mustard, fresh diced onions and its famous chili sauce (which is also available for sale by the pint or quart). Though not quite traditional, you can also top yours with cheddar cheese sauce, sweet relish and sauerkraut. Beloved in the region, this lunch counter's Texas Wiener was named "Third-Best in the USA" by Fox News and ranked on the Daily Meal's list of the 35 Best Hot Dogs in America. 515 Lackawanna Ave., Scranton; (570) 961-9004.
With four locations in the Wilkes-Barre area, Abe's Hot Dogs has been serving the community since 1924 (!). The doggies here are straight up, no-nonsense, nothing fancy — just what the classic hot dog seeker desires. Try one with everything (mustard, onions and Abe's Sauce), or with other condiments like relish, sauerkraut, cheese and Texas Meat Sauce. Bonus: No dog on the menu tops out over $1.85. 210 Barney St., Wilkes-Barre; (570) 825-9213; 419 Main St., Wilkes-Barre; (570) 824-8222; 780 Wyoming Ave., Kingston; (570) 288-9131; 315 S. Mountain Blvd., Mountain Top; (570) 474-0388
Paulie's Hot Dogs in Honesdale is a family-friendly joint, with a menu packed full of state-fair-type foods (think: disco fries, funnel cake and deep-fried Oreos). True to its name, you'll find tons of hot dogs (16 varieties in all!) at Paulie's, too. There are a few kinds of franks to choose from: a grilled or deep-fried Hatfields or a boiled Sabrett (New York-style). Choose from toppings galore, like hot sauce, blue cheese and celery on the Hot Wing Dog, or cheddar sauce, bacon and ranch on the Montana Dog. 403 Park St., Honesdale; (570) 253-1998.
D.W. Dawgs in East Stroudsburg is a great stop for no fuss, no muss hot dogs (or "dawgs," if you must). Using 100% beef natural casing hot dogs, this local favorite offers a few cool flavor combos on its menu, in addition to its Naked Dawg and Chili Dog: The Italian Dog is two hot dogs on a hoagie roll with onions, peppers and potatoes; The Nacho Dawg combines spicy mustard, chili, hand-crushed nachos, cheese and jalapenos as toppings. 35 Crystal St., East Stroudsburg; (646) 573-4282.
Lehigh Valley
Just blocks from the Santander Arena, find Forest Inn, a comfy little joint that's been perfecting its dive bar vibes since 1955. With a slogan like, "If you've tried all the phonies, come try the BEST Coneys," you can expect there will be hot dogs on offer. And there are! There are three very much non-fancy, but very appealing options: Original Coney Island (mustard, onions and chili), a cheese dog and a kraut dog. All pair exceptionally well with ice cold beer. 904 Penn St., Suite 1, Reading; (610) 372-4421.
If you crave New York-style hot dogs, Santoro's Franks and Chili is your spot. Owners Russell and Annamarie Snow, who founded Santoro's in 2016, set out to make a "a stationary version of the typical NY Hot Dog cart." They use Sabrett All-Beef natural casing hot dogs (the same ones used by street-corner hot dog carts of New York City), with a wide assortment of condiments, including mustard, ketchup, sauerkraut, pickles, sriracha mayo, bacon (and seitan bacon!), house-made chili and vegan chili; hot dog buns are delivered fresh daily by Lusitania Bakery of Bethlehem. Vegans, rejoice! Santoro's offers all of its hot dog combos made with 100% plant-based Field Roast sausages. The buns are vegan, too! Try the New Yorker (mustard and onion sauce), the Dutchy (sauerkraut, onions and mustard) and specials, like the Tripe Pickle Dog (dill pickle spear, bread and butter pickles, pickled onions and dill pickle mustard). 432 W. Broad St., Bethlehem; (610) 867-3000.
Across the Lehigh Valley, you'll find a lot of hot dog joints, but the self-proclaimed king among them is Yocco's Hot Dogs (who you may remember from our PA Cheesesteak Bucket List). With six locations throughout the area, this place is legendary for dang good dogs. Its hot dogs are a blend of beef, pork and special spices, cooked "well-done" for extra caramelized flavors. Try an original, cheese or bacon dog, or choose from the long list of toppings, like mushrooms, stewed onions and Yocco's Famous Chili Sauce. Multiple locations.
Southeastern PA
Lenny's Hot Dogs was once a small chain of local hot dog joints, mostly concentrated in Philly's Northeast. Throughout the decades, most have shuttered, but the one in Feasterville-Trevose hangs on. While you can get your fair share of dressed up dogs there — including locally-inspired varieties like the Bucks County Dog (mustard, cheese and pepper hash, Lenny's tasty take on relish) and the Flyers Dog (ketchup and fried onions), regulars know what to do: Order the Combo, an all-beef hot dog and fish cake blissfully snuggled up in a roll together. 606 W. Street Rd., Feasterville-Trevose; (215) 355-7616.
In the little borough of Manayunk, situated to the northwest of Philadelphia, there's a bar called Lucky's Last Chance, which is beloved for its hot dogs. There's a second, newer location in Philly's Queen Village neighborhood, too! Using high-quality local natural casing dogs and butter-toasted New England style hot dog rolls, these are gourmet franks at their finest. Styles include the Scorpion Dog with mac & cheese with diced jalapenos, the Deadwood, topped with crispy bacon, American cheese, raw onions and barbecue sauce, and the 1Up Dog with provolone, sauteed mushrooms, onions and a house-made garlic aioli. 4421 Main St., Philadelphia; (215) 509-6005; 848 South 2nd St., Philadelphia; (267) 519-2080.
We couldn't put this list together without including at least one corn dog. Find this carnival treat done superbly well at Fox & Sons, a stall in the Reading Terminal Market. Beside the hot dogs (choose from spicy pork, all beef, pork and beef, turkey or vegan), everything at this chef-driven stand is scratch-made and, believe it or not, gluten-free! Try the classic battered corn dog, or make it fancy with sweet potato batter or toppings (we love the cheddar jalapeno). Do yourself a favor and get an order of the deep-fried cheese curds while you're there. 51 N. 12th St., Philadelphia; (215) 372-7935.
Looking for hot dogs in Delco? Stop by LP's Burgers and More (formerly Wimpy's Original) in Media, a mom-and-pop fast-food joint tucked into the ground floor of a house. Sure, it's known more for its award-winning burgers, but LP's hot dogs hold their own. Each "regular" dog is a quarter-pound all-beef dog, ready to be jazzed up with cheese sauce, bacon or chili, or enjoyed in its purest state. 1015 N. Providence Rd., Media; (610) 565-3910.
Sometimes, less is more. Wally's Wiener World (A+ for the spectacular name) is a hot dog cart in downtown West Chester that's been owned by Scott "Wally" Vassil since 1985. A favorite lunchtime spot among the locals, this is one of those small-town gems thats become so woven into the fabric of the place, you can't imagine the street without it. Wally's World is all about all-beef wieners and classic toppings: chili, cheese, kraut and onions. Mild and spicy sausage sandwiches are on deck, too. 1 S. High St., West Chester; no phone.
Another West Chester institution is Jimmy John's Pipin' Hot Sandwiches. As its sign so proudly states, it's been "Famous for frankfurters since 1940," and was currently made re-famous after an appearance on The Food Network's Best Of: Roadside Stands. An abbreviated menu offers all killer, no filler. Opt for a Special Frank, or try the homemade franks and beans soup. Bonus: There's a large electric train display in the middle of the restaurant that kids go nuts for. 1507 Wilmington Pike, West Chester; (610) 459-3083.
South Central PA
The Dog House in Reading comes in a valiant second place on our list when it comes to the sheer quantity of hot dog varieties. Want a hot dog topped with scrapple or pork roll? It's got that. How about a Cubano dog with ham, swiss cheese, spicy mustard and pickles? For sure. A BLT dog? Yup. We could continue, but we'll stop there — you'll have to stop by to see what else is on this impressive menu. 1216 Lancaster Ave., Reading; (610) 775-1763.
Across the Susquehanna from downtown Harrisburg in Wormleysburg is the cutest little hot dog stand we ever did see: Dewz Famous Dogs. Only open seasonally, its seasonal dogs are well-crafted with fresh ingredients. Standout options are the Dagwood, a deli dog smothered with pulled pork barbecue and bacon, and the Rutt, a deep-fried deli dog with mustard, onion and relish. 900 N. Front St., Wormleysburg; (717) 226-3154.
Hot dogs and beer aren't just for the ballpark. Why not indulge in this most wonderful of combinations with some well-made craft beer? At Mad Chef Craft Brewing, you can pair an F-18 West Coast IPA, Good Good Pils or another of this brewery's fine draft beers with one of Hippey's All-Beef Franks. You could order a plain dog, but that beer would pop so much more against a Chili Dog with Colorado green chili, queso fresco and tortilla strips, or a German Dog with sauerkraut, bacon and Düsseldorf mustard. 2023 Miller Rd., East Petersburg; (717) 690-2655.
The original location of the beloved Famous Hot Weiner, has been operating out of the same spot continuously since 1928 in Hanover! Its wieners are consistently voted best in York County by various newspaper and magazine awards. Make like a local and order a Famous Hot Weiner with "everything" (that's mustard, Famous Recipe Chili Sauce and chopped onions), and a side order of Famous Golden Fries. Around at breakfast? Check out the Famous wiener and egg sandwich for a real eye-opener — you can also order a wiener as a "side" of breakfast meat with your hot cakes. This place gets it. 101 Broadway,
Hanover; (717) 637-1282; 160 Dart Dr., Hanover; (717) 632-2424; 2179 York Crossing Dr., York; (717) 430-4949.
Awash in authentic retro glory, Ernie's Texas Lunch in Gettysburg is like stepping into a time warp. The lunch counter, which was founded in 1921 and has moved locations and changed hands a few times in the century since, has a menu stacked with diner classics, from breakfast through dinner. But, at least once, be sure to order a signature Texas wiener, with mustard, homemade chili sauce and onions. 58 Chambersburg St., Gettysburg; (717) 334-1970.
North Central PA
Established in 2016, Sauly Boy's in State College has a gourmet take on hot dogs (burgers, too) in terms of high-quality, well-prepared ingredients, though its actual dogs are pretty straightforward. All-beef hot dogs hit the grill and can be topped with diced onions and relish, classic or beer cheese sauce, house sauerkraut, chili or some combo of the aforementioned. Pair your dog with a cookies-and-cream or espresso milkshake and you won't be disappointed. 124 S. Allen St., State College; (814) 234-8700.
Williamsport's gourmet hot dog joint, Derone's Dynamite Dogs, gets inventive on its menu with flavor combos you're not likely to see in more traditional hot dogs stands. For instance, there's a Hawaiian dog with house-made pineapple salsa and honey mustard, and seasonal specials, like the Thanksgiving Dog in November (turkey dog, mashed potatoes, corn, stuffing and turkey gravy), are frequently in the rotation. There's a tempeh dog for vegetarians, a dessert dog and a special Australian Wagyu Hotdog upgrade for when you're feeling fancy. 100 W. 3rd St., Williamsport; (570) 360-9386.
For 65 years, The Squeeze In in Sunbury has been making good on its slogan "Great dogs in a tiny place." It truly is tiny — so much in fact, that it holds a Guinness Book World record for being one of the smallest restaurants in the country. Its faded orange lunch counter holds special memories for many locals residents, including Sunbury ex-Councilman Robert Snyder Jr., who purchased The Squeeze In in 2009. Classics mostly reign on the menu, though the signature Squeeze Dog is one-of-a-kind: mustard, ketchup, relish, onion, sweet and hot chili, sauerkraut and baked beans. 448 Market St., Sunbury; (570) 863-2117.
Western PA
There seem to be a lot of hot dogs per capita in the small, northwestern town of New Castle, PA (in fact, some call it "The Hot Dog Capital of the World"). One of the local favorites is M+P Coney Island, which was started in 1923 by two teenage immigrants from Greece, John Mitsos and George Papazickos. Their thing was Greek-style hot dogs topped with their own secret chili sauce, which is made from 15 secret ingredients and takes 24 hours to make. You can even buy its jarred spicy seasoning mix and pints of its famous chili to attempt to replicate its famous hot dog at home. 2712 Wilmington Rd., New Castle; (724) 654-4522; 9 E. Washington St., New Castle; (724) 654-6761.
Original Hot Dog Shop in Oakland was started by Syd and Moe Simon in 1960, and has sported a number of catchy names, such as: "House of Beef" and "Franks & Burgers." The owners finally landed on "The Original Hot Dog Shop" and stuck! This neighborhood institution has been featured on The Food Network's Unwrapped, and the PBS special, A Hot Dog Program. The hot dogs stick to the classics, but the craft beer selection on site is very 21st Century. 3901 Forbes Ave., Pittsburgh; (412) 621-7388.
For a decidedly new-wave take on hot dogs in Pittsburgh, Franktuary is the place. Many of its varieties aren't too out there; you can get a Texan or Chicago dog. But, where else are you going to find a Pittsburgh dog, topped with a deep-fried pierogie (naturally), slaw and house mustard, or a Reykjavik, with remoulade, ketchup, yellow mustard and fried onion on a potato roll. Coming in with a crew? If you dare, order The Colossus: A Flaming Volcano of Frankfurters (yes, this is a real thing).  3810 Butler St., Pittsburgh; (412) 586-7224.
Lucky Louie's Beers and Wieners in Erie wins our list, hands down, for the most varieties of hot dogs on its menu! Dream up the weirdest, wildest toppings or combos you can, and we'd bet Lucky Louie's has already beaten you to the punch. When it tops one of its Smith's natural casing wieners (or vegetarian Smart Dog), it goes big. There's The Yinzer, with Smith's andouille sausage, pierogies, kraut, French-fried onions, melted cheddar, chipotle seasoning, stadium mustard and sour cream; The Yankee Dog with mustard and kraut on a pretzel bun; the Wieners Rancheros with chili, shredded cheddar and mozzarella, jalapeños, a fried egg, chipotle seasoning, bacon and sour cream; and so many others. If you dare, there is also something on the menu called The Moby Dick: Smith's 2-pound garlic ring bologna, pierogies, Greek sauce, kraut, chili, cheese, grilled onion, bacon, fried eggs, cream cheese, ketchup, Frank's Extra Hot sauce, AKA literally everything. Order this monster, and a commemorative T-shirt is included. 8238 Perry Highway, Erie; (814) 314-9481.
Ready for a hot dog or three? We sure are! And, hey, if we missed your hometown favorite, please let us know! We'd love to learn about more hot dog hidden gems across Pennsylvania.
Feature photo:

Ed Williams