We've never met a taco we didn't like. Honestly, even a mediocre taco is still worth eating (especially if it's smothered in salsa and guac). But a great taco — whether it's authentic street-style with meat and a sprinkle of onions and cilantro on a corn tortilla, or a newfangled situation with a pile of toppings and unexpected ingredients — now that, that is something that makes the world seem like a shinier, happier place.
From late-night or lunchtime taco trucks, to sleek, hip Mexican restaurants — and literally everything in between — nearly every community in Pennsylvania is blessed with a wealth of tasty tacos. So, next time that must-have-taco feeling strikes, scooch right on past that fast-food drive-through, and treat yourself to a locally made taco from one of the state's many fine establishments.
Northeastern PA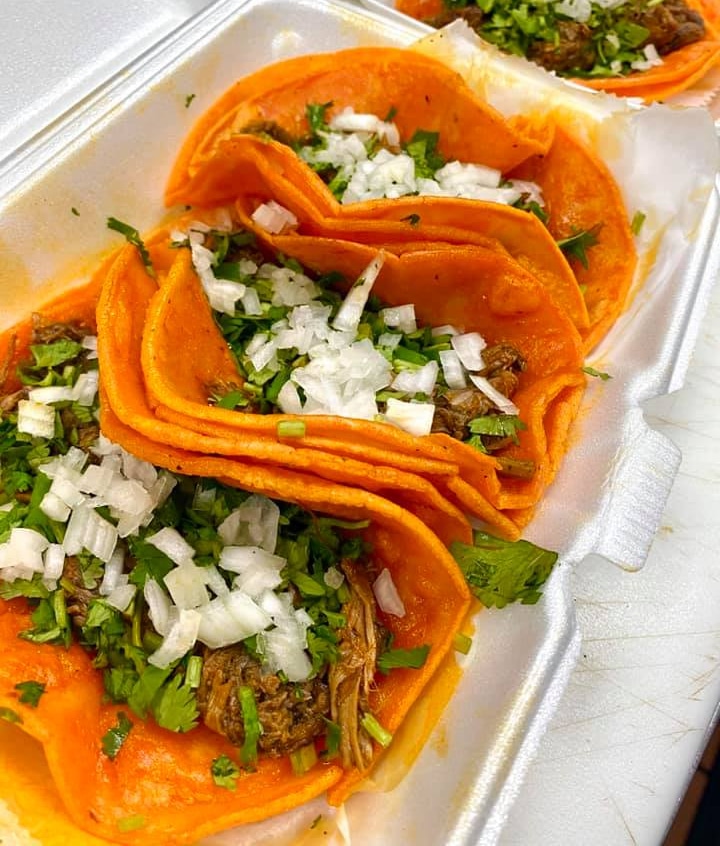 At Tacos El Torito Blanco, choose from a list of classic taco fillings, both meaty (carnitas, cesina, lengua, etc.) and vegetarian, or try the super-savory birria tacos with broth for dipping. There's plenty more to dig into on the menu; think quesadillas on handmade flour tortillas, tortas and tlacoyos (deep-fried, thick corn tortillas stuffed with fillings). The festive interior is decorated with a painted mural, casual tables and brightly painted walls. If you're thirsty, try the homemade agua frescas, in traditional flavors like horchata and tamarindo. 600 Carey Ave., Wilkes-Barre; (570) 690-6930.
If you love tacos and a great deal, head to Fiesta On Main in Honesdale for Two-for Tuesday, every Tuesday night starting at 4 p.m. You can get an appetizer, like cheese nachos or taquitos, and two entrees (hello, Tacos Americanos) for just $25.95. Other nights, the menu has plenty more tacos to enjoy; we're digging the Tacos de Alambres, with grilled steak, poblano peppers, onions, cheese and cilantro on soft flour tortillas. 1139 Main St., Honesdale; (570) 352-3700.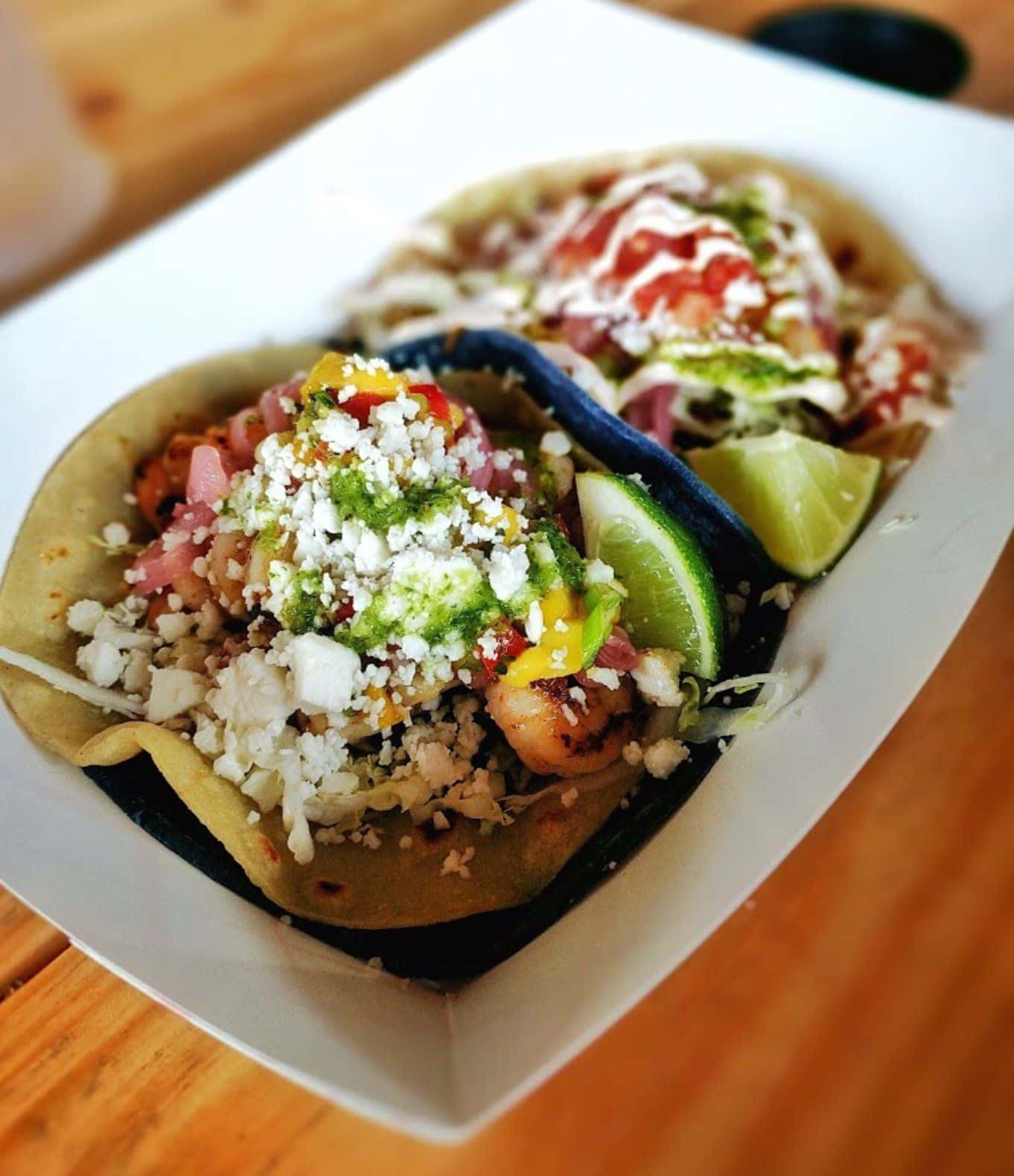 Zack's Taco Shack has been supplying locals and Poconos tourists since 2016, with made-to-order, fresh, inspired tacos. This charming, unfussy structure (yes, it's actually a shack) and its cute outdoor patio are perpetually packed with taco-lovers of all stripes. When it comes to toppings, Zack's doesn't skimp; each of its standard tacos comes with queso fresco, shredded Nappa cabbage, pickled red onions and smoked cayenne sour cream, cilantro and a lime wedge. The standard fillings are pork carne asada, slow-braised chicken, or vegetarian three bean. Shrimp, beef and fish tacos rotate through as specials. Heads up: Zack's is closed on Wednesdays. 145 Camelback Rd., Tannersville; (570) 664-8282.
Lehigh Valley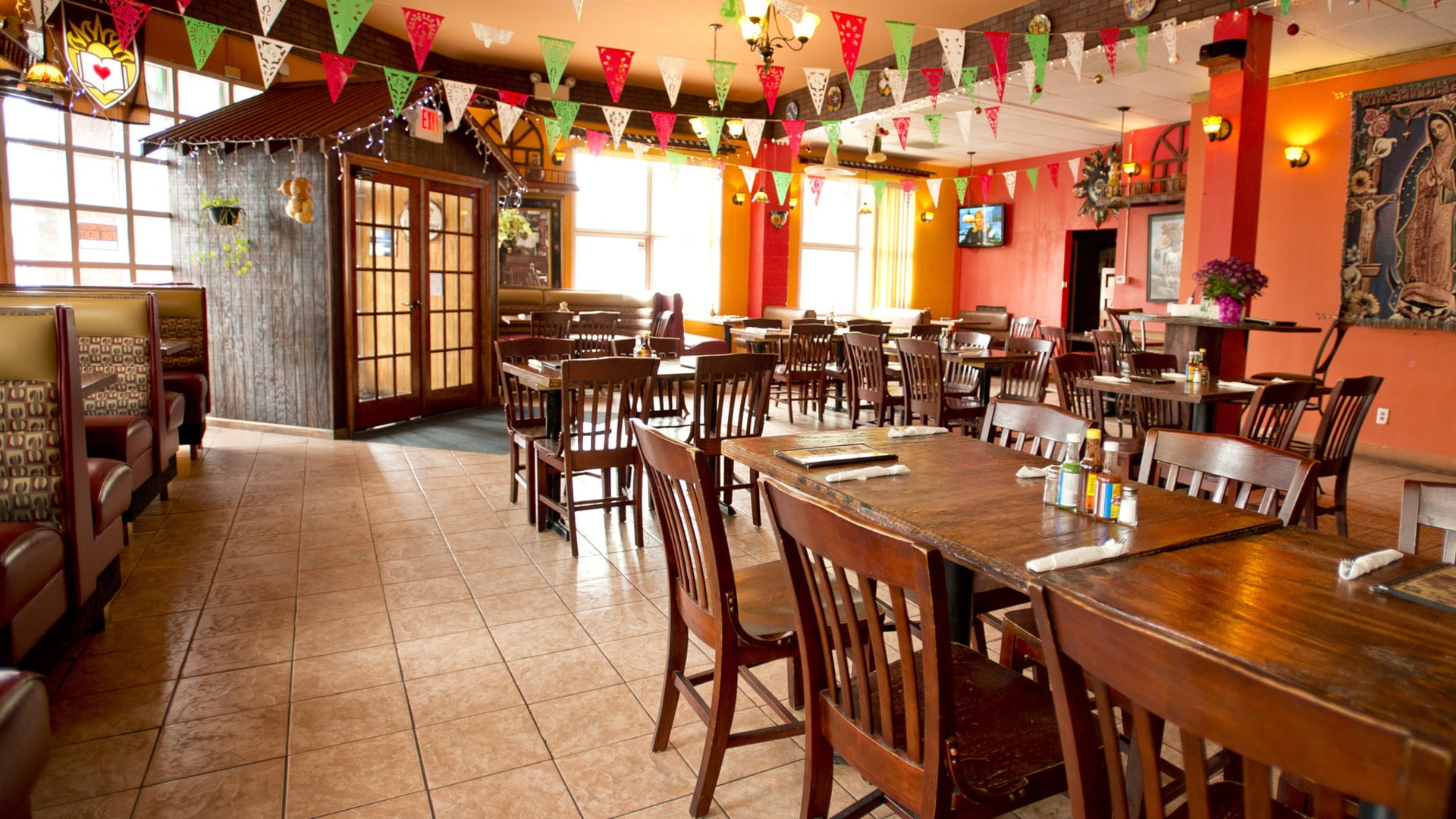 Tasty, affordable Mexican food is the name of the game at La Lupita in Bethlehem. The interior is bright and cheerful, often crowded and lively at night (it is a favorite among local students). The BYOB policy is a fun draw for those who enjoy a cold beer or bottle of wine with their food. Tacos are served street-style (corn tortillas, cilantro and onions), but if you're in the mood for a heftier portion, try a House Mix platter (a chicken enchilada, tamale and beef taco) or a Yucatan platter (chicken flautas, cheese quesadilla and a crunchy-shelled Taco Supreme). 4 W. 4th St., Bethlehem; (610) 868-5733.
Since 2004, Cactus Blue has been dishing up authentic dishes native to Puebla, Mexico, with a focus on fresh ingredients. With frequent "Best of" nods from local publications, like Lehigh Valley Style, Lehigh Valley Magazine and The Morning Call, Cactus Blue gets consistently positive reviews from its loyal customers and visitors, alike. Order your tacos "Blue," "Baja" or "Fest" style; Blue gets you three corn or flour tortillas filled with lettuce, guacamole, fresh cilantro and cheese. Baja is three corn or flour tortillas filled with red cabbage, a creamy Baja sauce and cheese. Fest comes with lettuce, queso fresco, pico de gallo and sour cream. Protein options include veggie, pork, chicken, beef, steak, fish or shrimp. BYO tequila to spike a glass or pitcher of the house-made frozen margaritas for an extra treat. 4030 Chestnut St., Emmaus; (610) 814-3000.
From the outside, La Placita might just look like a small corner Mexican grocer. But rewards await those who venture inside: a tiny little cafe serving up super-legit Mexican fare. There are plenty of great tacos to choose from (just $8 for an order of 3), as well as tamales, sopes, soups, burritos and more. There are just a handful of small tables in the back of the space, so this might not be the best place to come with a crowd. It's also worth noting that La Placita is cash only. 158 N. 12th St., Allentown; (610) 821-4549
For a no-fuss, casual breakfast or lunch, stop into Taqueria el Jalapeño in Whitehall. The tacos are priced right at just $2.49 each; choose from a long list of proteins, like al pastor, chicken tinga, Mexican sausage and cow tripe. There are plenty of appetizers, platters, sides and desserts (plus some great kids' options, like mini-quesadillas and a grilled ham and cheese sandwich) to round things out. Delivery is offered in the local vicinity. 1033 N. 6th St. Ext., Whitehall; (610) 351-1867.
Southeastern PA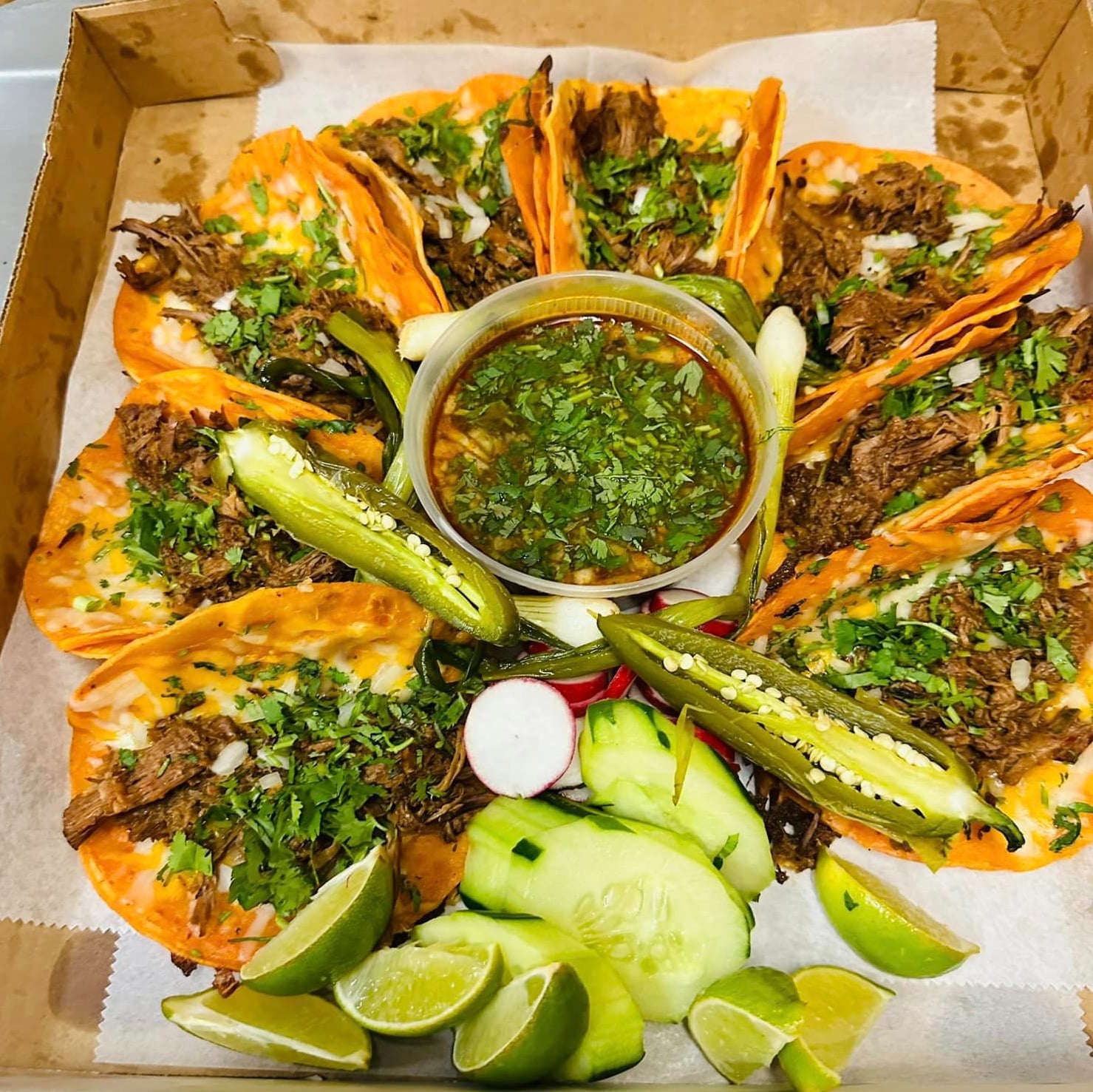 Part of the diverse dining scene in New Hope, Pa., El Guajillo offers a casual cantina vibe (no bar though; but you can BYOB). Tacos, which come three to an order, top each protein with radishes, cilantro and onions. Standout options include the steak and fried onions and the al pastor (pork and pineapple). Love seafood? Try the shrimp en salsa mache or tilapia a la Veracruzana, served with mussels, calamari and shrimp. 82 South Main St., 1st floor, New Hope; (215) 693-1763.
Quinoa, a bustling BYOB in Doylestown, draws inspiration from the Inca Empire on its creative menu stacked with Peruvian and Mexican cuisine. On the menu, you'll find some creative, chef-driven plates, like plantain tostones, black bean quinoa balls and a whole range of bright, fresh ceviches. At lunchtime, try an order of tacos Mexicanos, with your choice of filling on homemade corn masa tortillas. Come dinner, the red snapper tacos, with Mexican rice and black beans, are a gourmet twist on a classic.  54 E. State St., Doylestown; (215) 348-2826.
Casa México Philly, the sister restaurant to South Philly Barbacoa, in Philly's Italian Market, is helmed by Chef Christina Martinez, a chef who has won over Philadelphians, not only for her incredible flavors but for her outspoken and fiercely dedicated activism around undocumented immigrant rights. From-scratch everything, with bold, authentic flavors is what you'll find in the tacos here, which come four to an order. Try the pibil pork tacos, with the meat marinated in citrus, peppers and spices and then slow-roasted to perfection. 1134 S. 9th St., Philadelphia; (267) 470-1464.
There are dozens of places to grab tacos in South Philadelphia, though the quality ranges wildly between each spot. One place where the tacos are always on point is Los Gallos, an unassuming storefront with a casual cafe interior. The menu is stacked with many types of tacos a la plancha, which are served with remarkably good house-made salsa. If you love Mexican breakfast, stop by early to try Los Gallos' Huevos a la Mexicana (scrambled eggs with tomatoes, onions and peppers) or Huevos Rancheros. 951 Wolf St., Philadelphia; (215) 551-1245.
Taco Mar offers authentic Mexican cuisine with foodie flair in a vibrant, colorful cafe setting. There are plenty of tacos to choose from, including some interesting choices like octopus, as well as straightforward options like hard shell tacos with ground beef. You can also make your own taco creation, or choose from standards like burritos, quesadillas and taquitos. 122 E. Gay St., West Chester; (610) 455-1400.
At Estrella Tacos Y Mas, a hip little spot which shares the building with East Branch Brewing Co. in Downingtown, there's a Mexican-influenced menu featuring lots of taco treats, including some creative meatless options, like fried avocado, Tajin-roasted cauliflower and braised black bean tacos. In the morning, there are awesome breakfast tacos to choose from, like Texas brisket and eggs. Plenty of drink options are available, including a long list of cocktails and a locally focused wine list. 202 E. Lancaster Ave., Downingtown; (484) 237-2423.
South Central PA
Street tacos with fresh ingredients and no pretense are what's up at Taqueria Jimenez Mexican Grill in Reading. From al pastor to nopales (cactus!), the filling are traditional, and you can dress them up with salsa and guac, or go for the classic onions, radishes and cilantro. Other menu specialties include huaraches (mashed masa and beans loaded with meat and toppings) and papusas (stuffed cornmeal flatbreads). 810 Oley St., Reading; (610) 223-1391.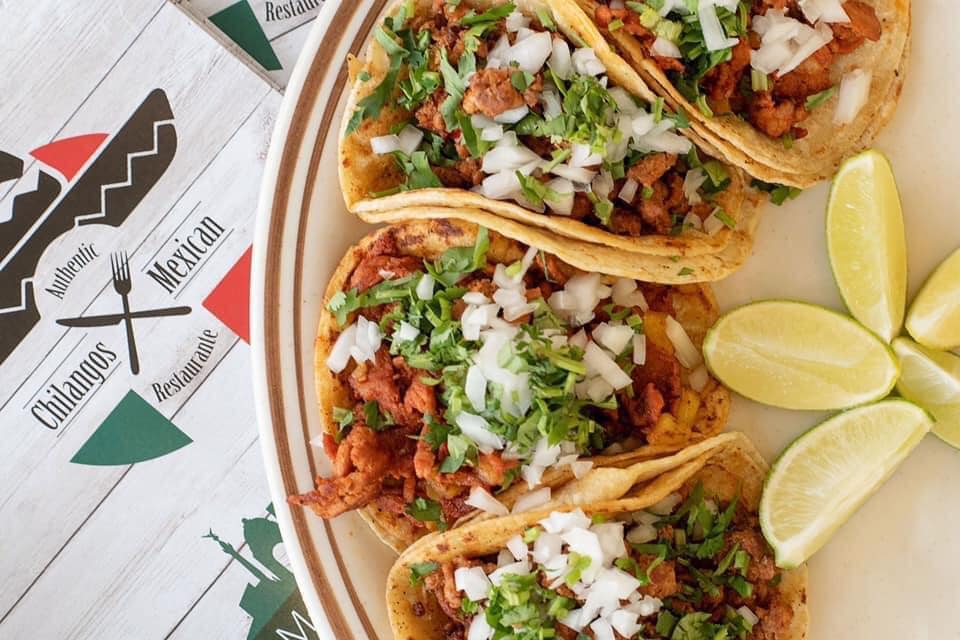 There are no shortage of restaurants in charming downtown Lititz, PA, but when it comes to authentic Mexican cuisine, Chilango's is the place to go. This family-owned and -operated spot offers all the flavors you crave, and the tacos are extra on-point. If you want to shake things up, we suggest the Tacos Dorados, four rolled and crispy fried chicken tacos topped with lettuce, cheese and sour cream  (it's sort of like if nachos and tacos had a baby!). If you love Mexican sodas, you'll be psyched to see Chilango's beverage list with no less than a dozen options. 56 N. Broad St., Lititz; (717) 626-0105.
Paco's Tacos is a new-school taqueria in York's Central Market offering chef-driven Mexican snacks and plates. Familiar favorites get new life in tacos, like the Paco Bell tacos (smoked brisket, cave aged cheddar and pico) and Skirt Steak Asada with potatoes, chimichurri, picked jalapenos and salsa verde. The breakfast tacos are tops, too. 37 N. Beaver St., York; (717) 578-2401.
Tres Hermanos started as a modest Mexican grocery store in 2004, in Steelton, PA, selling fresh ingredients and authentic spices. In 2006, owners Ricardo and Anabel Ortiz expanded to a restaurant, and in 2010, the couple opened a second grocery store in Elizabeth Town, and moved Tres Hermanos Grocery Store & Restaurant from Steelton to Harrisburg. All of that change and growth hasn't affected the quality of their food, which is all fresh and made-to-order. The tacos are delicious and a steal at $6.99 per order of 3. 712 S. Cameron St., Harrisburg; (717) 233-1711; 79 E. Main St., Mount Joy; (717) 492-0250.
North Central PA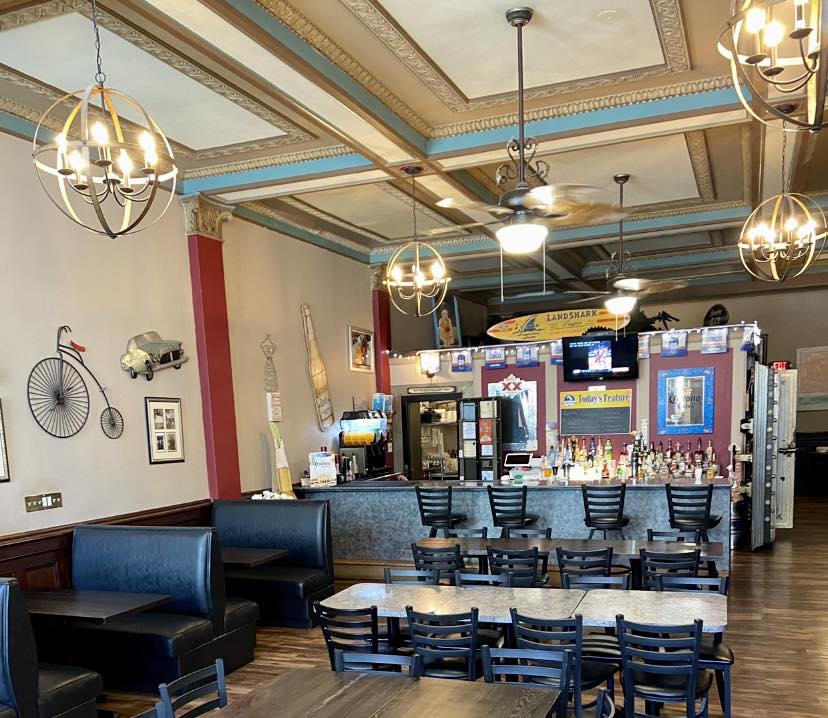 For over 13 years, Ozzie & Mae's Hacienda is an institution in Williamsport for great times, and great tacos. The menu combines Mexican flavors with Tex-Mex flair, and sometimes, does its own thing in dishes, like the Shepherd's Pie Chimichanga and the Pittsburgh salad (you better believe there's fried potatoes on it). The tacos are available on crispy or soft tortillas; choose your favorite meat or veggie filling, which comes topped with hand-shredded lettuce, cheese, chipotle aioli and pico de gallo. Finish your meal with fried ice cream or a cheesecake chimichanga topped with honey and strawberries. 36 W. 4th St., Williamsport; (570) 322-8141. 
Just a few miles away from the northern border of Pennsylvania, The Grille at the Train Station is a happening bar and restaurant in Sayre, PA. The menu is full of pub favorites, like sliders, tater tots, pizza and wings, but also offers a number of tacos and wraps, including tasty fish and shrimp tacos. Plan your visit for a night with live music, or enjoy the cozy outdoor patio for a meal al fresco. 718 N. Lehigh Ave., Sayre; (570) 888-3100.
Like in many college towns, State College has taco chains and Mexican restaurants aplenty. But, we're partial to the tiny little spot, Yallah Tacos, a walk-up counter that's open 'til 3 a.m. on the weeknights for late-night revelers. The portions are beyond generous for the price, and fans go crazy for the creamy Yallah Sauce that's available on anything you order. If a burrito is what you're after, they've got, as one customer put it, "burritos as big as your arm." Yallah Burrito Company, a second location offering a similar menu, is just a few blocks away. 217 McAllister Alley, State College; (814) 954-8081;404 E. Calder Way, State College; (814) 272-1828.
Western PA
Don Patron Mexican Grill in Latrobe isn't doing anything revolutionary with its menu; it's simply serving up solid Mexican favorites (and tasty margs) in an area where fast food dominates the taco game. Carne asada, shrimp and chicken tacos are the standard filling options; locals love the complimentary chips and salsa, friendly service, fresh flavors, hefty portions and wallet-friendly prices! 1020 Route 30 Plaza, Suite 427; Latrobe; (724) 879-4854.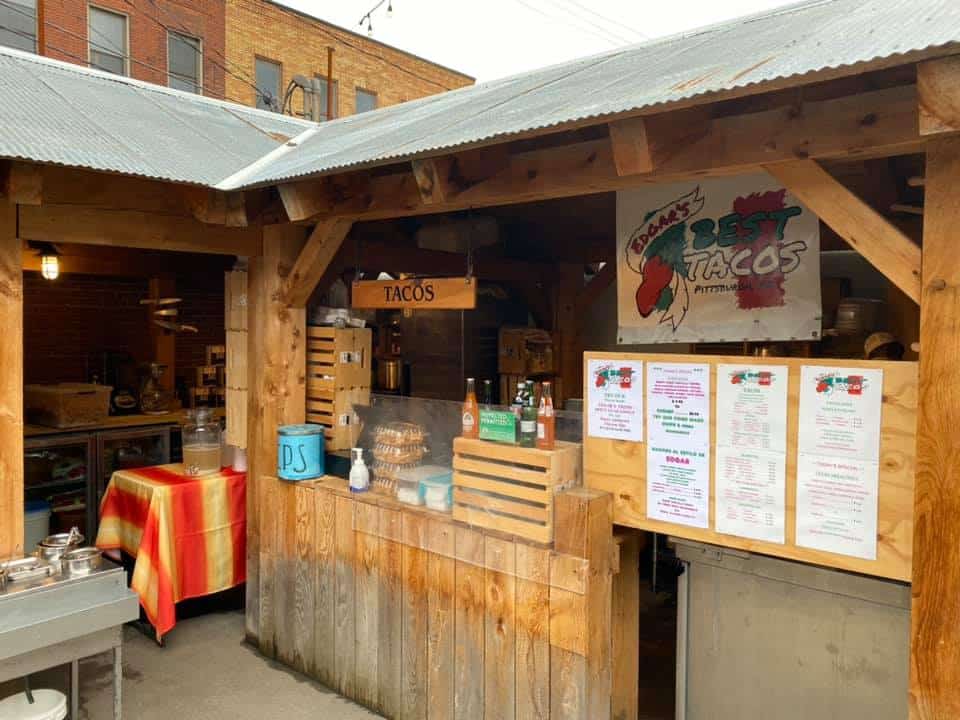 Edgar's Best Tacos holds it down in Pittsburgh's Strip District with tacos made with high-quality ingredients (free-range chicken, house-made spice blends, etc.), as well as great veggie and seafood tacos. You cannot go wrong with an empanada or two, as well! And, don't forget to order extra sides of the complex, savory salsas to pour on everything. 2533 Penn Ave., Pittsburgh; (412) 849-8864.
Taco fusion is a tricky thing to pull off — why mess with perfection? But homestyle barbecue, with its falling-apart-tender meats … that's a concept we can get behind. Smoke BBQ Taqueria in Pittsburgh's hip Lawrenceville neighborhood seamlessly blends the two food groups into a blissful union. First of all, the nachos, smothered with queso and other craveable toppings, are divine. Then, the tacos, made on house-made buttermilk flour tortillas, take BBQ favorite and taco-ify them to perfection. House-made cured bacon is wrapped up with lettuce, tomato and jalapeno mayo, Berkshire pulled St. Louis short ribs are topped with onions, house pickles and porter BBQ sauce, and wagyu beef brisket meets sauteed onions, hot peppers and mustard BBQ sauce. And that's really just the beginning. Boozy beverages are available; cash only. 4115 Butler St., Pittsburgh; (412) 224-2070.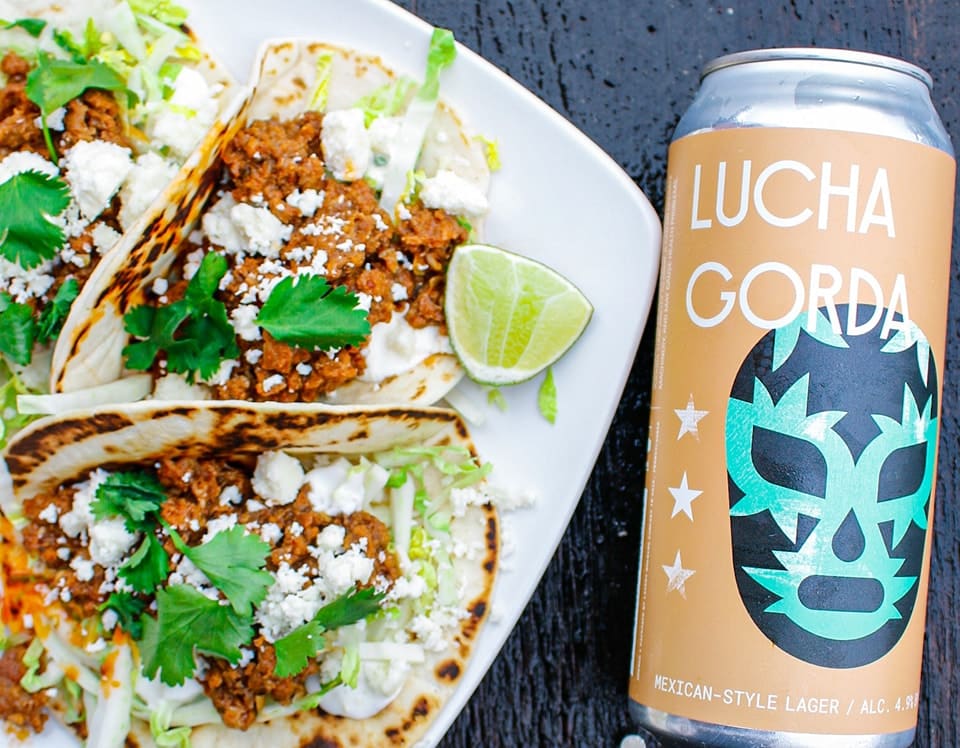 Lavery Brewing brews up small batches of innovative beers (play it safe with the Dulachan IPA or get wild with the spicy Hot Mistress Pepper Pale Ale), and offers guests a menu of eats to go along with them. Try the Thai chicken or citrus-braised pork tacos, or take a chance with Roulette Tacos (chef's choice). Each week, Lavery has Taco Tuesday, with 3 tacos for $8 all day and a new specialty taco each week. 128 W. 12th St., Erie; (814) 454-0405.
For authentic Mexican food in Erie, the best-kept local secret it Torero's, a straight-up legit Mexican grill that's been serving the community since 2007. The abundant dinner menu balances classic dishes (chicken tortilla soup, seafood molcajete) with Americanized options (Mexican pizza, cheeseburgers), but the tacos are just right, served on corn tortillas with fresh salsa, herbs and your choice of other toppings. Burritos, enchiladas, mole dishes and almost any other sort of Mexican dish you can imagine are also on offer, as well as drinks from the full bar. 1940 Douglas Parkway, Erie; (814) 864-2803.
Where's your go-to spot for tacos and Mexican food in Pennsylvania? If we missed your hometown favorite, please let us know! Leave a comment here, or join in the conversation on the PA Eats Facebook page.
Feature photo:

Steve Legato for Tired Hands Fermentaria

All other photos:

From respective restaurants