What is the quintessential Pennsylvania food? Maybe the first thing that comes to mind is a Philly cheesesteak, chicken pot pie or shoofly pie. But truly, in a state as large and culturally diverse as our own, there can't just be one dish to capture the range and depth of its cuisine. A new cookbook, set to release on August 13, 2019, Tasting Pennsylvania: Favorite Recipes from the Keystone State (Farcountry Press) gathers dishes from literally every corner of PA, from local restaurants, and world-renowned famous chefs, alike, in a beautiful volume that celebrates our local flavors.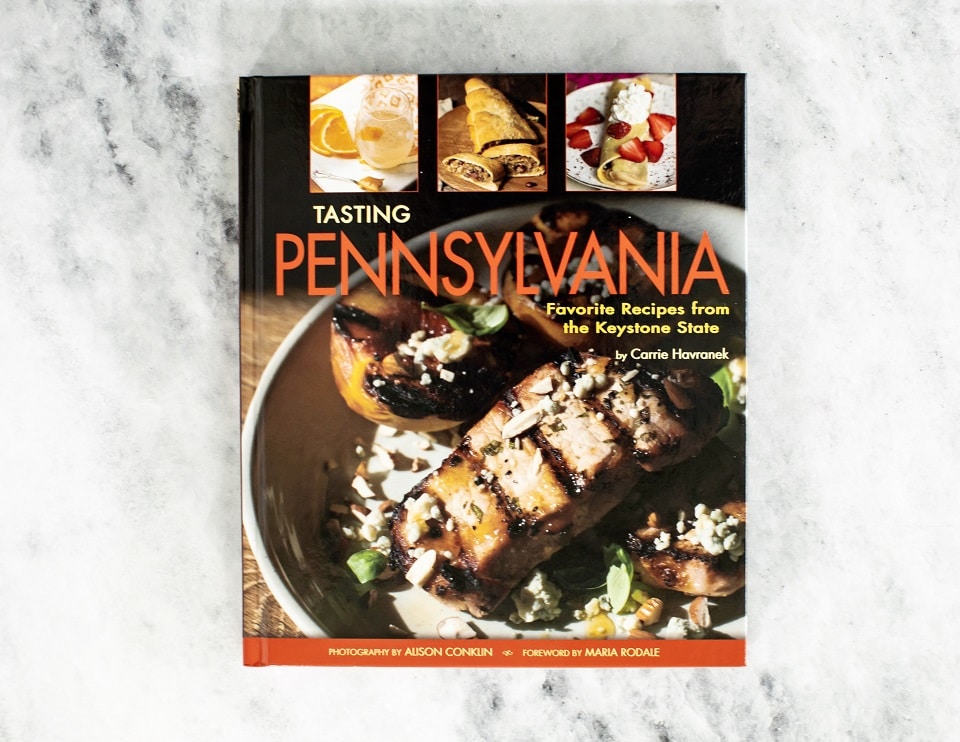 This special cookbook is written by Carrie Havranek, an accomplished food writer based in Easton, PA, and it features vibrant, lovely photos by Alison Conklin, a professional photographer who lives in Emmaus.
Author Carrie Havranek
Photographer Alison Conklin
The book opens with a foreword by Maria Rodale, a writer and the former chairman and chief executive officer of Rodale Inc., the global health and wellness content company. With more than 176 full-color pages, Tasting Pennsylvania unfolds as a love letter to PA in more than 100 recipes, each with an intro by Havranek sharing a bit of information about each restaurant, chef or cook that contributed the dish.
"We have books that look at traditional recipes, especially Amish cooking, but PA is more than Lancaster County," Havranek says. "No one has tried to put together a cookbook that is a contemporary reflection of what's happening on Pennsylvania tables — both in restaurants, and in homes and everywhere in between. And that's what Tasting Pennsylvania tries to do. It can't be comprehensive, but it can be a snapshot, a broad swath."
The book is divided into nine chapters, starting with breakfast and brunch. In this section, devoted to the most important meal of the day, you'll find light, fresh dishes, like Beet-Cured Salmon from Philadelphia's High Street on Market, as well as decadent, luscious dishes, like Chocolate Bread Pudding from The Hotel Hershey and Stuffed Pumpkin French Toast from Trenthouse Inn Bed and Breakfast in Rockwood, PA. Of course, there's also a recipe for from-scratch scrapple from Dundore & Heister, a whole-animal butcher in the Easton Public Market.
Next up are appetizers and snacks, ranging from the high-end (spinach and leek toast from Vernick Food & Drink) to down-home (pepperoni balls from the author herself), to retro-fabulous (the Whitfield Cheese Ball from The Whitfield in the Ace Hotel in Pittsburgh). Each recipe, no matter how brief or involved, gives clear, concise ingredient lists and instructions.
The Salads & Sides chapter contains a number of intriguing dishes, including the sleeper hit of the book: the Pittsburgh Salad with Grilled Chicken. Just like "Pittsburgh-style" sandwiches, this salad features a heap of french fries on top ⁠— genius! There are some other really cool salads, as well, like a Pennsylvania Dutch dandelion salad with foraged greens, and a Field Salad with Strawberries and Sugar Snap Peas. If you've ever lusted after the fried brussels sprouts at James Beard Award-winning Israeli restaurant, Zahav, you'll be delighted to find the step-by-step to those life-changing sprouts at the end of the chapter.
As Pennsylvania is a state of sandwich-fanatics, the Sandwich chapter of the book is loaded with amazing recipes. Burgers, pulled pork sandwiches and hoagies are all represented, but we know what you're most curious about. Yes, there is a cheesesteak recipe! Courtesy of Joe's Steaks + Soda Shop in North Philadelphia, this one calls for sliced rib eye or sirloin, with white American cheese on a Liscio's roll.
Under Soups & Stews, standouts include Carrot Soup with Brown Butter, Pecans and Creme Fraiche from Talula's Table in Kennett Square and Pennsylvania Mushroom Ramen from Mister Lee's Noodles in Easton. If you're ready for a drink, right about now, mix up a mead-spiked Apple of My Eye cocktail from The Colony Meadery in Allentown or a whiskey-soaked Salinger's Sling from Butcher and the Rye in Pittsburgh.
The Main Dishes chapter really highlights the breadth and variety of Pennsylvania cuisine. Cornmeal Parisian Gnocchi from Note Bistro and Wine Bar in Harrisburg brings delicate Mediterranean flavors; bold Italian flavors are on display in Marc Vetri's Linguini with Mussels and Peperonata; and a classic PA Dutch Onion Tart comes courtesy of local food historian and author William Woys Weaver. Other iconic PA foods, like pierogies, Steak and Ale Pie and Old Forge Style Pizza, are also among these pages.
Tasting Pennsylvania concludes with sweet treats (don't miss the Pumpkin Whoopie Pies from Flying Monkey Bakery in Philly's Reading Terminal Market) and a pantry chapter, with recipes for staples like Chow Kraut (the recipe comes from the great fermentation blog, Phickle) and Maple-Sweetened Pumpkin Butter from Marisa McClellan of Food in Jars.
As one unit, the book is cohesive, with an intuitive flow and an amazing range of recipes to explore. If you love Pennsylvania food and want to learn more about the cuisine being created all over the state, we can't think of a better addition to your cookbook shelf! Find it online or at your local bookshop.
Recipe photos:

Alison Conklin, courtesy of Farcountry Press

Feature photo and cookbook photo:

Dish Works