Did you know that Pennsylvania has our own version of chicken and waffles? It's different than Southern fried chicken: It's a gravy-rich chicken stew spooned over fresh waffles that are made without sugar in the batter. And while this dish, sometimes called PA Dutch chicken and waffles, stretches back into PA food history as far back (or farther) than hoagies and whoopie pies, it has remained a more regionally obscure delicacy.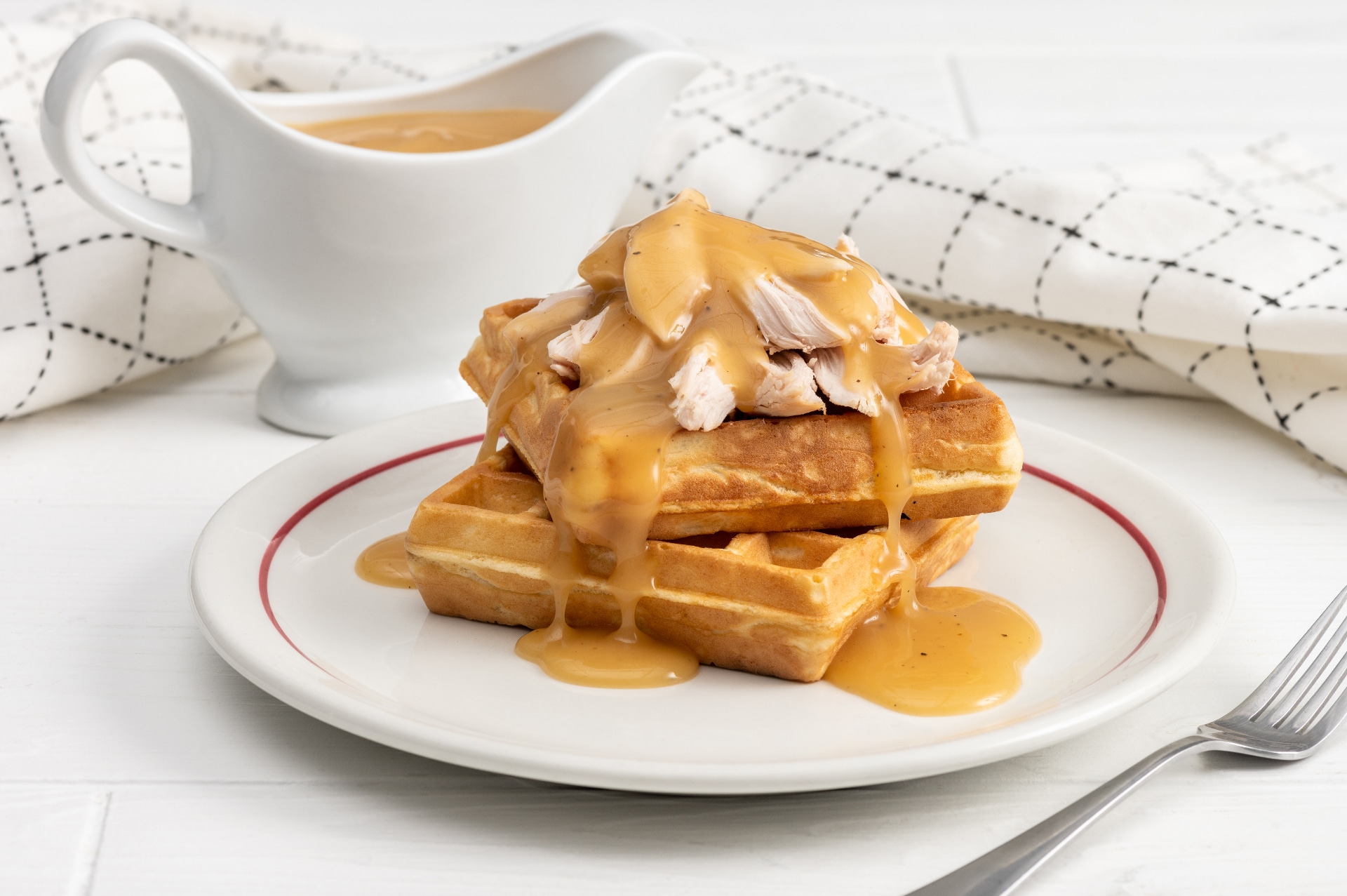 As with so many PA foodways, this version of chicken and waffles originates with the Pennsylvania Dutch who are credited with inventing the modern (non-electric) version of the waffle iron. Modern waffle fans owe a debt of gratitude to these folks, who helped to introduce waffle irons to America at large! According to the book,  Antique Electric Waffle Irons 1900-1960: A History of the Appliance Industry in 20th Century America by William George (Trafford Publishing, 2003), the real credit goes to a man by the name of John Kleimbach. He was a German immigrant living in Shamokin, Pennsylvania (Northumberland County) who helped spread the waffle iron's popularity: In 1891, Kleimbach began working as a traveling salesman of waffles after fashioning an iron for the Mansion House Hotel. He sold waffles for a penny a piece and took his operation to the Chicago World's Fair.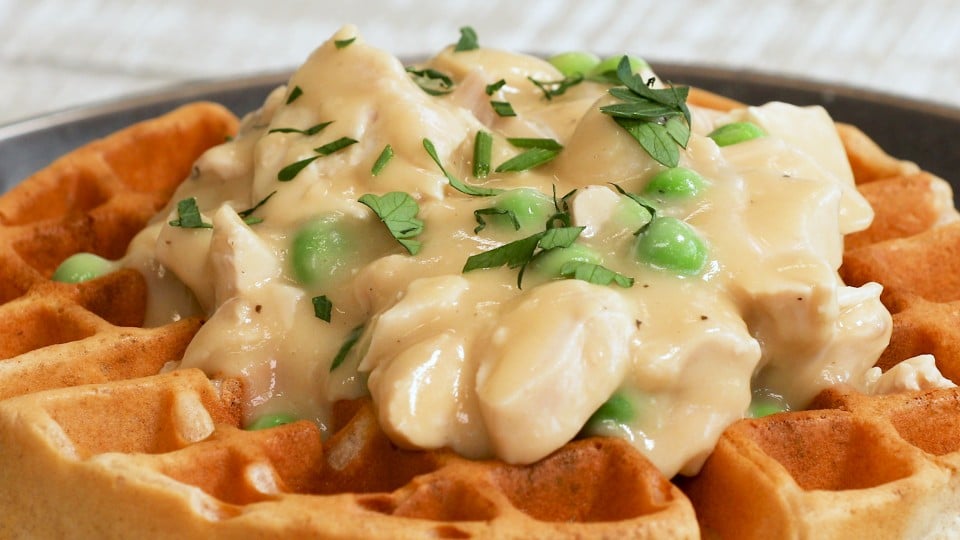 We learned from Philadelphia-based food writer Mike Madaio when he was a guest in our PA Kitchen series, that waffles were eaten by Pennsylvanians in the 1800s as an all-purpose bread. Just as you might think of dinner rolls, waffles were traditionally served alongside roasted and stewed meats. In Madaio's book Lost Mount Penn: Wineries, Railroad and Resorts of Reading (released in November 2019), he digs deep into regional Pennsylvania food culture, including the importance of waffles. He even shared a satisfying homestyle recipe with us, with the regionally-specific additions of peas and carrots, that would work just as well for brunch, topped with a fried egg of course, or as a hearty lunch or dinner.
In an article in Pennsylvania Heritage, food historian and author William Weaver (whom we met doing research about the Roughwood Seed Collection) notes that chicken and waffles reached its height of popularity during the 1920s and 1930s (as a result of automobile tourism). In his book, As American As Shoofly Pie, Weaver dedicates a whole chapter to PA Dutch Waffle Palaces, hotels with casual-but-festive restaurants, complete with live bands, that appealed to tourists from near and far. Regional farmhouse fare, like stewed and fried chicken, as well as catfish, were the typical proteins served with waffles; Weavers points to menus from the Schuylkill Hotel and the Caledonia Hotel that date back to the early 20th century.
These institutions spread beyond PA Dutch country, and of course, the concept of serving chicken and waffles together can be traced deep into Southern cuisine and to African-American cuisine that made its way north through the Great Migration. Chicken and waffle suppers also became popular at banquets organized by Black communities in East Coast cities.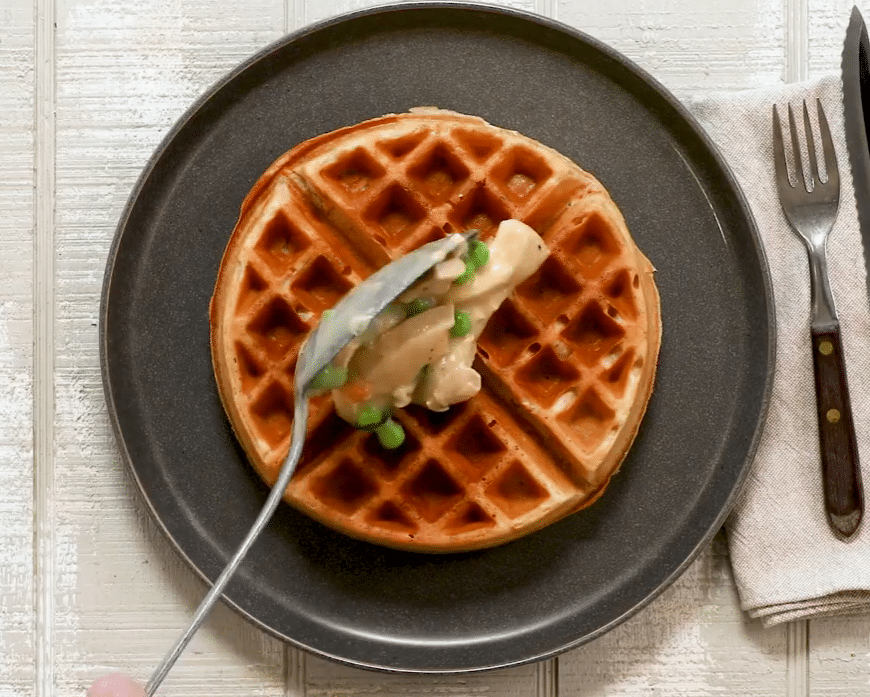 Chicken is a popular main dish in PA Dutch cuisine largely because chickens are relatively easy to raise and butcher, and can be kept year-round. Traditional chicken and waffle recipes call for using the entire bird, plus its carcass to make stock, which further economizes the bird. Waffles, which originated in Germany and other European countries as a celebratory holiday food, are also a thrifty way to feed a crowd, and require less time and labor than yeasted breads. It really makes perfect sense why a scoop of homey chicken stew (not so different than PA Dutch chicken pot pie) atop waffles became so firmly rooted in PA Dutch culture.
Today, you can still find Berks-Style chicken and waffles at Pennsylvania restaurants that specialize in PA Dutch food, like the charming Deitsch Eck in Lenhartsville, PA, The Dutch Eating Place in Philly's Reading Terminal Market, and Miller's Smorgasbord in Ronks. But for many who still keep the tradition alive, this is a homestyle dish, best made at home on a Sunday evening, with the family gathered around the table, same as Pennsylvanians have been doing for generations.
Did your family make chicken and waffles, and do you still? Do you refer to them as Amish-style, PA Dutch, or just chicken and waffles? Let us know in the comments here or on the PA Eats Facebook page!