We must give you fair warning before you dig into this lineup of all of the milkshakes worth trying in Pennsylvania: It WILL make you want a milkshake. Badly. Even if you're not a big ice cream fan, or sweets aren't usually what you crave — no one is powerless in the face of the PA Milkshake Bucket List!
Seriously though, we are blessed with an abundance of scoop shops, creameries, burger joints and more, all blending up ridiculously amazing shakes. From gourmet creations piled high with toppings, to pretty-much-untouched-recipes-since-the-1950s, Pennsylvania's got you covered when it comes to milkshakes. How many can you check off your list?
Northeastern PA
At Pete N' Reenie's, a 1950s-themed diner, complete with jukebox and servers wearing poodle skirts, milkshakes are somewhat of an obsession. The shake menu offers over 20 flavors, and then there are 17 more specialty shakes; think: peanut butter Oreo, caramel apple, banana fudge and the signature Banana Split in a Glass. The prices are amazing — every milkshake is under $5. 463 Main St., Archbald; (570) 876-5170.
At Booyah Burgers & Bites in Wyoming, Pa., everything is prepared with fresh, never frozen, ingredients. That is, except for its exceptional milkshakes! Extra-thick with plenty of whipped cream, a classic or specialty flavored shake (banana is a big fan-favorite) is the perfect accompaniment to a cheeseburger or an order of Crabby Fries. 2022 Wyoming Ave., Wyoming; (570) 338-2814.
You're likely to encounter milkshakes at most roadside ice cream stands, but The 940 Junction goes above and beyond the usual, with flavors like tiramisu, red velvet cake and mango, as well as two signature shakes (root beer and orange cream) and an exciting line of cereal shakes: Frutti Pebbles, Reese's Puffs, Captain Crunch Berry and Cinnamon Toast Crunch.  1879 RT 940, Pocono Pines; (​484) 860-4438.
There's no guarantee that a fantastic cheesesteak joint will have good milkshakes too, but at Bobby O's in Dupont, PA, it's a sure bet. Its list of flavors is truly unbelievable! In addition to all the classic standards, there are iterations we haven't seen anywhere else: cotton candy, maple walnut, blueberry pineapple, even chocolate birch beer! Pair the flavor of your choice with one of Bobby O's award-winning cheesesteaks for a delicious experience. 300 Main St., Dupont; (570) 654-2200.
Lehigh Valley
If you're willing to trek inside the Lehigh University Dining Hall, you will be rewarded with killer milkshakes from the Hawk's Nest, a late-night spot (open 'til 2, 3 and even 4 a.m.) also featuring deli sandwiches, burgers, bagel melts and over-the-top mac-and-cheese. The Hawk's Nest's from-scratch milkshakes are a huge hit with students and folks from the community; try offbeat flavors, like butter rum, blood orange or salted caramel. Or stick with the tried-and-true Lehigh Brownie. University Drive, Bethlehem; (610) 758-6420.
The Udder Bar is an ice cream lover's paradise with all kinds of decadent creations, like homemade bubble waffle sundaes and tacos, loaded banana splits, soft serve and so much more. High on the list of customer favorites are Udder Bar's specialty shakes. Try a gourmet-flavored combo, like strawberry shortcake, bananas foster or brownie overload. Vegan options are available, too! 1852 W. Allen St., Allentown; (484) 221-8653.
The Inside Scoop is worth visiting for its retro interior and giant ice cream sculpture outside; it's also PA-famous for its over-the-top volcano sundae. In addition to all of the other frozen treats on the menu, there are milkshakes aplenty, all crafted with super-creamy house-made ice cream. Spin any of The Inside Scoop's rotating flavors into a shake: caramel cappuccino, chocolate pecan and black cherry cheesecake are just a few of your delicious options. 301 N. 3rd St., Coopersburg; (610) 282-1955.
Southeastern PA
With two Bucks County locations, Flip City Shakes has an old school burger joint feel with a modern sensibility, with touches like hormone-free beef, veggie burgers  and gluten-free options. As you can probably glean from the name of the place, shakes are one of the stars of the show; flavors go overboard (in a good way) with mix-ins like real apple pie and cinnamon in the Apple Pie Shake and the Chocolate Brownie Shake with brownies and hot fudge. Not feeling quite so indulgent? Try the Skinny Shake with mango yogurt and almond milk. 233 2nd St. Pike, Southampton; (215) 494-9267; 201 Station Rd., Quakertown; (267) 227-3949.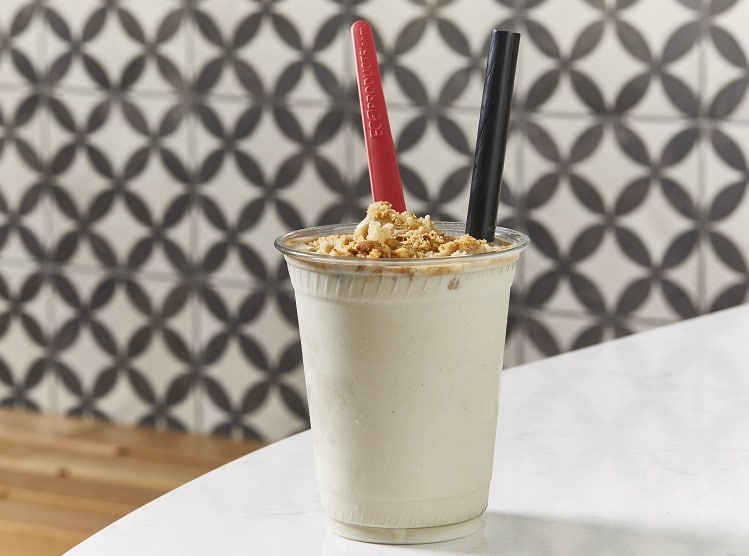 Ever since opening its doors to its retro-fabulous spot on Sansom Street, Goldie has been dishing up some of the best falafel Philadelphia has ever tasted. Regulars know that an order at Goldie isn't complete without an order of heavenly shwarma fries and a frosty tahina shake. If you've ever had halva (sesame candy), you know the pleasures of tahini gone sweet, and these mind-blowing milkshakes (which are 100% vegan), available in Original, Turkish Coffee, Mint Chocolate and Banana, are solid proof of that fact. Multiple locations.
The ice cream at Chester Springs Creamery at Milky Way Farm is about as fresh as it gets, made on site with milk from the cows who live at the farm! The flavors are abundant (and each one is named after a cow!), and any of them can be transformed into extra-thick and craveable milkshakes. Trudy's Raspberry Truffle, Cleo's Coconut, Sammi's S'mores and Priscilla's Pistachio are just the beginning. This beautiful farm (which is a stop on the PA Ice Cream Trail) is super kid-friendly, with plenty of space to run and play, and the chance to see some of the farm animals. 521 E. Uwchlan Ave., Chester Springs; (610) 363-8500.
South Central PA
The rolling farmland of Central Pennsylvania produces some amazing fruits and veggies, and it also is responsible for some of the best dairy around! At Pine View Dairy, which has been part of the Lancaster County community since 1971, churns up incredible ice cream with fresh milk and cream from its cows; the list of flavors is long and tempting (hello, Chocolate Peanut Butter Curl!) and you can make a shake with up to four flavors combined. The possibilities are endless! And — this is our favorite part — for just 20 cents, you can substitute chocolate milk for an even more decadent shake experience. 2225 New Danville Pike, Lancaster; (717) 872-5486.
The ice cream at Fox Meadows Creamery goes on a journey, as they put it, "from cow to cone," making it some of the freshest, tastiest stuff around. Visitors can even peek through a little window in the processing room in the creamery to see how it's made! The flavors, ranging from classic to creative — there's even a PA-proud Shoo Fly Pie flavor — are all fair game when it come to milkshakes! Add a shot of freshly roasted espresso to make yours a Roasted Milkshake. 2475 West Main St.; Ephrata; (717) 721-6455.
Sizzle-N-Chill has an old school diner feel, with drive-in service, a red-and-white interior and classic American fare on the menu. The ice cream situation (the "chill" side of things, as it were) is quite exciting, with soft-serve sundaes, ice cream sandwiches, and excellent milkshakes. You won't get a choice from dozens of flavors, but the old standbys are there, portions are generous and the service is hometown-friendly. 7710 Allentown Blvd. Harrisburg; (717) 412-7844.
Mr. G's Ice Cream is a cornerstone in downtown Gettysburg, situated in the historic Twin Sycamores house. This charming spot is frequented by tourists and locals alike, who enjoy scoops, soft serve and shakes on the sunny outdoor patio, often accompanied by live music. Any of its homemade ice cream flavors can be milkshake-ified! 404 Baltimore St. Gettysburg; (717) 334-7600.
North Central PA
You simply cannot consider getting milkshakes  — or any ice cream, for that matter — in State College without Penn State Creamery being high on your list. This legendary dairy (which has taught many of the best ice cream makers in our state their craft) churns exquisite flavors daily, like Arboretum Breeze (mint vanilla ice cream, chocolate chips and a raspberry swirl), Crazy Charlie Sundae Swirl (vanilla, peanut butter and chocolate) and Teaberry. Milkshakes are expertly spun and 1,000% worth every calorie.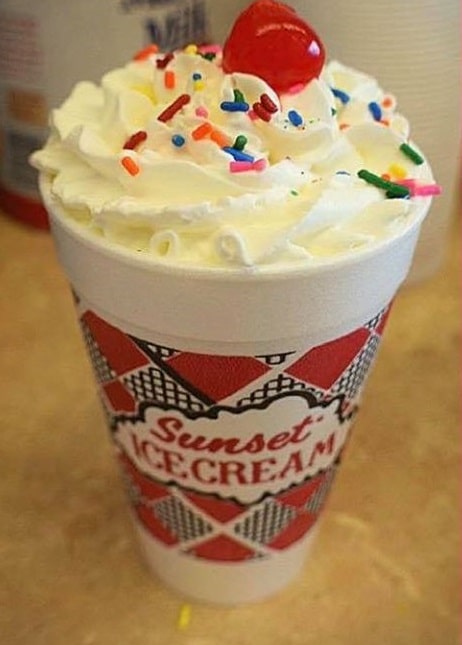 Sunset Ice Cream kicks it old-school: nothing fancy, nothing pretentious, just a straight-up community ice cream stand, the kind of place where you'll find families and groups of kids after sports games every day of the week. The comfy spot was opened in 1977 by John and Phyllis Fritz (Phyllis still owns the Sunset Ice Cream Manufacturing; her husband passed away in January 2019), and a former employee, Jessica McDermott, reopened Sunset Ice Cream Parlor on Lycoming Creek Road to continue the original traditions, about a mile down the road from the original location. The old-fashioned milkshakes are perfection; choose from the hand-dipped flavors (the list is long) or spring for a specialty shake, like the Ultimate Peanut Butter and Banana or Birthday Cake Batter. 2062 Lycoming Creek Rd., Williamsport; no phone.
Western PA
Tucked into Pittsburgh's Oakland neighborhood, Dave & Andy's is an adorable ice cream shop, oozing with charm and character. Since 1983, it's offered premium ice cream, 200 flavors (!) at a time. You can get a chocolate or vanilla shake, sure, but why not try one of the more interesting homemade flavors, like Oatmeal Raisin, Brown Butter, or its famous Chocolate Chip Cookie Dough in milkshake form? Be advised: this perpetually busy spot is cash-only. 207 Atwood St., Pittsburgh; (412) 681-9906.
Of course, we can't leave The Milkshake Factory off our list! While it does, indeed, own a number of locations across the greater Pittsburgh area, this Pennsylvania-born, family-owned company has a homegrown feel, with farm-fresh dairy locally sourced from Rivendale Farms. Honestly, you can't go wrong with any of its gourmet shakes (though the Midnight Cookies & Cream will always hold a special place in our hearts). Or if you're in the mood for something more straightforward, the classic and signature milkshakes are fantastic. There are even six dairy-free and vegan options to choose from!
Sara's is the place to go for awesome milkshakes in Erie. The 1950s aesthetic pairs perfectly with a rich, thick, creamy shake in one of 11 flavors, including latte, hot fudge and salted caramel. While you're there, splurge on something deep-fried, perhaps an order of onion rings or Lake Erie perch basket, to top off your diner experience.
Okay, now it's your turn: Where do you find the best milkshakes in PA? Let us know in the comments here or on the PA Eats Facebook page!
Feature image:

Goldie Falafel

Sunset Ice Cream milkshake photo:

Jessica McDermott