Ah, summertime! Nothing quite beats exploring the beauty of York County with the added bonus of discovering some of the area's best craft beer and cocktails. York County Convention & Visitors Bureau has partnered with 13 of the area's best breweries to create the Susquehanna Ale Trail, a self-guided, year-round beer-tasting adventure, designed for you to explore at your own pace.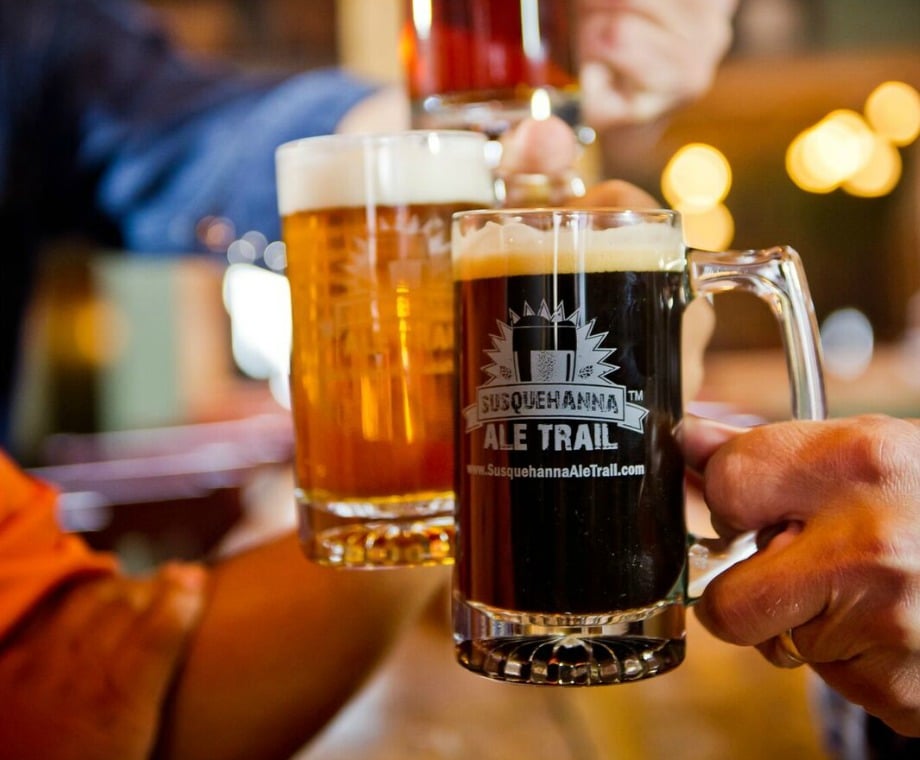 Not sure where to start? We've rounded up five truly outstanding breweries and brewpubs in York County. We have the scoop on the ambience, the wide range of creative plates and snacks, and the inside track on a few warm-weather seasonal brews, ciders and craft cocktails that are available to get you into some summertime sipping.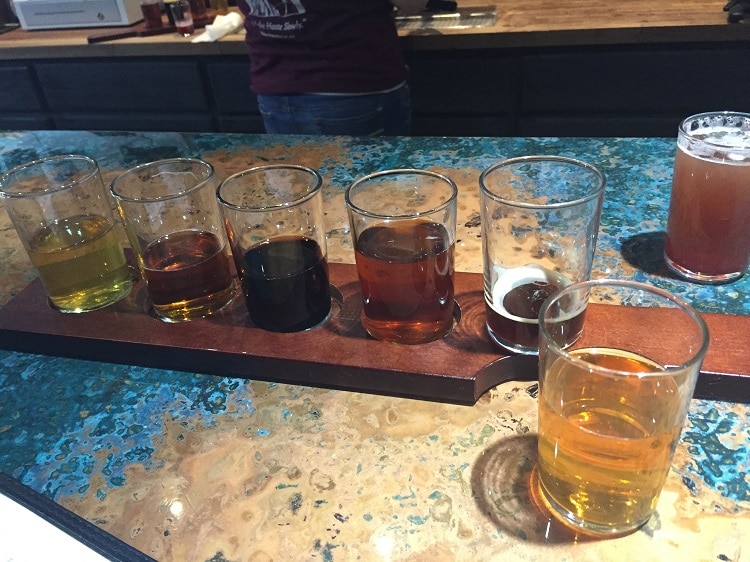 The brews: At Aldus Brewing Company, it's all about making craft beer that's approachable and great tasting on tap, in bottles, growlers and crowlers. Pull yourself up to the beautifully designed  bar in the former Snyder's of Hanover Pretzel Factory and try a flight of IPAs, ales and stouts. Don't miss the vanilla/caramel profile of bourbon barrel-aged Red Rye Revival, when available. Local Knob Hall wines are also on offer at this small town-favorite brewpub.
The grub: Locally sourced pizza toppings and chips (from Snyder's of course!), with house-made salsas and guac, are perfect shareables from Aldus' menu, and pair great with the beers.
Seasonal Spotlight: The recently released summer seasonals include Laser Rye Helles, a malt forward Helles-style lager, and Barcade Pilsner, made with local hops that offer subtle notes of lemon paired with a soft malt character.
Hours: Wednesday through Friday, 3–11 p.m., Saturday, noon–11 p.m. Closed Sunday through Tuesday. 555 Centennial Ave., Hanover; (717) 634-2407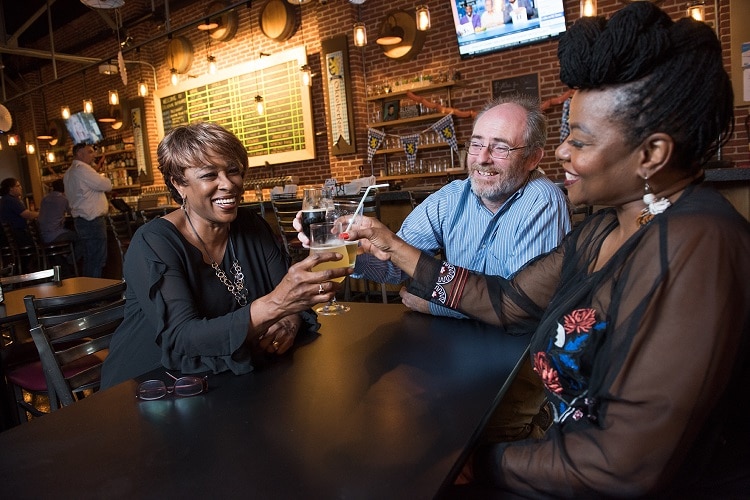 The brews: Collusion Tap Works, now nearing its second year, sports 24 taps of impressive brews, including solid IPAs, stouts, porters and sours, all poured by some of the friendliest bartenders in the area. This hidden gem in York combines rustic and industrial design, with textured brick behind the bar.
The grub: Snacks and small plates from the on-site "sandwich shop" include weekday specials (Slider Night on Tuesday, Wurst Wednesday, and buck-a-shuck oysters on Thursday) in addition to chips and dips, nachos, paninis and a savory vegetarian flatbread.
Seasonal Spotlight: Look for their Imperial Stout release at the end of May and a rotating monthly fruit (May's is mango) for its summer signature Soma sour. Tackle the refreshing Urban Explorer (a Bavarian-style hefeweizen) towards mid-summer.
Hours: Monday through Wednesday, 4–10 p.m.; Thursday, 4–midnight.; Friday and Saturday noon–midnight; Sunday, noon–8 p.m. 105 S. Howard St., York; (717) 542-1226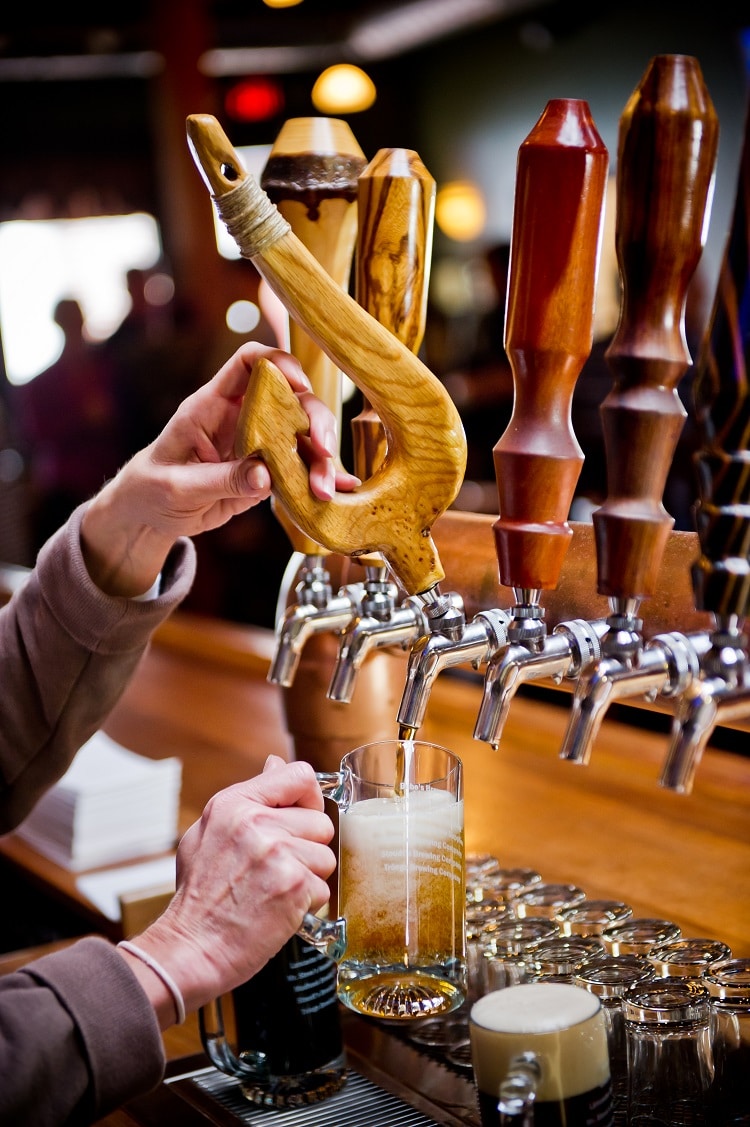 The brews: Find Mudhook Brewing Co., one of the longest running breweries in the area, tucked away in the historical Central Market House. This charming farmhouse-chic brewery shines with a rotating list of beers themed after a "Mudhook," or anchor, and have fish- or sea-themed names, like Deep Sea Stout and Hook Hopper.
Grub: Who can argue with a menu that runs the gamut from $5 happy hour plates (lunker fries, please!) to beer mussels and brussels and an elevated pub-style surf-and-turf? Lunch, brunch and dinner selections out of Chef Bradley Thompson's kitchen are all designed to enhance the beers and keep the regulars coming back for more.
Seasonal Spotlight: While beer is Mudhook's specialty, don't miss the new craft cocktail menu that includes the Mudhook Mule, a spiced-rum Cherry Bomb and the Stairway To Heaven martini with chardonnay, rum and chocolate vodka.
Hours: Monday through Thursday, 11 a.m.–10 p.m.; Friday and Saturday, 11 a.m.–midnight; Sunday, 10 a.m.–7 p.m. 34 N. Cherry Ln., York; (717) 747-3605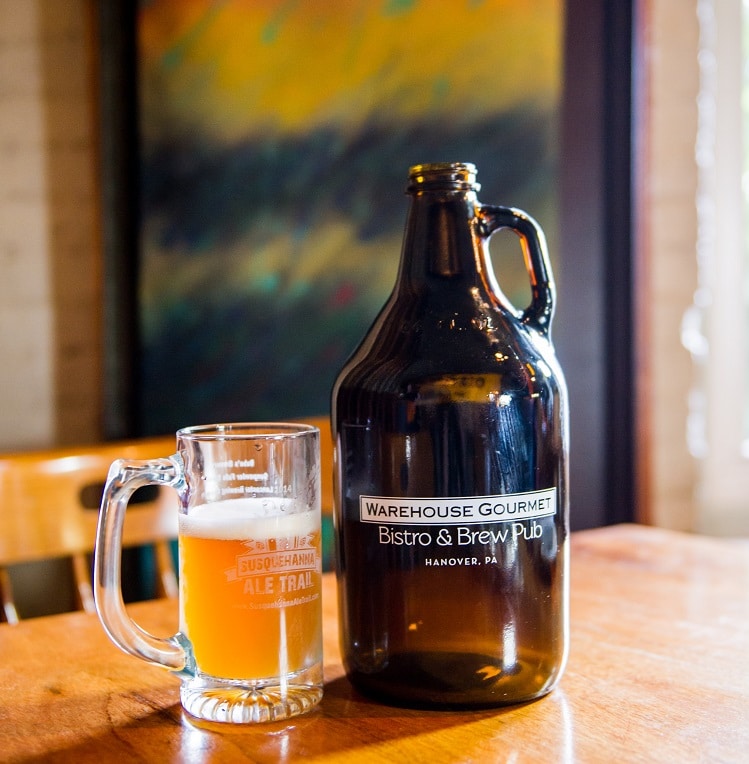 The brews: One of Hanover's first breweries, touted as "the little pub next to the train tracks," Warehouse Gourmet Bistro & Brew is a charming two-story brick spot with a restaurant on the first floor and a comfy pub upstairs. Seat yourself at the petite bar and try a refreshing flight from this craft microbrewery that offers six taps of IPAs, stouts, saisons and pale ales. Feel free to mix it up with local wine and spirits, too.
The grub: Certainly not typical pub fare, the kitchen here elevates the experience with dishes like braised rabbit primavera, pan-roasted halibut and grilled shrimp with oven roasted tomatoes, fennel and chickpeas with caper brown butter sauce. House-made soups, desserts and rustic artisan breads are a must. For even more creativity, check out the nightly menu specials, too.
Seasonal Spotlight: Just released and ready for sipping is Summer Crush, a light, balanced Bavarian hefeweizen, redolent of banana and clove, that's blended with a different lemonade each week. Pouring later in the season, you'll find Summer Heat Wheat, a hazy American wheat beer with light hop notes of citrus and spice.
Hours: Tuesday through Saturday, 10:30 a.m.–midnight; closed Sunday and Monday. 7 Pennsylvania Ave., Hanover; (717) 451-9898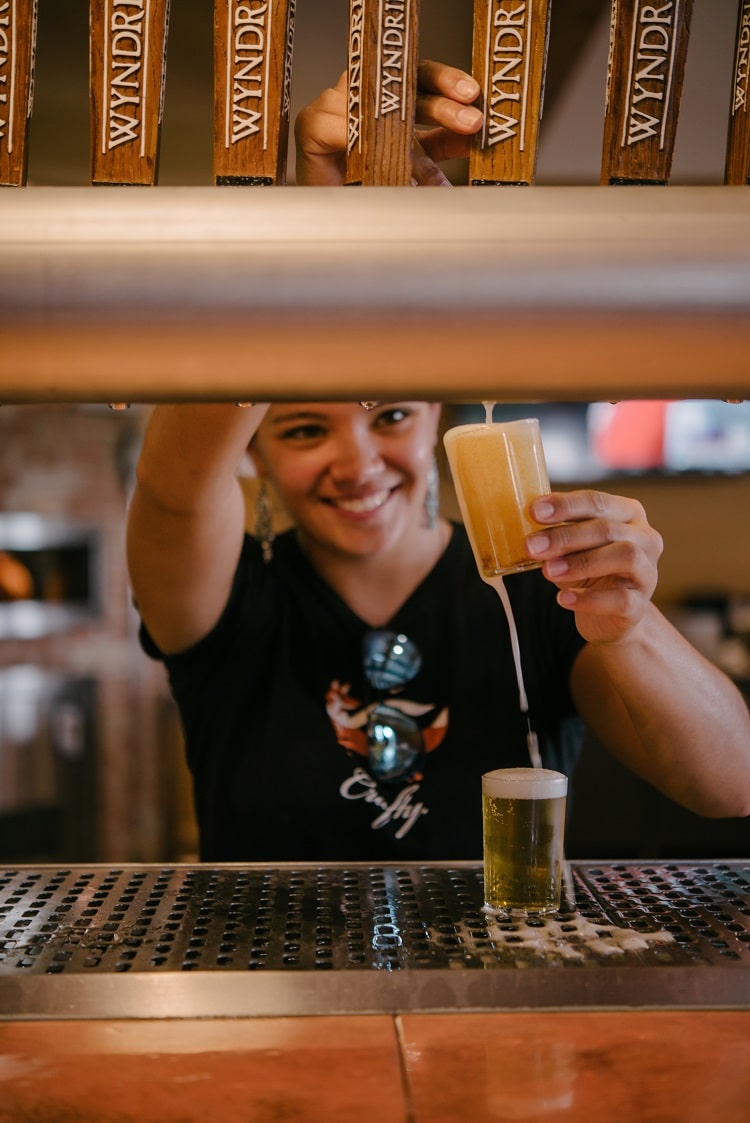 The brews: If it's sweeping vistas and a state-of-the-art, award-winning brewery that you're looking for, Wyndridge Farm is the place for you. A short 20-minute drive from the center of York, you'll be captivated by the rustic-but-elegant farm, with its beautiful open spaces and beamed ceilings. The wide range of its flagship and seasonal craft beers and ciders are brewed on-site using only the freshest ingredients.
The grub: Take advantage of al fresco dining on the patio, with a fireplace and bucolic view. A nature-shaped menu offers scrumptious delights, like grilled basil-marinated Atlantic swordfish, baked jumbo lump crab mac-and-cheese and flash-fried calamari. Soups and salads are seasonally fresh.
Seasonal Spotlight: Embrace the best of warm weather in June with Wyndridge's Tropical Berliner-style Weisse, a wheat beer brewed with mango, papaya and guava. Cider fans: don't miss the Mojito Cider, a fresh blend of mint and lime zest fermented with toasted oak chips.
Hours: Tuesday through Saturday, 11:30 a.m.–9 p.m.; Sunday, 11:30 a.m.–7 p.m.; closed Monday. 885 S Pleasant Ave., Dallastown; (717) 244-9900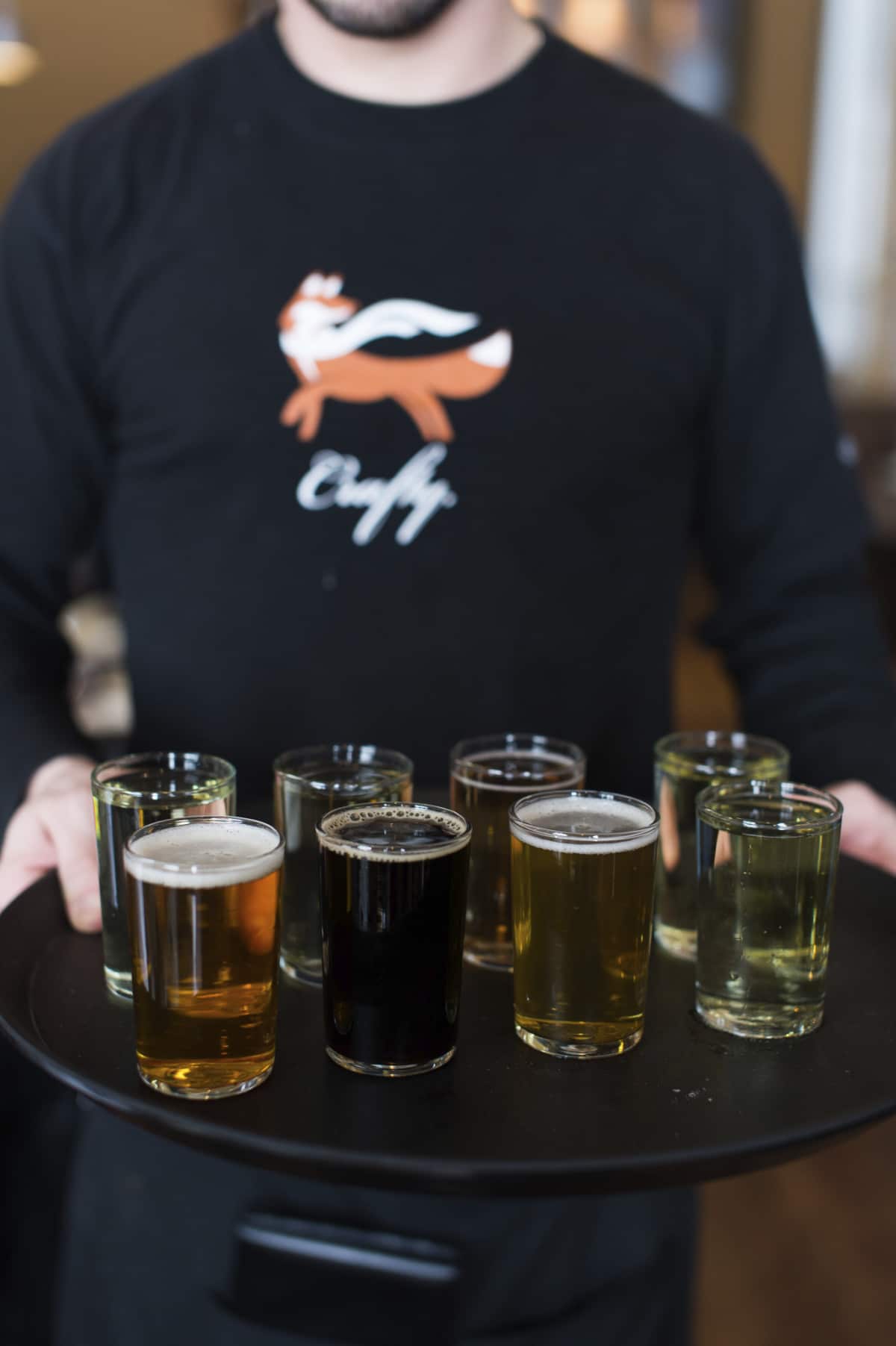 Why not relax and turn your brewery/brewpub excursion into a fun weekend getaway or midweek retreat and take advantage of packages and special offers at one of York County's premier hotels or bed & breakfasts. Stop by one of the Visitor Information Centers or call 1-888-858-YORK.
Stay informed of all the latest happenings year-round, and follow York County, Pa. on Facebook and Twitter, or download the convenient Travel Guide here. Sign up for the Explore York Getaway Guide e-newsletter and current calendar of events to stay connected.