Literally speaking, a bagel is a circle-shaped piece of baked dough. Really, it's so much more than that, but it's kind of hard to define what makes a good bagel so soul-soothing. There is plenty to love about a well-made bagel's snappy exterior and chewy, dense interior, and the endless combinations of bagel flavors, spreads and bagel sandwich fillings. But when a bagel is really, really good, it feels sustaining in a way that goes beyond a piece of bread and some cream cheese. For us, it's the pleasurable ritual of going to the bagel shop on a weekend morning to bring back breakfast for the family: the teenagers working behind the counter, the bagels nestled in their metal trays or baskets, the paper cups of too-strong coffee and the hunger-evoking aroma of baked goods and garlic.
While our neighbors to the north and east may be known for making the best bagels, there are plenty of places in Pennsylvania where you can find fantastic specimens (national chains need not apply)! Here are some of the best bagels we've found in the Commonwealth — how many can you check off your bagel bucket list?
Northeastern PA
Camp Umpy's Bagels & Stuff is a truly quirky concept: a summer camp-themed bagel shop, celebrating "Great food. Bad art."! Quality is a priority here, with ingredients coming from local family farms and dairies, and the house-made bagels and the fresh coffee both made exclusively with local Fox Ledge Spring Water. Build your own bagel creation, choosing from the dozens of bagel varieties and a handful of cream cheeses and spreads, or pick one of Camp Umpy's signature bagel sandwiches. Options include: The Anthill with veggie cream cheese, organic spinach, sprouts, red onion, tomato and swiss cheese; and the less-virtuous Buddahead, with bacon, ham, cheese on a buttered bagel with Doritos. Don't leave without a specialty drink, like The Becca (hot cocoa spiked with espresso). 622 Main St., Honesdale; (570) 253-0333.
For 13 years, Main Street Bagel has been the place to go in Dickson City for a classic bagel experience: unfussy selections of bagels, spreads, wraps, sandwiches and salads, with a super friendly staff to boot. Bagel flavors include sweet stuff, like chocolate chip and blueberry bagels (try it with cinnamon sugar butter), or keep it classic with a marble rye, everything or sesame. 235 Main St., Dickson City; (570) 383-7443.
It's counter-intuitive, but we've found that many bakeries that make cookies and cakes aren't often where you find good bagels. Bakery Delite is an exception to that rule; just as it's known for sweets, like cheesecakes, fancy pastries, donuts and even wedding cakes, it's highly regarded for its bagels and breads. As it's not a full-scale deli, you won't be able to get a sandwich made to order. Instead, grab a half or full dozen to take home for bagels all week. 290 S. River St., Plains; (570) 823-3400.
Lehigh Valley
The menu at The Bagelsmith is sort of like a classic diner-meets-bagel shop; order up a no-frills everything with cream cheese, or choose from breakfast items, like french toast and omelets, and lunch items, like burgers and sandwiches. One nice touch is that soups and stews come with a side of house-made bagel chips! 2443 Butler St., Easton; (610) 258-3923.
Johnny's Bagels & Deli is a little slice of NYC in the Lehigh Valley. With four regional locations, Johnny's has amassed legions of bagel fans, thanks to its New York-style, kettle boiled, hand-rolled bagels, which are made on site at each shop. The hot, fresh bagels are available as breakfast or lunch sandwiches (there's even a pizza bagel on the menu) or with one of numerous spreads, including bacon scallion cream cheese, Nutella and Biscoff. Multiple locations.
First of all, 3 Men & A Bagel deserves some kind of award for such an excellent name, on this we're sure we can all agree. This local mini-chain, with shops in Bethlehem, Allentown and Trexlertown, serves fresh-baked bagels, Boars Head cheeses and meats, coffee and pastries, and offers free WiFi for the laptop set. All of the bagel sandwiches are made-to-order, but if it's a dozen bagels you're after, locals know to show up early before the popular flavors sell out. Multiple locations.
Southeastern PA
All aboard! Bagel Train in Yardley is about as straightforward as it gets: hand-rolled, kettle-boiled bagels, bagel sandwiches and a small menu of panini (we're honestly not sure what those are doing there, but that's okay). The fruit and nut bagel is a big hit with the locals, and the Bagel Train makes plenty of other flavors, like egg everything, Nutella french toast and marble rye. 175 S. Main St., #3, Yardley; (215) 321-4474.
For over 20 years, Redhouse Bagels has been cranking out some of the best bagels in the area. Family-owned and operated, this comfortable little shop makes a number of kinds of bagels, though the cheddar jalapeno and super-cinnamon are among some of the fan favorites. A different breakfast bagel sandwich is on special each day of the week (we've got our eye on Fridays for the pepper, egg and cheese special), and Redhouse offers catering and wholesale throughout the region, as well. 1542 Bristol Pike, Bensalem; (215) 244-0776.
Philly Style Bagels rocked the food scene when they started weekend pop-ups out of the original Pizzeria Beddia shop in Fishtown in 2014. After a shortage of high-quality, fresh-baked bagels, Philly Style's beer-boiled bagels (Yards IPA is its beer of choice), with a great texture and flavor, were what the city's bagel fiends had been waiting for. Two years later, it opened its own brick-and-mortar shop in Fishtown, with a concise menu of bagels, spreads and sandwiches, and coffee from Elixr, further cementing its place as one of the top bagel spots in Philadelphia. 1451 E Columbia Ave, Philadelphia.
This cozy little French boulangerie has made a name for itself for its beautiful naturally leavened breads and impossibly flaky pastries, but its bagels are not to be missed. Using fresh, seasonal ingredients, The Kettle Black also makes creative bagels sandwiches that go far above and beyond the standard bagel joint fare. Think: habanero cream cheese and mango salsa, marinated tofu, pickled veg and vegan spicy cilantro aioli and garlic hummus, tzatziki and spicy carrot salad. 631 N 2nd St., Philadelphia.
South Central PA
For modern, artisan bagels, Harvest Moon Bagels is hand-down the place to go in Lancaster city. The company, which was founded by a husband-and-wife team, specializes in fresh, organic, hand-rolled bagels, which are made with local ingredients whenever possible. We dig Harvest Moon's creative flavors, like fennel and salt and cranberry orange bagels, and maple bacon and honey matcha cream cheese. Vegan spreads, like hummus, Tofutti cream cheese and sunbutter are available, and if you really want to chill out with your breakfast, try the CBD-infused cream cheese! 47 N. Queen St., Lancaster; (717) 984-6549.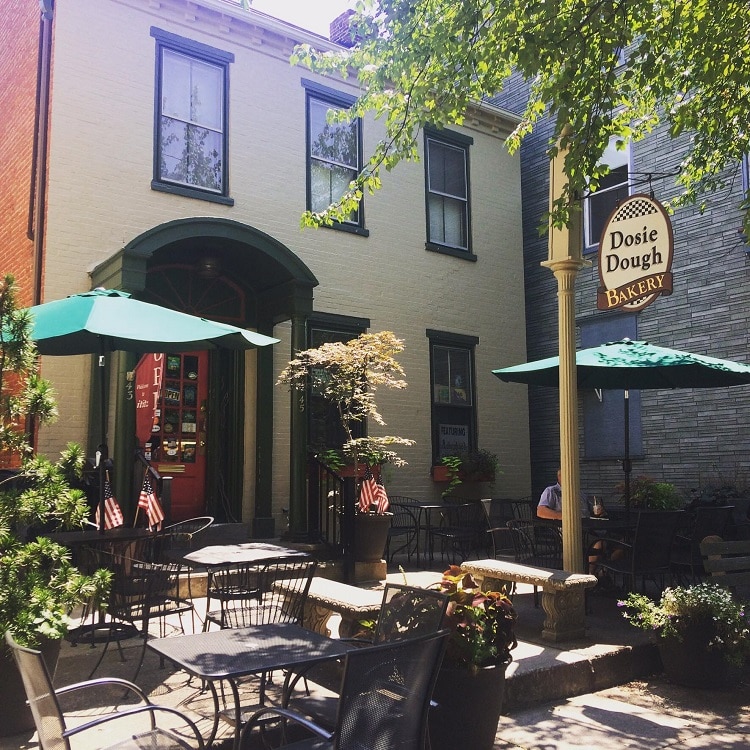 While its slogan may be "We have the best buns in Lititz" Dosie Dough, a charming little bakery in downtown Lititz (and another spot in Wyomissing), also makes fantastic bagels. The flavors are pretty standard, but there are some specials from time to time (like cinnamon toast crunch), and mini bagels and bagel twists are also available. Try an egg and cheese breakfast sandwich or go for a flavored cream cheese — however you like your bagel, save some room for one of Dosie Dough's other delicious round creations: old-fashioned doughnuts. 45 S. Broad St., Lititz; (717) 626-2266; 1405 Penn Ave., Wyomissing; (610) 376-2233.
Since 1995, Bagel Lovers Cafe has been hooking up real-life bagel lovers in the Harrisburg area with scratch-made bagels (no preservatives, no high fructose corn syrup or any other junk) that are boiled and then baked in a stone hearth. There are 21 bagels on offer each day, including some unexpected flavors, like coconut, spinach and 7-grain), as well as a daily special. Recent special bagels have included butterscotch, 3-cheese, banana nut and carrot cake. 2237 Paxton Church Rd., Harrisburg; (717) 545-1655.
North Central PA
At Irving's in State College, breakfast is king. While this bustling, student-friendly cafe offers sandwiches, soups, etc., it's its all-day breakfast that it's most loved for. Much credit is due to its phenomenal signature bagels, with a generous amount of cream cheese, and its bagel breakfast sandwiches — both the bagels and sandwiches have been voted "Best of" by State College Magazine! 110 E. College Ave., State College; (814) 231-0604.
The Native Bagel in historic downtown Wellsboro is our favorite kind of unpretentious, cozy, mom-and-pop bagel shop. A cute little place with a great selection of fresh-baked bagels, this is the kind of bagel spot every town deserves! Bagels are available with spreads, but we suggest checking out the selection of bagel melts, with combos like tomatoes, muenster and sprouts and bacon, ranch and mozzarella. 1 Central Ave., Wellsboro; (570) 724-0900.
Western PA
There are a lot of corporate bagel chains in Pittsburgh, but tucked away amongst them is Pigeon Bagels, a small bagel bakery that has mostly done pop-ups and wholesaling around town from its temporary HQ in Badamo's Pizza. However, Pigeon is set to open a storefront in Squirrel Hill in 2019, a development which has bagel fiends very excited! Pigeon's no-nonsense menu includes just a handful of options: five kinds of bagels, five kinds of schmears and five bagel sandwiches. Because sometimes, less really is more.
The spirit of a New York bagel shop is alive and well in the PA city that's probably the farthest from the Big Apple. At Jo's Brooklyn Bagels in Erie, customers can take their pick from a number of fresh-baked bagels in mostly classic flavors. Be the office hero and grab a half or full dozen to share, or try one of Jo's beloved breakfast sandwiches — you can't go wrong with a bacon, egg and cheese on an everything bagel. 833 W. 38th St., Erie; (814) 520-6246.
Where are the best bagels in Pennsylvania? You tell us! Join in the conversation in the comments here or on the PA Eats Facebook page.
Feature photo:

Harvest Moon Bagels

Dosie Dough photo:

Dosie Dough