Can you go out for drinks without actually drinking? As anyone who's taken some time off from, or fully quit drinking knows, bar menus can be awfully limited if booze is off the table. This sad state of affairs is turning around though, with more and more restaurants and bars adding mocktails and "zero-proof" drinks to their beverage programs.
Here are some of the spots we've found across Pennsylvania that are doing mocktails right:
Northeast PA
The Bar and Company runs a serious beverage program, with house-smoked old fashioneds, classic cocktails, mules and super-creative modern cocktails. Its drinks menu also features a refreshingly long list of mocktails, with five carefully crafted options to choose from! Thoughtful touches, like tarragon-infused simple syrup in the Lemon Tarragon Spritzer, let you know that the bartenders put just as much care into these mocktails as they do in all the other creations they mix up. 415 W. Lackawanna Ave., Olyphant; (570) 382-3533.
Terra Preta in Scranton is a steakhouse in the unique position of being home to both a cocktail bar and a juice bar. Using beautiful organic produce, its bar team makes abundantly fresh juices, many of which are used as mixers in boozy cocktails. However, you can also enjoy them with no alcohol in tasty concoctions, like Gingeraid, with ginger juice, lemon and local honey, and Replenish, with cucumber, lemon and lime juice and agave nectar. 301 N. Washington Ave., Scranton; (570) 871-4190.
Lehigh Valley
It might be a bit counter intuitive to find non-alcoholic drinks at a distillery, but at Social Still in Bethlehem, there are 4 zero-proof mocktails on the drinks menu, aside a number of gin and whiskey-heavy tipples. Choose from the Pearly There (pear, orange juice, lemon), Spicy Spritzer (pineapple, elderflower, jalapeno, lemon and lime), Cucumber Limeade and a few kinds of lemonade, including prickly pear and blackberry. 530 East 3rd St., Bethlehem; (610) 625-4585.
Bolete, a 2019 James Beard Award semi-finalist, wows guests with its incredible seafood, locally sourced and foraged ingredients, and unwavering attention to detail in both food and service. We're just as impressed, though, with the gesture of adding a non-alcoholic section to its beverage menu. Pick from peach, cayenne ginger, plum, lime or grapefruit served as a spritzer or lemonade. Any one of these mocktails would make a perfect pair to your elegant meal. 1740 Seidersville Rd., Bethlehem; (610) 868-6505.
At Notch, a sleek "modern kitchen and bar" in Allentown, creative cuisine and cocktails are the name of the game. Mocktails, are too! Check out the drinks menu for a list of "refreshers"; offerings include a seasonal savory sipper (perfect if you don't like sweet drinks), Mango Berry Thyme Boba tea, a huge customizable list of iced lattes (turmeric lemongrass, anyone?) and "Dealer's Choice," where you trustingly put yourself in the skilled hands of the bartender to make a mocktail with ingredients that they pull from these categories: tart, sweet, savory, herbaceous, vegetal, smokey, fruity, floral, bitter, creamy and effervescent, and choose it served up or on the rocks. 5036 Hamilton Blvd., Allentown; (610) 841-4610.
Southeast PA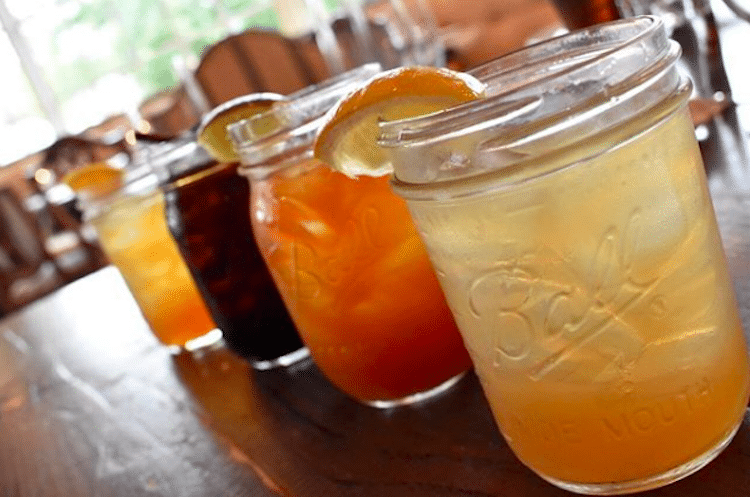 Pair any of White Dog Cafe's mocktails with its local, seasonal and sustainable food for a night out without that next-morning-headache. Got family or friends in town? The White Dog is a comfy spot to take visitors: The menu is crowd-pleasing, the service is on-point and the atmosphere is lively without being rowdy. Your options include, You Better Think (mango, black currant puree, honey, lime, soda), Easy Street (blood orange juice, lemonade, soda), Polmer (pomegranate, iced tea, honey, lime) and Fast Machine Hot (apple cider, caramelized sugar, lime, rosemary). 3420 Sansom St., Philadelphia; (215) 386-9224; 379 Lancaster Ave., Haverford; (610) 896-4556; 200 W. Lancaster Ave., Wayne; (610) 225-3700.
At Veda, a modern Indian restaurant in Center City Philadelphia, inventive cuisine is matched with elegant craft cocktails. There are a number of specialty non-alcoholic drinks that go toe-to-toe with the boozed-up versions, too! Any of these three are sure to compliment your meal perfectly: Autumn Tea with Thai chai syrup, poached blueberries, cranberry juice and sparkling water; Imli Sharbat with tamarind, agave, cherry syrup, juniper berries and orange; and Nimboo Juice (Indian lemonade) with angostura and orange bitters. 1920 Chestnut St., Philadelphia; (267) 519-2001.
[For more of our favorite mocktails in Philadelphia, head here.]
South Central PA
One of York's favorite Italian restaurants, Tutoni's goes well beyond "bottle of red, bottle of white," with a fully actualized mocktail section on its drinks list. If you're not down for pairing your handmade pasta with a bottle of Rosso Toscana, try one of these creations instead: Hot Crucider (apple cider with apple cinnamon whipped cream); Meet Your Matcha (matcha syrup, mint, lime and soda), Plum Crazy (plum blackberry fig jam, orange juice and ginger beer); Chai Places (vanilla chai with chai cream); or the Liz Lemon (lemon, lavender simple and soda). 108 N. George St., York; (717) 885-5169.
Lancaster City's dining scene got a nice lift with the opening of Amorette in the spring of 2018. Whether you splurge on eclectic fixed-price, a multi-course tasting menu, or simply hang out in the more casual lounge, you've got plenty of delicious drinks to choose from. Amorette's mocktail menu supplies three non-alcoholic options, like the Ginger Crush, with grapefruit juice, carrot juice and ginger beer, and the Ruby Fizzle, with pomegranate juice, beet juice, pineapple and a splash of club soda.
Rubicon is our favorite kind of fine dining: committed to sourcing local ingredients, pulling of chic but playful at the same time, with just a touch of French influence. The inspired beverage menu includes its own zero-proof selection, a few of which are made with Seedlip, a Great Britain-based brand of non-alcoholic spirits. We can't decide what sounds better: the 24 Carats NA (Seedlip Spice 94, golden non-dairy milk with turmeric, ginger and black pepper with an orange twist);  The Changeling (Seedlip Grove, pear nectar, saffron bitters, cucumber and orange with a ginger beer float; or the Canapa (house-brewed hemp tea, zinger elixir, local honey and CBD). Each will run you almost as much as an alcoholic cocktail, but with ingredients like those, that seems more than fair, don't you think? 270 North St., Harrisburg; (717) 317-9027.
North Central PA
Big Spring Spirits is another distillery that isn't leaving those abstaining from alcohol out of the party! Yes, it has over 50 cocktails on its extensive Tasting Room menu, but look harder and you'll see a bunch of great zero-proof cocktails on deck, too! We love that it's using shrubs (drinking vinegars) from nearby Tait Farm Foods, in sippers like the Suckerpunch (Tait's cranberry shrub, ginger ale, orange bitters and tiki bitters). The Pineapple Ginger Nomito, with basil-pineapple  and ginger syrups, pineapple juice, mint, lime, bitters and club soda, sounds especially bright and refreshing, too! 198 Match Factory Place, Bellefonte; (814) 353-4478.
Western PA
Pittsburgh's Mixtape is a chill little neighborhood hangout, and its team is looking out for all the neighbors with its awesome mocktail and non-alcoholic drink selection. Whether you're in the mood for something fruity (like the Summer Breeze with peach nectar, elderflower, lemon and soda), or something spicy and sour (like the Saffron Sour, with Everleaf aperitif, lemon juice, orange juice, aquafaba (the liquid from canned chickpeas) and simple sryup), or just a shrub and soda, Mixtape's got you covered.
Chef-driven small plates, with an emphasis on handmade ingredients, like house-cured meats, fresh pasta set Spork a cut above the rest. Its creativity extends to the bar, where a curated list of cocktails and wines includes three must-try mocktails, all for just $6 each: Eden's Fruit (pomegranate shrub, lemon and soda); White Mountain Shores (blueberry shrub, orange and soda); and Happy Gilmore (earl grey tea, lemon cordial and club soda). 5430 Penn Ave., Pittsburgh; (412) 441-1700.
What's your favorite bar in PA to pull up a seat and order a mocktail? Let us know in the comments here or on the PA Eats Facebook page!