There ain't no party like a carb party, and of all the carbs we love (bagels, donuts and pizza: we're looking at you!) pasta is probably at the top of the list. The types of pasta and methods of preparing it are practically infinite, from Sunday gravy to lighter-than-air threads of fettuccine to pillow-y raviolo, decorated with the season's best vegetables. Whether it's an ephemeral, experimental dish, or a comforting, traditional Italian-American feast, we can rarely turn down a plate of pasta.
No matter where you are in Pennsylvania, there is wildly good pasta within reach. Need proof? Here are our picks for some of the best pasta in PA, gathered up into a handy bucket list:
Northeastern PA
Let's be real: You could order anything off the menu at 403 Broad and feel a deep sense of satisfaction. From the pastries in the morning, to pizza and pasta at night, everything is made from scratch, including some flour made with locally milled grains from Bucks County, and some imported non-GMO semolina from the midwest. Though there are only six pasta dishes on the menu, as well as occasional specials, every single one is worth trying, though we must insist on an order of the orecchiette with braised lamb, chickpeas, kale and harissa. It's a study in flavor composition and textures that is totally spot-on. 403 Broad St., Milford; (570) 409-1246.
The two Mugnaini wood-fired ovens might be the stars of the show at Bar Pazzo in downtown Scranton, but save a little room for the pasta! You can order a sampler (we love this idea) to try three of its epic house-made pasta dishes – ragu alla campania, ricotta gnocchi and cacio e pepe – or go for broke with the pasta "brunatta," a glorious baked pasta dish with a crispy, almost-burned cheesy top. 131 N. Washington Ave., Scranton; (570) 871-4179.
The menu at Cork Bar & Restaurant runs the gamut, with dishes like French onion soup, crab cakes and Alaskan salmon all cozying up together. The pasta list is deep and packed with classics, like fra diavolo complete with a half lobster, vegetarian risotto and short rib papardelle. You can also put together a bespoke pasta dish, with penne or linguine and your choice of sauces and toppings – perfect for when you just want a comforting plate of red sauce and meatballs. 463 Madison St., Wilkes-Barre; (570) 270-3818.
Lehigh Valley
Setta Luna, a Tuscan Trattoria, features rustic food made with passion and precision. Its pasta dishes tow the line between traditional and refined; for example, the fettuccine alla panna is like a lightened-up version of Alfredo, with Parmesan, cream and butter; the agnolotti con cinghiale combines wild boar and wild mushrooms for a complex umami depth, and it's finished off with pancetta demiglace and cream. You're in good hands if you choose Bud's Bolognese Special, which features seasonal ingredients and rotates often. 219 Ferry St., Easton; (610) 253-8888.
Dinner at A Ca Mia might transport you back to Nonna's house, that is, if you're lucky enough to have an Italian or Italian-American grandmother who knows her way around a pasta dish. Temporarily forget your diet, and try the Tortellini Cremonesi, with chicken, ham, mushrooms, caramelized onions and Gorgonzola, the sausage and peppers over pasta, or the lasagna alla Bolognese. Many dishes can also be prepared with gluten-free pasta! 4330 Lehigh Dr., Walnutport; (610) 760-3207.
Mama Nina's is an Italian-food-lover's paradise, with its charming, colorful exterior and cozy dining room with exposed brick, and classic homestyle dishes. No matter what dinner you order, it comes with a side of pasta! Go for one of the dishes from the baked pasta (pasta al forno) menu; you can't miss the Mama Nina's Special, with manicotti, chicken and eggplant topped with fresh tomato sauce and Parmesan cheese, or the Tour of Mama Nina, a sampler of sorts, with eggplant rollatini, meatball, sausage and chicken Parmigiana all baked with pasta. 546 Main St., Bethlehem; (610) 867-9802.
Southeastern Pennsylvania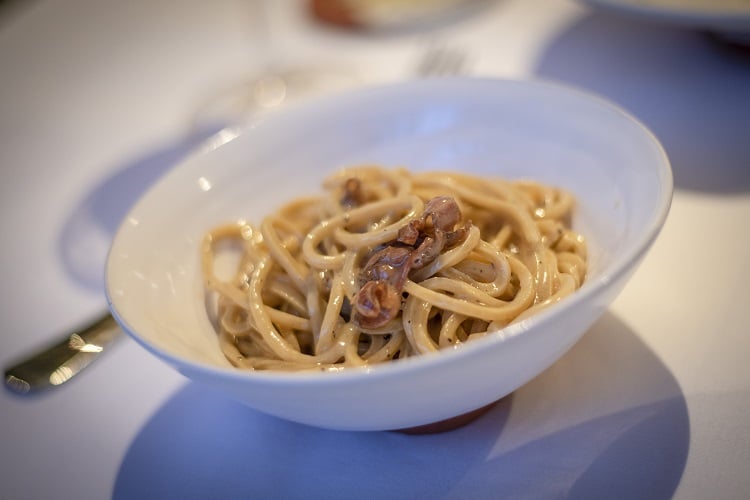 Andiario is the joint project between couple Anthony Andiario and Maria van Schaijik, who bring with them much pedigree, having worked for James Beard Award-winner Chris Bianco in his restaurants in Phoenix, Arizona. Hyper-seasonal ingredients guide the frequently rotating menu at Andiario, including the artisan, handmade pastas. While each visit will show off different ingredients and techniques; late summer 2019 included offerings like ricotta tortelloni with golden chanterelles, fusilli with fava beans, chili flakes and tomato passata and garganelli with guanciale, peas and cream. 106 West Gay St., West Chester; (484) 887 -0919.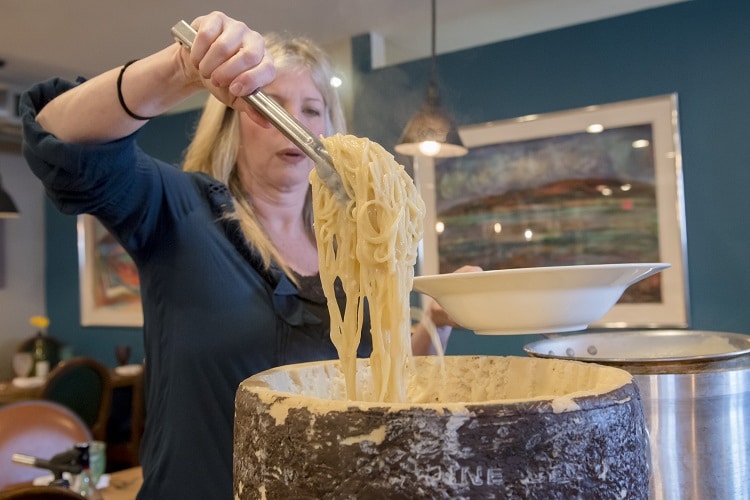 The cacio e pepe at Cotoletta is halfway between a pasta dish and a performance piece. This simple dish of cheese, pasta and pepper is elevated to an epic level: a splash of bourbon is lit on fire and tossed in a wheel of pecorino cheese that's been transformed into a giant bowl. Then, cooked pasta and some of its starch cooking water are tossed in and swirled in the cheese bowl until the whole thing becomes impossibly cheesy and delicious. It's a pasta experience that's a true must. 201 Jefferson St., Bala Cynwyd; (610) 660-5224; 2227 Pine St., Philadelphia; (267) 519-9697.
You might not expect to take a themed restaurant that's an homage to a John Waters film seriously, and CryBaby Pasta is indeed anything but serious. But that doesn't mean that its pasta dishes aren't seriously awesome. Try squid ink linguine with clams and Calabrian chili, or orecchiette with chantrelles, kale and breadcrumbs. There are always specials to explore that give an extra outlet for the kitchen's creativity and whimsy. 627 S. 3rd St., Philadelphia; (267) 534-3076.
Osteria, open since 2007, is one of the best places in Philly for pizza, wood-fired meats and veggies, and handmade pasta. The gorgeous dining room or greenhouse-esque enclosed patio provide the perfect setting for downing a plate of lighter-than-air Francobolli with trumpet mushrooms, or fusilli with fava beans and lamb pancetta. 640 N. Broad St., Philadelphia; (215) 763-0920.
South Central Pennsylvania
They just don't make restaurants like they used to — one step into Mom Chaffe's Cellarette is solid proof. This comfortably cramped, old-school Italian joint (while not a true cellar, it is indeed in a sub-ground level of a building) is the kind of place people go to for special occasions, with white tablecloths, generous portions of very delicious scratch-made food, and a tempting dessert cart. Sure, it has crazy low ceilings and carpet, but that's just part of its vintage charm. Start with an antipasto platter, fried calamari and an ice-cold martini, then switch to chianti when your entree arrives: rigatoni with basil pesto, ravioli with red sauce, linguine with clams … you really can't go wrong, whatever you choose. 148 Tulpehocken Ave. Reading; (610) 374-5733.
Luca in Lancaster gets a lot of love for its wood-fired pizzas (which are divine), but do not miss out on the handmade pastas on its menu. Each dish is an exercise in rustic simplicity and uncompromising quality. The pappardelle with pork ragut, roasted peppers and smoked buttermilk, is a perennial favorite, as are the gnocchi with seasonal veggies and a shower of Parmigiano. Gluten-free pasta and gnocchi are available in every dish! 436 W. James St., Lancaster; (717) 553-5770.
North Central PA
The motto of Faccia Luna may be "Trust our Crust," but we have it on good authority that you can trust its pasta, too. The selection is plentiful, with your choice of angel hair, egg fettuccine, garlic-basil or spinach linguine, or penne, topped with pretty much anything you could want from the Italian-American oeuvre: eggplant parm, vodka sauce, meatballs, red clam sauce, and so on. The atmosphere is casual and convivial, with a full bar sporting lots of local craft options. 1229 S. Atherton St., State College; (814) 234-9000.
Morrone's Cafe has been serving authentic Italian food to its community for nearly 20 years. Its pasta is made fresh, including its delicious homemade ravioli, gnocchi and tortellini. The rest of the pasta menu focuses on straightforward classics, like spaghetti with squid in marinara, and lasagna with ricotta, beef and pork. Don't forget to save room for tiramisu for dessert! 740 W. 4th St., Williamsport; (570) 323-3030.
Western PA
An all-day cafe might not be the first place you'd think to look for next-level pasta, but The Vandal breaks the mold. Its kitchen, headed up by Rebecca Romagnoli (whom we introduced you to in our feature about Forma Pasta) puts out one stunning plate of pasta after another, often influenced by the seasons and the nearby agricultural bounty. Its dinner menu offers three different pasta options — at least one of them should be part of any dinner there. 4306 Butler St., Pittsburgh; (412) 251-0465.
If you love a retro vibe and great pasta, head to the Pleasure Bar & Restaurant, which has been in operation (with a few changes in ownership) since 1941 in Pittsburgh's Little Italy neighborhood. Its menu is extensive, and the list of pasta it offers goes on and on, ranging from pasta puttanesca to baked manicotti to seafood Alfredo. If you want to go for it, try the Italian Medley, with eggplant Parmigiana, manicotti and cheese, and stuffed shells. The kitchen is open until 11 p.m. on Fridays and Saturdays, so you can grab a comforting meal after a night out on the town. 4729 Liberty Ave., Pittsburgh; (412) 682-9603.
Mi Scuzi is owned and operated by the Farsace family, who are committed to bringing the fresh, bold flavors of Italy to Erie. The pasta dishes, all handmade, are composed and balanced; not too fussy or fancy, but far beyond the average red sauce and noodles. Highlights include Mi Scuzi linguine and clams in garlic wine broth, and carbonara linguine with prosciutto de Parma, garlic, sweet field peas and cream. 2641 Myrtle St., Erie; (814) 454-4533.
Where is your favorite pasta in Pennsylvania? Let us know on the PA Eats Facebook page!
Feature, Cotoletta and Andiario photos:

Ed Williams