Over the past few decades, the vegan diet — once a notion only of the fringe-y health-food community and animal-rights activists —  has firmly taken root in mainstream American culinary consciousness. This rise is thanks, in part, to celebrity vegans, like Natalie Portman, Alicia Silverstone and Ellen Degeneres (even Beyoncé and Jay Z go on vegan cleanses from time to time); a rise in plant-based cookbooks, like Mark Bittman's Vegan Before 6 and Isa Chandra Moskowitz's many volumes from the "Post Punk Kitchen"; the proliferation of health-conscious food markets, like Whole Foods Market and Sprouts Market; Instagram "wellness"; and the spread and popularity of plant-based cafes and restaurants.
At one point not so long ago, it felt like striking gold to find more than one vegan item on a bar or restaurant menu (usually just a basic portobello burger) — now, a few no-meat, no-dairy dishes are the new standard. Restaurants know they need to do better for their vegan guests, and some have gone even further to create fully vegan menus.
Pennsylvania has dozens of amazing vegan dining options, too many to count, really. Perhaps you'll be surprised to know that they're not all in the big cities. Whether you're a fully committed, I-never-even-sneak-a-bite-of-cheese type of vegan, or you just like to take it easy on the meat and dairy sometimes, here are the best vegan-eats options in Pennsylvania to put on your bucket list:
Northeast PA
With two locations in NEPA, Eden-a Vegan Cafe is living proof of the notion that vegans eat more than bland health food. Comfort food classics, with a meat-free twist, of course, are the specialty of the house. Plenty of vegan products, like vegan mozzarella cheese and vegan salmon, let the team at Eden-a Vegan deliver familiar, satisfying flavors via menu items, like wraps, pizza, burgers, hot dogs, drumsticks, sandwiches and more! Veggie burgers and some faux meats are made in house, and there is a great kids' menu and a vibrant list of smoothies, to boot. 344 Adams Ave., Scranton; (570) 969-1606 136 S Main St., Wilkes-Barre; (570) 235-6770.
Umami Gorilla, a grab-and-go deli in Wilkes-Barre, focuses on what it calls "compassionate vegan comfort food." Everything on the menu, from the buffalo chicken bacon ranch pizza, to the BBQ pulled pork mac n' cheese burger, is 100% plant-based. The deli offers food that can be ordered from a counter, as well as hot and cold cases, with items to bring home. Specials are frequently announced via Umami Gorilla's Instagram, so there is always something new to try! 811 Scott St., Wilkes-Barre; (570) 793-9293.
Nucleus Raw Foods is heaven for pretty much anyone with a dietary restriction or allergy. Its offerings are raw, vegan, gluten-free, soy-free and organic. Its two locations offer dozens of amazing smoothie options, as well as cold-pressed juice and plenty of solid food, too. Think: cashew crab cakes, an eggplant bacon BLT, veggie taco meat salad on a bed of zucchini noodles or greens and avocado tacos. For dessert, try a banana whip (so good!) with your choice of caramel or chocolate sauce, and toppings like cacao nibs, coconut and dates. 63 Main St., Luzerne; (570) 569-2139; 67-69 Public Square, Wilkes-Barre; (570) 550-1860.
Lehigh Valley
Long before you could get a vegan cookie at pretty much every coffee shop, Vegan Treats was baking mile-high Peanut Butter Cup Brownies, gluten-free chocolate chip cannoli, cookies and cream whoopie pies, and so many more tasty morsels. These vegan treats were sold from its Bethlehem shop and wholesaled to cafes in the region. Now, Vegan Treats' selections have expanded to include a rotating list of vegan soft-serve, all kinds of decorative cakes, pies, candies and custom work for special occasions, like weddings and birthdays. It also goes big for holidays, with special sweets for Valentine's Day, Halloween and more. 1444 Linden St., Bethlehem; (610) 861-7660.
Charming and welcoming, Green Mouth Cafe is a great stop for fresh pressed juice, coffee and organic and vegan eats. Start with a cup of locally roasted joe from Monocacy Coffee or Homestead Coffee Roasters, or a tall glass of green juice made with local produce, like the Alkalize (cucumber, fennel, celery, romaine, apple, lemon and ginger). On the food front, choose from hearty bites, like a vegan burrito with sunflower seed "meat," an almond hummus salad, or a bowl of quinoa porridge. No visit is complete without a slice of vegan cheesecake or a vegan, gluten-free donut! 134 N. 2nd St, Easton; (484) 560-5136.
Southeast PA
While the menu at Blue Sage Vegetarian Grille isn't 100% vegan (it is vegetarian, however), it's such a classic spot in PA that it had to make our list. Many of its dishes, like the Sonoma French lentil tabbouleh and the ginger scallion ramen are easily made vegan with substitutions or modifications. Bring a bottle and plan to stay for dessert, as this is a comfy, accommodating spot with great service, too. 727 2nd St. Pike, Southampton; (215) 942-8888.
Since opening in 2010, Sprig & Vine has been making a name for itself with creative, elevated vegan cuisine, informed by the seasons. Chef/owner Ross Olchvary creates the 100% vegan menu, impressive and expansive, informed by global flavors even while leaning heavily on local produce and products. From starters like za'atar grilled oyster mushrooms, to main dishes like miso-maple-mustard glazed tempeh, to decadent desserts like gin and tonic cake, each dish is inspired and fresh. Sprig & Vine is especially fun for brunch (try the French toast!), a meal that can be extra tricky for vegans. 450 Union Square Dr., New Hope; (215) 693-1427.
No vegan roundup would be complete without a mention of Vedge, the much-lauded and influential vegetable restaurant in Philadelphia from James Beard Award-nominated Rich Landau and Kate Jacoby. With national press and attention (Food & Wine named it one of the "40 Most Important Restaurants of the Past 40 Years"), it's a popular spot for locals and tourists alike, and reservations are strongly encouraged. Each dish is so incredibly well-considered and gorgeously plated, it really has a been a game-changer for vegan cuisine across the county. The menu is mostly small plates, so you and your dining companions can try all kinds of things, from wood-roasted carrots to smoked potato crepes to rutabaga fondue. The beverage program is super-exciting, with classy craft cocktails, a solid beer list, and a dynamic, mostly natural wine list. The dessert selection is also top-notch, possibly one of the best in the city, vegan or not.
If Vedge doesn't quite fit into your budget, you can still experience Landau and Jacoby's vegan genius at another spot: V Street (globally inspired street food), which recently merged with Wiz Kid, its casual spot that served beloved vegan cheesesteaks and fries. Those items are now available at V Street's lunch! At night, V Street is bustling and buzzy, with a quirky cocktail list and mocktails, too. For an even cheaper date, go during happy hour (Monday through Friday, from 5 to 7 p.m.), when drinks are $7 and under and snacks are $5 or $6. 124 & 126 S. 19th St., Philadelphia; (215) 278-7943.
Whether you need catering for a baby shower or wedding, want to throw a private party in the cutest space or love the idea of dining around a communal table, Miss Rachel's Pantry in South Philadelphia has got you covered. Rachel Klein's food (which is also Kosher), is clever and the littlest bit indulgent, with lots of extra touches like house-made vegan cheese and homemade pasta. Pantry Dinners, which are held mostly weekend nights and must be booked in advance, offer 5 courses at a fixed price of $65 per person plus tax, which includes gratuity, non-alcoholic beverages and dessert. And special events, like Italian Food night and to-go meals for Rosh Hashanah and Thanksgiving, ensure that local vegans are never going hungry on holidays. 1938 S. Chadwick St., Philadelphia; (215) 798-0053.
Not so long ago, going vegan meant pretty much giving up on ever having great pizza again. But in 2020, nothing could be further from the truth. The team behind Blackbird Pizza, long-beloved for its plant-based pies and cheesesteaks, recently opened 20th St. Pizza, which solely focuses on pizza, both square and circle pies. Vegan mozzarella, cashew ricotta and a variety of unique toppings (mushroom sausage, pistachio pesto), put this spot toe-to-toe with the city's other gourmet pizza shops. 108 S. 20th St., Philadelphia; (215) 398-5748.
The Greyhound Cafe is a 100% plant-based BYOB cafe with two locations: one in Philadelphia and one in Malvern. It draws from, and reinterprets, Italian and Mexican cuisines, as well as classic brunch favorites. If you've been missing nachos, meatballs, chicken wings or cheese fries, this is the spot for you. For breakfast and brunch, look for dishes like tofu scramble huevos rancheros, fried cauliflower chicken and waffles and breakfast tacos as satisfying mains. 1839 Poplar St., Philadelphia; (215) 232-2234; 81 Lancaster Ave., Malvern; (610) 240-0222.
In West Chester, vegans know to head to Love Again Local for great vegan sandwiches, like chickpea tuna salad, coconut bacon BLTs and deliciously melt-y grilled cheese. Don't miss the vegan desserts (like edible cookie dough!) and brunch specials, offered from 10 a.m. to 1 p.m. on Saturdays, and 11 a.m. to 5 p.m. on Sundays. Brunch dishes include avocado toast, tofu scramble, and a chicken and waffle sandwich. 18 S. Church St., West Chester; (484) 266-7381.
Located inside the Pottstown Farmers Market, Seed & Soil is a plant-based cafe, open since September 2019, with a short menu of tried-and-true comfort foods that have been "vegan-ified." Menu items, like a caesar salad with jerk-marinated tofu, cauliflower wings, and seitan cheesesteak, are made with an emphasis on clean ingredients and whole foods. The stand just rolled out a brunch menu, with pancakes, Beyond Sausage muffin and Southern style grits. 300 E. High St., Pottstown; (484) 949-8821.
Both an adorable restaurant and a small grocery, Firefly Cafe is 100% plant-based, 100% of the time. You can't go wrong with any of its sandwiches, like the BBQ "pulled pork" (made with jackfruit) with coleslaw, or the za'atar chickpea burger. The Outpost (what it calls its grocery section) is stocked with vegan staples, like cheese from Mykinos and Vtopian Cheese, Field Roast mock meats, Renewal Kombucha and many more. If you're looking to stay the night in the area, check out the Firefly Loft, the newly-opened AirBNB right above the cafe! 12 N. Reading Ave., Boyertown; (484) 415-5066.
South Central PA
Root, which opened in late 2015, was founded by Rob Garpstas, an established bar and restaurant owner, who went vegan in 2011 after becoming inspired by one of his daughter's interest in animal rights. His all-vegan bar and restaurant refreshes its menu every six to eight weeks, attending to the seasons and offering exciting new dishes to its regulars. Recent dishes include peanut kale soup, broccoli and red onion pizza, lentil shepherd's pie and an avocado reuben. Its bar program is dynamic, too, offering cocktails, beer and wine. 223 W. Walnut St., Lancaster; (717) 826-9130.
Uphoar Vegetarian Restaurant, while not entirely vegan, is fully meat-free, offering diverse global flavors with many plant-based options which are all clearly marked on the menu. And, every Tuesday through Saturday from 11:30 to 2:30 p.m., Uphoar hosts the World Buffet Lunch, an awesome buffet featuring eight hot dishes and two salads from all around the world; all the items are vegan and gluten-free, and it's just $11.50 per person! Uphoar, which also has a catering operation and a stall in the Lancaster Central Market, is also a certified B Corporation. 798 New Holland Ave Grandview, Plaza Suite E, Lancaster, (717) 569-2782.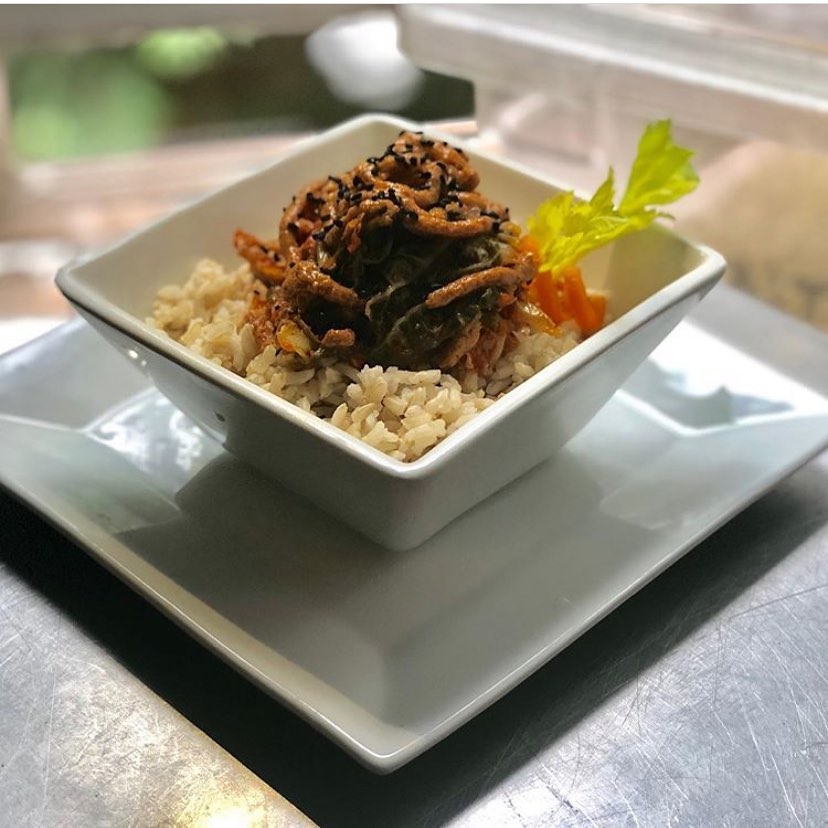 The Vegetable Hunter, which comprises both a plant-based eatery and a boutique brewery, is one of our favorite places to eat clean in Harrisburg. Dishes like the loaded Superfood Protein Bowl, chana masala stew, and chickpea crab cake sandwich are virtuous and delicious, and if you're not concerned with virtue, the seitan hot dog smothered with chipotle black beans and house-made nacho cheese, or the pita sandwich filled with mac & cheese, spinach pesto and sour cream, should do the trick. Coffee, iced tea and house-made kombucha are on offer, and on the boozy side of things, there's a fun cocktail list and house-brewed beers to explore. 614 N. 2nd St., Harrisburg; (717) 695-6229.
North Central PA
In downtown Williamsport, The Olive Tree serves cuisine inspired by owner Sophia Daskalakis's childhood in Karpathos, Greece. The restaurant does serve a handful of meat dishes, but mostly maintains a heavy emphasis on vegetarian and vegan food. There are a bounty of vegan soups, including wild mushroom, lentil spinach, and artichoke and garlic, as well as fresh salads, grilled eggplant with bean dip, stuffed grape leaves, falafel sandwiches, and a few entrees that all fit the bill. 43 W. 4th St., Rear Suite, Williamsport; (570) 326-4493.
A bookstore, record shop and cafe in one, Webster's Bookshop hooks it up with a fully vegan brunch buffet every Sunday, from 10 a.m. to 2 p.m. For $18 per person, you can take as many trips to the buffet as you'd like to load up on baked goods, baked oatmeal, tofu scramble, roasted veggies, rice noodles with tofu, spicy bean chili, and so much more! A la carte items are available, as well. Tea, coffee and kombucha round out the beverage selections. 133 E. Beaver Ave., State College; (814) 272-1410.
The Bakery in Altoona, which makes mostly non-vegan baked goods, always has some epic vegan options on hand. Lots of scones, "trash can cookies" (essentially cookies with a ton of added ingredients, like marshmallows, peanut butter cups and rice chips), more conventional cookies, like oatmeal chocolate chip and peanut butter brownie bars, insure that local sweet-toothed vegans never have to go hungry. 1402 1/2 11th Ave., Altoona; (814) 201-2545.
Western PA
Perhaps the second most famous vegan restaurant in PA (after Vedge), Apeteka has won Pittsburgh's heart, not just with its wildly authentic Polish food, but with an incredible cocktail program, too. Honestly, where else can you get racuchy jablkowe (Goldrush apple pancakes with yogurt, black currant jam and wildflower sugar), kluski slaskie (lima bean puree and potato dumplings), vegan perogies and house-made bilberry cordial, or a glass of natural wine from Eastern Europe? Nowhere else, that's where. 4606 Penn Ave,. Pittsburgh; no phone.
Having possibly one of the best names ever, Onion Maiden keeps the puns coming with heavy-metal-inspired vegan dishes, like the Kale 'Em All salad, Darth Taters tater tots, Headbangers Balls (tofu croquettes) and, of course, Terrormisu. They make impressive and delicious baked goods in house, and they run plenty of specials, including the occasional vegan sushi dish. Onion Maiden also does a great brunch. Not too shabby for a scrappy punk-rock establishment, eh? 639 E. Warrington Ave., Pittsburgh; no phone.
Whether it's toast with cashew cheese, a seitan shawarma sandwich or sourdough blueberry pancakes that you crave, chances are B52 Cafe will have something to satisfy your appetite. Its menu, while by no means huge, covers so many bases, with dishes both familiar and inventive. It's not hard to imagine a whole group of vegans and omnivores, alike, finding things to love. House-made kombucha is just a cherry on top. 5202 Butler Ave., Pittsburgh; (412) 781-5204.
Not too far away, just about 30 miles, outside of Pittsburgh, you'll find the Big Dill Bistro in the town of Beaver Falls. A casual vegetarian and vegan cafe, the Big Dill's menu is dominated by tacos and veggie sandwich makeovers, like The Snobby Joseph (a play on Sloppy Joe), and "haute pockets" stuffed with various fillings, such as tofu scramble, and sausage marinara. Big Dill Bistro also shows up for occasional pop-ups at nearby Beaver Brewing Co. 1820 7th Ave. Beaver Falls; (724) 709-9833.
Tucked inside a natural foods market, Whole Foods Co-Op, find Co-Op Cafe, which uses local, organic ingredients to make a variety of sandwiches, wraps, soups, salads and desserts. The menu isn't entirely vegan, but the majority of items are "vegan-izable," and are very clearly marked. There are also lots of gluten-free options, including cauliflower-crust pizza, and the in-house bakery makes all kinds of vegan and GF celebration cakes in tempting flavors, like Hummingbird (pineapple banana) and Chocolate Raspberry Tart. 1341 W 26th St., Erie; (814) 456-0282.
Jekyll & Hyde Gastropub doesn't have a ton of vegan options, but we're giving them props for being one of the only places in Erie (besides Burger King) to offer the Impossible Burger. It's also got some other suitable snacks, like baba ganoush, a falafel pita sandwich and a kale salad. Weekly specials often include a vegan option, such as a banh mi sandwich, chili, tempeh BTL, veggie wraps and more! 8 E. 10th St, Erie; (814) 456-0072.
What other local PA vegan spots are out there that we need to know about? Don't be shy — let us know, either in the comments here, or on the PA Eats Facebook page.
Feature photo:

Miss Rachel's Pantry

Vegetable Hunter Photo:

The Vegetable Hunter